Olive (Minerd) Lashbrook
(1892-1964)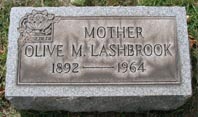 St. Peters Lutheran Cemetery

Olive (Minerd) Lashbrook was born in October 1892 in Dunbar, Fayette County, PA, the daughter of Andrew R. and Annie (Rhodes) Minerd.
Olive's parents separated when she was a teenager. She and her mother and sisters moved to Pittsburgh, residing with her grandmother at 814 Aiken Avenue. Tragedy struck in 1913, when her father was killed falling down a stairway at a hotel in Dunbar.
At the age of 25, Olive worked as a clerk for the Frick & Lindsey Company in Pittsburgh, circa 1917, and lived at 747 Chislett Street.
On June 22, 1917, at age 25, Olive married 23-year-old Loren W. Lashbrook Sr. (1894-1939), the son of James L. and Ada (Logan) Lashbrook of Oxford, NE and Kansas City, KS. Rev. Thomas Charlesworth, minister of the Smithfield Street Methodist Episcopal Church in Pittsburgh, performed the ceremony. Olive was two years older than her husband.
They together produced a family of at least three children -- Loren W. Lashbrook Jr., Elaine Eichleay and William Lashbrook.
Later in the year they were married, Loren registered for the military draft during World War I. On his registration card, he was listed as medium height and slender build, with hazel eyes and light brown hair. He listed his address as 747 Chislett Street in Pittsburgh. On the card, Loren also disclosed that he previously had served as a private in the Pennsylvania National Guard for a period of three months.
When the federal census was taken in 1930, the Lashbrooks resided on Longvue Drive in Mt. Lebanon, a fashionable suburb of Pittsburgh. In their home that year was servant Elizabeth Douglas, a native of England.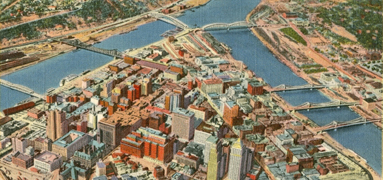 Downtown Pittsburgh and the famed "point" where the Monongahela and Allegheny Rivers converge to form the mighty Ohio River. Photo by Aero Service Corporation.

Loren was employed as a sales manager with the Frick-Reed Supply Corporation, a steel company. In November 1933, he was admitted to membership of the Propeller Club of Pittsburgh.
Owning a Ford V8 sedan automobile, Loren was involved in an accident in September 1936 which a woman passenger suffered "serious personal injuries." The injured woman sued the Lashbrooks in late February 1938. Loren in turn hired the respected Pittsburgh firm of Dickie McCamey to represent their interests. In March 1938, Loren swore in an affidavit that he would prove his case at trial. The outcome of the case is not known.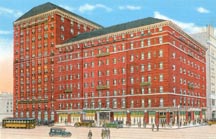 Fort Pitt Hotel, where Loren died

In late 1938 or early 1939, Loren left his longtime employer and joined the Mercer Tube and Manufacturing Company as assistant general sales manager. He relocated Olive and the children at that time to Sharon, Mercer County. During that same period, he complained to his family and in-laws about a lingering lung ailment.

For reasons unknown, and apparently deeply depressed at age 45, Loren checked into the Fort Pitt Hotel in downtown Pittsburgh in the second week of the new year of 1939. He paid his bill in advance. Nine days later, on Jan. 23, 1939, while in his hotel room, he took his own life. A curious maid tried to open the door, and called a house detective to help. They found Loren's lifeless body and a new .22 caliber rifle on the floor. Two notes were found -- the first asking that his brother in law John McClements be notified; and the second to his wife, reading:

Olive: I am trying to do a good job and get this gun angled right. I suggest you send the kids away to school for a year or two, then you can get yourself adjusted better. Sorry it all turned out this way. (signed) Loren.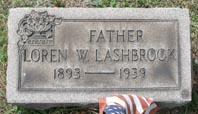 St. Peters Lutheran Cemetery

Loren's tragic death made headlines in the Pittsburgh Post-Gazette. Later that year, Olive returned from Sharon to Pittsburgh, where she rented an apartment at 5460 Penn Avenue.

Within a few years, likely to move to a warmer climate but also possibly to leave behind unpleasant memories, Olive relocated to Miami, Dade County, FL.

She passed away there in February, 1964, at the age of 72. Her remains were returned to Pittsburgh, and were laid to rest beside her husband's at St. Peters Lutheran Cemetery in Highland Park, near Pittsburgh.

Ironically, the Lashbrooks' burial site is within 50 yards of the grave of Rev. Isaac Herschel Minerd, who founded the Minerd-Miner Reunion in Fayette County in 1913, and who served with Olive's uncle, Rev. David Ewing Minerd, in planning later reunions.



~ Son Loren W. Lashbrook Jr. ~

Son Loren W. Lashbrook Jr. (1920-1987) was born on May 15, 1920. He was age 19 when his father died.

As an adult, he resided in Nashville, Davidson County, TN; Texas; and Tucson, Pima County, AZ.

Then in 1952, at age 32, he was diagnosed as a paranoid schizophrenic and "spent about eight years in various institutions because of the problem," according to Arizona court records.

On Nov. 12, 1973, he was set up for a "roll job" -- a robbery by a husband-wife team outside of a bar in downtown Tucson -- while he was waiting for a bus to take him to a veteran's hospital in California. The couple was found guilty, and the court's findings became case law in Arizona regarding the inability of victims to remember details of the crime. (State v. Kevil, 111 Ar4iz. 240 (1974)

He died in May 1987.



~ Daughter Elaine (Lashbrook) Eichleay ~

Daughter Elaine Lashbrook (1921-2003) was born on Dec. 18, 1921.

She entered into marriage with (?) Eichleay ( ? - ? ).

The couple's home in 1964 was in Miami.

Elaine surrendered to the angel of death in Miami on May 21, 2003.

~ Son William P. Lashbrook ~

Son William Lashbrook (1926 - ? ) was born in about 1926.

Circa 1964, when he was about 38 years of age, he made a home in Los Angeles.



Copyright © 2001, 2010, 2022 Mark A. Miner