Rev. Isaac Herschel Minerd
(1858-1919)


Isaac and Margaret Minerd
Rev. Isaac Herschel Minerd was born on March 13, 1858 at Mt. Pleasant, Westmoreland County, PA, the son of Eli and Mary Ann (Baer) Minerd. He and his second wife, Margaret Jane (Sheppard) Minerd, are seen here. Isaac's work as a Methodist preacher touched many souls, and his efforts to establish the early Minerd Reunions laid a foundation for generations who follow today.
Recalling his childhood, Isaac once gave the following description in sworn government testimony involving friend Charles "Sylvester" Lane, the disabled son of Civil War veteran Reuben Lane:
As a boy I resided in Bridgeport, Westmoreland Co., Pa., and continued to live there until I was 18 or 20 years of age, going from there to Mt. Pleasant, where I remained 10 or 12 years working at the blacksmith trade... The boy was a little older than me; maybe a year or two. We were chums for years as growing boys, went to school together, rowed together, and swam together, and all those things. The Lanes were still residing in Bridgeport when I left there for Mt. Pleasant. [I first observed Lane using crutches] while he was still living at Bridgeport and I was living in Mt. Pleasant... He was confined to his bed for quite a while with the trouble of which he now suffers, and I visited him at that time. This was after I was grown to manhood and was working at blacksmithing, learning that trade.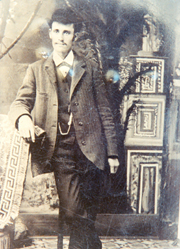 Dapper young Isaac
Isaac is seen here as a young man, sporting a bowler hat and a mustache.
His first wife was Sarah Susanna Schiebler (1859-1880?). They lived at Mt. Pleasant, and both joined the Mt. Pleasant Church of God in September 1878 on professions of faith. Their only daughter was Sarah Jane "Jenne" Baily, born the following year, in 1879, in Mt. Pleasant.
When the federal census was taken in 1880, Isaac, Sarah and Jennie were listed in the Stanton district of Westmoreland County, with Isaac laboring as a coal miner. Their next door neighbors were Isaac and Catharine Bare (both age 41), who may have been an uncle/aunt or cousins on the side of Isaac's mother.
Isaac's primary calling over the years was as a pastor, but he derived his income from physical laborer. Early in adulthood, he was a blacksmith and then a laborer and driver in coal mines around Mt. Pleasant, he said, but "still I have never followed that or mining as a regular occupation." Later he mastered the carpentry trade, and made cabinets and furniture.
Tragically, within a year or so after Sarah gave she died. The facts of her untimely passing are not known. Her death left Isaac as a grieving single father of a young child.
On Nov. 29, 1883, after several years as a widower, Isaac married his second wife, Margaret Jane Sheppard (1852-1931). The four children born to this marriage were Dr. Roy Sheppard Minerd, Albert Sheppard Minerd, Bess V. Beck and Lillie May Minerd. Sadly, Lillie May died in 1887 at age 16 months.
Ten years later, the Minerds moved to New Haven (Connellsville), PA. Later, they relocated to a house on Coffee Street in Uniontown and finally to 7017 Susquehanna Street in Pittsburgh, PA.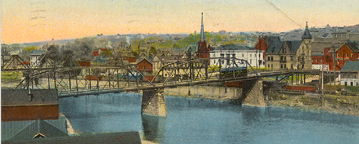 Connellsville, across the Youghiogheny River from New Haven, where the Minerds lived in the early 1890s.
Isaac drew praise for his preaching work. While in Uniontown, he conducted revivals in mining towns in the coke region such as Oliver, Lemont Furnace, Mutual, Calumet, United and Moyer. One Methodist publication published this review:
A protracted meeting is going on at Revere. About or eight or ten already confessed and a great interest is manifested. Rev. I.H. Minard is carrying it on and is working hard for its success. Bro. Minard has others besides himself to also preach and help him in that work. Mr. Minard is to be complimented on its success and his labors are always given freely and without grudging.
The Pittsburgh Christian Advocate pictured Isaac in an article and said that "in addition to his daily labor, as a mechanic, [he] renders valiant service in the mission. His zealous efforts contributed largely to the success of our enterprise at Oliver. He is now assisting in the work at Revere." He participated in the dedication of the Union Church in the McCormick Addition of Uniontown, PA, on July 11, 1899, mentioned in Haddon's 1913 A History of Uniontown.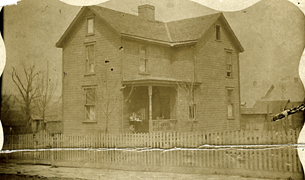 Views of the Minerd home on Coffee Street in Uniontown, a frequent "stopping place" of Oliver Church pastors. Judging from appearances, Isaac must have added to the house during their years there.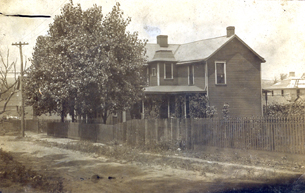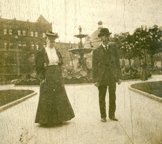 Isaac and Margaret in
Pittsburgh's North Side...
Their home at 32 Coffee Street "was frequently the stopping place of the pastors of Oliver Church," said the Pittsburgh Christian Advocate. "Growing up in the Church Mrs. Minerd greatly enriched her life by fellowship with God through the indwelling Spirit and by rendering her utmost service to the Church and the Kingdom during her entire life." An analysis of photographs of the dwelling shows that an addition was made to the building, most likely by Isaac using his carpentry skills.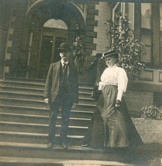 ... and on the California
Normal School campus
Seen at left and right, Isaac and Margaret out and about in the community. At left: standing at the public fountain in Allegheny, today known as the North Side section of Pittsburgh; at right: on the steps of what appears to be California University of Pennsylvania, where son Roy and daughter Bess attended circa 1908-1912.
While at Oliver, Isaac paid social calls on his old friend Charles "Sylvester" Lane, who was living in worker housing at the Oliver mines. At Lane's request, Isaac signed some paperwork attesting to his friend's longtime physical disability so that Lane could receive a federal pension.
At some point in the late 1890s or early 1900s, Isaac served briefly as the minister of the Hopwood United Methodist Church, and "looked after the spiritual welfare of the members..." Among the other earlier pastors of the congregation was Rev. Marcellus Deaves Lichliter, a cousin on the Younkin side of the family. Both men are mentioned in a history of the congregation published in the April 1908 edition of the Hopwood Chronicle.
~ The Minerd Reunions ~
Isaac had a deep love for his father's family and is credited with helping found the annual Minerd Reunions which begun in 1913 and ended in the early 1930s during the grip of the Great Depression.
The roots of the gatherings can be traced in part to a friendship which he had with a second cousin and fellow Methodist pastor, Rev. David Ewing Minerd, the famed "Blacksmith Preacher" of Fayette County. In January 1898, when Isaac was leading revival services in Lemont Furnace near Uniontown, and David and his family lived in Uniontown at 111 Walnut Street, Isaac sent David a penny postcard which read as follows:
Lemont, Pa., Jan. 25 –98. Dear Bro, We are having grand Meetings at Lemont. Will be so glad if you can be with us some eve this week. God is moving with power in this place. Hoping you can spend a night with. I remain yours for master. I.H. Minerd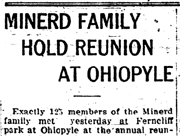 Uniontown newspaper story, 1913
A decade later, when their son Albert married Ethel Buchanan, a girl from Normalville, Fayette County, the 1908 wedding gave the Minerds an opportunity to reconnect with cousin Martin Miner of Normalville whose children were friends with the bride. A photograph taken that day shows the two families intermingled in a group.
Five years after the Minerd-Buchanan wedding in Normalville, and two years after his own father's death, Isaac appears to have been the organizing force behind gathering the cousins together. Invitations apparently were sent far and wide. The gathering was held on Aug. 21, 1913, at Ferncliff Park at Ohiopyle, Fayette County. Exactly 125 cousins attended, including his children Roy, Albert and Bess, and grandchildren Margaret and Albert "Lefty." Isaac was elected president, and son Roy secretary, along with cousin Martin Miner as vice president. Another second cousin, Allen Edward Harbaugh, known widely as the "Mountain Poet" of Mill Run, prepared a history of the family which he read aloud that day. The only negative twist marring the day was the sad fact that Isaac's last remaining uncle, the elderly Joel Minerd of Rogers Mill, had passed away just 10 days earlier.
The event went so well that another reunion was planned for 1914 at Killarney Park near Mill Run, Fayette County, with Isaac again serving as president. Music and games were a feature of the 1914 reunion, and Isaac likely was one of several "prominent speakers" mentioned in the newspaper publicity.
~ A Move to the Steel City ~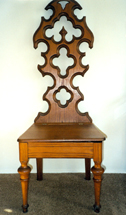 Isaac's workmanship
In about 1914, the Minerds moved to Pittsburgh, where they joined the Homewood Avenue Methodist Church. There, Isaac worked as a school custodian and cabinet-maker for the remaining few years of his life. During that time, he built oak furniture which exists today in the homes of descendants.
Seen here is one of Isaac's ornately carved piano chairs that has been lovingly restored by a great-grandson in the Pittsburgh area. The seat is on a hinge and lifts up to reveal a hollow area underneath where sheet music could be stored.

The chair was displayed at our 2006 national family reunion. Click to see a larger view in our online Museum of Creativity.
In April 1918, a little more than a year before he died, Isaac gave sworn testimony in an investigation over whether his boyhood friend Charles "Sylvester" Lane, should receive a federal pension. Isaac's remarks, printed in the a government publication, provide a fascinating window into his year years growing up in Bridgeport and Mt. Pleasant. The testimony, in full, may be found in House Documents, Vol. 114, Washington, DC, Government Printing Office, 1918.
Isaac died of pneumonia at their home at 7017 Susquehanna Street on June 3, 1919, at the age of 61. His remains were laid to rest in the St. Peters Lutheran Cemetery near Highland Park, a section of Pittsburgh.
His grave was not marked at the time, and remained so until 1992.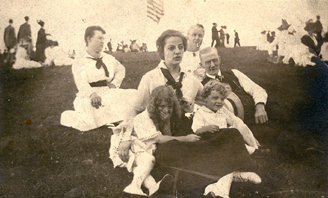 Isaac and Margaret (right, behind) relax at a patriotic outing, with daughter Bess (foreground) keeping hold on young Margaret "Peg" and Albert "Lefty" Minerd, while the children's mother Ethel sits at left.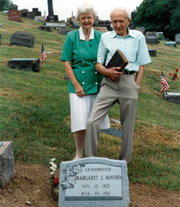 Grandson Penn and wife Jane dedicating grave marker for
Margaret, 1992.
Son Roy attended medical school in Philadelphia, and later penned a memoir about his work there with troubled orphaned boys. In the memoir, he wrote the following in tribute to mothers in general and quite likely to his own beloved mother:
What does mother mean to you and to me! How it carries us back to the days when something happened which darkened the sky, which broke our hearts, which destroyed our happiness so completely that it seemed that we never could be happy again! And who caused the clouded sun to shine again; who comforted and healed that broken heart; who kissed away the sorrow, the unhappiness, the anguish and showed us the way out of our trouble? Mother! Ah! Those Mothers! Those of us who have or had had Mothers -- what would our lives have been had it not been for them? Whom did we seek for advice ad help and guidance in the solving of the many puzzling problems that confronted us as we grew to boyhood and manhood? Never too tired nor too busy to listen, always sacrificing herself and her pleasure to satisfy our ofttimes foolish and selfish whim, never complaining -- she who gave us life, was our life, is and will till our dying day be our life -- Mother! Thank God for Mother!
On March 30, 1931, with the nation in the dark clutch of the Great Depression, Margaret died at home, at the age of 79. Her son Roy received the news via telephone call at his home in Smethport, McKean County, PA. Just as her husband, with funds in such short supply, she was laid to rest in an unmarked grave on a steep hillside at the St. Peters Lutheran Cemetery.
In 1992, more than six decades later, grandsons Penn and Robert (and their wives Jane and Gloria) lovingly arranged to place markers on their graves in their eternal memory. Penn and Jane are seen here, at the newly dedicated marker for Margaret, with Penn holding the ancient family Bible.
Isaac and Roy were honored and remembered in 2003 at our national family reunion when we paid tribute to the 90th anniversary of the first reunion in 1913.
At the 2006 reunion, two sets of knives and sheaths, crafted by grandson Lefty Minerd, were on display, and today are pictured in our online Museum of Creativity.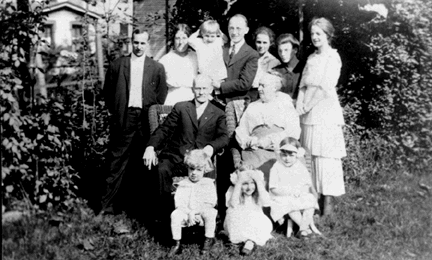 Family gathering circa 1915 in the Minerds' garden in Pittsburgh. Back, L-R: Albert and Ethel, baby Penn with parents Roy and Nell, Jenne and Bess. Middle, L-R: Isaac and Margaret. Front, L-R: Everett "Lefty," Margaret and Grayce.
Copyright © 2000-2004, 2007, 2009-2010, 2014, 2018, 2019 Mark A. Miner