Seth Arlington Minerd
(1879-1949)
Seth Arlington Minerd was born on July 6, 1879 in Bullskin Township, Fayette County, PA, the son of William H. and Missouri (Shelkey) Minerd.
During the early 1900s, Seth and two of his sisters relocated to McKeesport, Allegheny County near Pittsburgh, to find work as a blacksmith. There, Sister Nettie married driver John Kerr, and sister Olive married barber Chester Elder, also in McKeesport.
In 1905, Seth married Ida Kimmel (1887-1938), the daughter of Clifford and Jane "Jeannie" (Burton) Kimmel of Glassport, near Pittsburgh. He was age 26 at the time, and she was just 16. Their marriage license is still on file today in the City-County Building in downtown Pittsburgh.
Two daughters borne of this marriage were Nell Darrall Atkinson Tryon and Donna Jean Medling.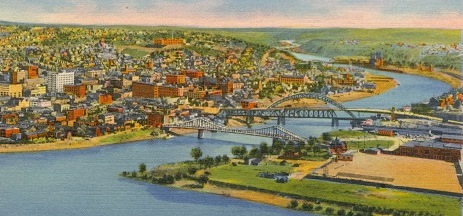 McKeesport, where the Youghiogheny feeds into the Monongahela
Seth was living in Brownsville, Fayette County in 1910 and by 1913 was working as a carpenter in Uniontown, the Fayette County seat. During World War I, when he registered for the military draft, he was a coal miner employed by the Fritz Coal Company in Uniontown.
Later, Seth worked as a Uniontown city police officer circa 1921 and 1941. In September 1921, he and Ida and their family vacationed "with friends in Detroit, and points along the Great Lakes," said the Uniontown Morning Herald.
Booklet naming Seth
Seth served on the Board of Stewards of the East End Methodist Protestant Church in Uniontown, founded by his cousin, Rev. David Ewing Minerd (the "Blacksmith Preacher"), now known as the Calvary United Methodist Church. He is mentioned in the church's Twentieth Anniversary booklet published in July 1914.
The Feb. 1, 1922 issue of the Morning Herald, in a top headline story, reported that Seth had been promoted from desk sergeant to Uniontown City Detective as a "plain clothes man," succeeding John B. "T.J." Wright. "The appointment of Sergeant Minerd to the detective duties came as a complete surprise to his fellow officers as he had made no application for the position," the Herald said. "In making the appointment, Mayor Smart said there had been a number of applicants for the position, but that Sergeant Minerd's efficient and faithful work merited the tender of the position. While Sergeant Minerd has been a member of the department for little more than a year, he has shown remarkable judgment in police work and is a diligent and painstaking officer."
Seth spent much of his time fighting the narcotics trade that was growing in and around Uniontown. He had the occasional task of apprehending his extended family of cousins who were alleged to have broken the law. In March 1924, he drove cousin and prisoner Pearl (Beggs) Nabors to Pittsburgh for a hearing before U.S. Commissioner Knox after she was accused of trafficking in narcotics.
During the summer of 1926, Ida's ailing mother Jane Kimmell visited at their home on Iowa Street in Uniontown. In early September that year, she went back home in East Pittsburgh. She died there just two weeks after returning, on Sept. 15, 1926.
By later in 1926, the Minerds had moved to Bentleyville, Washington County, PA. At Christmas that year, they returned to Uniontown to visit Seth's parents, who were residing on North Gallatin Avenue.
When the federal census was taken in 1930, Seth and Ida made their home on Morgantown Street in Uniontown, where he was employed as a laborer for a transfer company, and Ida worked as an inspector for a telephone company. Daughter Nellie, age 22, was a stenographer for a local department store.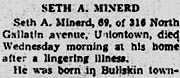 Connellsville Daily Courier, 1949
Ida suffered from "an extended illness" of unknown causes. Sadly, she died at the age of 51 at the Homeopathic Hospital in Pittsburgh on March 5, 1938. Her funeral was held at the Minerd Funeral Home in Uniontown.
At the end of World War II, Seth worked as a coal miner. He was employed by the Huey Coal Company until about 1947, when he retired. Later in life, he was a member of the Christian Missionary & Alliance Church in Uniontown.
Seth outlived his wife by 11 years. He died at the age of 69 on March 9, 1949, "after a lingering illness," said the Connellsville Daily Courier. At the time, he was residing in his parents' former home at 316 North Gallatin Avenue in Uniontown. He was buried with his wife at Flatwoods Cemetery near Vanderbilt, Fayette County.
~ Daughter Nell (Minerd) Darrall Atkinson Tryon ~
Daughter Nell Minerd (1908- ? ) was born in 1908.
She was married three times, but did not reproduce.
Nell was first wed to Wesley W. Darrall ( ? - ? ), son of Mrs. Hershell Darrall of Masontown, Fayette County. The wedding took place on Feb. 2, 1932 at Hagerstown, MD. The Darralls resided in Pittsburgh.
On Oct. 24, 1938, Nell married her second husband, Ralph D. Atkinson ( ? - ? ), in a ceremony in Frankfort, KY, with Rev. John Galloway of the Frankfort Presbyterian Church performing the rites. Ralph was a native of Greensburg, Westmoreland County, PA.
Circa 1948, she was married to Durwood E. Tryon ( ? - ? ). At that time, she was living in the Hollywood section of Los Angeles. In late July 1948, she flew back to Uniontown to spend a month with her nearly widowed father.
Nothing more about her fate is known.
~ Daughter Donna Jean (Minerd) Medling ~
Daughter Donna Jean Minerd (1916-2004) was born on Feb. 28, 1916.
She married Chalmers Dean Medling (Jan. 27, 1917-1996).
They bore one daughter, Bonnie Roberts.
During World War II, Chalmers served in the U.S. Coast Guard.
In 1949, the Medlings made their home in the Duquesne section of Pittsburgh. In the 1960s, they dwelled in McKeesport, where for two decades they owned and operated C.D. Medling Heating and Cooling Company.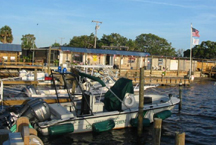 Treasure Coast Marina
The family relocated circa 1969 from McKeesport to Florida, settling in the town of Barefoot Bay. Then in 1993, they moved to Vero Beach. He was a member of the Moose lodge
They remained until Chalmers' death on Dec. 18, 1996, at the age of 79.
Donna outlived her husband by eight years, staying in Roseland. Sadly, she was admitted to Sebastian River Medical Center where she died at the age of 88 on Aug. 16, 2004. Interment was in the Sebastian Cemetery in Roseland, Indian River County. Rev. Dennis Loury preached the funeral service. A death notice was printed in Florida Today.
Daughter Bonnie Medling married (?) Roberts. She has resided in Barefoot Bay and Grant, on Florida's East Coast. At one time, she operated Treasure Coast Marina, a marina and boat yard.
Copyright © 2001, 2008, 2010, 2020 Mark A. Miner