Pearl Nabors Altman
Pearl (Beggs) Nabors Altman was born in 1905 (possibly on Aug. 21) in Dunbar, Fayette County, PA, the daughter of William J. and Mary Belle (Minerd) Beggs Sr.
In the 1920s, Pearl married Albert Doyle Nabors Sr. ( ? - ? ), the son of Frank and Charlotte (Johnson) Nabors. They had four children, Anna Belle Buchanan, Lottie Butler, Ruth Springer Wyatt McBurney and Albert Doyle Nabors Jr.
The Nabors' marriage was rocked by marital and legal woes. In March 1924, Albert made the first of many news headlines when he, along with several colleagues, were arrested for illegal narcotics activity. Adding to the irony was that Albert and the others were taken to and from Pittsburgh by Pearl's cousin, police officer Seth Minerd, for a hearing before U.S. Commissioner Knox. Albert was sentenced to jail, with bail set at $1,000.
That year, their eldest daughter Anna Belle was born, named in part for her grandmother Mary Belle (Minerd) Beggs.
In January 1926, Albert again got into legal trouble when he was arrested "in connection with the theft of a physicians tools and pill case and the sale of pills in Coon Hollow," reported the Uniontown Morning Herald.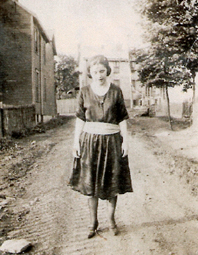 Pearl as a young lady
Later in 1926, Pearl gave birth to the couple's next daughter, Ruth. In August 1927, the 11-month-old baby Ruth was entered in the first "Baby Fayette" contest, held at Shady Grove Park at the annual Junior Day picnic. "Despite the threatening day," reported the Morning Herald, "400 youngsters and their mothers paraded before the eyes of the Pathe-Stale News camera operated by Kenneth Woodward, while friends cheered their favorites..."
Apparently troubled by Albert's run-ins with the law, Pearl's married sister, Anna Mahoney, took little Ruth into her home. The Morning Herald of Jan. 11, 1929 stated that "Mrs. W.R. Mahoney, accompanied by her little niece, Miss Ruth Nabors, returned yesterday afternoon to her home in Greensburg. During the last week Mrs. Mahoney visited her sister, Mrs. Albert Nabors, Lenox street." Later that month, Albert was arrested again for his role in the illegal possession of morphine.
The following year, Albert was found guilty of failing to support his wife and four children, and was sentenced to the workhouse. Judge Thomas H. Hudson "declared that he had given Nabors one chance, but that Nabors had disappeared from sight leaving no address," said the Morning Herald.
"I am going to put you where we can find you -- where you will have an address," observed the court. "I have no teeth, your honor, and I won't be able to eat that workhouse grub," pleaded Nabors showing two sets of molarless gums. "It will be just as good at the workhouse as the jail," insisted the court. Nabors will be released if he posts $750 bond to pay the sum of $25 a month...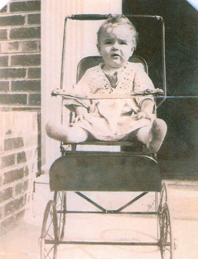 At some point, because of the disruptive lives of their parents, with no real financial support, the Nabors children were placed within a children's home. Eldest daughter Anna Belle later went to live with her grandmother Beggs, and upon the grandmother's death in 1939, moved again, into the New York home of her married aunt, Caroline (Beggs) Schurecht. Daughter Lottie was raised by her paternal grandmother, Charlotte Johnson Nabors, and daughter Ruth lived under the roof of her aunt, Anna Beggs Mahoney.
Pearl made her home in Hopwood, near Uniontown, in 1931. In late February that year, she spent a weekend at the home of her sister Anna Mahoney, likely visiting her daughter Ruth who was living there. A year later, she had moved across the state line to Morgantown, Monongalia County, WV, again spending occasional weekends at the Mahoney home in Greensburg, with stopovers in Uniontown, presumably to see Albert.
Heartache continued to visit the family in about 1932, when their four year old son Albert Jr. was struck by a car and killed, in front of the home of the family who was about to adopt him.
Pearl generated her own trouble in January 1933, when she and Albert both "were arrested in a county wide narcotic cleanup by the Federal, State, County and city authorities," said the Morning Herald. She was living in Hopwood, and Albert in Uniontown, at the time.
Going back and forth to Morgantown, Pearl began to cohabitate with another man, both of whom had violated parole for legal violations. They turned themselves in in January 1935, with Pearl being sent to the workhouse in Fayette County. "Under her original parole agreement," said the Morning Herald, "Pearl was to have stayed with a relative at Greensburg. She came home, however, when her mother took sick and later moved on to Morgantown." Newspapers in November 1935 reported that she had "once more" violated her parole, and had "fallen down on her promise to behave, according to the parole office..."
Pearl was living at her mother's home in 1939 when her mother died.
In May 1940, the 36-year-old Pearl made headlines when she was "found in the same room in a local hotel" with a man from Friendsville, MD, said the Morning Herald. "The two were booked for disorderly conduct." Later that year, while at the Arcade lunch room on Peter Street, Pearl was punched in the face by a Uniontown man, and suffered a fractured jaw. She was hospitalized for several weeks. Pearl's brother, George Beggs, filed a lawsuit against the alleged attacker. When the guilty man eventually was freed on bond, he stormed back to Peter Street and punched Albert in the jaw, leading to a second arrest.
Later, Pearl married David Altman ( ? - ? ). They apparently had no children.
The Altmans resided in Greensburg, Westmoreland County, PA during the 1960s.
Pearl died of complications from emphysema in 1969, when she was only 64.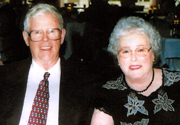 Pearl (Beggs) Nabors Altman
~ Daughter Anna Belle (Nabors) Buchanan ~
Daughter Anna Belle Nabors was born in 1923.
In the mid-1930s, when her parents became entangled with legal troubles, she went to live with her grandmother Mary Belle (Minerd) Beggs in Greensburg. After the grandmother died in 1939, the 16-year-old Anna Belle then was sent to make her home with her aunt and uncle, Caroline and Harry Schurecht in Alfred, NY.
Anna Belle remembers the large, sprawling house, on the campus of Alfred University, and the fireplace in every room. Her aunt Caroline, who was strict, gave her the job of polishing the hardwood floors on her hands and knees. At her 16th birthday, the Schurechts threw her a "fabulous" sweet 16 party, and invited many of her high school friends to attend.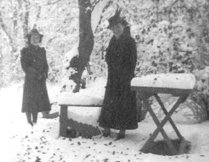 Anna Belle with her aunt Carrie
Anna Belle and her aunt Caroline Schurecht are seen here, likely in Alfred, NY, beside a snow-laden picnic table.
Anna Belle joined the Navy during World War II and was stationed in Maryland.
While in the Navy, she met and married Charles Frederick Buchanan II, on Sept. 21, 1944. After the war, they moved to Seattle, where Charles' family resided, and remained there.
The Buchanans had six children -- Victoria Marie Buchanan, Charles Frederick Buchanan III, Judith Ann Buchanan, Deborah Jay Haas Berreth, Charles Richard Buchanan and Cynthia Goodman. Sadly, son Charles III died at the age of seven months in June 1947.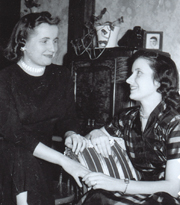 Lottie with sister Ruth
~ Daughter Lottie (Nabors) Butler ~
Daughter Lottie Nabors (1924-1973?) was born in Uniontown.
She married Harold Butler ( ? - ? ).
The couple produced one son, Daniel Butler.
The Butlers made their home in Lapeer, MI, where Lottie was a member of the Calvary Bible Church.
She apparently suffered from heart disease and passed away circa 1973 at the age of 49 in Flint, MI. Her remains were returned to Uniontown for funeral services, followed by burial in Oak Lawn Cemetery.
Harold's fate is not yet known.
~ Daughter Ruth (Nabors) Springer Wyatt McBurney ~
Daughter Ruth Nabors (1926-1973) was born in 1926. She was twice married.
Her first husband was George C. Springer (1922-1957), the son of Robert E. and Rachel (Jenkins) Springer of Uniontown.
They had two children -- Janet Kruger and Georgia Lynn Hecht.
George was a veteran of World War II, serving in both the Pacific and European theatres of war. He was a member of Calvary Methodist Church, the Union Elks Lodge, Automobile Mechanics and Associates and United Construction Workers. Their home was at 35 Ben Lomond Street. As an automobile mechanic, he was employed by Sweeney Motor Sales of Uniontown. In a freak accident in July 1953, George was seriously injured at work, said the Morning Herald, "when a hoist holding up the truck on which he was working broke and sent the heavy vehicle crashing down on him." He spent the next few years recovering, but never fully regained his health. Reported the Morning Herald:
He was hospitalized for more than two years and since returning home had been confined to a wheel chair. His condition became serious a week ago. Just a few weeks ago, fellow employes at Sweeney Motor Sales had presented him with a color television set. Mr. Springer's case had aroused widespread interest in the city and many persons had joined in a special fund set up by local veterans about 18 months ago.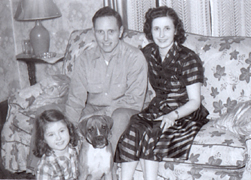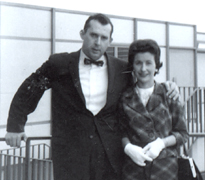 Left: Ruth with her husband George Springer, daughter Janet and family dog. Right: Ruth with her second spouse, Dr. Pete Wyatt.
George died on the Fourth of July 1957 at Uniontown Hospital. Following the funeral at Calvary Church, led by Rev. C.C. Adkins, he was laid to rest in Oak Lawn Cemetery.
Ruth later married Dr. Pete Wyatt. They had one son of their own, David Wyatt.
Ruth married for a third time to Dr. John McBurney, and lived in Anaheim, CA.
Ruth died in Anaheim Memorial Hospital on Jan. 12, 1973, at the age of 47. Funeral services were held in the Backs-Kaulbars Funeral Home in Anaheim, with an obituary printed in the Morning Herald back in Ruth's former hometown.
Copyright © 2001, 2006, 2009-2011, 2018 Mark A. Miner