Home

Sylvester Lynn Minerd
(1895-1943)
Sylvester Lynn Minerd was born on Jan. 8, 1895 (or 1894 or 1897) in Pittsburg, Crawford County, KS, the son of Azaniah "Melvin" and Harriet (Baldwin) Minerd. He was the second in a long line of law enforcement officers in his branch of the family.
During World War I, he served as a sergeant in a Pittsburg company of the Kansas State Guard. In completing his military draft registration card, he stated that he was unemployed, and that he lived with his mother at the address of 230 East 7th Street in Pittsburg. He also listed his father's birthplace as "Pittsburgh, Penna." He was recorded as having dark brown eyes and dark brown hair.
Sylvester married Callie Claire Carter (1897-1921), a native of Pittsburg, on Feb. 20, 1919. The ceremony was performed by William G. Clinton, a clergyman in Carthage, Jasper County, MO. She was the daughter of (?) and Lucy E. Carter, and a native of Nebraska.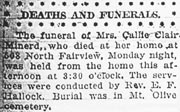 Pittsburg Daily Headlight, 1921
The Minerds had two children -- Harriette Ellen Koeneke and Donald Ethen Minerd -- and lived at 508 North Fairview in Pittsburg. Circa 1920, when the federal census was enumerated, the family lived in Pittsburg, on East 7th Street, next to the home of Sylvester's parents. That year, he was employed as a locomotive fireman with the Union Pacific Railroad in Pittsburg.
Tragedy rocked the young family when Callie died on Aug. 22, 1921, at the age of 24, leaving her husband with two young children under the age of two. In a brief obituary, the Pittsburg Daily Headlight simply said the funeral was held at the Minerd home, that the services were conducted by Rev. E.F. Hallock, and that burial was in Mt. Olive Cemetery.
Young daughter Harriet was brought into the home of her maternal grandmother, Lucy E. Carter, and son Donald was taken by raise by a widowed great-aunt, Margaret Hester (Minerd) Jackson. It would be years until the children met each other again.
Sylvester severed his ties in Pittsburg and moved to Indiana, where he served as a police officer.
After four years as a widower, Sylvester married again, on May 15, 1925, to Katherine M. "Virgil" (Gofen) McCall (1893- ? ), the daughter of Edward and Ruth E. (Warren) Gofen, a native of Jefferson County, IN. The marriage took place in or near Bloomington, Monroe County, IN, where they then lived, while son Donald and daughter Harriet remained with relatives in Pittsburg.

Leafy campus of Indiana University in Bloomington, a scene familiar to Sylvester
Sylvester died in 1942, at about the age of 48, and is buried at Rose Hill Cemetery in Bloomington.
Virgil outlived him by 21 years. She died in 1963, and rests beside her husband.
~ Daughter Harriette Ellen (Minerd) Koeneke ~
Daughter Harriette Ellen Minerd (1919-2000) was born on Aug. 6, 1919. She was two years old when her mother died, and was raised in the household of her grandmother, Lucy E. Carter.
When the girl was age 10, grandmother Carter petitioned the Crawford County probate court to become legal guardian, and posted a $200 bond.
Harriet later married Willis Howard "Bill" Koeneke ( ? - ? ) of Odell, NE. They had two children.
In the early 1950s, the Koenekes relocated to Birmingham, Oakland County, MI, and remained there for the rest of their lives.
She passed away at the age of 80 on Feb. 11, 2000.

Donald E. Minerd
~ Son Donald Ethen Minerd ~
Son Donald Ethen Minerd (1920-1996) was born on Oct. 28, 1920. Living in the home of his great-aunt, Margaret Hester (Minerd) Jackson, with much love provided by his widowed grandmother, Harriet (Baldwin) Minerd, he grew into manhood with a deep respect for and love of family history.
As an adult, Donald served as a policeman and a Kansas State Trooper, was a family historian whose writings have been invaluable for our understanding of this branch of our clan. He penned wonderful memoirs of the family -- Minerd Family and I Mind the Time.
Donald E. Minerd, World War II
During World War II, Donald served as a sergeant in the 40th Engineer Combat Regiment, and received a commendation for helping to rescue airmen from a burning, crashed bomber:
…When an American B-25 type aircraft crashed and burst into flames … near Sterraclavle, Sicily, Donald E. Minerd … with an officer and two other enlisted men rushed to the aid of the plane's crew. At the risk of his life from exploding ammunition and burning gasoline, he assisted in carrying three members of the crew to safety. His heroic action reflects the highest credit upon himself and the military service.
When his beloved grandmother Harriet (Baldwin) Minerd died in 1949, Donald was mentioned in the obituary in the Pittsburg Daily Headlight. It said: "One of the grandchildren is Trooper Don Minerd, of Ottawa, member of the highway patrol and former Pittsburg city policeman."
Donald married Margaret Ellen Jarrell (1923-2011), daughter of Earl and Jane Jarrell. She was a native of Pittsburg who had grown up in Ashland, KS, and then employed during World War II in a defense plant in Parson, KS.
The Minerds went on to produce five children -- Michael Donald Minerd, Patrick Minerd, Kelly Minerd, Kevin Minerd and Kathryn Mertins.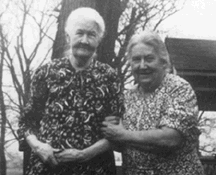 The two who raised Donald --
Harriet at left, and Hester
They resided in Wichita, Sedgwick County, KS. In addition to raising their five children, Margaret went to work in 1965 for St. Francis Hospital in Wichita as a certified nurses' assistant in the newborn nursery. She remained for 23 years and retired in 1988. She enjoyed bowling and playing goft and was a member ofDelta Omicron ESA. They traveled together to watch American Outboard Federation boat races. She also served as treasurer for Calvary Temple in Park City and volunteered for the Red Cross, delivering meals to the homebound through the Good Neighbor Nutrition Program in Valley Center. "She also helped transport seniors to the Senior Center for the noon meal," said the Wichita Eagle. "This was an activity she truly enjoyed."
Donald died at the age of 75 on April 18, 1996. Among his favorite charities to receive memorial gifts were the Union Rescue Mission, Salvation Army and Kansas Highway Patrol flower fund. His arrangements were handled by the Hillside Funeral Home East in Wichita. At his death, said the Wichita Eagle, he was survived by 10 grandchildren and four great-grandchildren.
Margaret survived her husband by 15 years. In 1998 she became employed by Valley Offset Printing in Valley Center, KS, retiring in 2001. Reported the Eagle, "She took great interest in her family, always attending sporting events and school activities for her children, grandchildren, and even the great-grandchildren. She took walks with them to the park in Park City, exploring and fishing. There were many days she would pick up any one of the kids after school or pre-school, and keep them until parents arrived.. She made going to grandma's fun."
She joined him in death on Valentine's Day 2011.
Son Michael Donald Minerd (1950?-2013) was born in about 1950. He married Susan Jo Knop (1958-2016), daughter of Carl and Mary B. (Hugelman) Knop of Wichita. They produced one daughter, Julie Minerd. He was a veteran of the Vietnam War and a master electrician. He also was a onetime police officer for the City of Wichita. At one point the couple divorced. Susan then went on to marry her second husband, Roger Parks, and they had two more children, Sarah Parks and Ryan Parks. Susan attended Kansas State University and was a member of Chi Omega Sorority. She graduated from Wichita State University's School of Nursing in 1981 with a bachelor of nursing science degree and underwent additional graduate classes at WSU in the field of gerontology. Reported a Wichita newspaper, "Susan was also certified in emergency trauma. Her love of animals was a large part of her life." In October 1993, an article in the Wichita Eagle reported that Michael was going to "spend more than a year on a yachting voyage around the globe." He died in Wichita at the age of 63 on May 28, 2013. Susan passed away on Oct. 1, 2016, at the age of 58, and the family requested that any memorial donations be made to the Kansas Humane Society in Wichita.
Granddaughter Julie Minerd made her home in 2013 in Ann Arbor, MI and in 2016 in Austin, TX.
Son Patrick Minerd lives in Wichita. He is believed to have married Teresa Marie Miller (1961?-2013), daughter of Roy and Barbara Miller of Pittsburg. Their two known children were Sarah Minerd and Caleb Minerd. The couple divorced, and Teresa became a companion of Bruce Beatty. She was a receptionist at ARC in Wichita. Said a newspaper, "She will be remembered by her warming smile, gentle touch and strong willed personality." Teresa died at the age of 52 on Feb. 12, 2013. Interment was in Mt. Olive Cemetery in Pittsburg. The family asked that any memorial donations be made to St. Jude Children's Hospital.
Son Kelly Minerd makes his home in Benton, KS. He has worked in maintenance roles with East High School.
Son Kevin Minerd (1963-2013) was born in about 1963 in Ness City, KS. Kevin was a member of the Restored Community Church in Irvin Lakes Shopping Center. He earned a living as a truck driver and "F-E supervisor." He passed away at the age of 50 on Feb. 24, 2013.
Daughter Kathryn "Kathy" Minerd was wed thrice. Her first husband was Loren Repp ( ? - ? ). They had two sons, Daniel Repp and Tracey Repp. Later, after a divorce, Kathy married a second time to Harold Schuler, with the ceremony taking place in Oklahoma City. The Schulers produced a son, Donald Richard Schuler. Kathy's third spouse was Steve Mertins. In 2013, Kathy dwelled in Valley Center, KS.
Grandson Daniel Repp (1967-living) was born in 1967. He wedded Christine, having met on a bicycle ride across Kansas. They make their home in Howard, KS and are registered nurses at Wesley Medical Center in Wichita. Dan has received several of "The Daisy Award" for extraordinary nursing services. In 1994, he had back surgery yet within two years was running marathons, and in 2000 qualified for the Boston Marathon. Quoted in the Ark Valley News, he said: "You just keep persevering because that's the only way. For a marathon, you have to be physically and mentally ready." Dan and Christine also compete in bicycle races and events across Kansas, Oklahoma and Nebraska.
Grandson Tracey Repp (1969-living) was bornin 1969. He married Lolita Self ( ? -living). They have a son, Garrett Repp. The couple met as students at Sterling College. He graduated from Wichita Police Academy in 1992. He was featured in the Dec. 18, 1997 issue of the Ark Valley News, saying he was a fifth-generation law enforcement officer. Said the News:
Repp comes from a long line of law enforcement officers. His uncle, Mike Minerd, was a member of the Wichita Police Department, and Repp's grandfather, Don Minerd, was a member of the Kansas Highway Patrol for 23 years. Repp's great-grandfather, Sylvester Minerd, was a police officer in Bloomington, Ind., and Repp's great-great-great grandfather, Melvin Minerd, was a police officer in Pittsburg, Kan
Tracey was a "street cop, then a gang-unit cop, then a detective, then an FBI special agent, then an undercover cop working once again for the Wichita police," said the Wichita Eagle. He made a career change in 2002, becoming a teacher and soccer coach at Andover High School, with his 2003 team winning the Kansas 4A state championship. His girls team racked up a long series of wins and he was named Kansas Coach of the Year. In 2009, for his 40th birthday, he ran in the Pike's Peak Marathon. He then became assistant principal at Campus High School in Haysville. Lolita taught at Haysville Middle School. But in 2012, their world was turned upside down when he contracted Lyme Disease and began to suffer seizures and depression. The couple is deeply in debt, having exhausted their savings, and is taking donations at a GoFundMe.com site. They were profiled in the Eagle story, "Disease Destroyed Their Lives But Not their Love," published Nov.3, 2016. View the Wichita Eagle video on YouTube.
Grandson

Donald Richard Schuler

(1979-living) was born in 1979. He is married to Leslie. At one time he was a police officer in Boulder, CO and today lives in Wichita, where he owns Wichita Handyman LLC.
Copyright © 2000, 2008, 2010-2011, 2017 Mark A. Miner