Margaret Hester 'Maggie'
(Minerd) Jackson
(1864-1946)
Maggie Jackson
Margaret Hester "Maggie" (Minerd) Jackson was born on July 15, 1864 in Farmington, near Uniontown, Fayette County, PA, the daughter of Samuel and Rebecca (Smalley) Minerd. Named for her maternal grandmother, Hester (Sisler) Minerd, who was a pioneer settler of southeastern Kansas, and a loving caregiver to underprivileged children.
When the federal census was taken in 1880, the 16-year-old Maggie made her home with her parents in West Newton, Westmoreland County, PA. She and her sister unmarried Emma are shown as laborers in a local paper mill, with Emma listed as having a "finger cut off," apparently related to her work in the mill.
In 1886, as an unmarried 22-year-old, Maggie and her parents, siblings and infant nephew ventured westward, leaving their longtime homes and becoming pioneer settlers of Pittsburg, Crawford County, KS.
Maggie was employed in a dry goods store in Pittsburg. Her brother brother Walker had owned 80 acres in the heart of Pittsburg, at what is now Fourth and Broadway. According to a family memoir, he "sold this land to a merchant by the name of Israel, who built a dry goods store on part of it, and in the later years, the three Minerd girls, Laveria, Margaret and Emma, worked in the dry goods store." She also was a member of the Nazarene Church.
In August 1893, Maggie purchased town lot #41 in the Melrose Addition of Pittsburg from Minnie and J.S. LaFang and Amanda and R.E. Carlton. Her purchase price was only one dollar, which suggests there was a deep friendship between Maggie and the sellers. She and her brother Walker became owners in 1897 of lot #522 in Pittsburg, and then in April 1897 she purchased lot #20 in Pittsburg's Chicago Addition from R.C. and Amanda Carlton, for $100. Later that year, in October 1897, for the price of $1,000, she and her sister Emma acquired lots 3 and 4 in Pittsburg's Third Addition from their brothers John and Levi Springer.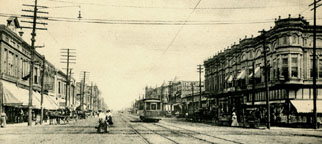 Broadway looking north in Pittsburg, early 1900s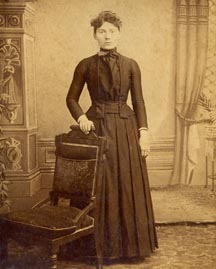 Full length portrait
~ Marriage to Henry C. Jackson ~
In 1910, when she was age 46, Maggie married widowed Pittsburg merchant Henry C. Jackson (1854-1919), the son of John and Sarah J. ("Lerning" or "Leming") Jackson. Born in Laurenceburg, Dearborn County, IN on Aug. 6, 1854, Henry was a decade older than his new bride.
Henry and his first wife, Mary L. Jackson (1845- ? ), had produced five known children -- Frederick H. "Fred" Jackson (born 1879), James Jackson, Charles S. Jackson (1877), Thelma V. Jackson (1900) and one unidentified child who died young. In 1900, the federal census shows that Henry and Mary made their home on North Walnut Street in Pittsburg.
There is no indication that our Maggie was close with any of her new step-children. She and Henry had no children of their own.
Henry "at one time conducted a restaurant in the building now occupied by the Hugh McMullen restaurant, selling the business to Mr. McMullen," said the Pittsburg Daily Headlight newspaper. "He later opened a popcorn stand at Fourth and Broadway, the first of its kind in Pittsburg, which he operated for many years."
During this time, Maggie and her sister Emma Treseder adopted a small girl, Kathryn (Minerd) Schewaski Hughey, "which the two of them raised," recalled a nephew.
The Jacksons lived at 722 East Seventh Street. When listed in R.L. Polk's Pittsburg City Directory of 1910-1911, their address was 605 North Walnut. At some other time, their residence was at 508 North Fairview Avenue in Pittsburg.
~ Move to Joplin, Missouri ~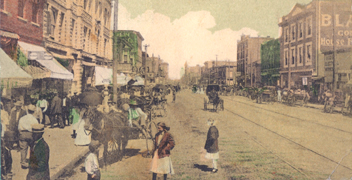 Joplin's busy Main Street, early 1900s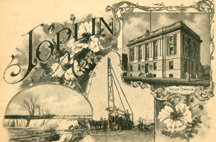 Joplin greeting card
By the time they decided to move, to nearby Joplin, Jasper County, MO in the 1910s, Henry already had made his home in Pittsburg for 35 years, and Maggie for about 30 years. In Joplin, they established a residence at 410 Highland.
Travel back and forth from Joplin to Pittsburg would have been easy thanks to the 110-mile track of streetcar lines known as the Joplin-Pittsburg Railway Company.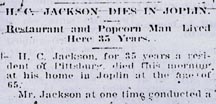 Obituary, 1919
Henry suffered a cerebral hemorrhage and died at home on April 14, 1919, at the age of 64. His remains were transported back to Pittsburg for the funeral at the Bowman chapel, followed by burial at Mt. Olive Cemetery. No monument is known to mark his grave, though it is presumed that he rests beside his first wife.
In an obituary, the Daily Headlight reported that Henry's son Fred Jackson made his home in Pittsburg, at 712 East Eighth, but that the whereabouts of sons James Jackson and Charles Jackson were unknown at that time.
~ Life as a Widow and Return to Pittsburg ~

An older Maggie
Maggie is seen here in older age.
Widowed at age 45, Maggie's heartache compounded the same year when her married sister Emma Treseder also died, in Pittsburg.
Maggie maintained her home on Highland Avenue in Joplin for a few years before returning to Pittsburg. During her years as a widow in Joplin, she provided home and board for needy children.
In fact, the census-taker of 1920 lists her as "care taker of children at home" and lists the following children under her roof -- Loyd Hess (age 9), Thelma Hall (5), Robert McQueen (5) and Robert U. Townsend (1 year, 1 month). She later made Townsend her foster son.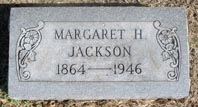 Mt. Olive Cemetery, Pittsburg
Maggie filed a petition with the Crawford County probate court for guardianship of her motherless, nine-year-old grand-nephew Donald Ethen Minerd on Dec. 14, 1929. She stated that the boy's parents both were dead, even though the father was still living, having abandoned the family and moved to Bloomington, IN. To secure this, she posted a $200 bond.
By 1930, when Maggie was age 65, she had returned to Pittsburg. That year, thee federal census of 1930 shows that she made her residence on North Fairview. Living in her household that year were her 79-year-old unmarried brother John Henry Minerd, nine-year-old grand nephew Donald Ethen Minerd and 12-year-old foster son Robert Eugene Townsend.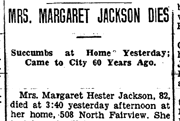 Obituary, 1946
Maggie died in 1946, at the age of 82. She is buried beside her parents at the Mt. Olive Cemetery in Pittsburg. A simple stone marks her grave.
Her husband does not rest beside her, and is interred beside the remains of his first wife.
Copyright © 2000, 2007, 2010, 2018 Mark A. Miner