Winifred (Minerd) Downs
(1888-1962)
Winifred Winona (Minerd) Downs was born on April 19, 1888 in Fayette County, PA, the daughter of Charles A. and Sarah Jane (Kincell) Minerd Sr. Her husband was an early lawyer in our family.
In 1908, when she was age 20, Winona married Harry Rutherford Downs (1877-1966), the son of Ashbel F. and Fannie (Lewis Fetty) Downs of Clarksburg, Harrison County, WV and Uniontown, Fayette County, PA. Harry was 11 years older than his wife.
The Downses bore two known children -- Lewis M. Downs and Virginia J. Robinson.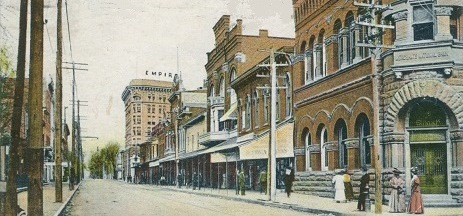 Clarksburg's Main Street circa 1908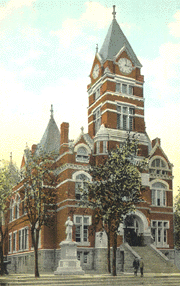 Harrison County Courthouse
Harry was raised by parents who valued the development of one's mind. His father was a successful attorney, county treasurer and grade school teacher who is pictured and profiled in Samuel T. Wiley's 1889 book, Biographical and Portrait Cyclopedia of Fayette County.
Harry "spent three years in the study of photography," says the 1912 book, Genealogical and Personal History of the Upper Monongahela Valley, West Virginia, Volume III. "In 1896 under the firm name of Downs Brothers established a photograph gallery in Uniontown. There the two brothers, Harry R. and Ralph W.E. Downs, continued until 1909." Harry earned enough money from the business to pay law school tuition, and in 1908 graduated from the West Virginia University College of Law. On "March 1, 1909, he located in Clarksburg and opened his law office at No. 320 West Main street."
In 1909, by an act of the West Virginia legislature, a Criminal Court was established for Harrison County. According to Henry Haymond's 1910 book, History of Harrison County, the first term of the new court was held on June 1, 1909, and Harry was among the first attorneys who were admitted to practice before that court. He would have tried his cases in the stately, ornate brick Harrison County Courthouse in Clarksburg.
In all, said the Clarksburg Telegram, Harry was a lawyer for 66 years.
They were members of the First Methodist Church of Clarksburg, and Harry belonged to the Herman Lodge No. 6, AF & AM.
Little else is known of the Downses' personal lives in Clarksburg, except for a few small glimpses from time to time as reported in books and local newspapers. In December 1910, infant son Lewis was "suffering from meningitis," said the Connellsville Daily Courier, "and no hopes are entertained for his recovery." Sadly, little Lewis died shortly after, on Dec. 18, 1910, and was buried in the Downs family plot at Elkview Masonic Cemetery on Marshall Avenue in Clarksburg.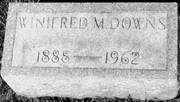 Elkview Masonic Cemetery
In the winters from 1910 to 1915, Harry's mother resided in their home at 442 South Chestnut Street in Clarksburg. Then, in early April 1915, she came down with the flu and bronchitis, and died in the residence. The Downses traveled from Clarksburg to Uniontown for the burial at Oak Grove Cemetery. The event was covered in a Uniontown newspaper.
Winifred worked as a clerk in the drapery department of the Montgomery Ward Company store in Clarksburg.
In March 1937, the Downs' daughter Virginia was a student at the West Virginia Wesleyan College, and with the college choir gave a concert at the First Methodist Episcopal Church of Connellsville.
Not much is known about Winifred and Harry in their later years.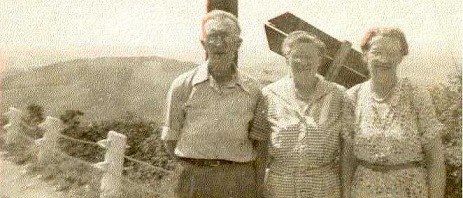 Winifred, far right, with her sister and brother in law, Nell and Martin Walsh. They appear to be standing at the edge of a hillside road.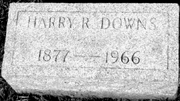 Elkview Masonic Cemetery
Winifred passed away on June 29, 1962, after a brief illness.
Harry outlived her by nearly four years, and moved to Texas to reside with daughter Virginia. He died there on May 13, 1966, and his remains were returned to Clarksburg for burial. They are laid to rest near their infant son in the Elkview Masonic Cemetery in Clarksburg.
Distant cousins of Harry Downs -- Barb Lewis-Hardung and her brother Don Lewis -- have done extensive research on the Downs genealogy going back to England.
~ Daughter Virginia (Downs) Robinson ~
Daughter Virginia Downs ( ? - ? ) was born in (?).
She studied at West Virginia Wesleyan College circa 1937.
She married Lyndon Robinson ( ? - ? ).
The Robinsons settled in Orange, TX.
Copyright © 2001-2003, 2021 Mark A. Miner. Grave photos by Donald Lewis.