Uriah Minor , also known as "Urias," was born in about 1834, probably in Columbiana County, OH, one of 15 children of Jacob and Julianna (Forney) Miner. He is one of a disturbingly high number of cousins to lose his life in a railroad-related accident. Most of what we know about him is contained in a gruesome reports about his death.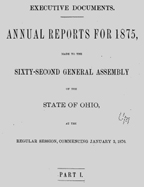 Report of Uriah's death

As a young man, Uriah went by the spelling of "Minerd," though the name was shortened to "Miner" or "Minor."

Uriah's early adult years are not known and may well be lost to history. He has not yet been located in the 1860 federal census.

On Sept. 19, 1867, when he would have been 33 years of age, Uriah was joined in wedlock with Elizabeth Crow ( ? - ? ), an immigrant from England. Their marriage license was obtained in nearby Warren, Trumbull County. Rev. R.M. Warren officiated the nuptials.

When the federal census enumeration of 1870 was made, the 39-year-old "Uri Miner" was counted with his wife Elizabeth (age 47) and stepchildren Martha (age 14), George (11) and Mary (8). "Uri" is shown as a day laborer.

In 1874, when he was 40 years of age, Uriah was employed as a switchman at the railroad yard in Leavittsburg, Trumbull County.

Tragedy struck on July 16, 1874, when Uriah walked between two railroad cars to uncouple them. The cars were detached from the longer train, but he may not have known that. He gave the signal for the locomotive to back up, but when it did so, it struck the coupled cars. The jolt "caused him to fall across the rail," read an official report. He "was caught by [the] wheel of [the] car, dragging him thirty feet."

Fatally mangled, Uriah died the same day. No inquest was held, said the report.

Official report about Uriah's grisly death on the railroad
The incident was described in Part 1 of Annual Reports for 1875, Made to the Sixty-Second General Assembly of the State of Ohio (page 1097).
Uriah's resting place is not yet known.
The 1880 United States Census lists the widowed Elizabeth in Warren, heading a household that included her son Thomas Crow, son and daughter-in-law George and Phoebe Crow and daughters Mary Crow and Jane Crow. Thomas earned a living that year as a gas filler, George as a railroad laborer, and Mary and Jane in a flax mill. Phoebe is marked as having borne bilious fever.
He is not to be confused with a first cousin, Ohio-born Uriah Minerd (also "Miner"), a Civil War veteran of Montcalm County, MI.
Copyright © 2009 Mark A. Miner.
Annual Reports for 1875 images courtesy of Google Books.