Home

Uriah Minerd was born on Feb. 5, 1828 near Scio, Harrison County, OH, or in Marion, OH, the son of John and Barbara (Shaeffer) Minerd Jr. He was a pioneer settler of Western Ohio and Central Michigan, and having served in the Civil War, lived to a ripe old age.
He is not to be confused with a first cousin, Ohio-born Uriah Minor (also spelled "Miner"), who was killed in a railroad accident in 1874 in Leavittsburg, Trumbull County, OH.
In the early 1940s, when Uriah was a teenager, he and his parents left Harrison County. Using "a good team of horses and a substantial wagon," a newspaper once said, they traveled across the state, a "very tedious and slow" journey. The family settled in Van Wert County, OH, and in 1845 moved to a farm along the Ohio state line in Allen County, IN. He grew there into adulthood, standing 5 feet, 6 inches tall, and weighing 140 lbs. He had a light complexion, with blue eyes and auburn hair.
When Uriah was 25, on Sept. 18, 1853, he married Matilda Josephine Bodle (1839-1934). She was a native of Licking County, OH, and the daughter of John S. and Sarah (Smith) Bodle (or "Bodel") of Van Wert. They were 11 years apart in age. The wedding ceremony, held in Tully Township, Van Wert County, was officiated by justice of the peace Caleb Roberts. No written record is known to exist of this marriage except for in Uriah's Civil War pension files.
The Minerds had six children -- Sarah Caroline Ayars, Dr. James Weston Minerd, Nancy Miner, Marion W. Miner, John Perry Miner and Lilian Miner. Daughters Nancy (born in 1857 in Van Wert) and Lilian (born July 16,1865) died young.

Uriah's profile, History of Montcalm County, Michigan, 1916
In October 1853, Uriah and Matilda resided in Allen County, IN. That month, he purchased a farm in Van Wert County, OH, just across the state line. The farm contained 60 acres, and cost $540. Uriah and Matilda then sold the 60 acres to Charles and Hiram Austin. A month later, Uriah repurchased 40 acres of the farm, and remained there for a dozen years, until after his return from military service in the Civil War.
When the federal census was taken in 1860, the Minerds made their home in Tulley, Van Wert County. Uriah's occupation was listed as farmer, and his birthplace as Harrison County. At about that time, he was shuttling back and forth to Montcalm County in Central Michigan, where he had identified some prime farm property that he wanted to purchase.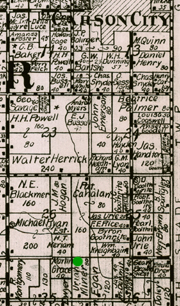 Green dot marks Uriah's farm
The Civil War broke out in April 1861. At age 34, Uriah was drafted to serve in the army and enrolled on Oct. 8, 1862 in the 20th Ohio Infantry, and was assigned to Company G. His unit was commanded by Capt. George L. Melick. He served for 10 months and during that time the army spelled his name "Miner" or "Minor." At the battle of Champion Hill in Mississippi, he received a flesh wound in the hand, though the specific details are not known.
Uriah was mustered out of the service at Vicksburg, MS on July 14, 1863. Returning home, Uriah felt his only health ailment which he blamed on his military service was rheumatism.
By 1865, Uriah and Matilda owned the entire 60 acres, and sold the tract to John Underwood for $1,600, quite a profit from their original investment. They apparently then used this windfall in October 1865 to purchase an 80-acre tract in Montcalm County, MI, just to the south of Carson City in Bloomer Township. The price was $750. Uriah's deed, on file today in the Montcalm County Courthouse, states that he was a resident of Tully, Van Wert County at the time of purchase, and that the seller was Carso Crane of Ontario County, NY.
The tract -- upon which the family made its home for decades -- was south of Carson City and is shown in a 1913 atlas map, marked with a green dot.
The Minerds moved to Carson City for good in 1869, with Uriah "putting in his lot with that of the pioneers who then were beginning to penetrate the forest wilds of Montcalm County," recalled John W. Dasef in his 1916 History of Montcalm County, Michigan, Volume II. Continuing his profile of Uriah, Dasef wrote:
Some time previous to taking up his permanent residence here he had been attracted by the possibilities presented by this region and had bought an eighty-acre tract of timber land in the southeast part of Bloomer township, this county, and had cleared fourteen acres of the same before moving his family here. On this cleared tract he had erected a little board shanty, twelve by fourteen feet in dimensions, and there he installed his family, this unpretentious dwelling serving as a place of abode until he presently built a somewhat more secure, but humble, house of logs, in which the family made their home until he erected his present substantial farm house in 1882, and there he and his wife, ever a competent and valuable helpmate to him in the trying days of forest pioneering, have made their home ever since. The place is well improved, with its substantial house, barns and out-buildings, well-tilled fields and fine orchard and long has been regarded as one of the most home-like and attractive places thereabout.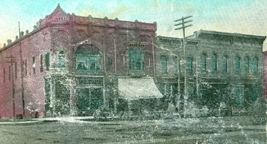 Carson City at the corner of Main Street
When the census was taken in 1870 and 1880, the family made their home as farmers near the post office of West Bloomer, near Carson City.
Uriah was mentioned as a Civil War veteran residing locally, in the book History of Ionia and Montcalm Counties, Michigan, by John S. Schenck (Philadelphia: D.W. Ensign & Co., 1881). He also was counted as a United States soldier of the Civil War residing in Montcalm County, Bloomer Township, in a special census of the state in made 1894.
In the 1870s, Uriah and Matilda were converted to the Seventh-day Adventist Church after their sons Weston and Perry started attending services, having heard local elder Ezra Brackett preach at their school-house. The teachings of this Christian denomination, its observance of Saturday as the Sabbath, and focus on the "imminent" second coming of Jesus Christ -- as well as the warm friendship of the Ayars family into which their daughter later married -- must have appealed strongly to the Minerds. In fact, the Ayarses personally knew and loved the American Christian husband-and-wife team of James and Ellen (Gould) White whose prophecy and leadership helped create the "Sabbatarian Adventist" movement that evolved into what today is the Seventh-day Adventist Church.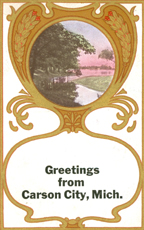 Old postcard
The story of the Minerds' conversion is told in a memoir by Jennie Ayars-Kellogg, a sister in law of their daughter Sarah Caroline (Miner) Ayars, as published many years later in 1935 in the official church newspaper, The Advent Review and Sabbath Herald:
A few Sabbaths after that, as we approached our place of meeting, my brother said, "Why, there are the horses which those [Miner] boys usually ride, but they are hitched to a wagon. I wonder if they have brought somebody else." And sure enough, when we went into church, there were a man and a woman sitting with them. We were always very glad to have strangers come to our meeting, so we went over, sat down beside them, and spoke to them. The woman said that she and her husband had been away visiting in Ohio, and when they had returned, a little over a week before, they were surprised on Friday afternoon to see the boys getting ready to keep Saturday as the Sabbath. She wondered about it, but told them, "Keep Saturday this time, if you want to, and I will straighten you out on Sunday."
The first of the week came, and she set about trying to prove to them that Sunday was the day to keep. The boys had some tracts on the Sabbath, and they persuaded their parents to sit down and read these first. They started to read the leaflets, became more interested the farther they read, and before they had finished, were convinced that the seventh day is the true Sabbath. So the next week they, too, had closed up their work on Friday, and here they were, keeping their first Sabbath.
Uriah is known in 1876, 1877 and 1879 to have subscribed to the official church newspaper, The Advent Review and Sabbath Herald, for the sum of one dollar per year.
As he aged, Uriah suffered from a variety of illnesses, among them rheumatism, heart disease and kidney trouble. He began receiving a federal pension of $8 per month, after filling out a significant amount of paperwork documenting his ailments. The original papers in his claim are on file today at the National Archives in Washington, D.C.
In November 1892, while being examined by military physicians as part of the pension confirmation process, he said "Think I have disease of kidneys because I have lame back. Am partially blind in rt. eye." Son in law Benjamin Franklin Ayars testified that he and Uriah had labored together sawing wood and gathering hay but that Uriah had to stop working because of fatigue. Two years later, when examined again in 1894, Uriah wrote:
I am growing worse all of the time. I am not free from rheumatism in some part of my body at any time. My heart I think is better. My kidneys bother me but better. My eye sight is failing. I am growing weaker each year so that now I can do no work, but a little in the garden. I can't earn my living by manual labor.

Hubbardston's unpaved Washington Street
Later, in April 1898, at the time Uriah's father died in Indiana at the age of 98, the Minerds resided in Hubbardston, Ionia County, MI. Uriah was the only one of his siblings not to attend the funeral, with this fact mentioned in the father's obituary in the Monroeville (IN) Weekly Breeze. According to the terms of the father's will, Uriah was to receive a bequest from the estate of $100 within five years.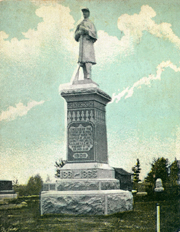 Civil War monument in Carson City
When the federal census was taken in June 1900, Uriah and Matilda were living in Carson City, Bloomer Township, Montcalm County. They had been married for 47 years and, at age 74, he was still working as a farmer. All but one of their children were alive at the time.
Uriah was examined again in 1902 by military physicians. They noted that he had lost three-quarters of an inch from his height, and that all of his teeth were gone, with his gums "somewhat shrunken." As a result of this exam, his pension payments were increased to $12 per month.
The Montcalm County history said that in April 1909, son Weston, who had been living in Chicago, "returned to his old home in this county and, in order to relieve his father of the cares of the farm, advancing years by that time having begun to leave their trace upon the robust figure of his pioneer father, bought the old home place and has since that time been very successfully operating the same, making his home there..."
By 1916, when John Dasef wrote the Montcalm County history, he observed that Uriah, "who for nearly fifty nears has been identified with the interests of this region, [is] now living, in the calm 'sunset time' of his life, on the place which he claimed from the first wilderness in Bloomer township in 1859, a place now owned and managed by his son, James Miner..."
The 1920 census shows 91-year-old Uriah and 84-year-old Matilda making their home on West Walnut Street in Carson City. Widowed daughter Caroline Ayars, age 65, lived under their roof that year. At some point of their retirement years, they also resided on Center Street.
Uriah died of an intestinal obstruction on March 7, 1922, at the age of 94. He was buried in the Carson City Cemetery, in Lot 185. A short obituary appeared the following month in the Review and Herald. Penned by H.H. Hicks, it simply read:
Miner.--Uriah Miner was born in Harrison County, Ohio. In 1853 he married Josephine Bodle, and five children were born to them. He fell asleep March 7, 1922. His aged companion, three sons, and one daughter mourn.
Matilda outlived her husband by a dozen years. In 1930, at the age of 91, she made her home with her widowed daughter Carrie Ayars (age 75) and twice-divorced son Weston (age 73) on Maple Street in Carson City, Montcalm County.
She died on Jan. 7, 1934 in Carson City, at the age of 95. She too was interred at Carson City Cemetery, but in Lot 169, separate from her husband. Their graves are not marked today. Likewise, no obituaries have been found in old copies of the Crystal Mail newspaper which served Carson City, Bloomer Township and other nearby villages.
Word of Matilda's passing was forwarded to her husband's nephew John Reuben Minerd on the old Minerd home farm along the Indiana-Ohio state line. The Minerds in turn passed the news to another nephew, Corwin D. Tilbury, residing in Pittsburgh, PA. In a letter from Pittsburgh dated March 20, 2934, Corwin wrote this reply: "So Aunt Matilda is gone; do I know how old she was? Must have been near 90."
For more information on this line, contact descendant James Ayars or visit his Ayars.com website.
Copyright © 2002-2004, 2008-2010, 2019 Mark A. Miner.
History of Montcalm County page courtesy of Google Books. Uriah's Civil War pension information: App 823832, Cert 597861; Widow App 1187024, Cert 923182. Atlas of Montcalm County published in 1913 and is courtesy of the White Pine Library, Stanton, MI.