When Charles was age three, in 1854, his mother died. His father thereafter remarried and remained in Kingwood, where Charles was raised to manhood.
In January 1873, Charles joined with other young men of the Kingwood Methodist-Episcopal Church and organized a Young Men's Prayer Meetings Association, "to hold meetings at 4 p.m. each Sabbath," according to the 1950 booklet entitled Through the Years: A History of Methodism in Kingwood, West Virginia, and authored by Ethel Peaslee Beerbower. His brother James Eyster Murdock Sr. was elected president of this prayer association.
When Charles reached age 22, later in 1873, he moved to Ironton, where many of his siblings were already living. "For a time," said the Ironton Daily Register, [he] "was connected with the W.A. Murdock wholesale grocery…." A listing for the Murdock grocery in 1887 shows it was located at the corner of Second and Lawrence Streets. As well, the firm of Murdock & Co. operated a receiving, forwarding and commission merchant business with its office at the "Wharf-boat."

Atlas of Lawrence County with a red star showing W.A. Murdock's 15-acre property in Ironton, where Ice Creek empties into the Ohio River, 1887

1887 Atlas of Lawrence County
On Jan 4, 1876, at the age of 25, Charles married 22-year-old Missouri L. Stone (1854-1921), also a native of Kingwood and the daughter of Clayburn Stone.
Together, Charles and Missouri produced a family of three daughters – Minnie Dodds, Adalyn "Addie" Johnston and Julia Helen Fisher.
The Murdocks resided at 318 South Eighth Street in Ironton. Charles was a member of the First Methodist Episcopal Church and was "secretary of the Men's Bible class for over twenty years. He was justly proud of his attendance record, having been absent but six times in the past thirty years." They were enumerated at this address when the 1900 census was taken.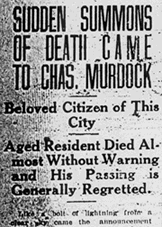 Ironton Daily Register, 1921
The Semi-Weekly Irontonian said that Charles "for many years conducted a grocery in West Ironton, where he was widely known and very highly respected. After giving up business he still was identified with local groceries and up to the time he became incapacitated was employed at the Freeman stand at Third and Vernon streets."
In early February 1921, at the age of 69, Charles suffered a cerebral hemorrhage, and died a week later, on Feb. 13, 1921. He was buried at Woodland Cemetery in Ironton. On his official Ohio death certificate, his mother's maiden name was spelled "Minard."
His death, said the Daily Register, was like "a bolt of lightning from a clear blue sky, … thus removing from this city a noble and upright citizen, a kind and devoted husband and father. The news of Mr. Murdock's death cast a gloom of sorry throughout the city as his many friends were not aware that he had been ill." On his death certificate, with information provided by son in law J.M. Johnston, the maiden name of Charles' mother was spelled "Minard."
Missouri only survived Charles by seven months. She moved to Xenia, Greene County, OH, to live with her married daughter, Mrs. J.C. Dodds.
Sadly, in late September of 1921, Missouri came down with a fatal case of meningitis, with "cerebral exhaustion and muscular uncoordination," wrote her physician. She suffered for about 10 days, and died at the age of 67 on Oct. 10, 1921.
~ Daughter Adalyn "Addie" (Murdock) Johnston ~
Daughter Adalyn "Addie" (Murdock) Johnston (1881-1968?) was born in 1881.
She married at the age of 30, in about 1911, to 40-year-old North Carolina native John M. Johnston (1879- ? ). John was of of medium height and slender build, with brown eyes and hair.
When he was required to register for the military draft during World War I, he listed his nearest relative as Mrs. R.L. Troutman of Independence, MO.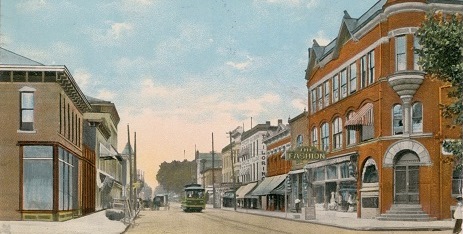 Trolley on Ironton's 2nd Street, looking west, circa 1912
They resided in Ironton circa 1920, on South Fourth Street, and in 1930 on Sixth Street, where John was a salesman for a monument company. His employer was his brother in law John "Charles" Dodds, a partner and executive in the family-owned George Dodds Sons Granite Company of Xenia, OH.
The Johnstons are not known to have reproduced. The 1930 federal census shows them childless with John at age 52 and Adalyn at age 49. When Adalyn and Mrs. O.E Irish traveled to Xenia for the funeral of Adalyn's brother-in-law John Charles Dodds in the winter of 1937, and returned home after several weeks away, the Xenia Daily Gazette noted that "Neither the Johnston home nor the Irish home was damaged in the recent flood in Ironton."

When the census again was made in 1940, they remained in Ironton, with John continuing his work in sales for the retail granite company.
John died at home on March 12, 1944. A brief obituary in the Dayton Daily News said he was a "salesman for the George Dodds and Sons Granite Co., Xenia," and that the widow "is a sister of Mrs. J.C. Dodds of [Xenia]."

Adalyn passed away in 1968, with burial in Ironton's Woodland Cemetery.
~ Daughter Minnie (Murdock) Albright Dodds ~
Daughter Minnie Murdock (1876- ? ) was born on Dec. 4, 1876 in Ironton.
She attended Ironton High School and graduated in the class of 1898.
She was married twice. Her first husband was Emory P. Albright (1879- ? ), son of L.M. and Jennie (Gibson) Albright of Albrightsville, Preston County. She was age 29, and he 27, at the time of marriage, which was held on June 14, 1906, by the hand of Rev. R.F. Bishop.
Emory was an insurance agent residing in Kingwood, and Minnie a sales lady in Ironton. Tragedy struck the year after marriage, when Emory died, of causes not yet known. He was laid to rest in Kingwood's Maplewood Cemetery.
On Sept. 15, 1908, Minnie wed again, at the age of 31, to 35-year-old John "Charles" (or "J.C.") Dodds (1874-1937), son of George and Elizabeth (Ferguson) Dodds Sr. In a most remarkable twist, the wedding occurred at the Kingwood home of Minnie's former father-in-law, L.M. Albright, officiated by Rev. J.H. Hess of the Methodist Episcopal Church.

Charles was of medium height and build, with brown eyes.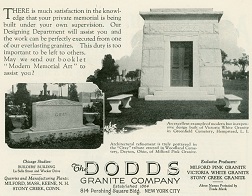 Ad for Dodds Granite in a national magazine
How Minnie and Charles met is unknown. He resided in Xenia, Greene County, OH; had been married once before to Elizabeth Hartsook Stephens; and brought three children to his marriage with Minnie: John Charles Dodds Jr., Mary K. Murphy and Elizabeth B. Prewitt.

He and Minnie had no children of their own. In 1910-1930, their residence was at 218 Hill Street in Xenia.
As World War I raged in Europe, Charles was required to register for the military draft, at the age of 44. He listed Minnie as his next of kin on his registration card.
He and his brothers were partners in George Dodds Sons Granite Company of Xenia, founded by their father George Sr. and uncle Andrew in 1864. The firm had subsidiary businesses known as Victoria White Granite Company, with quarries in New Hampshire, and Milford Pink Granite Company, in Massachusetts, considered among the finest in the eastern United States. Brother Earl was based in the firm's Chicago office; brother Ralph in Indianapolis; brother Leslie headed the wholesale department of Wilson Brothers in Chicago; and brothers Frank and George were in Xenia with John. They are mentioned in the 1918 book, History of Greene County, Ohio: It's People, Industries and Institutions, compiled by editor in chief M.A. Broadstone.
Their headquarters building in Xenia "is built of stone with polished Quincy granite columns and is by far the finest building in the city," said the trade journal The Reporter in May 1911:
The space above the first floor is occupied by ten handsome apartments, modern in every respect and finished throughout in quartered oak and marble. The offices of the company on the first floor are handsomely furnished and finished with marble floors and wainscot. The entire building is heated by hot water and is most conveniently arranged. The building was designed and planned by J.C. Dodds and was built complete by the firm's own workmen.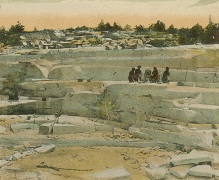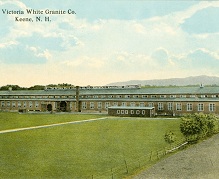 Above, left: typical granite quarry in New Hampshire. Right: offices of the Victoria White Granite Co. subsidiary in Keene, NH
In 1911, Charles held the title of vice president and general manager. He was a member of the I.M.G. Producers' Association and attended their conferences. He also was known for helping build mausoleums in and around Lima, Ohio.
In about 1919, when famed American sculptor George Gray Barnard offered to make bronze statues of Abraham Lincoln for Russia and France, Charles offered to donate the pedestals for the effort.
Later in the 1930s, Charles transferred to New York City, with his offices based at 814 Pershing Square Building.
While visiting his married daughter Elizabeth Prewitt at Christmas 1936, John became seriously ill in Pittsfield, Berkshire County, MA, and Minnie was called to his side. There was no hope, and he passed away on Jan. 17, 1937. His remains were returned to Xenia for burial in Woodland Cemetery. A one-sentence obituary was printed in the next day's edition of the New York Times, noting that he was president of the company, lived in Xenia and was 64 years of age. A longer obituary in the Xenia (OH) Daily Gazette said that funeral seervices were held in the First Methodist Episcopal Church, led by Dr. J.R. Fields.
Minnie outlived her husband by 34 years. Their home at 218 Hill Street was sold to William Warden who announced plans to convert the building into apartments, retaining a first-floor apartment for him and his wife.
Said the Daily Gazette, she was a "member of Faith Community United Methodist since 1908 and belonged to the WSCS of the church. She had sung in the church choir for more than 50 years. For a number of years she was employed by Gibney's Store." Her home address was 261 Edison Boulevard and then at the end at Heathergreene Nursing Home on Wilson Drive.
She died on Aug. 19, 1971. She rests for eternity beside her husband. [Find-A-Grave link]
Stepson John Charles Dodds Jr. (1898-1990) was born in 1898. In about 1921, he married Mary Robertson ( ? - ? ) of Keene, NH. He lived in Keene in 1921-1971. He is believed to have died in Keene on April 23, 1990.

Stepdaughter Mary Katherine Dodds ( ? - ? ) wed Richard Murphy ( ? - ? ). The couple was in White Plains near New York City in 1937 and Stony Creek, CT in 1941. She was deceased by 1971.

Stepdaughter Elizabeth Dodds ( ? - ? ) entered into marriage with Rev. Charles "Russell" Prewitt ( ? - ? ). They made a home circa 1932-1937 in Pittsfield, MA, where Russell served as pastor of the First Methodist Church. Elizabeth is known to have been too ill to travel back to Ohio for her father's funeral in January 1937. Then in 1941, they were in Maplewood, NJ. By 1946, they resided in Modesto, CA, where he pastored the Morrow Memorial Methodist Church. They remained in Modesto circa 1985, with Russell active in the Escalon Area Chapter of the American Association of Retired Persons (AARP).
~ Daughter Julia "Helen" (Murdock) Fisher ~
Daughter Julia "Helen" Murdock (1894- ? ) was born in 1894.
She wedded Harry Andrew Fisher (1892-1978?) in about 1917, when Helen was age 22 and Harry 38. He was tall and slender, with grey eyes and light hair.
They bore four children -- Harry Edgar Fisher (1918-1921), Jeane Elizabeth Morrison, John Andrew Fisher and Joyce Miles.
Harry was required to register for the military draft during World War I. He disclosed his occupation as linotype operator for the Ironton Publishing Company.
They resided at 422 Walnut Street in Ironton when the census was taken in 1920 and 1930. Harry's employment during that period was as circulation manager for the local newspaper in Ironton. In 1930, their residence was on South Ninth Street.
Sadly, son Harry died at the age of three on Oct. 4, 1921, in Ironton. Burial was at Woodland Cemetery.
Helen is known to have traveled to Xenia, OH in January 1937 for the funeral of her brother-in-law John Charles Dodds.
Harry Sr. may have died on Dec. 11, 1978, with burial in Ironton's Woodland Cemetery, but this needs to be verified.
Helen's story is lost to history for now.
Daughter Jeane Elizabeth Fisher (1921-2011) was born on March 30, 1921 in Ironton. On St. Patrick's Day 1946, when she was nearing her 25th birthday, she married Charles Elisha Morrison ( ? - ? ). They had one daughter, Juliane McGowan. Residing in Ironton, Jeane was a homemaker and was employed for a time as accounts payable clerk for Ashland Oil. She also was a member of the First United Methodist Church and was a Sunday School teacher and member of the adult choir and the Women's Society. Later, the Morrisons moved to Portsmouth, OH. Jeane died in Portsmouth at the age of 89 on Jan. 28, 2011. Her remains were returned to Ironton for burial in the Woodland Cemetery, the family's longtime resting place of many generations.
Granddaughter Juliane Morrison entered into marriage with (?) McGowan. Juliane was in Columbus, OH in 2016.
Son John Andrew Fisher Sr. (1926-2016) was born on July 17, 1926, a twin with his sister Joyce. During World War II, he served in the U.S. Navy. He married Charlene Sigman ( ? - ? ). Their union endured for 53 years. Two children born into this family were Judith Wolfgang and John Andrew "Andy" Fisher Jr. They made their home for years in Dyersburg, TN. John was employed as a teacher in the Dyersburg City Schools. He was active in the First United Methodist Church, where he sang in the chancel choir and men's chorus for six decades and was a Sunday School teacher. He also belonged to the local Masons lodge and Dyersburg Choral Society, served a term as president of the Dyeresburg Civitan Club, was treasurer of the Retired Teacher Association and a director of the Civil Defense for Dyersburg and Dyer County. He also held seats on the Dyersburg City Planning Commission and Dyer County School Board, a charter member of the Dyersburg/Dyer County Community Concert Association. He also gave back to the community as a red coat volunteer at Methodist Hospital for 23 years, from 1992 to 2015, and an active blood donor for Dyer County Life Line Blood Program, giving 13˝ gallons over his lifetime. As a patient in Tennova Healthcare Dyersburg Regional Hospital, he passed away at the age of 89 on Feb. 9, 2016. Rev. Dell King and Rev. Ed White jointly led the funeral service at the family church. Burial followed in Fairview Cemetery, with an obituary appearing in the Memphis Commercial Appeal.
Granddaughter Judith Fisher was joined in wedlock with Rev. James Grover "Jim" Wolfgang Sr. Together they bore one son, James Grover Wolfgang, Jr. Circa 2016, the family was in Cayce, KY. They made news in December 2021 when surviving a tornado in Cayce that "devastated" the nearby town of Mayfield," reported WPSD-TV. Their church and parsonage were damaged, but not destroyed.
Grandson John Andrew "Andy" Fisher Jr. (1957-2019) was born on Aug. 8, 1957. He was united in matrimony with Cindy Perkins ( ? - ? ). They were the parents of John Michael Fisher and Andrew Carrington Fisher. Their longtime home was in Dyersburg, TN. Andy was active in the Dyersburg First United Methodist Church as director of its Family Life Center. IIn this role, he helped found the Upward Program. He went on to become a certified lay minister, leading congregations at Friendship United Methodist Church and Elizabeth United Methodist Church. He also was an emergency medical technician paramedic coordinator for the state of Tennessee and an inaugural member of the Tennessee Emergency Medical Services Educators Association. Grief cascaded over the family when Andy died at the age of 61, in West Tennessee Healthcare-Dyersburg Hospital, on Jan. 26, 2019. The Dyersburg church was the site of his funeral, jointly conducted by Rev. Ed White and Rev. Dr. Phillip Cook.

Great-grandson John Michael Fisher married Michelle. They were in Crossville, TN in 2019.

Great-grandson Andrew Carrington Fisher made his home in 2019 in Dyersburg.
Daughter Joyce A. Fisher (1926-2011) was born on July 17, 1926, a twin with her brother John. She was a 1944 graduate of Ironton High School and received her bachelor of science degree in 1951 from the Cincinnati Conservatory of Music. She married Harold "Hal" Miles ( ? - ? ). The marriage survived the ups and downs of 59 years. They produced two children-- Dr. Jeffrey Miles and Dr. Janet Thompson -- and made their home in Columbus, OH. Joyce worked as secretary-treasurer of Wilson Resources for more than three decades. With a talent for vocal music, she performed as a soloist and with choral groups all over the state and also directed a number of church choirs. She surrendered to the spirit of death at the age of 85 on Nov. 24, 2011. Her funeral was held at the Epworth Methodist Church in Columbus, and an obituary was published in the Columbus Dispatch, with a shorter one appearing in the Ironton Tribune.
Grandson Dr. Jeffrey Miles ( ? - ? )
Granddaughter Dr. Janet Miles ( ? - ? ) wed (?) Thompson.
Copyright © 2001, 2008, 2011-2012, 2014, 2021 Mark A. Miner