Rebecca (Miner) Murdock
(1815-1854)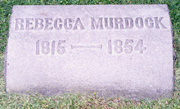 Maplewood Cemetery, Kingwood
Rebecca (Miner) Murdock was born in 1815 "two miles east of" Kingwood, Preston County, WV the daughter of Burket and Frances (Skinner) Minerd.
Very little of Rebecca's life is known, and she was hugely overshadowed by her husband John, who was a business and community leader. He was a judge and a "prominent and leading citizen for half a century" in Kingwood, and "a participant in the financial progress of the county and town." At least three, and perhaps five, of their sons served in the Civil War.
Confirming our family's heritage, the Preston County Journal once reported that Rebecca was "of German descent" and that her "parents were German."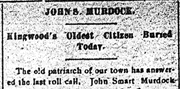 Preston County Journal, 1906
Rebecca married John Smart Murdock (1809-1906), a native of Uniontown, Fayette County, PA, the son Thomas and Susan (Guseman) Murdock. John had lost his father in battle in the War of 1812 on Long Island, NY. Then at the age of five, he relocated with his mother to Morgantown where he "learned the blacksmith trade," said the West Virginia Argus. The History of Preston County reports that he "was reared by Godfrey Guseman," a kinsman.
Rebecca and John lived at Morgantown, Monongalia County, WV, and Kingwood, Preston County, WV. Morgantown, hard by the Monongahela River. The Argus said that John "came to Kingwood [in 1847] and opened a shop and worked at the trade for forty years. He was a life-long Democrat and cast his first vote for General Jackson."
Their children were Thomas I. Murdock, William B. Murdock, Israel B. Murdock, Marcellus H. Murdock, Godfrey G. Murdock, Susan F. Gribble, James Eyster Murdock Sr., Elisha H. Murdock, Mary Adaline Peters, Elizabeth Jane "Jennie" Ehrlich and Charles Edgar Murdock.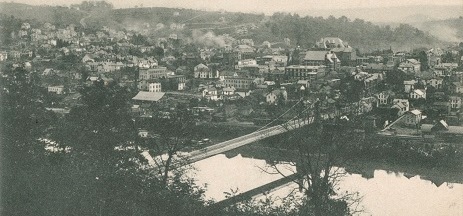 Rare old bird's eye image of Morgantown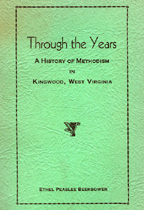 Church history naming Rebecca
In 1842, Rebecca and John, and her married sister Catherine Hanshaw, were members of the Kingwood Methodist Church at the time the congregation erected a new, brick building. Their sons William and Israel were charter members and teachers of the first Sunday School class organized at the church, in 1850. A history of the church, published in 1950 and entitled Through the Years: A History of Methodism in Kingwood, West Virginia, author Ethel Peaslee Beerbower writes:
For several years the young and rising church felt the growing need of a house of worship which they might call their own, and eventually became convinced that they would enjoy a larger measure of divine blessing if they would erect a house for the Lord. In 1841, the bricks were made and in the fall of 1842 the present (1874) church was dedicated by Reverend William Hunter, then Presiding Elder of the District, at a Quarterly Meeting held by him. At that time the church was not yet plastered and the seats had not yet been made. The congregation was seated on planks supported by blocks of wood. The pulpit, an elevated box in the style of the day, was the only part of the interior which was completed. As soon as possible, in 1844, the church was plastered and the seats were completed in 1849.
The names of the Murdocks and Catherine Hanshaw, among 43 members of the church at the time of the brick building project, were part of a list compiled some years later by Persis Hagans McGrew, who "had to rely entirely upon her memory." A copy of this very rare booklet, Through the Years, today is preserved in the Minerd.com Archives.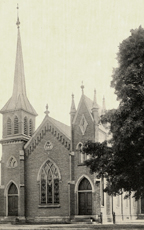 Kingwood's Methodist
Episcopal Church
According to the Argus, John joined the Methodist Episcopal Church at age 23. A rare old photograph seen here shows the brick-edifice church -- built in 1879 to replace the 1842 building. During 1878-1879, when the new building was being planned and erected, John and his sons James and Marcellus contributed funds for the work. The dedication service was held on May 25, 1879. Several cousins also made financial contributions to the effort, including Henry Harrison Gribble, John Allen Fawcett and James Miner Carroll.
John also served as "Justice of the Peace for forty years, first holding the office under a commission from the Governor of Virginia," said the Argus. "He served eight years as a judge of the County Court, Member of the Board of Education for years and has been a prominent and leading citizen for half a century." As justice of the peace, John acquired the nickname "Squire" which he carried the rest of his life. His name was constantly in the local newspapers in connection with a wide variety of legal and public affairs matters.
In around 1838, John "held the inquest over the body" of a man named Martin, who had been murdered by a slave he had purchased. The slave later was sentenced to death, and was "the first man hung in Preston County … the first and only execution for murder that ever occurred in the county," said the History of Preston County.
In 1852, John was elected president judge of the county court in Kingwood, WV. "The body was composed of thirty-two justices," said the History of Preston County, and in "personal appearance, it is said that the court was a remarkably fine looking body of men. An editor, from an adjoining county, complimented them by saying, 'that so fine a looking body, physically and intellectually, resembled a session of congressmen, rather than a county squires' court'."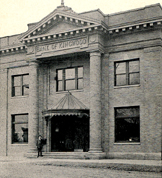 Bank of Kingwood
Demonstrating financial acumen and business leadership, John was a director of the Bank of Kingwood, seen here in an old postcard image, for two decades.
Sadly, Rebecca died in Kingwood at age 39, on May 28, 1854, having borne 11 children. The cause of death is not known. Her bereaved widower reported to county officials that her parents were "Burget & Frankey Miner" and that she had been born "two miles east of Kingwood."
Tragically, later that year, 23-year-old son William also died in Rowlesburg, of tuberculosis. He was laid to rest near his mother in the Maplewood Cemetery in Kingwood.
In the years after Rebecca's death, a number of their children moved to Ironton, Lawrence County, OH, and are considered pioneer settlers. At about the same time, Rebecca's first cousin, John V.S. Minerd, also relocated to Ironton from his home in Fayette County, PA.
Widower John later married Lydia (Lazzell) Trippett, the widow of Jesse Trippett of Monongalia County, WV. They had two sons -- John C. Murdock and Frank M. Murdock. John became a "well known grocer" and Frank worked at "the Kingwood Bank." Later, John moved to Ironton to join half-brother Thomas as "wholesale hardware dealers [who] are succeeding well in the Buckeye Store. John takes quite an active part in politics and is Treasurer of the County Democracy."
During the Civil War, sons James, Godfrey and Israel served in the Union Army. Son Thomas may also have served, based upon hints found in letters he wrote during the period.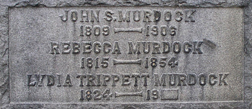 Maplewood Cemetery, Kingwood
An October 1891 issue of the West Virginia Argus reported that John "has had a new tin roof put on his dwelling house." Several weeks later, the Argus further observed that he had "added much to the appearance of [his] residence by a new coat of paint."
The 1900 census of Preston County shows John and Lydia and 34-year-old, unmarried son Frank residing together in Kingwood on High Street. Also in the household was 12-year-old servant Albert Liston. Making their homes a few doors away were son Marcellus; granddaughter Susan (Murdock) Fawcett married to cousin J. William Fawcett; and grandnieces and nephews Luella and Patrick Crogan, Mamie Herndon Fawcett and Bess Fawcett.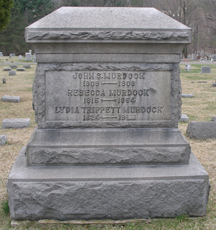 Maplewood Cemetery, Kingwood
John passed away in May 1906. His death generated lengthy obituaries in the Preston County newspapers. The Preston County Journal eulogized:
By far the greater part of his long and industrious life has been identified with this county. When he came into this world Preston was yet a part of Monongalia and so remained for eight years longer. The territory occupied by the present county was mainly a wilderness and the population was probably not over a twelfth of what it now is. The historic National Road and Northwestern Pike were not in existence. There was not a town within the limits of the present county. Brandonville had not yet had a beginning and Kingwood had not been established as a town, a very few log huts being all that stood on the area where nearly a thousand people now find homes. The population of the Federal Union was only a ninth of what it is at present. Washington had been dead but a few days more than ten years. James Madison, the fourth president was at the head of the government. The war of 1812 had not begun and soldiers of the Revolution were still very numerous and in active life. Abraham Lincoln, Jefferson Davis, and Robert E. Lee were toddling infants. Ulysses S. Grant was yet unborn. Steam navigation was in its veriest infancy and the steam locomotive did not arrive until Mr. Murdock had reached man's estate. In very truth, his long life has witnessed wonderful changes, such as one of this day and age cannot adequately grasp the meaning of.
Rebecca and John are buried together, along with his second wife, at the Maplewood Cemetery in Kingwood.
~ Son Elisha Murdock ~
Elisha Murdock ( ? - ? ) from the second marriage is lost to history.
~ Son Frank Murdock from John's 2nd Marriage ~
Frank Murdock (1865-1936), from the second marriage, was born in 1865.
He wedded Myrtle (1889-1979).
Frank was a longtime bookkeeper, residing in Fairmont, Marion County, WV.
He passed away at age 71 on Aug. 1, 1936, and was laid to rest in the Maplewood Cemetery in Kingwood.
Myrtle outlived her husband by an astounding four-plus decades. She died in 1979, and rests in the Murdock plot.
~ Son John C. Murdock from John's 2nd Marriage ~
John C. Murdock (1859-1932), also from the second marriage, was born in 1859.
He relocated to Steece, OH, sometime prior to September 1890. The Preston County Journal reported in April 1901 that he was "here visiting his parents, Mr. and Mrs. John S. Murdock. John has many friend here who remember him very distinctly although he has been gone for several years." The article was reprinted in the Journal four decades later, on April 3, 1941, in a feature entitled "Forty Years Ago."
John made his home near his half-siblings in Ironton, Lawrence County, OH.
He was married.
He died at the age of 73 on May 21, 1932, having battled gastric ulcers and stomach cancer for at least six years. He was laid to rest in Woodland Cemetery.
Copyright © 2000-2003, 2006, 2008-2009, 2017, 2021 Mark A. Miner