Albert H. Ogle
(1870- ? )
Albert H. Ogle was born in January 1870 in or near Pennsville, Fayette County, PA the son of William D. and Sarah (Minerd) Ogle.
Little is known of his life.
In 1900, when the federal census was taken, Albert was 30 years of age and unmarried, and made his home with his married half-brother George in Pitcairn, near Pittsburgh, Allegheny County, PA. Albert was working as a railroad car repairman at the time.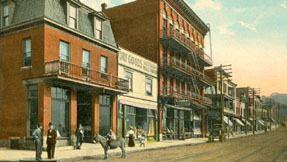 Broadway looking east from Center Street in Pitcairn at the turn of the 20th century
It is possible that he is the same Albert Ogle of Pennsville, PA, who, after a day of heavy drinking with friend George Holliday, passed out while sitting on railroad tracks at Buttermore Crossing, Connellsville, PA, and run over and killed by a passing locomotive. This needs to be confirmed.
His fate otherwise seems to be lost to history.
Copyright © 2007, 2022 Mark A. Miner