Home

Sarah Jane (Minerd)
Ingles Ogle
(1841-1890)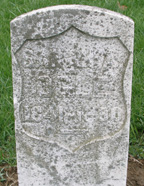 Sarah's grave marker
Sarah Jane (Minerd) Ingles Ogle was born in 1841 in Fayette County, PA the daughter of Henry and Hester (Sisler) Minerd. While very little is known about her life, two husbands both served in the Civil War, and she sacrificed a husband, son and son in law to tragic deaths in coal mine accidents.
Her fading grave marker is seen here.
In 1864, when she was 24 years of age, Sarah married Jacob Ingles (1838-1920), the son of Jonathan P. and Catherine (Worthian Bakery) Ingles of Hopwood, Fayette County. He stood five feet, four inches tall, weighed 115 lbs., and had a fair complexion, light hair and blue eyes.
The wedding ceremony took place at the home of Daniel Swearingen in Monroe (Hopwood), performed by Thomas Calhoun. The March 3, 1864 Uniontown Genius of Liberty reported the news of the marriage: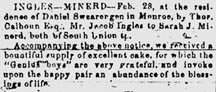 Uniontown Genius of Liberty, 1864
MARRIED.
INGLES -- MINERD -- Feb. 28, at the residence of Daniel Swearengen in Monroe, by Thos. Calhoun Esq., Mr. Jacob Ingles to Sarah J. Minerd, both of South Union tp.
The notice added that the couple had given the Genius editor "a bountiful supply of excellent cake, for which the 'Genius boys' are very grateful, and invoke upon the happy pair an abundance of the blessings of life." At the time, Jacob's occupation was as a miller.
After just a little more than three months of marriage, and while the Civil War continued, the 25-year-old Jacob drafted into the U.S. Army. He went to Greensburg, Westmoreland County, PA, on June 6, 1864 and was assigned to the 101st PA Volunteer Infantry. The June 9, 1864 Genius listed Jacob's name on a roster of South Union Township men drafted for service in the Civil War. (One of Jacob's brothers, Hamilton Ingles, saw duty in the Civil War, and another brother, A. Stewart Ingles, married Sarah's step-niece, Charlotte White.)
Jacob Ingles
Jacob served in the Army for almost one year. He was discharged on May 3, 1865, several weeks after the Confederate Army surrender. His name is listed in some of the military records as "Engles." At some point, he joined the Permanent Garrison Guards, Pennsylvania Infantry, Company B. He was discharged at Camp Braddock, near Pittsburgh, PA, after the war's end, on May 3, 1865.
In 1865, son George Ewing Ingles was born in Dunbar, Fayette County. In 1868, son William H. Ingles was born, also in Dunbar.
Jacob and Sarah separated shortly after the birth of their second son. Jacob spent the rest of his life roaming the nation, based primarily in Chicago and Milwaukee.
By 1870, Sarah and her sons were living with her mother, widow Hester Minerd, in North Union Township, Fayette County. There is no record in the Fayette County courthouse showing that Sarah ever secured a divorce from her wayward husband.
~ Enter William Ogle ~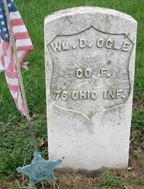 William's grave marker
in Pennsville, PA
After about five years as a single mother, Sarah married William D. Ogle (1845-1893), a native of Columbiana County, OH, in about 1870. She was age 29 at the time, and he was 25. William's father was from New Jersey, and his mother from eastern Virginia. As a 20-year-old, William stood five feet, eight inches high, with a dark complexion, black eyes and black hair.
The Ogles went on to have seven children of their own -- Albert H. Ogle, Mary Emma Newingham, Millie Ogle, Hester "Esther" Kooser, Minnie May Halfhill, Edgar "Edward" Dick Ogle and Rena Mae Holliday.
William also was a veteran of the Civil War. He had enlisted at Columbiana on Nov. 1, 1861, as a member of the 76th Ohio Volunteer Infantry, and was assigned to Company F. He served for three and a half years, and was discharged on July 15, 1865. Nothing is known so far about any battle action he may have seen.
When the federal census of 1880 was taken, the Ogle family was residing in Bullskin Township, near Connellsville, Fayette County, where 35-year-old William worked as a coal miner, and 39-year-old Sarah worked "keeping house." In 1890, when a special census was taken of Civil War veterans and their widows, the family lived near Pennsville.
As he aged, William suffered from wartime disabilities, including liver disease, hemorrhoids, a weak back and overall fatigue. In 1892, he filed to receive a federal pension as compensation for their father's wartime service. He underwent a detailed physical examination with physicians in nearby Connellsville, Fayette County, but they found "no disability."

Connellsville Courier, 1891
Sadly, Sarah contracted breast cancer in her 40s. The Connellsville (PA) Courier, in its edition of Nov. 20, 1891, reported that "Mrs. William Ogle is suffering from the effect of a cancer on her breast."
Sarah died from the devastating illness in 1891, when she was just 49 years of age. She was laid to rest in what is now the Pennsville Independent Cemetery in Bullskin Township. (Her grave marker gives the year of death as 1890, but this is believed to be off by one year.)
On May 9, 1893, William suffered a tragic accident at work which apparently led directly to his death. He was hurt in at the Pennsville Coal Mine while performing his "usual daily labour" as a driver. In its May 12, 1893 edition, the Connellsville Courier reported: "William Ogle, pit boss at the Pennsville mine, was caught between the bumpers of two pit cars Tuesday and so seriously injured that the right leg will have to be amputated." Co-worker Jacob Dewalt observed the incident, and helped to move William to a local hospital. Another co-worker, Leander Frazier, said the accident was "strictly unavoidable." Sixteen days later, William filed for an increase in pension due to the injury.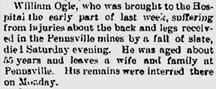 Connellsville Courier, 1893
Sadly, William's injuries were fatal. A little more than a month after the accident, on June 16, 1893, the Courier said that "William Ogle, who was brought to the [Cottage] Hospital the early part of last week suffering from about the back and legs received in the Pennsville mines by a fall of slate, died Saturday evening. He was aged about 55 years and leaves a wife and family at Pennsville. His remains were interred there on Monday."
Sadly, just a little more than a month after the accident, William passed away on June 12, 1893, at the age of 48. He was buried beside his wife in Pennsville, with his grave marked with a standard issue federal military monument. The news of his passing was telegraphed by one of William's stepsons to another -- from William to George. At the time, George was using his adoptive surname "Ogle" while William maintained his original surname of "Ingles" (actually "Ingle" in the telegram).
His two youngest children, under the age of 16, were now orphans and in need of financial support -- Minnie and Edgar. Their married sister Esther Kooser was named their guardian. She applied for their father's federal pension, but did not do so until 1910, and the claim was rejected on the grounds that the children were over the age of 16 by then.
~ Jacob Ingles' Fate ~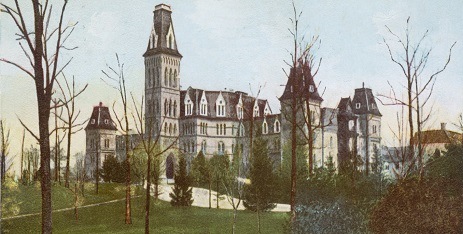 Jacob's longtime home, National Home for Disabled Volunteer Soldiers, Milwaukee
In 1886, when his mother died, the Genius reported Jacob's whereabouts as "...in parts unknown." In 1907, the Hopwood Chronicle reported that Jacob was residing in Seattle. In 1918, when Stewart died, the Uniontown Daily News Standard said Jacob was living in Milwaukee. In 1920, the year he died, the elderly Jacob resided in the National Home for Disabled Volunteer Soldiers in Milwaukee.
He is known to have spent time in Pitcairn in 1909 and in 1912-1913 while on official furlough from the Home. With his former wife and her second husband dead, perhaps he felt more freedom to return home and reconnect with his one surviving son. A group photograph was taken of the re-united family, and is seen in the biography of son George.
Jacob himself stated that he had spent 35 years in Chicago, IL, from the late 1860s to the early 1900s. While in Chicago in November 1871, he injured his left hand and both legs when caught in a belt in a grist mill. All four fingers on the hand had to be amputated all or in part, and both legs were broken, as a result of the accident.
As he aged, Jacob increasingly suffered from his wartime illnesses. He applied for a federal pension as compensation in 1906, and was awarded a monthly payment of $12. The amount was increased to $19 a month in 1912, with a scheduled increase to $22.50 per month in August 1913. In July 1913, apparently dissatisfied with the amount, he went to the Pitcairn offices of Monongahela Underwriters, an agency of the American Union Fire Insurance Company, and had a clerk write out a letter to the Pension Commissioner, asking for an increase.
One of Jacob's letters to
Wisconsin Congressman Cary
To receive the pension, Jacob had to undergo thorough physical examinations by qualified surgeons. Copies of these detailed reports, found in the original file in the National Archives, today are in the Minerd-Minard-Miner-Minor Archives. In 1906, a surgeon in Milwaukee noted that "Man is poorly nourished. No fat upon body. Teeth in poor condition. Prostate considerably enlarged." He was ruled totally unable to earn support by manual labor.
On another application form for a pension raise, in April 1915, he lied to the government, stating that he was "Never Married" and that he had "No children." In another affidavit, he swore that "there never was a church record of his birth and the bible record has been lost for years and he cannot remember its disappearance."
In 1916, Jacob wrote to Wisconsin congressman William J. Cary, asking for the legislator's help in increasing his pension. He began the letter in flowery language: "My dear friend ... sir I wish to congratulate you in your siccess back to congress. Now will you please see what you can do for me...." Cary simply forwarded the letter to the Commissioner of Pensions in Washington, DC, asking for the status of the case. A copy of one of Jacob's letters is seen at right.
While in Pitcairn on leave from the Soldiers Home in 1920, Jacob came down with pneumonia. He died there, near Pittsburgh, Allegheny County, PA, on Nov. 24, 1920, at the age of 81. He was laid to rest in the Grandview Cemetery in North Versailles, near Pitcairn.
Reflecting his continuing deception of the federal government, the Soldiers Home listed his next of kin as "Mrs. William Ogle, Pitcairn, Pennsylvania. (Daughter)"
The manuscript, Allison-Ralston-Jackson-Ingles Families of Southwestern PA, compiled by Betty A. Jackson, and on file in the Uniontown (PA) Public Library, spells out details of Jacob's genealogy, parents and siblings.
~ Daughter Millie Ogle ~
The fate of daughter Millie Ogle (1872- ? ) born in 1872 is unknown. She was last known living with her parents in 1880, at the age of eight, when the federal census-taker recorded her existence.
Copyright © 2000, 2006- 2007, 2013, 2016, 2018 Mark A. Miner