Home

John Richard Pring
(1855-1943)

John Richard Pring
John Richard Pring was born on March 8, 1855 in Cedar Creek Township, Allen County, IN, the son of John and Caroline (Minerd) Pring.
He was a pioneer of Missouri and Oklahoma, as well as the holder of patented inventions and an influential local politician, among other talents, whose "long and colorful career" was chronicled in the Shawnee (OK) News Star newspaper in the 1940s.
John married Martha Ellen Perry (1863-1933).
They bore three children -- Clyde E. Pring, Perry Pring and Nina Seward.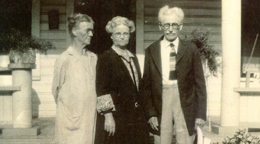 John and Martha (center) with sister Martha
In the photo seen here, John and his wife Martha (center) stand with his sister Martha Elsie (Pring) Hursh of Huntertown, IN.
At some point as a youngster or young man, John migrated from Indiana to Missouri, where he "was reared," said a newspaper. "He first settled in the Osage Nation near where Pawhuska still stands" when Oklahoma was still Indian Territory and not yet a state in the union.
In 1890, the Prings "settled in the Pottawatomie nation at the present site of Dale..., leased land from the Indians and put in cultivation a farm lying north of Dale," said the Shawnee News Star in 1943. John's sister Mary Jane "Jennie" McCollough also resided nearby in the Shawnee area. Said the News Star:
On this land he himself built a log house ... and still stands a quarter of a mile west of the town on the north side of the road. After the opening of the country for settlement, [he] moved to Tecumseh when that town was established and lived there for a number of years. When the railroad was built into Shawnee in 1895 he came here and had lived here since that time.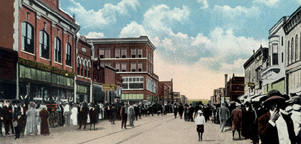 Shawnee's Main Street, looking west, early 1900s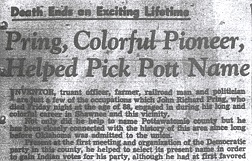 Railroad shops in Shawnee
John was active in local politics. He attended the "first meeting and organization of the democratic party" of Pottawatomie County, and "helped select its present name in order to gain Indian votes for his party although he had at first favored calling it Vest for the late Senator Vest of Missouri." He also was an "ardent prohibitionist and militant in his fight against whiskey, and was constantly vigilant in watching the saloons to see that they complied with the law."
Over the years, John worked as a railroader, truant officer and farmer. Said the News Star, for "Following several years during which he worked in the shops of the C.R.I. and P. railway company, he was employed as truant officer for the Shawnee schools, a capacity in which he served for 25 years, resigning [in 1940] because of his age."
Reflective of his active mind, John received seven patents for his inventions over the years. He did not reap financial rewards of his creations, however, because other inventors had patented similar technologies a little sooner. The News Star said that one of John's inventions "was for the purpose of preventing nuts from becoming loose and working off from the bolt under continuous vibration thus avoiding rail spread and train wrecks. When he offered to sell it to the railroads, he discovered a device accomplishing the same purpose had already been purchased by the company some months previous."
Railroad shops in Shawnee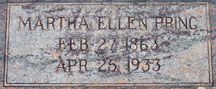 Resthaven Cemetery, Shawnee
Another of his inventions "was knee-action wheels for buggies permitting the buggies to drive one wheel over a rock or stump or drop into a hole with the body still retaining its equilibrium. He was the that his patent would have been worth a fortune earlier but the making of automobiles had already taken the place of buggy manufacture." Today these patents would be found in the United States Patent and Trademark Office.
The Prings' home was at 534 North Market in Shawnee, and they were members of the First Baptist Church.
Shawnee Morning News
Martha Ellen died on April 25, 1933, at the age of 70. She is buried in the Resthaven Cemetery near Shawnee. An obituary in the Shawnee Morning News noted that she was a "pioneer resident of Shawnee." Rev. Chesterfield Turner of the family church preached the funeral sermon. Pallbearers were G.C. Halley, C.W. Capp, Clyde Robinson, Henry Nabors, Studio Richardson and James M. Burton. At the time of her passing, daughter Nina resided in Shawnee, son Perry in Houston and son Clyde in the Panama Canal Zone.
In addition to nine grandchildren, among her other survivors were two sisters, Mrs. E.E. Dougherty of Neodesha, KS and Mrs. C.S. Johnson of Berger, TX, and four brothers, C.J. Perry of Seminole, Martin R. Perry of Fredonia, KS, George Perry of Portland, OR and John J. Perry of Condon, OR.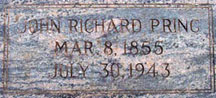 Resthaven Cemetery, Shawnee
John outlived Martha Ellen by a decade. At some point he married his second wife, Mary Brown ( ? - ? ). It was not unusual for townspeople to see John riding his bicycle on the streets of Shawnee, even when he was in his 80s.
He suffered a broken hip in a fall at his home in late July 1943. His health declined rapidly as a result, and passed away in Shawnee at age 88 on July 30, 1943. Funeral services were conducted by Rev. A. Hope Owen and Dr. S.R. Braden from his home church. Pallbearer's included A.L. Burks. W.M. Strong, Willard Brokaw, Shay Hunt, A.J. Smith and T.E. Peters, while honorary bearers were the Nelson Bible Class from the church. He was laid to rest with his first wife.
His death was front-page news in the Shawnee News-Star on Sunday, Aug. 1, 193, next to a World War II headline, "Italy Warned Bombs Coming; Peace Expected Within Hours."
~ Son Clyde E. Pring ~

Clyde E. Pring
Son Clyde E. Pring (1881-1968) was born in 1881. He was a specialist in boiler-making and inspection, working in the areas of motive power and machinery.
He saw an opportunity in the Central American nation of Panama and on June 8, 1906, at the age of 25, was appointed to the position of boilermaker in the construction of the Panama Canal. He arrived there on June 15, 1906, and his first assignment was "motive power and machinery."
Among other things, he was involved with the technical details of the monumental "Culebra Cut," today known as the "Gaillard Cut," a nine-mile long, 300-foot-wide channel that involved removal of many million cubic yards of earth.
In 1906, when President Theodore Roosevelt visited the Canal Zone, and was photographed at the controls of a steam shovel in the Cut, Clyde appears in the image, seen here in a stereoview published by Underwood & Underwood. The photograph later was published in the World Book Life History of the United States and in popular bestselling biographies about Theodore Roosevelt. (Click here to see a larger view of this historic image, our May 2005 "Photo of the Month.") He was a member and treasurer of the Cristobal Lodge 471 of the International Brotherhood of Boiler Makers, Iron Ship Builders and Helpers of America. In 1909, he signed a memorial notice printed in The Brotherhood Journal, lamenting the death of colleague E.J. Millett.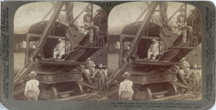 Famed photo of Clyde and President
Theodore Roosevelt -- enlarge
Clyde himself was a photography buff, and in December 1913, while in Les Cascadas, Canal Zone, placed an advertisement in American Photography, seeking to trade his Ica Cupido camera for a "postcard camera, with anastimgmat lens and double extension bellows."
To commemorate his role in the construction of the canal, Clyde was a member of the Society of the Chagres -- founded in 1911 and "made up of American white employees who have worked six years continuously on the canal," says the 1913 book The Panama Canal by Frederic Jennings Haskin. "In 1913 only about 400 out of the many thousands of Americans at one time or another employed in the construction of the Panama Canal were entitled to wear the insignia of the society." Clyde is named in the 1916-1917 directory of the society, with his job listed as boiler inspector, and his address at the time was Cristobal, Canal Zone.
Clyde's work at the Canal is being researched more fully.
Clyde married Adale A. (?), a native of Ohio, and had one son, Vernon.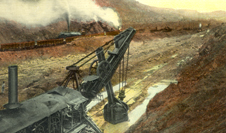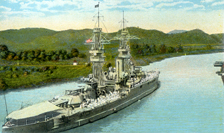 Above left: a giant American steam shovel excavates the Culebra Cut, circa 1906. Right: the USS Arizona steams through the completed canal cut, in the years before she was sunk in the attack on Pearl Harbor. Below: Payday lines in Culebra.

During World War I, when Clyde registered for the military draft, their residence was Superior, Pinal County, AZ, where he worked as a boiler maker for the Silver Ring Mining Company. He was recorded to be of medium height and build, with grey eyes and brown hair, and a gunshot scar on his left forearm.
They resided in San Gabriel Twp., Los Angeles County, CA in 1920. In 1943, Clyde was back in the Panama Canal Zone. At some point, while visiting Fort San Lorenzo in Puerto Rico, he found an old iron cannonball which he apparently donated to the Southwest Museum in Los Angeles.
He died Feb. 15, 1968, at the age of 87.
~ Son Perry Pring ~
Son Perry Pring ( ? - ? ) was born in (?). He was married to Ethel L. Martin ( ? - ? ), daughter of Seth Taylor and Martha Bell (Martin) Martin.
Their children were Thyra Pring, Elizabeth J. Pring, Phillip Pring and Howard R. Pring.
In 1920, they lived in Tyler, Smith County, TX, where Perry worked as a super for a compressor company.
As with his brother Clyde, Perry circa 1909 was initiated as a member of the International Brotherhood of Boiler Makers, Iron Ship Builders and Helpers of America, Helper's Division.
Later, by 1930, they had moved to Houston, Harris County, TX, where Perry was a clerk for a cotton company.
Nothing more is known.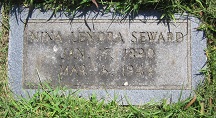 Fairview Cemetery, Shawnee
~ Daughter Nina Lenora (Pring) Seward ~
Daughter Nina Lenora Pring (1890-1944) was born on Jan. 17,1890 in Kansas.
She married Eric Monroe Seward (1887-1965), a native of Alabama. They had at least four children -- Vermelle Ruff and Jacob M. "Jack" Seward and twins Maxine Jamison and Maurine Dale.
They resided in Shawnee for many years. The federal censuses of 1930 and 1940 shows the family living on North Broadway.
Eric had come to Shawnee at the age of 13 in about 1900. He was self-employed, owning a meat market (1930) which apparently evolved into more of a retail grocery store (1940). He operated the business for four decades before retiring.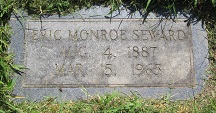 Fairview Cemetery, Shawnee
The Sewards were members of the First Presbyterian Church. Eric also was active with the Shawnee Masonic Lodge, the McAlester Consistory, Shawnee Council No. 32, India Temple Shrine and Shawnee Elks Lodge. Their address in Shawnee was 926 North Broadway.
Sadly, Nina suffered a fatal heart attack on March 6, 1944, and died at the untimely age of 54. Dr. Samuel R. Braden preached the funeral sermon, and her pallbearers included Harry Pierson, Ralph Kumler, George Theodore, Walter Templeton, Joe Warren, Bill Mathews and Sam Norton. Her remains were placed at rest in Fairview Cemetery in Shawnee, and an obituary was printed in the Shawnee News Star, which noted that "she was born and reared in Pottawatomie county, where she lived all her life."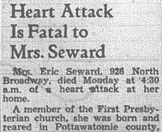 Shawnee News Star
Eric survived his wife by more than 20 years. He passed away on March 15, 1965, and his death was headline news in the Shawnee News Star. The obituary noted that Eric's survivors included five grandchildren and two great-grandchildren.
The founder of this website paid his respects at their gravesite in July 2015 and photographed the markers for this biography.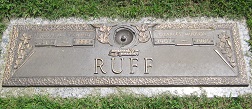 Fairview Cemetery, Shawnee
Daughter Vermelle Seward (1912-1990) was born in about 1912 in Shawnee. She married Charles "Hudson" Ruff (1907-1985) who was five years older. The couple lived in 1935 in Barber County, KS and then in 1939 in Illinois. They produced one known daughter, Robin Glyn Ruff. When the federal census was enumerated in 1940, Vermella (marked as "married") and her daughter dwelled in the Shawnee residence of her parents, with Hudson apparently away working elsewhere. In 1944, during World War II, her home was in Meridien, MS, and in 1965, at the death of her father, she dwelled in Denton, TX. She passed away on Nov. 15, 1990, and her remains were interred in her parents' plot in Shawnee. No obituary has been located in the Shawnee News Star.
Granddaughter Robin Glyn Ruff (1939- ? ) was born in 1939 in Illinois.
Son Jacob M. "Jack" Seward (1914- ? ) was born in about 1914 in Oklahoma. Unmarried at the age of 26, he lived with his parents in Shawnee and assisted his father as a clerk in the family's retail grocery business. In 1944-1965, he resided in San Francisco, possibly pursuing an alternative lifestyle.
Fairview Cemetery, Shawnee
Daughter Maxine Seward (1917-2006) was born on Sept. 5, 1917 in Shawnee, a twin with her sister Maurine. When she was age 22, and single, she dwelled at home with her parents in Shawnee. She earned a living as a sales lady in a retail department store. In 1940, she received a bachelor's degree from Oklahoma Baptist University. At the age of 29, on April 15, 1947, Maxine was united in marriage with Marshall Leslie Jamison Jr. (1917-1988), son of Marshall Leslie and Cora Emma Jamison Sr. of Mill Creek, OK. In 1944, their home was in Shawnee, at a time when Marshall was serving as a captain in the U.S. Air Corps during World War II. Their home was located at 926 North Broadway. Reported the Shawnee News Star, Maxine "began her career as a secretary and was later promoted to administrator for Department of Human Services. She moved to Edmond in 1971 and retired from DHS in 1980. She was a member of the First Presbyterian Church of Edmond." The couple produced two sons -- Eric M. Jamison and Robert L. Jamison. Marshall died in an Oklahoma City hospital on May 28, 1988, at the age of 70. His obituary was published in the News Star, stating that Dr. Joel Baker, senior pastor of the family church, was to officiate. Maxine survived him by 18 years. She joined him in eternity on Jan. 21, 2006. The News-Star reported that she was survived by five grandchildren.
Grandson Eric M. Jamison married JoAnna and live in Tulsa.
Grandson Robert L. Jamison wed Kelli. They had two children, Jenni Jamison and Jay Jamison. The couple resided in Edmond and later divorced when their children were young.
Daughter Maurine "Sissy" Seward (1918- ? ) was born on Sept. 5, 1917 in Shawnee, a twin with her sister Maxine. At the age of 12, she lived with her parents and siblings in Shawnee. She was wedded to Richard A. Dale (1916-1980). They had two known sons, Richard Seward Dale and Dennis Dale. During World War II, Richard was a member of the U.S. Marine Corps. They made their home in Shawnee in the 1940s - 1960s with an addrress of 1445 North Park. Richard passed away at the age of 64 on Nov. 28, 1980 and buried in Resthaven Memorial Park in Shawnee.
Grandson Richard Seward Dale (1944-2008) was born on March 29, 1944 in Shawnee. In his boyhood, he was an active Boy Scout and traveled twice to the Philmont scouting ranch in rugged northern New Mexico. Richard also enjoyed sports, especially golf. He attended East Central University and then joined the U.S. Navy during the Vietnam War. In his military service, he was a member of the crew of LST USS St. Clair County and also served in the National Guard. He had two known children -- Brian Dale and Betsy Dale. On Nov. 12, 1988, at the age of 44, he wed Jill (Larkin) Cowan (1951-living) in Ponca City. Reported the Shawnee News Star: "Richard worked in the family business, Dale Distributing, and was also employed with OG&E at Post Road in Oklahoma City and the Sooner Power Plant in Red Rock before retiring. He had been employed the last few years at OMPA working part time as an assistant operator." Sadly, he died on Christmas Day 2008 at Oklahoma Heart Hospital in Oklahoma City. His remains were interred in the family plot at Resthaven Cemetery in Shawnee following funeral services led by Rev. Paul Krueger.
Grandson Dennis Dale married Judy ( ? - ? ) and lived in Albuquerque, NM.
~ For More Information ~
Many thanks to Sandra Ammerman-Paser for graciously sharing much information for this biography.
Donald L. Kear, a distant nephew of John Pring's, has an extensive collection of information on this family on his "Kear Family Site." He also has published his findings in The John Cears Kear Family (1984).
For those interested in Shawnee, one of its residents over the years was Brewster Higley, author of the lyrics of the famous song Home on the Range, who died there in 1911.
Copyright © 2002-2005, 2008, 2013, 2015-2016 Mark A. Miner
Grave photos by Max Walker and Mark A. Miner