Home

Caroline (Minerd) Pring
(1825-1911)


Caroline and John Pring
Caroline (Minerd) Pring was born on Aug. 11, 1825 near Scio, Harrison County, OH, the daughter of John and Barbara (Shaeffer) Minerd Jr.
She was an early settler of western Ohio and eastern Indiana. She and her husband had a large family of 13 children, and have been acknowledged as a "pioneer Cedar Creek Township family" by the Fort Wayne News-Sentinel.
In 1840, when Caroline was 16, she and her parents left Harrison County. Using "a good team of horses and a substantial wagon," a newspaper said, they traveled across the state, a "very tedious and slow" journey. The family settled in Van Wert County, OH, and later, after she was married, her parents moved again to a farm along the Ohio state line in Allen County, IN.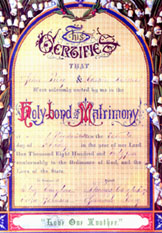 Pring marriage certificate
On Feb. 11, 1844, in Van Wert County, OH, at the age of 19, Caroline married 24-year-old John Pring (1820-1887?), a native of Licking County, OH, and the son of Richard and Mary Ann (Kear) Pring. The ceremony was performed at the Pring home by Thomas Claton, a justice of the peace, with a record published in Van Wert County Ohio Marriage Book #1. A copy of their colorful marriage certificate is seen here.
Caroline and John went on to have 13 children -- Esther Pring, Margaret Elizabeth Cornell, Theodore Franklin Pring, Isaac B. Pring, James Wesley Pring, Mary Jane McCollough, John Richard Pring, Pernetta "Nettie" Augusta Steward, Jeremiah Douglas Pring, Martha Elsie Hursh, Elcina K. Pring, Elbridge Gary Pring and George Washington Henderson Pring.
Sadly, children Esther (1844), Theodore (1854) and Isaac (1850) died in childhood, and son Jeremiah passed away at age 13 (1871). The group photo shown below was taken circa 1874, just a few years after Jeremiah's death.
According to a newspaper article written in 1911:
For three years after their marriage Mr. and Mrs. Pring lived on what is known as the Fitch farm near Huntertown. In 1847 they came into possession of the farm in Cedar Creek township which for more than sixty-four years was [their] home... Here they erected their log cabin, which was the second in the township. And it was this log cabin that became the stopping place for other settlers of the community while their own dwelling spots were being cleared and their cabins erected. For the hospitality of this gentle-hearted woman and her husband became a proverb in the community as the years passed by. Their latch-string hung always out to those who came as pioneers like themselves to make a home in the wilderness, and the quiet little woman ... won by her gentle manner and warm heart the lasting friendship of all with whom she came into contact.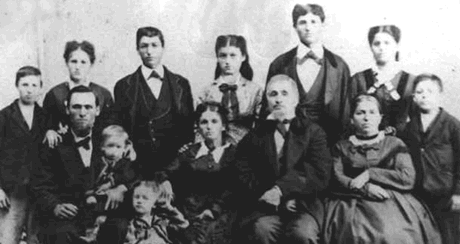 Back row, l-r: Elbridge, Pernetta "Nettie," John, Martha, James, Mary Jane "Jennie," George. Front, l-r: Sebastian H. Cornell, baby John Cornell, Emelia Cornell, Margaret E. (Pring) Cornell, John Pring, Caroline (Minerd) Pring.
Their adventures further were chronicled in the 1880 book, A History of Allen County, Indiana: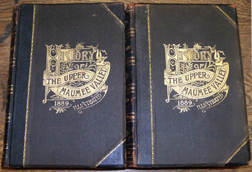 History of the Upper Maumee Valley
Soon after his arrival, [John] found indisputable traces of a former civilization in the vicinity of Cedarville. He found on the bank of the creek some fragments of trace-chains, log-chains, etc. together with a heap of cinders, which confirmed his idea that a blacksmith's forge had been operated there. As they were buried below the surface, he concluded they must have been there for years.
On the morning of 28 April 1850, Mr. Pring, in company with a neighbor, George Hursch started to Leo Mills to buy flour. A storm on the night of the 27th had uprooted a linn tree, which fell across the road. The friends separated as they neared the tree, and Mr. Pring's eyes fell upon what he regarded as a strange sight -- a sword, buried nearly to the hilt in the soft wood. He drew it out and took it home and kept it for several years. He later gave it to Mr. F.P. Randall of Fort Wayne. Near the same date another farmer found a cannon ball. These facts would seem to indicate the presence of soldiers at some time.
On a later occasion (October 1869) while walking with his son in the vicinity of Cedarville, Mr. Pring noticed a depression in the ground. He thrust a stick into the soft earth, which yielded readily, striking a hard substance about two feet below the surface. He got a spade and began digging. He finally unearthed a beech cross, fourteen feet in length and bearing on its face the figures "1772", deeply carved. It is believed these relics are from the time of the French missionaries. The possible presence of soldiers and their battles has not been explained.
Commenting later on the fantastic Pring discovery, the Pictorial History of Fort Wayne, Indiana said: "If we who walk through the treeless avenues of trade, floored with asphalt and lighted by the flare of electricity, feel the blood stir with the mystery of these things, what must ... John Pring have felt, who took them from the cool damp earth of the forest primeval?" The discovery also is featured in the 1889 book, History of the Upper Maumee Valley, Vol. I, by C.A. Miller -- with the two-volume set pictured here, and preserved in the Minerd.com Archives.
Caroline is known in 1871 to have joined the Methodist Church at Robinson Chapel, IN. She remained a member for four decades. Said a newspaper article, "She was an earnest Christian... Of a kind and lovable nature, Mrs. Pring was retiring in disposition, yet her quiet strength of character was recognized by all who knew her."
When the federal census was enumerated in June 1880, John and Caroline were listed as living in Cedar Creek Township, Allen County. Sons James, Elbridge and George, and daughter Martha, were in the household that year, as was seven-year-old, Indiana-born Emma Andrews, relationship unknown.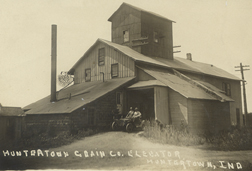 Huntertown grain elevator
Seen here is a rare old photograph depicting a grain elevator at nearby Huntertown. It is representative of the grain storage facilities that local farmers such as the Prings would have used at that time.
Caroline's father lived to the ripe old age of 98. When he died in 1898, Caroline and all but one of her living siblings attended the funeral back home. The terms of the father's will stated that she was to receive a cash payment of $100 within three years.
John passed away in about 1887. The exact details of his passing are not known.
Caroline outlived her husband by nearly a quarter of a century. The federal census of June 1900 shows Caroline making her home in Elkhart Township, Noble County, IN with married daughter and son in law Martha Elsie and William A. Hursh, and their brood of six children. At age 74, Caroline was marked as having borne 13 children, but having outlived five of them, with eight still living.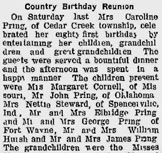 Fort Wayne Journal Gazette
As she entered her 80s, "she was an invalid, suffering greatly much of the time," a newspaper said. "Throughout these weary years, however, she was patient and uncomplaining, awaiting the true Christian submission to the Lord's own good time, and relying on the precious promises of the book she loved so well."
In June 1906, Caroline reached her 81st birthday. She celebrated by "entertaining her children, grandchildren and great grandchildren," many of whom traveled long distances to attend. The affairs was chronicled in a story in the Fort Wayne Journal Gazette, headlined "Country Birthday Reunion":
The guests were served a bountiful dinner and the afternoon was spent in a happy manner. the children present were Mrs. Margaret Cornell of Missouri, Mr. John Pring, of Oklahoma, Mrs. Nettie Steward, of Spencerville, Ind., Mr. and Mrs. Elbridge Pring and Mr. and Mrs. George Pring of Fort Wayne, Mr. and Mrs. William Hursh and Mr. and Mrs. James Pring. The grandchildren were the Misses Hursh, Mr. and Mrs. Arthur Steward and baby Paul of Spencerville, Mrs. Frank Steward and daughter Magdalene, of Garrett, and Mr. and Mrs. Merton Kimes. Other guests were Mrs. Elizabeth Hursh, Mrs. G.W. Henderson and Mrs. Matilda H. Wheelock.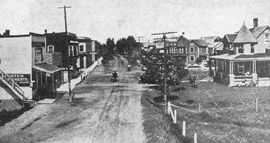 Grabill, IN
In July 1908, Caroline spent a week with her daughter Martha Elsie Hursh in Huntertown, also known as Robinson Chapel. While there, said the Journal Gazette, she received visitors including her son James Pring, who lived nearby.
At age 87, Caroline passed away at the home of her son James in Grabill, Allen County on March 23, 1911. A rare old photographic postcard of Grabill's State Street is seen here, postmarked 1912, a year after Caroline's death, reflecting the scene of the town in her last year or so of life.
She was buried at Leo Cemetery, where her husband is presumed also to rest for eternity. When the founder of this website walked through the Leo Cemetery in 2009, he could find no grave marker for the couple.

Caroline's news obituary
Among the Prings' many descendants, grandson Clyde Pring is said to have been an engineer and worked on the construction of the Panama Canal. This will be researched more fully.
For more information on this branch, contact descendant Sandra Paser. Others have helped collect and preserve the Pring family history over the years, including Betty McClanahan, who compiled much of the information on which this biography is based.
Donald L. Kear, a distant nephew of John Pring's, has an extensive collection of information on this family on his "Kear Family Site." He also has published his findings in The John Cears Kear Family (1984).
Copyright © 2002-2003, 2005, 2009-2010, 2015 Mark A. Miner