Nettie (Pring) Steward
(1857-1933)

Nettie Steward
Pernetta Augusta "Nettie" (Pring) Steward was born on May 2, 1857 in Cedar Creek Township, Allen County, IN, the daughter of John and Caroline (Minerd) Pring.
On Aug. 26, 1877, when Nettie was age 20, she married Jasper "Newton" Steward (1856-1904).
Almost immediately, the newlyweds migrated west to Missouri, where Nettie's married sister Margaret Cornell was living. There, their eldest son Arthur was born the following year. While the Cornells remained in Missouri permanently, the Stewards eventually made the decision to return to Indiana for good.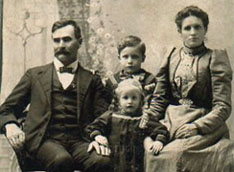 Family portrait, Moore Studio, Kirksville
They bore a family of seven children -- Arthur Carlton Steward, Frank L. Steward, Clarence Tarney Steward, Hazel Roberts, George Washington Steward, Ernest Ray Steward and an infant who died in childbirth and is not identified.
The young couple is seen here in a studio pose with their two eldest children. The photograph was taken at Moore Studio in Kirksville, MO, during their brief era in Missouri.
Upon their return to Indiana, the Stewards settled their residence in Spencerville, DeKalb County, IN, and remained for more than four decades. Spencerville is about 16 miles northeast of Fort Wayne.
Little is known about the 27-year span of their married lives in the late 1800s and first few years of the 1900s.
When the federal census was taken in 1900, Jasper and Nettie and their children lived near Spencerville, with Jasper laboring as "head sawyer" and son George as a "saw mill hand." Newly married son Arthur and his wife Emma resided nearby.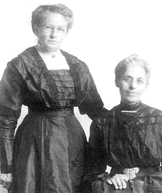 Nettie (left) and sister Jennie
Nettie must have remained close with her siblings over the years. She is seen here (standing at left), posing with her sister Jennie McCollough of Shawnee, OK.
Jasper passed away in Spencerville on April 26, 1904, at the age of 48. The cause of his untimely death has not yet been learned. He was laid to rest in the Spencerville Cemetery, also known as White City Cemetery. A handsome red granite monument was erected over the grave.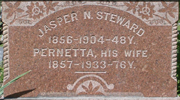 Spencerville Cemetery
Nettie outlived her husband by nearly 30 years.
Two of Nettie's adult children -- Hazel Roberts and Clarence Steward -- moved to Oregon at some point in time. As Nettie aged, in about 1928, she also relocated to Oregon to live in the joint household of Clarence and Hazel and their families in the town of Medford, Jackson County. In about 1931, she suffered the first of three strokes.
Nettie passed away at the age of 76 at the home of daughter Hazel in Medford on April 3, 1933. Her remains were shipped back to Indiana for burial at the Spencerville Cemetery. Her obituary, published in the Fort Wayne (IN) News Sentinel, said that she was "practically a lifelong resident of Spencerville." The obituary noted that she was survived by 13 grandchildren and four great-grandchildren.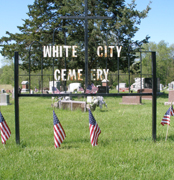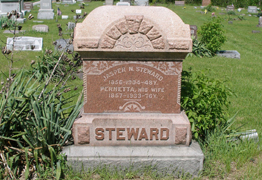 Grave of Nettie and Jasper in the White City Cemetery in Spencerville, IN
~ Son Arthur Carlton Steward ~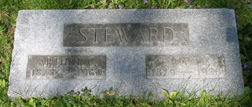 White City/Spencerville Cemetery
Son Arthur Carlton Steward (1878-1960) was born in Missouri. He was tall and slender, with grey eyes and brown hair.
He married Emma L. (?) (1879-1958) in 1899 and initially resided in Spencerville, where Arthur worked as teamster and as a laborer of odd jobs. Later, they migrated to Garrett, DeKalb County.
They had at least four children, Paul Steward, Glenn Steward, Victor Steward, Laura Steward, Berniece Steward and Kenneth Steward.
They worried when son Paul joined the Army during World War I, was assigned to the Sixth Regiment, Battery H, and shipped out to France. Emma tragically suffered a stroke of paralysis in late January 1918, with Arthur's sister Hazel traveling from her home in Spencerville to provide care. About the same time, son Paul, serving in the south of France, wrote a letter home that was published in the Fort Wayne News. In the letter, Paul wrote: "It don't do any good to worry about me -- that doesn't make it any better.. Clarence was right when he said I would not be in much danger. The war doesn't worry me as long as I stay where I am."
During the war, Arthur himself had to register for the draft, even at the age of 40. He told the registrar that he was employed as a railroad brakeman with the Baltimore & Ohio Railroad and lived at 415 South Welsh in Garrett. Emma survived her stroke, and lived for 40 more years. The 1920 census shows Arthur, Emma and their five children living on Walsh Street in Garrett, with Arthur employed as a railroad brakeman. Ten years later, the 1930 census shows them continuing to reside on South Walsh Street in Garrett. That year, Arthur maintained his railroad brakeman work, while son Victor was a bank clerk and daughter Berniece was a stenographer in an automobile accessories business.
Emma passed away in 1958. Arthur died two years later, in 1960. They rest together at the White City Cemetery/Spencerville Cemetery.
~ Son George Washington Steward ~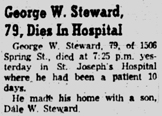 Obituary, 1959
Son George Washington Steward (1880-1959) was born in 1880 and was of medium height and build.
He married Minnie Markle (1879- ? ), the daughter of Samuel Markle, in April 1901. Their marriage application notice was published in the Fort Wayne Sentinel.
They made their home at 512 Putnam in Fort Wayne and were the parents of two children -- Dale W. Steward and Jessie M. Weber.
George worked for many years as a laborer for H.W. Lorr Paper Company (circa 1918) and as a cutter with the Undergarment Manufacturing Company, retiring in 1945. The censuses of 1920 and 1930 shows the family living on Putman Street in Fort Wayne. In 1930, 20-year-old niece Berniece -- the daughter of Arthur Steward -- lived with George and Minnie. That year, son Dale was employed as a tool maker in a local electric plant, while niece Berniece worked as a stenographer with an automobile company.
George passed away at the age of 79 in St. Joseph's Hospital in Fort Wayne, on July 22, 1959.
Minnie's fate is unknown.
Their grandson, William F. Weber Jr., was a photographer for the Fort Wayne Journal Gazette circa 1959.
~ Son Frank Steward ~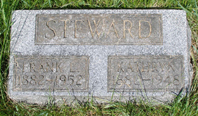 White City/Spencerville Cemetery
Son Frank Steward (1882-1952) was bon in 1882.
He married Kathryn Silberg (1880-1948), the daughter of Mary Jane Silberg.
They produced at least three children -- Magdalene Steward, Alberta Steward and Walter Franklin Steward.
They also lived in Garrett, DeKalb County, and made their residence at 604 South Franklin Street for decades.
Frank was employed as a baggage master by the Baltimore and Ohio Railroad. In March 1907, reported the Fort Wayne Journal Gazette, he "was called to South Chicago this morning to appear in court to testify in a car robbery case, in which several bottles of whiskey were stolen. Mr. Steward seals the cars and it was necessary for him to go to state whether the car was sealed when it left Garrett."
Later, he was promoted to B&O brakeman. The 1920 census of Garrett shows Frank, Kathryn, their children and mother in law Mary Jane Silberg living under one roof, on Franklin Street. Frank was employed as a railroad brakeman that year. In 1930, the census shows Frank continuing his specialty as a railroad brakeman, while 25-year-old daughter Magdalene managed a coffee shop.
Kathryn passed away in 1948, but details are not yet known. Frank survived her by four years, and joined her in eternity in 1952. They are buried together at the White City Cemetery/Spencerville Cemetery.
~ Son Clarence Tarney Steward ~
Son Clarence Tarney Steward (1889- ? ) was born in 1889.
He is thought to have married Gladys (?). They had one son.
He was a teacher circa 1918, employed by the Monticello (IN) School Board in White County, about 120 miles southwest of Spencerville.
Unfortunately, he filed for divorce in September 1918. A short article in the Fort Wayne News reported that "He says she has been cruel to him, has called him names and has associated with other men. The custody of one child is asked."
In about 1920, Clarence married again, to Adriene (?) (1898- ? ), an Indiana native whose parents were emigrants from Germany. She was eight years younger than her husband.
At some point, Clarence and Adrienne, and his sister Hazel, migrated to Oregon, settling in the town of Medford, Jackson County, OR. He and Adrienne purchased or otherwise were proprietors of a dress shop in Medford. In the late 1920s, Clarence's widowed mother came to make her home with them in Medford. By 1930, when the census again was taken, Clarence and Adrienne, mother Nettie, and divorced sister Hazel and her children Richard and Rosalie lived under one roof.
~ Son Ernest Ray Steward ~
Son Ernest Ray Steward (1892- ? ) was born in 1892.
He was of medium height and build, and had red hair and blue eyes. He made his home in Spencerville.
He married Delpha Brown (1898- ? ), the daughter of Elma Brown of St. Joe, IN.
They had at least one son, William N. Steward.
Circa August 1915, Ernest went to St. Joe to assist Byrd Harrod, of Fort Wayne, at the Sears Salting Station. In 1918, when he registered for the military draft during World War I, he worked as a self-employed automobile machinist in Spencerville.
By 1920, the Stewards had relocated to Garrett, De Kalb County, where Ernest's brothers Arthur and Frank had been working for several years. Ernest secured employment there as a mechanic.
~ Daughter Hazel (Steward) Roberts ~
Daughter Hazel Steward (1895- ? ) was born in 189.
He married (?) Roberts ( ? - ? ), a native of New Hampshire.
They had two children -- Richard Roberts (born 1924) and Rosalie Roberts (born 1927).
The first child was born in Indiana, and the second in California. Sometime between 1927 and 1930, the Roberts divorced. Hazel then moved to Oregon to join her brother Clarence, living in Medford, Jackson County. The 1930 census shows Hazel and the children living with Clarence, his wife Adrienne, and their widowed mother Nettie.
Donald L. Kear, a distant nephew of the Prings, has an extensive collection of information on this family on his "Kear Family Site." He also has published his findings in The John Cears Kear Family (1984).
Copyright © 2002, 2004, 2009, 2020 Mark A. Miner