Home

Cleon Keys Ream
(1847-1942)
Cleon Keys "C.K." Ream was born on July 18, 1847 in Ursina, Somerset County, PA, "one of a large Pennsylvania Dutch family," said a newspaper. He was the son of Levi and Hila (King) Ream.
After attending school in Carroll County, Ohio, he relocated to Osceola, Iowa with his father in about 1868.
When profiled in an Illinois newspaper in 1938, at the age of 90, he recalled:"I put extra socks in a carpet bag and went on the train to Chicago. It was too big. Before long I saw a train with the lettering 'Chicago & Milwaukee railroad' so I went to Milwaukee. It was still too big. Then I saw the 'Milwaukee & St. Paul railroad' so I went to St. Paul." The Historical Encyclopedia of Illinois, Vol. 2, Part 2, by Newton Bateman and Paul Selby, states that he went on to become a "wealthy farmer and extensive landowner [and] a man of action and accomplishment -- that he does things, does many things well and is a doer of large things. In his life he had demonstrated the truth of the old adage about the rolling stone, but has verified it in a way which was not in the mind of the philosopher; his ventures and enterprises have covered much of the Western United States from Texas to Alaska, so that truly no moss has been allowed to collect on him, but whatever he had attempted has been pushed with such vim and ability that the benefits to him have been continuous and cumulative."
The year after his move to Iowa, having become "clear-headed, self-reliant and ambitious," Cleon went to Hinkley (?) for six months and thence to a Minnesota lumber camp where he labored splitting logs and bossing Swedish lumberjacks. From there he went to Duluth, MN, where in 1869 he helped place the first rail for the Northern Pacific Railroad. He then ventured to Wyoming, where he helped construct buildings for the Red Cloud Indian Agency at Fort Laramie. Said the Historical Encyclopedia, "it proved to be rather hazardous work, as it was done at the time when the Sioux Indians were causing much trouble to the Government."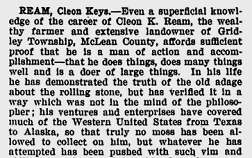 Historical Encyclopedia of Illinois
- Google Books
Then followed a long series of journeyings, and adventures, and hard labors in company with his brother, John Ream. They were both good carpenters and found plenty of work on the railroads and at the Indian agencies and Government forts. At the conclusion of their work at Fort Laramie each traded a six-shooter for a pony, and started on their travels. At Fort Collins, Colo., they sold their ponies, and, walked to Greeley, after which they took the Denver Pacific Railroad to Denver, thence starting for Texas. The train rain into a terrible snow storm, and for three days, with the other able bodies males they were obliged to shovel their way out. They were finally obliged to return to Denver, and the day following their arrival there started east for Vinita, Indian Territory, the terminus of the Missouri, Kansas & Texas Railroad. After staging for 450 miles, they again struck a section of the railroad which they could use on their way to Austin, Texas, and finally, by alternate walking and riding, reached the State capital and afterward Houston. In this vicinity they were employed at carpentry for about six months, when they returned to Denver, where Cleon conducted a shingle mill for a time, also hunting buffalo and antelope, which were readily sold to railroad contractors as food for the thousands of workmen then employed in the West.
Two years after the Denver venture Mr. Ream went to California, learned the millwright's trade, and erected many stamp mills in that country, as well as in Canada and Mexico. The summer of 1876 found him farming in the Los Angeles Valley, and on Christmas of that year, he and his brother started for Seattle, Washington, where they intended to permanently locate. But they found that the mining claims, which were to be the basis of their fortune, were valueless, and they therefore turned to transportation as a means of livelihood. Prospectors were numerous, and by canoeing them to their destinations they realized handsomely from their labors for several months. They then organized a party to prospect west to Vancouver, B.C., and along the streams to Alaska, acting as guides and transportation agents and, after an absence of four months, returning in canoes and boats to San Francisco. Cleon continued to prospect in different States of the Western Rocky Mountain slope until 1881, when, like others of similar experiences, he decided to locate permanently on the rich soil of some prairie State and go into the more profitable and satisfactory partnership with Nature, who never long withholds her bounties from those who study her laws and act accordingly.
In 1881 Mr. Ream located on the fertile soil of McLean County, and, with his brother Norman B., purchased 1440 acres of land in Chenoa and Gridley Townships. The latter was in business in Chicago, while Cleon K. tiled the entire trace, using seventy-four and a half miles of tile, the main leader being twenty-seven inches interior diameter. He also erected large and convenient bars and other outbuildings, and transformed the place into one of the most magnificant horse-farms in the country. As he was a skilled carpenter and had also mastered the science of surveying, the results were wonderfully prompt and admirable. He surveyed his own ditches, and those whom he employed in the prosecution of these great improvements were made to realize tht they had a Superintendent over them who was thorough master of every detail. The earlier years of his residence [in McLean County] were devoted chiefly to Norman and Shire draft horses, of which he was both an extensive raiser and dealer, having at one time 826 head on his farm, handling in all about 4,000 head in ten years. He then abandoned this branch of the live-stock business, and engaged actively in general farming until 1901, when he partially retired and began renting his land. At present time his four sons farm 820 acres of his estate.
He acquired his brother Norman's interests in their jointly held farm and purchased 500 more acres in Des Moines County, IA, said the Historical Encyclopedia, "which he is improving with characteristic eneregy and thoroughness, having recently expended $3,000 on tiling alone. All of which goes to prove the statement ade at the beginning of this article -- that Mr. Ream's aims are clear and large, and that, in today's vernacular, he is a man who 'gets there.' His interests have been so extensive and absorbing since he came to reside in McLean County that, although a strong Democrat who might have had many public honors, he has been obliged to devote himself almost soley to his private affairs." Cleon was elected Road Commissioner of Gridley Township for a one-year term but pursued no other public service.
At the age of 35, on April 13, 1882, he married 21-year-old Isabelle "Belle" Young (Aug. 18, 1861-1952), daughter of Isaac and Julia A. (Kemp) Young. They remained wed for more than 55 years and produced four sons -- George Y. Ream, Grover C. Ream, John I. Ream and Allan Quatermane Ream.
His story was profiled in great detail in the 1887 book Portrait and Biographical Album of McLean County, Vol. II. In 1903, Cleon was in Lexington, NE as stated in the obituary of his father.
In August 1915, Cleon and his wife, son George and stepdaughter returned to Ursina for a visit with his aged aunt, Elsie Jane (King) Firestone. At that time, the Meyersdale Republican reported that Cleon "owns a large farm located on the bottom lands of the Mississippi, about 12 miles from Burlington, Iowa. He has 1,700 acres of corn this year and had 1500 last year under cultivation, on which he raised 107,000 bushels, which would be an average of about 70 bushels to the acre." Then in September 1920, he and his sons George and Allen returned to Ursina to visit cousin Charles R. McMillan (of the family of Mary Ann [Ream] McMillan) and to inspect the ancient family burying ground.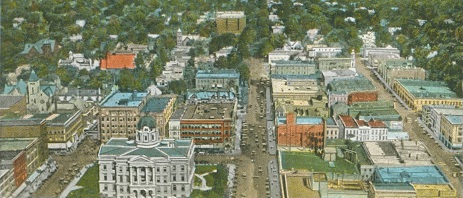 Bloomington, Illinois
Their address in 1937 was 1209 North Main Street in Bloomington.
When he reached his 90th birthday, the Bloomington (IL) Daily Pantagraph published his photo and feature article, headlined "Life of Adventure Leaves C.K. Ream Still Hearty at 90." The story opened: "Life is still a thrill to C.K. Ream, 90 year old erstwhile adventurer, but it's tame as a tabbycat compared to his youthful days when he roamed the wilds of the United States as a 'jack of all trades,' seeking an always elusive fortune. From his easy chair in his comfortable cottage at 1209 North Main street, the tall gray haired retired farmer can give you a vivid account of his adventures as a gold prospector, Indian trader, railroad builder and lumberjack. His strong, kindly face lights up and large brown eyes, which still scan the printed word without need of glasses, fondly gaze into yesteryear as he describes the frontier days when he headed the restless cry of wanderlust." Even at age 90, he and his wife and sons all awoke at 5 a.m. daily and ate hearty dinners of fried chicken. In December 1940, the Reams entertained their nephew Norman Putnam Ream, visiting from his home in Greenwich, CT.
Cleon slipped on a hardwood floor in 1942 at the age of 95 and died two months later on Nov. 29, 1942. Funeral services were led by Rev. E.E. Jones of the United Brethren Church in Lexington, with a brief obituary appearing in the Pantagraph, stating that he was the last of six in the family. His remains were placed into rest in Lexington Cemetery. [Find-a-Grave]
Isabella survived her spouse by a decade. She joined him in death on April 16, 1952.
Many years later, Cleon was named in Paul Ryscavage's 2013 book Norman B. Ream: Forgotten Master of Markets.
~ Son George W. Ream ~
Son George Y. Ream (1883-1934) was born on Feb. 27, 1883 in Gridley Township, McLean County, IL.
On Sept. 1, 1909, he was joined in wedlock with Willetta "Dot" Montgomery (1879-1949) of Lexington, McLean County.
The couple did not reproduce. For two decades, noted the Bloomington (IL) Pantagraph in 1934, "they resided near Burlington, Iowa, where he was engaged in the real estate business. They returned to Lexington only a few years ago." George was a member of the Masons lodge, Knights Templar and Shrine. He went on hunting trips to the west, and several bear and lion skins he obtained later were mounted in a dormitory at Illinois State Normal University.
Crowds at the levee in Burlington, Iowa
Having been stricken with heart problems, George died on Jan. 8, 1934. Rev. W.G. Anderson and Rev. William Hainsworth of Gridley officiated at the funeral service, with burial in Lexington. [Find-a-Grave] An obituary was published in the Pantagraph.
Willetta outlived her husband by 15 years and in 1935 was named housemother at Col. D.C. Smith Hall at Illinois State Normal University. In 1937, she was named in a Pentagraph story about their niece Louise Ream who had been named a beauty queen. She is known to have traveled to Washington DC in April 1942 to visit Mr. and Mrs. C.B. Odell and her nephew Edwin M. Adams. She temporarily lost her position at the college when Smith Hall was commandeered by the Navy during World War II. After the war, she got her job back but then retired on Aug. 31, 1946.
Willetta passed into eternity in 1949 and rests in Lexington Cemetery.
~ Son Grover C. Ream ~
Son Grover C. Ream (1884-1946) was born on Feb. 21, 1884. He may have never married but spent his life as a farmer.
In late May 1913, Grover and his friend Ed Hanson dug into an old Indian mound on the Malchow farm near Kingston, northeast of Burlington, IA. Reported the Davenport (IA) Daily Times, "The mound was fifty feet in diameter and twelve feet high, and was one of about fifty in that vicinity. It contained a quantity of granite ware, bows of birch wood and a number of stones carved with Indian writings. These relics of past ages are of great interest to scientists."
Tragedy swept into Grover's world in March 1918, when 22-year-old maid Bessie Niningberger died in his home after unwittingly ingesting three ounces of carbolic acid. Officials ruled the death accidental. Grover was in the news again the same week when he was sued for $15,000 in damages after breaking a promise to marry Alice Hanrahan of West Burlington. A story widely printed in Iowa newspapers noted that she was "pretty and is employed on the Burlington Saturday Evening Post as a printer. Ream is a nephew of the late Norman Ream, Chicago multimillionaire."
The Quad-City Times of Davenport said that as a result of his act, "She states she has suffered great mental anguish and that her health and reputation have been damaged, wherefore she prays the above sum in a breach of promise suit." Within a week, the matter was settled out of court.
When the United States Census was made in 1920, he lived next door to his married brother Allen and family in Huron, Des Moines County, IA. He moved by 1925 to Bloomington, McLean County, IL.
He passed away in Bloomington at the age of 62 on May 18, 1946. [Find-a-Grave]
~ Son John Irving Ream ~
Son John Irving Ream (1887-1967) was born on Valentine's Day 1887 in Lexington, McLean County, IL.
In the early 1930s, he dwelled in Bloomington, McLean County.
The federal census of 1940 shows the unmarried John at age 54 living with his parents and single brothers Grover and Allen in Bloomington, where all worked as farm laborers.
At some point he married Evelyn L. (1887-1974).
In the 1960s, his address was two miles east of Licking, Texas County, MO. Suffering from heart and kidney disease, added to pneumonia, he was admitted to Texas County Memorial Hospital in Houston, where he succumbed at the age of 80 on Aug. 23, 1967. His remains were lowered into repose in Williams Cemetery in Texas County.
Evelyn survived her spouse by seven years. She died in 1974.
~ Son Allan Quatermane Ream ~
Son Allan Quatermane Ream (1889-1969) was born on July 29, 1889 in Gridley, Emmet County, IA and named for the main character in the 1885 novel King Solomon's Mines.
On Jan. 20, 1914, when he was 24 years of age, he was united in matrimony with Edith Mowdy (1897- ? ). She was the daughter of Estelle Mowdy. With about 50 relatives and friends present, the nuptials were performed by Rev. Myers of the Baptist church, held in the mother's home at the corner of North and Cedar Streets in Bloomington. In announcing the marriage, the Bloomington Pantagraph reported that "The groom is the son of Mr. and Mrs. C.K. Ream, of Bloomington, who have a wide acquaintance thruout the state and county. The bride is one of the best known and popular young women, practically all her life being spent here. She is a graduate of the Lexington schools and a most talented musician. Mr. and Mrs. Ream departed on the noon train for New Orleans and other southern points. On their return they will make their home on a farm near Oakville, Ia., where the groom's father has large real estate holdings."
The couple bore a daughter, Louise Ream.
The family made a home in Huron Township, Des Moines County near Burlington, IA in 1920 and in New London, IA in 1934. The Pantagraph reported frequent visits with Edith's mother, and they are known to have attended a passion play in Bloomington in during the Easter season in 1926.
By the mid-1930s, the marriage appears to have ended, and the 1940 census shows that Allan at age 51 had returned to live with his parents and bachelor brothers Grover and John on the family farm near Bloomington.
Former wife wedded C.J. Artz and remained in Bloomington.
As his health failed, Allan moved into the Maple Grove Nursing Home in Bloomington. The Grim Reaper cut him away at the age of 79 on June 21, 1969. Rev. Carl W. Coker officiated at the funeral, and an obituary was printed in the Pantagraph. He rests in Lexington Cemetery. [Find-a-Grave]
Daughter Louise Ream (1919-2016) was born on May 29, 1919 on a farm in Oakville, Huron Township, near Burlington, Des Moines County, IA. She grew up in Lexington, IL, but after her parents divorced, and her mother married C.J. Artz, Louise resided in the Artz household in Burlington. At the age of 17, in 1937, she was a student at Stephens College, a women's college in Columbia, MO, studying "voice and commercial subjects," said the Bloomington Pentagraph. That year, she was selected as a beauty queen for a military ball held at Wentworth Military Academy in Lexington, MO and pictured in the Pentagraph. She also obtained a degree from Northwestern University. Her first husband was Samuel "Sam" Brooks ( ? - ? ). They were the parents of four children -- Francis Brooks, Deborah Brooks, Edith Mitchell and Taft Brooks. The couple eventually divorced. Said the Burlington (IA) Hawk Eye, "She worked for TWA, the 12th Naval District, as a Real Estate broker, managed farm holdings, managed a sail charter business, and was a homemaker." On April 23, 1959, at the age of 40, she married her second spouse, Henry Arthur "Art" Hatch (March 3, 1925-2008), a native of Hamilton, Ontario, Canada, the son of Harry Cecil and Marjorie (McLaren) Hatch. The nuptials were held in Maderia Beach, FL, and their marriage lasted for 49 years. The couple produced a son of their own, David Hatch. Art received a degree from Upper Canada College and took classes at McMaster University. During World War II, he served in the Royal Canadian Air Force as a flight sergeant. After the war, said the Hawk Eye, "He worked as a farm manager, parts manager and small engine mechanic. As a sportsman, he formed the COSTA LOTTA hydroplane racing team which won the Canadian 225 cubic inch class National Championship races in 1948 and 1951. In 1951 Art drove a hydroplane to victory on Lake Windermere, England to win the Duke of York Trophy." In 1969, their home was in Burlington but they spent time in Largo, FL. Sadly, Art succumbed at the age of 83 on March 11, 2008. She lived for another eight years and died at Largo at the age of 96 on Jan. 11, 2016.
Grandson Taft Ream Brooks (1949-2015) was born on Jan. 23, 1949 in Burlington, IA. During the Vietnam War, he served for two tours of duty with the U.S. Army. Later, he learned the electrician trade and was employed by the International Brotherhood of Electrical Workers, retiring in 2013. Said the Glenwood Springs (CO) Post-Independent, "With a love for sailing and the water, Taft captained the 52-foot Blithe Spirit from Florida to the Virgin Islands and the Bahamas. He also built and raced cars with his father, raced motorcycles, and crafted innumerable things with his creative hands. His adventurous spirit and outgoing personality led to lifetime friendships. Taft was knowledgeable, curious, and had many interests. He was loved by many and performed countless, selfless acts for others." At the age of 38 in 1987, he traveled to the Carbondale Mountain Fair in Colorado and met his future wife, LeNora Hale ( ? - ? ). The couple was wed in 1989 in Florida and in 1990 relocated to Glenwood Springs, CO, where they remained for the balance of their 25 years together. LeNora brought three offspring to the union, Brenda Conner, Eric Hale and Becky Hale. On the fateful day of June 11, 2015, Taft died suddenly at home at the age of 66. A memorial service was held at Christ Community Church in Basalt, CO. An obituary was printed in the Post-Independent, and the family requested that any memorial donations be made to the American Heart Association. LeNora remained in Glenwood Springs, CO as of 2016.
Copyright © 2002, 2009, 2012, 2014-2017, 2022 Mark A. Miner