Home

Lydia Ann Ream
(1836-1892)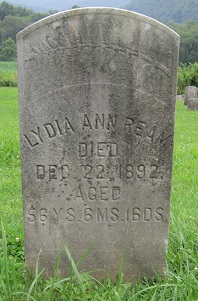 Cross Roads Cemetery
Lydia Ann Ream was born on June 6, 1836 in Ursina, the daughter of Samuel and Mary (Rheims) Ream.
Some records cite her date of birth as June 6, 1826, but census records give a better sense of the actual date..
At the age of 14, in 1850, Lydia is shown in the federal census enumeration as residing with her parents in Lower Turkeyfoot Township.
Then in 1860, when she was listed as age 21, she dwelled in Addison Township, Somerset County. Also in the household that year was five-year-old Alice Ream, possibly Lydia's daughter, but this is just a guess.
In 1870, when Lydia was age 34, she remained under her parents' roof in Addison, along with 16-year-old Alice Holbrook. Their home was next door to Lydia's married sister and brother in law, Mary Ann and Jehu McMillan.
The United States Census of 1880 lists her as living with the McMillans, in Addison, Somerset County. Her age that year was reported as 37 but would have been closer to 44.
Lydia Ann died in Somerset County at the age of 56 years, six months and 16 days on Dec. 22, 1892, just three days before Christmas. The cause of heer death is not known. She was entombed in Cross Roads Cemetery, beside the graves of her parents, on Hogback Mountain in Harnedsville, not far from Ursina. [Find-a-Grave]
In recent years, Linda Marker has photographed her grave marker for posterity and posting on FindAGrave.com. More research needs to be done to bring Lydia's complete story to life. She is named in the 1939 book Genealogy of the Stukey, Ream, Grove, Clem, and Denniston Families, authored by Elmer Leonidas Denniston.
Copyright © 2002, 2009, 2012, 2014-2017 Mark A. Miner