Home

Martha 'Mattie' (Ream) Park
(1849-1922)
Martha "Mattie" (Ream) Park was born on Sept. 4, 1849 in or near Ursina, Somerset County, PA, the daughter of Levi and Hila "Highley" (King) Ream.
Oddly, her name does not appear in the 1850 federal census with her parents, and her maiden name was once given as "Nichols." Adding to the intrigue, she was not listed as a surviving child in the 1903 newspaper obituary of her father. Among the few clues of her family connection are gossip column articles in the Muscatine (IA) Journal stating that she was a sister of "Samantha Johnson of Osceola" and also had visits with a niece, "Miss Vida Garrison," daughter of Martha's sister Marie (Ream) Garretson.
She would have been about 15 years of age at her mother's death and 17 years of age when she migrated to Iowa with her family in 1868, settling in Osceola.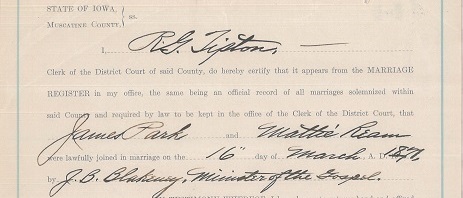 The Parks' marriage certificate.
Courtesy National Archives
On March 16, 1871, at Muscatine, IA, she was joined in the bonds of wedlock with Civil War veteran James C. Park (May 17, 1838-1921). The officiating pastor was Rev. J.B. Blakeney
He was a native of Hartford, Washington County, NY who had come to Iowa in 1856. They stayed together for half a century.
James stood 5 feet, 9½ inches tall, and weighed 140 lbs., with a fair complexion, brown hair and blue eyes. In the years before the war, his family physician Dr. Albert Ady recalled that James "was in sound bodily health and entirely free from rheumatism.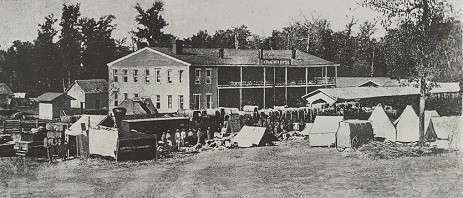 Corinth, MS during the Civil War, showing the railroad depot and Tishomingo Hotel.
Courtesy Library of Congress
He joined the Union Army during the war, enlisting on Oct. 21, 1862 at Davenport, IA. He was placed in the 2nd Iowa Infantry, Company B, commanded by Frank Snider and James B. Weaver. While at Corinth, MS on May 3, 1863, in his words, he "contracted the disease of Rheumatism in the left knee joint by reason of extreme exposure to the intensely heavy rains which then fell, and doing heavy guard and picket duty & sleeping in the wet and mud without shelter, tent or other cover." The surgeon prescribed opium to ease the pain of the contracting muscles of the leg. After many weeks without improvement, the surgeon ordered him to the Brigade Hospital at Corinth. He never returned to his unit, receiving a furlough to return home, where he spent the balance of his term of duty.
He received his discharge in the summer of 1864. With the war still aflame, James applied for and began receiving a military pension for his disabilities on Aug. 18, 1864. [Invalid App. #50.147 - Cert. #158.906]
The newlyweds established a home in Lee County for a few months before moving to near West Liberty, IA, where they remained for the balance of their lives. For about two years after the war, he went about on crutches.
They became the parents of Albert H. Park and Charles E. Park.
James was a longtime farmer in Pike Township near West Liberty. He also was employed at West Liberty as a director of the People's State Bank and held a seat on the board of trustees of the local public library. He continued to be treated by Dr. Ady for his knee problems which became chronic, and the doctor later writing that [I] have at no time known him to be entirely free from it. It interferes materially with his maintaining himself by manual labor at his usual vocation of farming."
The Parks held a membership in the Christian Church. James belonged to the Masons and was a master of its Mt. Calvary lodge and was active in the affairs of the Grand Army of the Republic, a Civil War veterans' organization.
In 1889, when examined by a military physician, he complained of "diifficulty of heart. Short of breath. Chokes up. Beating at night prevents sleeping."
They marked their golden wedding anniversary in March 1921.
Sadly, after an illness of three weeks' duration, James passed away at home on May 9, 1921. The Muscatine Journal and Cedar Rapids Gazette published obituaries. Burial was in Oak Ridge Cemetery.
The widowed Martha only outlived him by 15 months. During that period of time, she applied for her late husband's military pension. Providing supporting affidavits in her case were Ross Mountan and N.M. Phillips, who claimed they had lived in the same vicinity as the couple and always knew them as man and wife When the family received no response from the pension office in Washington, DC, son Albert wrote to the pension commissioner, asking for an update. It was finally awarded, but almost too late. [Widow App. #1.174.923 - Cert. #911.524]
The Grim Reaper swept her away at age 72 on Aug. 17, 1922. Her obituary was printed in the Quad-City Times, which said that her remains were transported to West Liberty to sleep for the ages in the town cemetery.


~ Son Albert H. "Bert" Park ~
Son Albert H. "Bert" Park (1871-1955) was born on Nov. 20, 1871 in West Liberty.
He attended grade school in Wilton, IA and then a business college before graduating from the State University of Iowa. He appears to have moved to Davenport, IA, where he was employed by the U.S. Postal Service circa 1903 as a substitute letter carrier.
On Oct. 1, 1896, he was joined in matrimony with Emma Lee Hankins (Aug. 1, 1875-1932), a native of Cone, Muscatine IA. Their wedding was held in Nichols, IA.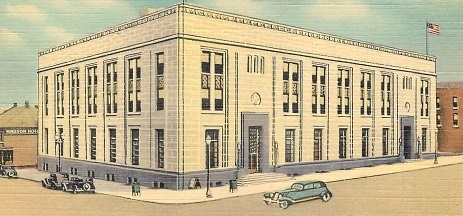 Post office in Davenport, IA, Albert Park's place of work
The pair produced one known daughter, Ethel May Kopf.
They remained in Davenport for decades, at the address of 2635 Sheridan Street. Albert went on to a career as a clerk in the county treasurer's office during tax collection period. Emma belonged to the First Christian Church of Nichols and the Alberta Camp of the Royal Neighbors of America.
On the fateful day of Aug. 26, 1932, despondent over ill health, Emma locked herself in the kitchen of their home, closed the windows and shades, and turned on both gas burners of their oven. She then sat in a chair near the stove and her life ebbed away. Albert later found the body after arriving home from work, with the news headlining the Davenport Daily News. Interment was in Pine Hill Cemetery.
Albert spent three years as a widower before marrying again in 1935 at age 63 to 44-year-old Dorette (Ericksen) Peterson ( ? - ? ), daughter of Ismus and Marie Ericksen. Rev. Frederick J. Weertz, of St. Johns Lutheran Church, led the nuptials.
She had been married previously and brought three stepchildren into the second union -- Mrs. Merle Lundvall, Mrs. W.J. Schweiger Jr. and Kenneth Peterson.
Albert was active for 25 years with the Davenport lodge of the Moose and, in 1936, was selected to be a delegate at the national convention in Chicago. For 19 years he served as deputy treasurer for Scott County, IA, retiring due to poor health in December 1950.
He suffered a heart attack and died in St. Luke's Hospital at the age of 83 on Oct. 21, 1955. An obituary appeared in the Davenport Daily Times. Interment was in Pine Hill Cemetery.
Daughter Ethel May Park (1898-1958) was born in about 1898 in Nichols, IA. She resided in Davenport, IA as a young woman, employed by the Steffen, Newport & McHarg insurance firm. She underwent surgery for tonsil removal in February 1925 when in fact the surgeon performed a sinus operation. She later sued for medical malpractice. On May 1, 1925, in Davenport, the 27-year-old Ethel was united in wedlock with 28-year-old World War I veteran Howard E. Kopf (Nov. 21, 1897-1960), a native of Farrar, IA and the son of Andrew and Lizzie A. (Norton) Kopf. Their nuptials were held in the pastor's study of the First Presbyterian Church of Davenport, presided by Rev. LeRoy M. Coffman. News of the marriage was announced in the Davenport Daily Times and the Muscatine Journal. Ethel "wore an ensemble costume of charmeen in the Rigetto shade, with a hat to match," said the Daily Times. "Her flowers were rose and lilies of the valley in corsage arrangement." The pair did not reproduce. Howard was an alumnus of Drake University, where he had studied in the liberal arts and law department. At the time of marriage, said the Daily Times, he was "in charge of the local claim division of the Travelers' Insurance Co. of Hartford, Conn., being transferred to the Davenport office from Des Moines about two years ago." The couple made a home in Davenport, with an early address of 628 Pershing Avenue and then in 1927 at 1215 East Tenth Street. She sued her surgeon Dr. Gordon Harkness for $15,000 in damages in 1926 with the matter finally going to court in May 1927. With Ethel's health in question, the couple is known to have vacationed in August 1927 in Colorado Springs, Denver and the West. Howard was transferred to the Travelers' office in Louisville, KY in December 1927, and after less than three years was moved back to Davenport in September 1930 to manage the local office. He also appears to have maintained a law practice in Davenport in personal injury cases. The Kopfs' marriage ended with a separation on Nov. 8, 1941 and a divorce 13 days later, on Nov. 21, 1941. Under their financial agreement, Howard was to pay her $75 a month in alimony "as long as she remains unmarried and will also keep up insurance policies totaling $5,000 with Mrs. Kopf as beneficiary," said the Daily Times. Ethel moved into the Vale Apartments at 210 East Fourth Street and in about 1950 began working as a clerk at the Rock Island Arsenal. At that time, not having received nine months' worth of alimony, she advertised for an attorney in the local newspaper. After suffering a stroke, she died in Mercy Hospital at the age of 60 in May 1958. Burial was in Pine Hill Cemetery.
Ex-husband Howard married again on Jan. 18, 1945 to Loretta (Milius) Thompson (Jan. 14, 1908-1998), daughter of William K. and Wilhaminia "Minnie" Milius of Davenport. They dwelled at 9 Kenwood Avenue, Davenport. In time he co-founded the Kopf and Christiansen law firm with offices in the Citizens Federal Building and continued practicing there to the end of his life. Howard also was elected as an alderman of the Fifth Ward of Davenport City Council and made a reputation "in that post-World War II period when the local political scene was dominated by strong personalities and there was no room for weaklings," said the Davenport Quad-City Times. After contentious meetings and "political oratory," he and his political opponents then "would retire to the tavern." He belonged to the Davenport Post of the American Legion, Roosevelt Lodge of the Masons, Davenport Club and Davenport Elks Lodge. Loretta spent 18 years as office manager for the Davenport Country Club, retiring in 1978. She held memberships in the St. Mark Evangelical Lutheran Church, Davenport post of the American Legion Auxiliary, where she held a term as president, the Women of the Moose, Order of Eastern Star, Mohasson Caldron, and the Davenport-Bettendorf Women's Bowling Association, where she was elected to the hall of fame. For more than half a century, she served as national assistant treasurer of the Defense Trial Attorneys. While at the dinner table on May 23, 1960, he suffered a massive heart attack and was rushed to Mercy Hospital, where he was pronounced dead on arrival. The Davenport Daily Times said in an obituary that "Mr. Kops was a man who held tenaciously to his views and was willing to express them and support them publicly or in private conversation. In that respect he held kinship with earlier Davenport lawyers whose individualism was a matter of pride retained undimmed and ukndented throughout their lives." Loretta outlived her spouse by 38 years. She passed away at the age of 90 on Feb. 10, 1998, as a patient in Davenport Good Samaritan Center. She was pictured in her obituary in the Quad-City Times.
~ Son Charles E. Park ~
Son Charles E. Park (1873-1960) was born on Jan. 4, 1873 in West Liberty, IA.
Two days after Christmas 1893, he entered into marriage with Lula Brown ( April 29, 1876-1959), a native of Illinois and the daughter of Rufus and Delilah (Hesser) Brown. Their wedding was held at Nichols, IA.
The pair's two children were G. Clyde Park and a not-yet identified daughter.
They were lifelong farmers and dwelled on the home farm in Pike Township near West Liberty, IA in the early 1920s.
They belonged to the Presbyterian Church. Lula was active in the 1920s, '30s and '40s with the Adah Rebekah Lodge of the Odd Fellows, holding the office in 1927 of pianist; in 1928 of vice president; in 1933 of treasurer; and in 1943 of Left Support of the Noble Grand (LSNG).
After retirement, they lived in West Liberty at 401 East 6th Street. Lula was in the news in 1949 when, with her adult siblings, they engaged in litigation for the right to sell the property of W.R. Brown, who had died in 1913 without having a will, and to sell the tract and divide the proceeds.
Lula surrendered to the angel of death at the age of 83 on Aug. 23, 1959 as a resident of the Hawker Nursing Home in West Liberty. In memory, the Adah lodge draped its charter at its September 1959 meeting. Her obituary was published in the Muscatine Journal.
Toward the end, Charles was admitted to the Hawker Nursing Home, and passed away there on April 24, 1960. The Journal printed an obituary. Rev. Donley Ganfield led the funeral, with burial following in Oak Ridge Cemetery.
Son Clyde F. Park (1894-1981) was born on June 26, 1894 in Muscatine County. He served in the U.S. Army during World War I. He was deployed overseas in the fall of 1918 and, after the war's end, returned home to Nichols the first week of April 1919. On Sept. 30, 1919, he was united in matrimony with Viola D. "Ola" Mills ( ? - ? ), daughter of Joshua and Laura (Schildsberg) Mills of near Nichols, IA. Their marriage ceremony was conducted by Rev. J.B. Randall in the parsonage of the First Presbyterian Church. Said the Muscatine Journal, "They will make their home on a farm near Nichols, going to housekeeping immediately." Together, they produced a trio of offspring -- Lyle "James" Park, Floyd L. Park and Gladys Kemp. As of 1928, the Parks made a home on a 160-acre farm tract along Road 76 between West Liberty and Nichols. The Journal noted in the spring of 1928 that he "will have 65 acres in corn and 35 in oats. He has 37 spring pigs from 4 sows and 2 more to farrow." They resided in Nichols, IA in 1959 and in West Liberty in 1960. Clyde held a membership in the local post of the American Legion. The family is known to have attended the annual Mills family reunion in June 1963, held at Weed Park, and the 1968 gathering, at Kimberly Park in West Liberty. The couple celebrated their golden wedding anniversary in September 1969 with a gathering in their residence, with the story covered in the Muscatine Journal and News-Tribune. Guests traveled to attend from Fredonia, Moline and West Liberty. At the Mills Reunion of 1975, back at Kimberly Park, Clyde at age 81 was the oldest present, and he continued to hold this mark of distinction to the last one he attended in 1980. The Parks quietly marked their 60th wedding anniversary in 1979. Sadly, while at home on Feb. 23, 1981, Clyde was stricken by a heart attack and died at the age of 86. His obituary appeared on the pages of the Journal. Rev. Ralph Farmer officiated the funeral rites, followed by burial in Oak Ridge Cemetery. Viola continued to attend the Mills reunions as a widow and took over the mantle of "oldest present" in 1981. The angel of death cleaved her away at the age of 85 on April 13, 1983. Rev. Farmer also oversaw her funeral service.
Grandson Lyle "James" Park (1922-2015) was born on Sept. 6, 1922 near West Liberty. He was a lifelong farmer and bachelor and resided for years with his parents in West Liberty. When time allowed he liked to hunt for small game, fish, and play horseshoes, pool and shuffleboard. He often attended the Mills family reunions with his father and mother. James remained in West Liberty after his parents' deaths and in 1990 was located south of town. His sister Gladys is known to have died in his home in February 1990. James made his final residence in the Simpson Memorial Home. There, on Oct. 29, 2015, he died at the age of 93. His photograph appeared with his obituary in the Journal. Interment was under the sod of Oak Ridge Cemetery.
Grandson Floyd L. Park (1925-2020) was born on Dec. 8, 1925 in rural West Liberty. He was a 1943 graduate of Nichols High School. Floyd went on to serve in the U.S. Army during World War II, enlisting on Aug. 16, 1944. In 1945 he was stationed at Camp Wood, TX. Later that year, he was transferred to Munich, Germany, to be part of the ordnance operations of the Third Army of Occupation. On July 7, 1952, he tied the marital knot with Genevieve Meyers (Jan. 15, 1922-1992), daughter of Newton and Emma (Mahler) Meyers of Muscatine. The union was held at Grace Lutheran Church in Muscatine, by the hand of Rev. M.D. Kilver, and announced in the Muscatine Journal. The pair put down roots in Muscatine and were the parents of two -- David Park and Penelope "Penny" Polina. Floyd earned a living at the Rock Island Arsenal and then for three decades as a letter carrier for the U.S. Post Office in Muscatine. He held a membership in the local post of the Veterans of Foreign Wars and liked to read, hunt, work crossword puzzles and roots for the University of Iowa Hawkeyes and Chicago Bears sports teams. Said the Journal, Genevieve was a member of the Sweetland United Methodist Church and the ladies VFW Auxiliary. She owned and operated Genevieve's Beauty Shop in Muscatine until 1970. She was an avid cook and especially enjoyed baking." Sadly, Genevieve surrendered to the angel of death at Muscatine General Hospital on Sept. 29, 1992, bringing to a close their union of 40 years. Her memorial service was conducted in the Sweetland United Methodist Church, by the hand of Rev. Robert Winter. Floyd survived her by 27 years. During that time he served as executor of the estate of his late brother and lived at 716 Climer Street. At the age of 94, on Jan. 6, 2020, Floyd died as a resident of Muscatine's Lutheran Living. He was pictured in his Journal obituary, with burial taking place in Greenwood Cemetery.

Great-grandson David C. Park ( ? - ? ) was born on (?). On May 17, 1996, he was joined in matrimony with Angele M. "Angie" Reed ( ? - ? ), a Muscatine resident and the daughter of Paul and Gerrie Reed. The wedding was held at the Bloomington Friends Church and announced on the pages of the Muscatine Journal. The couple resided in Muscatine and bore two children, Alisa Phillips and Nate Park. They are known to have attended the 34th Mills family reunion in July 1996, held at Kimberly Park. The marriage ended in divorce in April 2010 as reported in the Journal.

Great-granddaughter Penelope "Penny" Park ( ? - ? ) was born on (?). On Nov. 12, 1972, in a ceremony in the Grace Lutheran Church of Muscatine, the 17-year-old Penny wed 19-year-old Alberto "Albert" Polina ( ? - ? ), daughter of Joe C. Polina of Muscatine. The union was solemnized by Rev. E.B. Meyer. In announcing the wedding, the Muscatine Journal said that Penny was a senior at Muscatine High School and that she "wore an empire gown of white satin fashioned with lace and pink ribbon extending down the front of the gown and around the train. Here mantilla veil was edged with lace from tiny lace flowers and pink pearls as accents. She carried a handkerchief carried by her maternal grandmother at her wedding, and a cluster of sweetheart roses and carnations." At the time of marriage, Albert was employed by Widemann Industries in town. They have put down roots in Davenport and are the parents of Tony Polina and Joe Polina.

Granddaughter Gladys Park (1920-1990) was born on Nov. 5, 1920 in Muscatine County. At the age of 18, on Christmas Eve 1938, she wed Donald "Whitey" Kemp (March 25, 1914-1983), son of John and Iva (Orr) Kemp of Fredonia. Their nuptials were held in Wapello. Donald went on to serve in the U.S. Army during World War II. The Kemps settled in Columbus Junction, Louisa County, IA and did not reproduce. They remained in Columbus Junction for good. Donald earned a living as a heavy equipment operator. He was a member of the Wright Hanft post of the American Legion. With his health in decline, Donald went to live in the Washington Long-Term Care Center. There he died at the age of 69 in March 1983. Rev. Richard Faris presided at the funeral. She died in the home of her brother James south of West Liberty at the age of 69 on Feb. 9, 1990. An obituary in the Muscatine Journal said the cause was "an apparent heart attack." Her remains were laid to rest in Indian Creek Cemetery near Columbus Junction.
Copyright © 2002, 2009, 2012, 2014-2017, 2022-2023 Mark A. Miner