Ru 'Percy' Roberts
(1871-1903)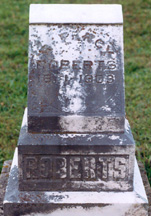 Blackened grave marker

Ru "Percy" Roberts was born on July 31, 1871 at Tarlton, Pickaway County, OH, the only child of William C. and Diantha (Miner) Roberts.
Percy earned a living as a stone mason and plasterer and was an active member of the Cumberland Presbyterian Church of Tarlton.
When the federal census enumeration was made in 1900, Percy at age 28 dwelled at home with his parents, likely working with his father who also was a plasterer.
In June 1902, at age 31, Percy was united in matrimony with Reble (Rebecca?), whose last name is not known. The record of this marriage has been found in the archives of the Department of History of the Presbyterian Church (USA) in Philadelphia, PA.
Tragically, Percy suffered from "bowel trouble," and became very sick in the depths of winter in 1903. On March 4, 1903, at the age of 31, he finally succumbed, after a bout of about two weeks. The Circleville Democrat and Watchman carried a moving obituary:
Born in a Christian home, and being carefully guided in the path of righteousness, he grew to be a man, honored and esteemed by all who knew him. His services rendered as a Christian is a precedent set for his associates. He not only confined himself to the labors of his own church, the Presbyterian, to which he connected himself when young, but was a willing servant of the Lord at any time and in any church. To realize his worth in the Endeavor and Epworth League, is to have seen him performing the labors assigned him.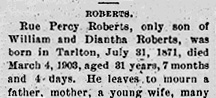 Circleville Democrat and Watchman

The strong hand of Providence saw fit to remove him from our circle after a severe illness of about two weeks. During this time he was carefully watched by an affectionate, beloved wife, to whom he was united in the bonds of matrimony one year ago last June. He always showed his appreciation by reciprocating with kindness, which made them both happy.
No one but the father, mother and wife know the heart aches for one who was always kind and obliging in the home, but they trust to Him who is omnipotent and omnipresent. In his hours of sickness he bore the suffering with patience, praying that he might be again restored to health, but expressed himself as not being afraid to die. But with the skill of baffled physicians the grim reaper with his keen sickle, closed his eyes in peace, … to suffer no more for the sins of the world.
Among those attending the funeral were Percy's aunt, Matilda (Miner) Culp and cousin Jennie Culp of Lancaster, Fairfield County, OH. Percy was laid to rest beside his parents at the Tarlton Cemetery.
Copyright © 2000, 2009 Mark A. Miner