Home

Diantha (Minor) Roberts
(1840-1904)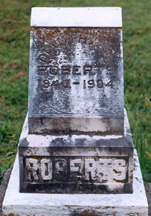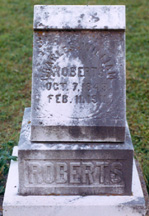 Roberts graves at Tarlton Cemetery
Diantha E. (Miner) Roberts was born in August 1840 in Pickaway County, OH, the daughter of John and Lucretia (Morris) Minor.
On Nov. 15, 1865, when she was 25 years of age, Diantha was joined in the bonds of wedlock with 22-year-old Charles "William" Roberts (1843-1911).
Their old, darkened grave markers are seen here. Far more is known about William than of Diantha.
The Circleville Democrat and Watchman wrote that William "was a bricklayer and plasterer by trade, and worked at these trades for over 50 years. He was a very sympathetic man, and loved children and young people. He would get a number of them and treat them to candy and ice cream, and they came to love him."
He also was said to have had "a wonderful memory, and could give day and date for almost any event in his life." William "was a member of the Evangelical Sunday School, of Stoutsville, and was often the teacher of the Bible class. He also was a Freemason.
Two years after marriage, the Robertses purchased a 1/3-acre tract on South Street in Tarlton, a block away from the school house and cemetery. William's name appears below on a map of Tarlton, published by C.O. Titus in the 1871 Atlas of Pickaway County, showing the location of their home, circled in orange. They were about a block away from the Tarlton Cemetery and also the Elzabeth Street home owned by Diantha's sister and brother in law, Eliza and John Swearingen, in the years before they moved to Missouri. This tract became the subject of dispute among their heirs, ending in litigation which concluded in 1911.

1871 Atlas of Pickaway County showing the location of the Roberts tracts
Final resting place for the Robertses
Their only son, Ru "Percy" Roberts, was born in Tarlton in July 1871. The family rejoiced when Percy, a bachelor of 30, got married in 1902. But just a year later, in March 1903, tragedy struck when Percy became terribly sick, and died of "bowel trouble."
A year later, Diantha herself passed away, of causes unknown. Her death occurred on June 8, 1904, at the age of 63. She was buried beside her son at the Tarlton Cemetery.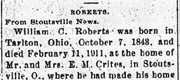 Democrat and Watchman, 1911
Their deaths took a terrible toll on William. The Democrat and Watchman said that he "was very tender-hearted, and always grieved for the loss of his wife and son. He had been afflicted with kidney trouble for some time, and last summer, ran a nail in his foot, which gave him great trouble. Then the Stoutsville fire unnerved him, and when Conrad confessed, and whom he thought so well of, he completely broke down."
William died at the age of 68 on Feb. 11, 1911 in Stoutsville, Clear Creek Township, Fairfield County, OH, at the home of E.M. Crites, where he had resided for several years. His remains were returned to his old hometown for burial with Diantha and Percy at the Tarlton Cemetery.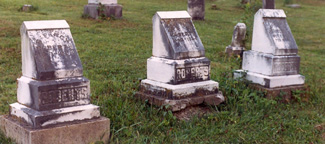 The Roberts' darkened and deteriorating grave markers, left to right: Ru Percy, William, Diantha, circa 1994
Copyright © 2000, 2009 Mark A. Miner