Ulysses 'Grant' Rose
(1865-1936)
Ulysses "Grant" Rose was born on June 16, 1865, in Normalville, Fayette County, PA, the son of Andrew J. and Susanna (Minerd) Rose Sr.
On Dec. 8, 1890, when Grant was age 25, he married 19-year-old Hattie Margaret "Maggie" Trout (1871-1961). Hattie was the daughter of David and Anna Mary Trout of West Overton, Westmoreland County, PA. The ceremony was held in or near Scottdale, Westmoreland County, and performed by justice of the peace Joseph K. Eicher.
At the time of marriage, Grant's employment was as a coal hauler, and he could not write his own name, instead signing the marriage license with an "X." Hattie's occupation was listed as "kitchen work."
They had at least five children -- Anna E. Lawver, Aldora Brinker, Evelyn Albright, Elmer W. Rose and Bessie Margaret Fligger and perhaps five others who died young.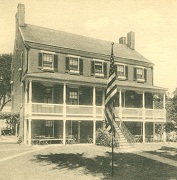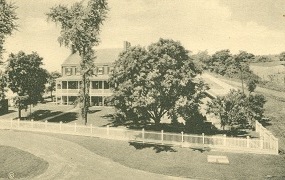 Nearby West Overton -- birthplace of coke/steel giant Henry Clay Frick and home of the famed Old Overholt Distillery.
The Roses lived in a number of places in Westmoreland County, PA, including West Overton, Mount Pleasant and Youngwood. In 1894, while in West Overton, the Connellsville Courier reported that Grant "got his leg mashed in the mine…," but eventually recovered.
The federal census of 1900 shows the family in East Huntingdon Township, near Greensburg, Westmoreland County. That year, Grant was employed as a driver in a local coal mine. The census taker accidentally spelled their family name "Rhodes."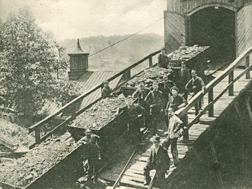 Typical Connellsville region coal mine
operation of the early 1900s
By 1910, the Roses had moved to a new residence on Spruce Street in Mount Pleasant, Westmoreland County. The 1910 census shows Grant working as a street laborer. Judging from the record, Maggie may have lost three more babies during the previous decade.
West Overton was home to a well known local landmark that the Roses would have easily recognized -- the old homestead of the Abraham Overholt family. On this property, in 1849, an Overholt baby was born in a converted springhouse -- Henry Clay Frick, who went on to become a coal and coke industrialist of immense influence and wealth, with his company becoming part of the United States Steel empire. Also on this acreage was the famed Overholt Distillery that produced the famed Old Overholt whiskey.
The Roses moved again during the 1910s, most likely for Grant to find work in a local coal mine. In 1914-1920, they made their home in Connellsville, Fayette County, with Grant's occupation shown in the census record as coal mine laborer.
The 1930 census lists the family in Hempfield Township, Westmoreland County. Grant worked as a farm laborer. Living next door were married son Elmer and his wife and sons, and married daughter Bessie and her husband Samuel Fligger and family.
Grant was afflicted with angina pectoris and died at home at Foxtown, near Youngwood, at the age of 77 on Oct. 13, 1936. He was laid to rest in Normalville Cemetery.
In her elderly years, Maggie resided in the home of her son Elmer in New Stanton, Westmoreland County. She died there at the age of 90 on or about Sept. 25, 1961. A brief obituary was printed in the Daily Courier. At the time she had produced some 14 grandchildren and 30 great-grandchildren.

Youngwood's Depot Street
~ Daughter Bessie (Rose) Fligger ~
Daughter Bessie M. Rose (1891- ? ) was born in 1891.
Circa 1911, she made her home in Springfield Township, Fayette County.
At the age of 20, on Sept. 12, 1911, married 23-year-old Samuel L. Fligger (or "Fliger") (1884- ? ), the son of David and Margaret Fligger of Donegal Township, Westmoreland County, PA. The ceremony was performed by justice of the peace J.H. Campbell in Donegal.
They resided in Youngwood and produced a family of four known children - George E. Fligger, James W. Fligger, Miles W. Fligger and Alberta Goff.
The 1930 census shows Samuel employed as a section hand on the railroad in the Youngwood area.
Son George E. Fligger (1915- ? ) was born in 1915.
Son James W. Fligger (1930-2003) was born in 1930. He moved to Lockport, NY and was employed by the Highway and Parks Department of the City of Lockport, said the Lockport (NY) Union Sun & Journal.
Son Miles W. Fligger (1921-2003), said the Union Sun & Journal, "worked in Production at Delphi Harrison for 24 years, retiring April 1, 1980. Miles belonged to the Disabled American Veterans, Veterans of Foreign Wars, 63rd Infantry Division, and the 686 United Auto Workers Retirees... Miles served in the US Army during WWII in the European Campaign. Serving in Germany and France he was a Combat Infantryman with the 63rd Infantry Division. He attained the rank of Staff Sgt. and was awarded the Purple Heart..."
Daughter Alberta Fligger (1924- ? ) was born in 1924. She was joined in wedlock with (?) Goff ( ? - ? ). She relocated to California
~ Daughter Aldora (Rose) Brinker ~
Daughter Aldora "Dory" Rose (1891-1914) was born on Aug. 31, 1891 in West Newton, Westmoreland County, PA.
Two days before Christmas 1911, at the age of 19, Aldora wed 32-year-old Samuel Brinker (1879-1953), son of John and Elizabeth (Whipkey) Brinker of Normalville, Fayette County. The ceremony was held at the home of Elizabeth Brooks in Springfield Township, officiated by justice of the peace A.G.C. Sherbondy. Samuel was employed as a laborer at the time.
The Brinkers made their home in Normalville.
At the age of 22, in the dead of winter of 1914, and after just two years of marriage, Aldora contracted a fatal case of typhoid fever. She was treated for two days by Dr. D.D. Brooks of Normalville, and died on Feb. 16, 1914. Burial was local, and presumed to be in the Normalville Cemetery.
Samuel remained in Normalville for many years. He apparently married again and his children included Woodrow Brinker, Betty Miller, Barry Brinker and Ruth Brinker.
On New Year's Day 1951, Samuel was hospitalized when crushed by a collapse of stone and slate while digging in an old trip mine on Jan. 1, 1951. Circa December 1953, he resided with Leslie Whipkey.
At the age of 74, on Dec. 11, 1953, Samuel tragically was killed in a hit-and-run accident along Route 711 near Normalville. A motorist from Mill Run struck Samuel in the dark of early evening, causing "partial decapitation, skull fracture and multiple fractures of the body," reported the Daily Courier. The driver's vehicle was so badly damaged that the engine stopped, with the car continuing under its own power for two miles. Said the Courier, "The radiator was smashed, a fender torn and the wheels damaged." His was the 31st motor vehicle fatality of the year in the county. His broken remains were placed into eternal rest at Normalville Cemetery, with Rev. E.J. Hatchner officiating.
~ Son Elmer Wilson Rose ~
Son Elmer Wilson Rose (1898-1972) was born on March 29, 1898, in West Overton, Westmoreland County.
On June 16, 1923, when he was 25 years of age, Elmer married Hazel Amelia Yauger (1898-1985). The wedding was held in Connellsville.
The Roses produced two sons -- Evert Rose Sr. and Wilbert Rose.
Circa 1930, Elmer was employed as a cutter in a valve works. Later, he worked for the Lenox Crystal Co. in Mt. Pleasant and as an auxiliary policeman for the Robertshaw Corporation.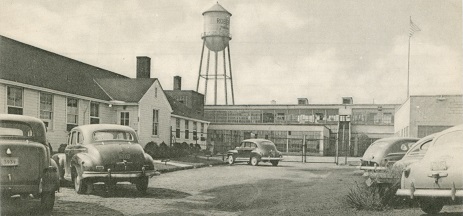 Robertshaw plant in Youngwood
In her later years, Elmer's mother resided in their home in New Stanton, and died there at the age of 90 in 1961. By the early 1970s, the Roses lived at 314 Vine Street in South Connellsville.
Elmer died on May 10, 1972, and is buried in Mount Tabor Cemetery. He was survived by six grandchildren and one great-grandchild.
Hazel lived as a widow for another 13 years. She died on April 26, 1985.
Son Wilbert Rose ( ? - ? )
Son Evert R. Rose Sr. (1924-2013) was born on June 29, 1924 in Mount Pleasant, Westmoreland County. He was married twice. His first bride was Corenia S. Roberts (June 13, 1934-2021), daughter of Peter and Harriet (Hammons) Roberts of Little Falls, Monongalia County, WV. She is believed to have brought a son to the marriage, Robert Rose. Together, the couple produced five daughters -- Victoria Ruby, Sherry Murphy, Deborah Steffan, Gloria Fullem and Bonnie Beagent. The couple eventually divorced. Later, he married Virginia Lee Browning (1947-2015), daughter of Ralph and Lorena (Ferne) Browning of Connellsville. They dwelled in Vanderbilt, Fayette County and bore four more children of their own -- April Rose, Terry Rose, Evert Rose Jr. and Jessie Fay Adams. During World War II, Evert served in the U.S. Army. He was employed as a glass cutter with Bryce Bros. in Mt. Pleasant. He also "was known for how well he played the guitar and shared his skills by playing in many country music bands," reported the Connellsville Daily Courier. Evert passed away at age 88 on March 15, 2013 in Connellsville's Highlands Hospital. His remains were placed into eternal repose in Mt. Tabor Cemetery, following funeral services led by Rev. Glen Wills. As a widow, Virginia "was a social member of the DL and V Fire Department," reported the Daily Courier. "She also enjoyed going to bingo, yard sales, flea markets and family parties." Virginia passed away at home at the age of 67 on Sept. 16, 2015. Pastor Lee Maley -- a distant cousin of her husband's of the family of Martha (Mayle) Mayle of Philippi, WV -- officiated at the funeral, followed by burial in Green Ridge Memorial Park. Former wife Corenia did not remarry but rather was a companion for 26 years with Franklin D. Menefee ( ? - ? ). His three sons became part of her family -- John Menefee, Steven Menefee and Eric Menefee. She dwelled in Upper Tyrone Township near Connellsville and supported herself as a nurse's aide in the field of homecare. She enjoyed attending services at New Beginnings Church of God of Propecy in Everson. In her free time, she liked to play bingo, eat buffalo wings and pizza, root for the San Francisco 49'ers football team, and watch Gunsmoke reruns and World Wrestling Entertainment matches on television and Chuck Norris films. On Jan. 17, 2021, as a patient in Excela Health Frick Hospital in her hometown, she passed away at the age of 86. She was survived by 28 grandchildren and "numerous" great-grandchildren. Pastor Randy Winemiller led the funeral service, with interment in Dickerson Run Union Cemetery.
~ Daughter Anna (Rose) Lawver ~
Daughter Anna Rose (1901- ? ) was born in 1901.
She married Alvie J. Lawver (1892-1945), the son of Alonzo and Margaret (Johnson) Lawver of New Castle, Lawrence County, PA.
They lived in the Pleasant Hill area of Normalville, Fayette County, and had three children -- Edmund "Edd" Lawver, John Lawver and Helen Mae Fountain.
Alvie "was employed by the Baltimore & Ohio Railroad Company as a trackman for the past three years," reported the Daily Courier in 1945.
He became seriously ill in late November 1945 and entered Connellsville State Hospital for treatment. He did not recover, and sadly died at the age of 53 on Dec. 6, 1945. Following a funeral held at the Mount Tabor Church of God, near Pleasant Hill, he was laid to rest in Mount Tabor Cemetery.
Son John Lawver (1918-1999) was born on June 30, 1918. Circa 1976, he married a distant cousin, Ellen Gertrude (Miner) Porterfield (1929-2017), of the family of Edward and Gertrude Emma (Bowers) Miner. See the Miner biography for more.
Son Edmund G. "Edd" Lawver (1923-2001) was born on June 8, 1923. He married Jennie M. Bauer, and they had one daughter, Beverly Ann Polyblank. Edmund passed away on April 16, 2001.
Daughter Helen Mae Lawver (1926?-2000) was born in about 1926. She married Walter Harold Fountain Sr. (? -1993), the son of Henry O. and Willie (Jeanes) Fountain of Twiggs County, GA. He apparently had been married before and brought a daughter to the union, Linda Davis. They established their permanent home in Gordon, Wilkinson County, GA and bore a family of four children -- Linda Davis, Carol Etheridge, Judy Lawson and Walter Fountain Jr. For many years, Walter Sr. worked for Freeport Kaolin Company and belonged to the Woodmen of the World. Helen earned income through employment with McGall Laboratories in Milledgeville. The Fountains were members of the Asbury Methodist Church. Walter died at home on Christmas Day 1993. Rev. Rex Odom preached the funeral sermon, with burial in the Asbury Methodist Cemetery in Wilkinson County. An obituary was printed in the Macon Telegraph. Helen Mae survived for another seven years. As a patient at the Medical Center of Central Georgia, she succumbed to death at the age of 74 on Aug. 11, 2000. Her obituary also appeared in the Telegraph.
Step-granddaughter

Linda Fountain married (?) Davis. Their home in 1993 was in Milledgeville, GA.
Granddaughter Carol Fountain was joined in matrimony with (?) Etheridge. She dwelled in Macon in the early 1990s.
Granddaughter Judy Fountain wedded (?) Lawson. In 1993, she dwelled in Macon.
Grandson Walter Harold Fountain Jr

. lived in Gordon, GA.
Daughter Bessie Margaret Lawver ( ? - ? )
~ Daughter Evelyn (Rose) Albright ~
Daughter Evelyn Rose (1908- ? ) was born on June 9, 1908.
She married Edward B. Albright (1906-1967). They resided in Armbrust and Greensburg, and had four children -- Evelyn Flock, Nora Smillie, Florence Hixon and George E. Albright.
Edward was a member of Youngwood Moose Lodge 23 and the Legion of the Moose in Baden, PA.
Edward died in Westmoreland Hospital in Greensburg on Aug. 13, 1967, at the age of 61. At the time he was survived by 12 grandchildren. He was laid to rest at Westmoreland County Memorial Park.
Evelyn survived her husband by almost three decades. She passed away on Jan. 14, 1996.
Son George E. Albright (1937-2005) was born in Greensburg. He married Edith M. Flock, and they had four children -- Bruce "Butch" Albright, Edward Albright, Cloyd Albright and Staci Neptune. Said the Greensburg Tribune-Review, George "worked in farming, and as a machinist for D.M.E. of Youngwood. He was a social member of the Hempfield Hunt Club and the Midway Firemans Club." George died at age 68 on April 10, 2005, with interment at Westmoreland County Memorial Park.
Daughter Evelyn Albright married Raymond Flock.
Daughter Nora Albright married Jesse C. Smillie.
Daughter Florence Albright married Kenneth Hixon.
Copyright © 2001, 2004, 2006, 2010, 2012, 2014, 2020-2021 Mark A. Miner
Minerd.com extends its appreciation to Harry J. Ansell for sharing his research findings for this biography.