Home

Susanna (Minerd) Rose
(1837-1919)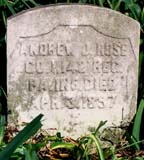 Normalville Cemetery
Susanna (Minerd) Rose was born in February 1837 in Hexebarger near Kingwood, Somerset County, PA, the daughter of John and Sarah (Ansell) Minerd. Her husband was a Civil War veteran who lost an arm after the Battle of Gettysburg.
In September 1858, when she was 21, Susan married 20-year-old Andrew "Jackson" Rose Sr. (1838-1897), the son of Silvester and Sophia (Smith) Rose. Neighbor William Eicher was an eyewitness to their wedding, and later reported this description of what happened:
I was sowing wheat in a field below what was known as the "Bethel M.E. Church" at "Paddytown." A boy came into the field, told me that Revd. Benjamin Price wanted me to come to the church. I went in, Revd. Price said, "We are going to have a wedding here" -- Andrew J. Rose and his sister Mary Ann Rose and Miss Susanna Miner were there. Revd. Price said, "I want you to be a witness to the wedding." Revd. Price then and there performed the ceremony....
Jackson worked as a farm laborer, standing 5 feet, 9 inches, with grey eyes and light hair.
The couple produced a family of seven children -- Susanna A. Rose, John N. Rose, Ulysses "Grant" Rose, William Rose, Andrew Jackson Rose Jr., Sarah "Sadie" Witt and Charles H. Rose.

Mt. Bethel Methodist Church on the hill above Paddytown, Somerset County, PA, where Susanna and Jackson were married in 1858. Enlarge>>>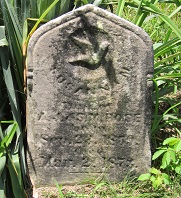 Daughter Susanna's grave, 1873
Sadly, daughter Susanna did not survive childhood. On or about March 2, 1873, she died at about the age of 15. The cuase of her untimely passing may be lost to history. Her young remains were placed beneath the sod at the Normalville Cemetery.
The Roses lived along Browns Run near Humbert, south of Kingwood, Somerset County. The location of their farm is seen on a rare 1860 map, marked "J. Rose." Residing to the southwest along the same road was Susan's brother Henry (marked "H. Minerd") and to the north were cousins Rev. Herman Younkin. and Garrison Smith. Their post office of that era also was Somerfield, a town that no longer exists.
Jackson and Susan had two children by the time he enlisted in the Army during the Civil War. He was assigned to Company C of the 142nd Pennsylvania Volunteer Infantry, on Aug. 14, 1862. (Also in his regiment were his brother in law Martin Miner and Susan's cousin Ephraim Minerd. Three other of his wife's siblings were in the Army during the war -- her brother Henry A. Miner and brother in law Charles Rose were in the 171st Pennsylvania Infantry; and brother in law Perry Enos of the 188th Pennsylvania Infantry.)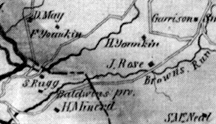 1860 map showing the Rose farm
Jackson and the others were enrolled in the army at Stoyestown, Somerset County on Aug. 1, 1862. From there the men were sent via rail to the state capitol of Harrisburg, probably the first time any of them had ridden in a railroad car. They slept overnight on the floor of the state capitol building, under the dome, and then began basic training at Camp Curtin.
Jackson saw action at Fredericksburg and Chancellorsville. In the weeks after Fredericksburg, which was fought just before Christmas 1862, he began to suffer from rheumatism. He was treated in a field hospital for a little more than three weeks, from Jan. 2 to Jan. 26, 1863, and then returned to duty.
At Gettysburg, he and the 142nd were part of the first day's fight near the Lutheran Seminary on July 1, 1863. The regiment fought along what today is Reynolds Avenue, battling shoulder to shoulder with the First Pennsylvania Artillery, Battery B, as part of the 3rd Division, I Corps, commanded by Maj. Gen. Abner Doubleday, who later went on to fame as the founder of organized baseball. They repulsed the invading enemy until reinforcements could arrive.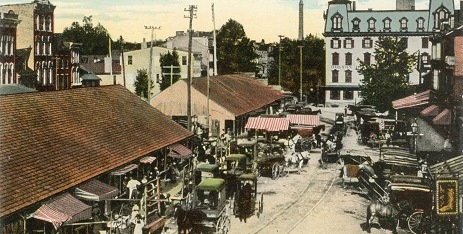 Above: Harrisburg just before the Civil War. Below: Jackson's amputation entry inThe Medical and Surgical History of the War of the Rebellion.


Sketch of Jackson's wound
During the first day at Gettysburg, Jackson was shot in the right forearm. He was taken prisoner, and with his shattered limb beyond repair, part of it was amputated below the elbow. (A sketch of the wound is seen here, drawn by a physician who observed it later in life.) He was among 110 officers and enlisted men in the regiment to be wounded that day, with total losses of 211 men killed, wounded, captured or missing.
Soonafter, Jackson was exchanged and initially received care at the Seminary U.S. Army General Hospital in Gettysburg. On July 9, he was sent to a the General Hospital in Baltimore, MD. Within a few days, he was transferred again, on July 13, to the U.S. Army General Hospital in Philadelphia, at the corner of Broad and Cherry Streets. There, he remained and recuperated until receiving an early discharge on Dec. 21, 1863.
Jackson is honored with his name inscribed on the Pennsylvania Monument at Gettysburg, seen here. The identity of "Henry Rose" is not known, but might have been a cousin.

Monument at Gettysburg
Jackson returned home to Kingwood to recover from his savage loss of his limb. The following year, he and Susan moved to Normalville, Fayette County, PA, where he was able to find work as a domestic servant, farmer, coal miner and lay preacher.
Franklin Ellis' 1882 book, the History of Fayette County, states that "In 1881 the following mines were in working condition [in Springfield Township] ... Jackson Rose's, on Indian Creek..." Later, in 1887, the Mill Run Guest and Connellsville Keystone Courier reported that "upon the farm of Andrew J. Rose ... there exists a nine-foot vein of coal, which doubtless is the outcrop of the Connellsville seam. Fire clay also is found in the same region, varying in thickness from 10 to 16 feet."
As a one-armed farmer, Jackson suffered hardships as did many of his neighbors. In June 1895, said the Courier, he lost a two-year-old colt when the "animal was struck by a bolt of lightning in the open field."
In March 1876, the Roses borrowed several hundred dollars from Jacob R. Brooks, perhaps to finance the purchase of real estate. They promised to repay the debt in annual increments of $100 until 1880, and both signed their names to the IOU, seen here. When they did not make the first repayment, in 1877, Brooks sued, but the outcome of the case is not known. Jackson and his son John also once sued Levi S. Murray in a dispute over the sale of property, but lost, and had to pay $150.

Signatures of Jackson and Susanna
To compensate for his war injury, the federal government awarded Jackson a monthly pension. In 1883, payments were increased from $18 to $24. In 1890, when his attorney failed to properly handle his case, Jackson wrote directly to the Pension Commissioner, asking for a raise to $50 per month. (A copy of the letter is seen here, with the original found in the National Archives in Washington, DC.)
Jackson was active in the community, and well-respected for his efforts. In January 1896, when he fell and injured his hip "while crossing the creek on the ice hear his home," and had to use a cane, the Courier said he was "one of our best citizens." He was involved in the local chapter of the Grand Army of the Republic, a veterans' organization, serving as chaplain. He also ran for Judge of Elections in the township, and was chaplain of the Poplar Run Farmers' Alliance, and a teacher of the Poplar Run Sunday School. He is known to have preached at a camp meeting in September 1895.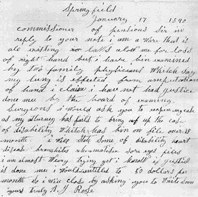 Jackson's letter to the
U.S. Pension Commissioner
Susan and Jackson enjoyed entertaining guests in their home. Over the years, the Courier reported that among their overnight visitors included cousin Harvey Younkin and fellow Civil War veteran and cousin John X. Younkin.
Jackson suffered from severe lung and heart problems. He became deathly ill in 1897, and died on April 4 of that year. Among his deathbed visitors was brother in law and fellow Civil War veteran Martin Miner.
At death, Jackson left a small estate valued at about $600, along with some land that was saddled with tax liens and judgment notes. According to family friend John K. Grim, "... the boys are paying some of the indebtedness. The farm will no more than keep the taxes + expenses up and the widow has no income from the farm nor from any other source."
Susan outlived Jackson by 22 years and resided with her unmarried son Andrew Jr. In a letter Andrew wrote in 1919, he said that "She owned a little property consisting of a horse and two cows and hogs and chickens ... [and a] sewing machine." She also was awarded a reduced amount of her late husband's pension, to $8 per month.

Connellsville obituary
Susan passed away on Aug. 24, 1919, at the age of 82. She was laid to rest beside her husband at the Normalville Cemetery, not far from the graves of her parents, sister Hannah Murray, brother Martin Miner and many nephews and nieces. Jackson's grave is marked, but hers' is not, and so she rests anonymously for eternity.
As the estate was settled, their daughter Sadie received "one cow and the sewing machine..."
In 2011, Jackson's story was told in the book Well At This Time: The Civil War Diaries of Ephraim Miner. Authored by the founder of this website, the lavishly illustrated book he book describes in great detail what Jackson and his brother in law Martin Miner and cousin by marriage Ephraim Miner experienced in the army as raw recruits. The book focuses on their battle experience at Fredericksburg as well as the battle of Gettysburg in addition to reunions the men attended as aged veterans. [More]
Copyright © 2000-2002, 2006, 2011-2012, 2017 Mark A. Miner.
1860 Map of Somerset County courtesy of the Pennsylvania State Archives.