Home

Maj. Edward Morgan Schrack
Originally spelled "Schrock" - (1828-1912)

Maj. Edward M. Schrack
Courtesy Paul Goldenbaum
Maj. Edward Morgan Schrack was born on Oct. 8, 1828 in Somerset County, PA, the son of Aaron and Catherine (Meyers) Schrock. He was age 12 when his mother died and then 17 when his father married again to widow Mary "Polly" (Younkin) Smith. He was one of three brothers to serve as Union Army officers during the Civil War.
Edward stood 5 feet, 8½ inches tall in adulthood and had grey eyes and dark hair and weighed 155 lbs.
At the age of 18, Edward was a school teacher but then went into business as a merchant. Said the 1906 History of Bedford and Somerset Counties, "He was a representative for Somerset county in the legislature for two terms, and prothonotary for one term. He held two commissions in the army during the Civil war, one as captain and one as major."
Edward was twice married. His first bride was Phoebe Critchfield ( ? - ? ). She died young, apparently without reproducing.
On April 16, 1858 , when he was age 29, Edward was wedded a second time to 16-year-old Lydia Weigle (May 6, 1842-1917), daughter of Jacob J. and Sarah (Raymond) Weigle. The ceremony was performed by a Lutheran minister in Somerset County. Among the witnesses were Jacob Ross of Shanksville and Lydia's brother Jacob Weigle.
They produced a family of 10 children over a 22-year period of time -- Sarah Kimmel, Catherine B. "Kate" Coffroth, Phoebe Grace Weaver, Mary "Edna" Haight, Alice Sanner, Helen I. Downing, Edward "Morgan" Schrock Jr., Jacob Schrock, Ralph Schrock and Zoe Bloedorn.
During the war, on Aug. 5, 1862, Edward joined the Union Army and was assigned to the 133rd Pennsylvania Infantry. The 133rd trained at Camp Curtin in Harrisburg. He held the rank of captain of Company D. The regiment was deployed in August 1862 at Alexandria, VA and missed the Second Battle of Bull Run. In mid-September 1862, the 133rd was held in reserve during the Battle of Antietam, and only was ordered into a 23-mile march late in the day and did not experience any of the fighting.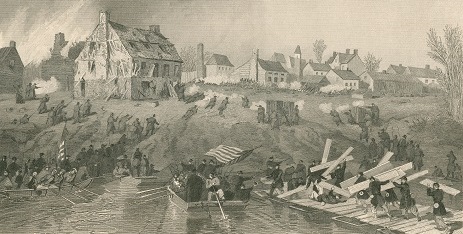 Above: Union troops invade Fredericksburg after building a pontoon bridge for crossing the Rappahannock River. Below: defeated Union men retreat from Fredericksburg in the wintry sleet and mud.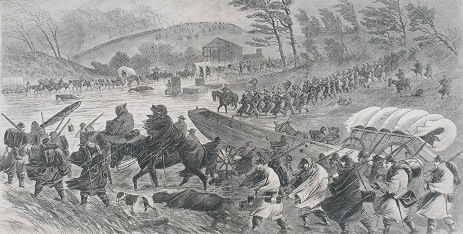 That fall, Edward and the regiment were ordered to Falmouth, VA, on the outskirts of Fredericksburg, to prepare to engage the enemy. After frustrating delays of several weeks, they went in to excessively bloody action at Fredericksburg on Dec. 12, 1862. Expert commentators over the years have noted how brutally the Union Army was repulsed at Fredericksburg — Tony Horwitz's 1998 Confederates in the Attic calls it "one of the most lopsided slaughters of the War." In Shelby Foote's The Civil War: A Narrative, he writes: "Of all these various battles and engagements, fought in all these various places, Fredericksburg, the nearest to the national capitol, was the largest – in numbers engaged, if not in bloodshed – as well as the grandest as a spectacle, in which respect it equaled, if indeed it did not outdo, any other major conflict of the war."
Union forces commanded by Gen. Ambrose Burnside headed into an uphill assault in which more than 120,000 men were "sitting ducks" against a highly trained, well-rested Confederate artillery. In This Hallowed Ground, Bruce Catton writes "… the hills are just high enough to make an ideal defensive position… In all the war no army moved up against a tougher position… Without a miracle, the Confederate position here could not be taken by storm."Writing in Abraham Lincoln: The War Years, Carl Sandburg said: "Burnside's columns crossed over. They found hills spitting flame and metal, a sunken road swarming with riflemen waiting human prey. 'A chick can not live on that field when we open on it,' a Confederate engineer had remarked. The Union forces were cut to pieces as they tried four, five and six times that day to scale Marye's Heights.
In cold wind and rain, a total of 12,600 Union killed and wounded lay on the Fredericksburg soil, compared with Confederate casualties of just over 5,300. Sandburg said that some of the wounded "lay forty-eight hours in the freezing cold before they were cared for. Some burned to death in long, dry grass set afire by cannon." Wrote Freeman, "The horror of the scene was far greater at close range than it had appeared from the lines." One observer noted that a Pennsylvania soldier, badly wounded in the leg, spent 50 hours on the field, after "his company regiment had been compell'd to leave him to his fate." He was only rescued from the field under a flag of truce.
During the day of failed, repeated assaults up the slope of Marye's Heights, the 133rd Pennsylvania lost 184 men, killed, wounded and missing.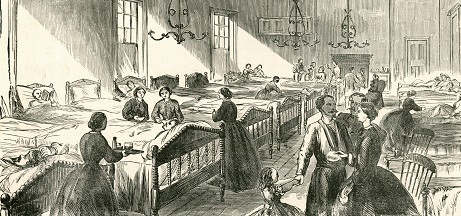 U.S. Hospital at Georgetown, formerly the Union Hotel, where Edward visited his wounded and dying soldiers after Fredericksburg and met the young nurse and future novelist Louisa May Alcott.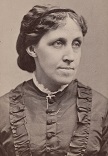 Civil War nurse
Louisa May Alcott
Library of Congress
Edward sought out his wounded troops in the aftermath of battle and specifically is known to have found one of his men, John Suhre, in a District of Columbia hospital. Shot through the lung at Fredericksburg, Suhre had been evacuated and brought to the Union Hotel Hospital in Georgetown. In doing so, he undoubtedly interacted with one particular nurse who later became a famed American author -- Louisa May Alcott. At the time, she was providing care for the dying Suhre -- whom she dubbed "prince of patients" -- and he made a deep impression on her emotions as they shared his suffering and end-of-life together. Later, she portrayed Suhre in a memoir entitled Hospital Sketches. Edward is known to have written a Christmas Day 1862 letter to Suhre's mother back in Somerset County. In the letter, he wrote that while optimistic, the soldier was not aware of his condition, and Edward did not think he would recover. In a hurry to make his rounds, Edward gave Suhre some money and departed with a "heavy heart." The story is told in part in George C. Rable's book Fredericksburg! Fredericksburg! It's described even more completely, with Edward named numerous times, in the article "Finding Private Suhre: On the Trail of Louisa May Alcott's 'Prince of Patients'," authored by John Matteson and published in 2015 by MIT Journals and by CUNY Academic Works. Edward's letter to Suhre's mother is preserved today at the Historical and Genealogical Society of Somerset County.
At times during the war, Edward suffered from spinal irritation and "haematuria," the presence of blood in the urine. Later, he was promoted to major, commanding the entire regiment. He and the regiment spent the winter of 1863 at Camp Humphreys. The unit was ordered that spring to move to Chancellorsville, where they saw action on the third day of battle in early May 1863. From there, the 133rd traveled back to Harrisburg, where it was mustered out in late May 1863 after the soldiers' terms of service had expired.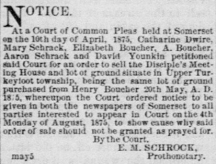 Edward signed a Somerset Herald
legal advertisement, May 19, 1875
While Edward was away at war, their daughter Phoebe Grace was born in Shanksville in March 1863, suggesting that Lydia may have lived there at the time.
Edward returned home to Somerset and resumed a life of work and family. He earned a living in the mid-1870s as Prothonotary of the County of Somerset, thus serving as the chief clerk for the Court of Common Pleas.
In April, 1875, he was involved professionally in a legal matter involving his father and step-mother as trustees of the old Christian Church in Turkeyfoot. The church had spiraled into demise through attrition and lack of leadership and interest over the decades. By 1875, the trustees decided to sell the meeting house and property, and their request was granted by the court on April 10, 1875. The following month, on May 19, 1875, Edward placed an advertisement in the Somerset Herald, stating their intention to sell, lest anyone object. The other trustees at the time were Catharine Dwire, Elizabeth Boucher, A. Boucher and step-cousin David Younkin. In about 1887, the building was sold to the German Baptist congregation, and over time it became known as the Fairview Church of the Brethren.
Edward made news in the Herald in March 1877 when he was a speaker during a series of temperance meetings held at the county courthouse, encouraging all to write their names on a pledge of sobriety. Noted the Herald, "The signers of the pledge have been quite numerous and there are yet more to come. Men who have been steadily drunk for years came to the front and signed the pledge. Old women and young women, gray-headed sires and beardless boys, babes and sucklings, drunken men and sober men, honest conscientious men, and men who care no more for their plighted word than Tom Pepper the famous, men who will stick and men who will get drunk at the first opportunity affixed their signatures. The town has been in uproar about it."
The federal census enumeration of 1880 shows the Schrocks in the county seat of Somerset, with him working as a business merchant.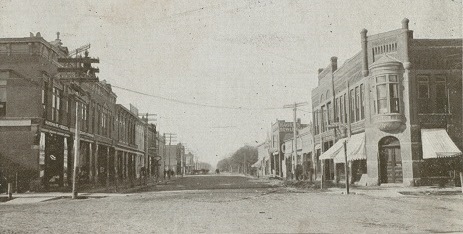 13th Street, Columbus, Nebraska , early 1900s
The family relocated to Nebraska sometime in 1880 or 1881 and settled in Columbus, Platte County. There, Edward operated the Lindell Hotel and was considered one of its first owners. From the base of this new location, he continued to explore opportunities further west, making an extended trip in the fall of 1881. Their home in 1883 was in Crete, Saline County, NE. During the winter of 1884-1885, he contracted bronchitis. They continued to dwell in Crete circa 1889, at which time Lydia moved to Columbus and rented a house.
Lydia was accomplished in her own right and, circa February 1882, served as editor of the Advocate, a publication of the local Granville Literary Society.
Edward eventually received a military pension. [Invalid App. #924.367 - Cert. #787.346] From then until his death, he received monthly pension checks from the government. In 1903, the monthly amount was $8. When examined by military surgeons in 1903, they noted that all of his teeth were gone and that he wore dentures. He bore several hemorrhoids, heart disease, diabetes and senility. Edward also disclosed that he had suffered a hernia two years earlier, in 1901.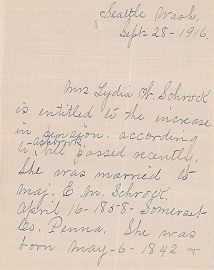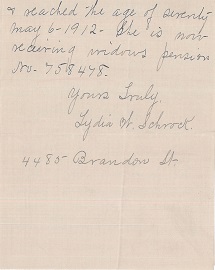 Lydia's 1916 letter to the U.S. Pension Commissioner in Washington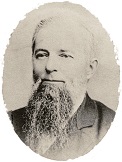 Edward in later years
Courtesy Paul Goldenbaum
The Schrocks relocated to Seattle, King County, WA between 1881 and 1890. They remained for several decades. Among Edward's friends in Seattle were Joseph Dickerson, A.H. Foote and Warren W. Perrigo. Circa 1890, their address was 119 Weller Street and in 1912 at 4485 Brandon Street. Interested in veterans affairs, Edward joined the John F. Miller Post of the Grand Army of the Republic and helped plan occasional encampments. On Memorial Day 1894, he gave an address to the H.G. Sickles Post of the GAR, in October 1898 to the Neptune Republican Club and in September 1901 to the GAR's Stevens Post.
By 1900, the only one of their offspring remaining in the home was 19-year-old daughter Zoe, who was employed at the time as a stenographer.
Edward was owner of the Overland House hotel in Seattle in the late 1890s. On the fateful day of April 7, 1897, a coal-oil lamp exploded in the building, igniting a fire which consumed portions of the city south of Jackson Street and for two blocks east of Commercial Street. Guests hurriedly were evacuated. Reported the San Francisco Call:
In making their way out of the hotel many of the guests had narrow escapes -- some most miraculous ones. Antonio Tane, an Italian, was rescued by the police, but not until he had been burned until the flesh began to drop from his face and hands. Physicians say he cannot recover, and his sufferings to-day have been almost beyond human endurance. Officer Powers found Mrs. May, an old blind woman, prostrated from smoke in one of the rooms on the third floor of the house. Two stairways were burned, falling in while he wrestled with his charge, and at one time it seemed that the brave blue coat and the woman were both doomed. He groped around in the dense and all but suffocating smoke until he found a third stairway. This was ablaze, too, but the officer, carrying the woman in his arms, rushed down and barely reached the sidewalk when the stairway went down with a crash, cutting off the last avenue of escape. Owing to her advanced age it was feared that the injuries sustained, together with the fright, might prove fatal, but the woman is now out of danger. W.N. Calder, an electrician, fell during the progress of the fire, sustaining slight injuries.
The hotel was destroyed and adjacent Salvation Army Shelter damaged. While the two buildings were insured for $1,000, estimates were that the loss would cost $5,000, adding to the catastrophe. Press stories were critical of the hotel condition, saying it was a "home for hobos." Edward countered with the comment that he "could not harbor that class of people among the respectable tenants of the building."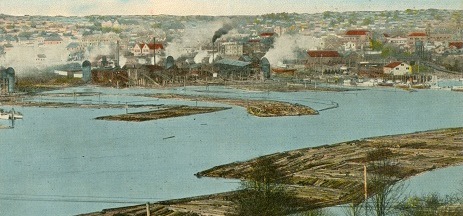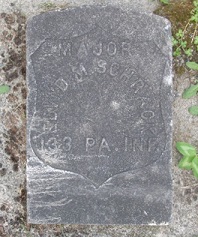 Edward's grave, Seattle
Courtesy Paul Goldenbaum
In May 1903, Lydia and Zoe traveled back to Columbus, NE to visit family and friends, including Lydia's sister Mrs. Richard Heitzman. From there they went to Somerset, PA. Before returning to Seattle, they made another stopover in Columbus and stayed with daughter Phoebe Grace Weaver until early August. Their travel was noted in the gossip columns of the David City (NE) Banner-Press and the Columbus Journal. Lydia was back in Columbus in November 1907.
Edward suffered chronic bronchitis for the last 20 years of his life and became senile. He retired in about 1906. He died in Seattle on Oct. 12, 1912. Burial was in the Lake View Cemetery, also known as the Grand Army of the Republic Cemetery. [Find-a-Grave]
After Edward's passing, Lydia was granted his pension and kept a home with her married daughter Zoe in Franklin, NE. [Widow App. #995.859 - Cert. 758.478] Sometime after September 1916, burdened with heart problems, she returned to her native Somerset County and established a home with her married daughter Sarah Kimmel in McDonaldton in or near Brothersvalley Township.
On Aug. 2, 1917, afflicted with heart valve disease and fluid buildup in her lungs, Lydia was swept away by death at the age of 75. Daughter Kate Coffroth of Pittsburgh was the informant for her official Pennsylvania certificate of death. Her remains were lowered into repose in Husband Cemetery in Somerset. An obituary was published in the Columbus Telegram in Nebraska.
Edward and his brother William were named in William H. Welfley's article, entitled, "Early Printing in Somerset, Pa.," published in the March 1910 edition of The Pennsylvania-German.
~ Daughter Sarah (Schrock) Kimmel ~
Daughter Sarah Schrock (1859-1920) was born in 1859.
She was joined in holy wedlock with Dr. Henry Schell Kimmel (June 20, 1857-1932), son of Dr. Edmund M. and Emily (Schell) Kimmel. The father was said to have been fo the old school of country doctors and conducted a sizeable practice during his lifetime.
The Kimmels bore four daughters -- Clara Martin, Emily Julia Fluck, Edna Dice and Margaret Campbell.
Henry received his education at Jefferson Medical College in Philadelphia. He then joined his father's practice and continued together until the father's health forced him to retire. They lived on East Main Street in Somerset, and Henry was a member of the Christian Church in Somerset and served on the congregation's board.
Henry served as chief physician at Somerset County Hospital for several years, then was elected as county coroner, serving for three or four terms.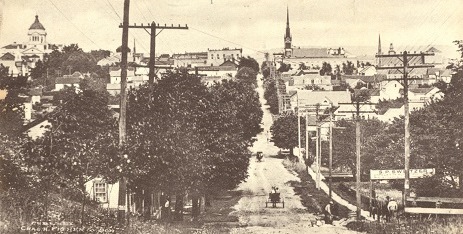 Horse and buggies, Somerset, early 1900s. The courthouse dome is at upper left.
Sadly, burdened with a fatty degeneration of the heart, the 60-year-old Sarah died on March 15, 1920.
Henry survived her by a dozen years. When he retired in early 1932, Governor Gifford Pinchot appointed their married daughter Edna to succeed him in the role as coroner.
Burdened with an enlarged heart, he died on March 31, 1932 at the age of 74. Burial was in Husband Cemetery. Rev. J.F. Messenger of the family church preached the funeral. An obituary was printed in the Somerset Daily American.
Daughter Clara Kimmel (1881-1951) was born on Sept. 6, 1881. In 1903, when she was about age 21, Clara married A.G. Martin ( ? - ? ). Upon their marriage, the couple relocated to Bloomington, IN and remained their for the rest of their lives. The Martins were the parents of three children. Sadly, at the age of 69, Clara died at home in Bloomington on May 12, 1951. An obituary was printed in her old hometown newspaper, the Somerset Daily American. The remains were interred in Bloomington.
Daughter Emily Julia Kimmel (1892-1971) was born on Nov. 26, 1892 in Somerset County. She wedded Guy Brallier Fluck Sr. ( ? -1931), son of Frank B. Fluck of Somerset. The offspring born to this union were Franklin Fluck, Henry Fluck, Jack Fluck, Rosalind Fluck and Guy B. Fluck Jr. They dwelled in Somerset in a home on East Main Street. Following in his father's profession, Guy was a well known civil and mining engineer. Father and son practiced together professionally for 15 years. Emily also worked outside the home in 1931 as deputy county coroner, working for her father. Grief blanketed the family in the spring of 1931 when Guy was stricken with appendicitis. He was admitted to Memorial Hospital in nearby Cumberland, MD and underwent surgery. The operation was not a success, and he died several days later on May 6, 1931. His remains were transported to his parents' home for funeral services, followed by burial in Husband Cemetery. An obituary was published in the Somerset Daily American. Emily's future became more secure when, in early 1932, her father retired, and she was tapped as his successor, appointed by Governor Gifford Pinchot. In this role, she visited many high prof8ile scenes of natural and suspicious deaths, some terribly grisly, and made official rulings as to the official cause. She served until July 1935, when she joined the local J.C. Penney store and worked for the next 22 years in its domestics department. Emily enjoyed playing contract bridge and often hosted card parties at her home. At retirement on Dec. 1, 1957, she was financially sound thanks to her participation in the company's thrift and profit-sharing retirement fund plan. Reflecting her family's German origins, she once sent a letter to a Daily American columnist, who was collecting Pennsylvania German sayings, and asked if he knew the word "ferdutzed" or "verdutzed," meaning "bewildered" or "confused." She is believed to have relocated to the home of her son Jack in Pebble Beach, Monterey County, CA, where she was gathered in by the Angel of Death on Jan. 27, 1971.
Grandson Maj. Gen. Henry K. Fluck (1912- ? ) was born on Sept. 2, 1912 in Ralphton, Somerset County. After high school, he studied engineering at several schools, including the International Correspondence School of Scranton, PA. He joined the U.S. Army on Feb. 23, 1928 as a member of the Pennsylvania National Guard, 110th Infantry, Company C based in Somerset. He rose up the chain of command and in June 1935 was promoted to first sergeant. Henry was united in matrimony on Setp. 12, 1937 with Mabel Dunlep ( ? - ? ) of Somerset. They produced two children -- Carol Ann Fluck and Kim Fluck. Then on Feb. 8, 1941 -- 10 months before the attack on Pearl Harbor plunged our nation into World War II -- he received a commission as second lieutenant and platoon leader of Company C. Within 10 days, he joined the 28th Division of the U.S. Army. He subsequenly became company commander and then on Feb. 1, 1942 as first lieutenant. Midway during the 1942 years, he transferred to the 83rd Division, 329th Infantry, Company L stationed at Camp Atterbury, IN. He continued to move up among the ranks and on June 25, 1943, now a major, was appointed executive officer of the 75th Division, 289th Infantry, 1st Battalion. He served in the European Theatre and took part in all of the 75th Division's major battles. He was promoted to lieutenant colonel in February 1945. After the end of the war, he rejoined his Pennsylvania National Guard unit and elevated to full colonel on Aug. 7, 1948. In civilian life, he worked in 1949-1950 as chief engineer for Latrobe Construction Company which was helping build the Pennsylvania Turnpike. When the United States entered the Korean War, he rejoined the National Guard and commanded the 110th Infantry's activity in Ulm, Germany. He was given command of the Nuremberg Military District in Germany in 1952, serving until 1953 when he returned to Pennsylvania to command a new national guard unit, the 28th Infantry. Henry was promoted to Major General on Nov. 22, 1955. His awards and memberships were too many to list. In the community in the 1960s, he served on the boards of Little League Baseball in Camp Hill and the National Board of the American Cancer Society and was a member of the Police Athletic League in Harrisburg. Their address in the mid-1960s was 19 South 30th Street in Camp Hill, PA. In July 1967, he was the guest speaker for Company C's 50th anniversary dinner banquet held at the American Legion Home in Somerset and pictured in a related story in the Somerset Daily American.
Grandson Jack C. Fluck ( ? - ? ) served in the U.S. Navy in 1936. He married (?), a native of Portland, OR. At the outbreak of World War II, in Dec. 1941, he held the rank of seaman and was stationed in Philadelphia. He is known to have been in a naval convoy in the North Atlantic in early 1942 and was unable to communicate with his mother for three months during that timeframe. He made a home in Pebble Beach, CA in 1980.
Granddaughter Rosalind Fluck ( ? - ? ) was born on (?). When she was a young single woman, she was employed as an operator for five years with the Pennsylvania Telephone Company and then in the selective service board office in Somerset. On Aug. 26, 1943, she and Pvt. Edmond F. Long ( ? - ? ) eloped to Frostburg, MD. Rev. C.B. Jones, of the First English Baptist Church, officiated. Edmond was the son of Harry Long of West Union Street in Somerset. Prior to World War II, he worked in Pittsburgh for a photo-finishing company, and then after enlisting in the Army Air Corps, was part of a chemical warfare operation. Her home in 1980 was in Somerset.
Grandson Guy Brallier Fluck Jr. ( ? - ? ) joined the U.S. Army Air Corps during World War II and in Oct. 1942 was stationed at a flying school in Greenville, MS. He then went on to advanced training and was commissioned a second lieutenant. He was pictured in the Oct. 7, 1942 edition of the Somerset Daily American re-capping his training story. He was deployed as a pilot in Burma, China and the South Pacific. He left he Air Corps after the war but was recalled during the Korean War. After again severing his ties with the military, he joined North American Rockwell in 1953 as a structural engineer. Among his projects over the years were on jet fighters F 100 and F108, the B70 bomber and X15 rocket powered aircraft. Then in 1962, reported the Daily American, he "was assigned as principal engineer on the Apollo command and docking module capsules, and in 1974 he joined the space shuttle design team. He was nominated engineer of the year for 1977-7 for air frame design." His work in 1980 was with the Rockwell International Space Division in Downey, CA, and at that time he resided in Torrance, CA.
Daughter Edna Kimmel (1883-1978) was born on Aug. 28, 1883 in Somerset. She was united in marriage with John E. Dice ( ? - ? ). They resided on West Church Street in Somerset and bore three children -- Henry Dice, Sarah Cooley and John Dice Jr. They were members of the First Christian Church of Somerset, and Edna belonged to the Order of Eastern Star and American War Mothers' Somerset Chapter. Edna's name was in the news in March 1952 when she attended a meeting of the American War Mothers. At the event, she viewed a presentation of old local photographs, presented by David Weimer, and was able to identify the names of everyone in a 1908 image of a mothers party. The antique photo originally was in the possession of her cousin Caroline Lucretia "Carrie" (Schrock) Lambert of the family of Capt. William Meyers Schrock. Edna was active in the Gleaners Class of her church and occasionally provided vocal music for its meetings. Toward the end, she was admitted to the Somerset Couinty Home for the Aged and succumbed there at the age of 94 on Feb. 22, 1978. Rev. Paul Weber officiated at the funeral, with burial in Husband Cemetery.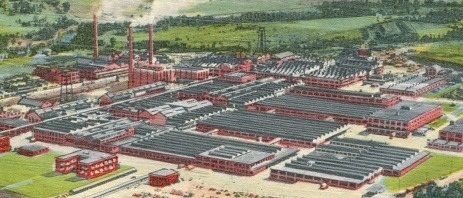 The Cumberland plant of Celanese Corporation, where Henry Dice began his long career with the company.
Grandson Henry Kimmel Dice Sr. (1908-1995) was born on May 31, 1908 in Somerset. He received a degree in chemical engineering in 1932 from the University of Pittsburgh. He married Janet Womer ( ? - ? ) of Philipsburg, PA. They bore a son and a daughter, Henry Kimmel "Kim" Dice Jr. and Janet Maierhofer Anderson. Henry joined Celanese Chemical Company in 1934, working in the corporation's plant in Cumberland, MD. They moved to Corpus Christi, TX during the World War II years for an assignment to build a chemical plant for Celanese. He is known to have applied for a patent in January 1949, for an apparatus for the treatment of oxygenated compounds, approved six-plus years later on Aug. 23, 1955. In his claim, he stated that the invention was for treating "a mixture of oxygenated organic compounds formed by the vapor phase partial oxidation of aliphatic hydrocarbons, whereby control of the oxidation reaction and a partial separation of the reaction products may be effected simultaneously." In 1961, he was employed as vice president and technical director of Celanese's Clarkwood, TX facility as manager of the research and development laboratories. That year, he was named general manager of Quimca General, S.A., and the family relocated to Mexico City. The Dices in time relocated back to Houston, with Henry holding the position of vice president and R&D director. His professional memberships included the National Society of Professional Engineers, Institute of Chemical Engineers, American Chemical Society and Texas Society of Professional Engineers. They lived in Houston 1978 and to the end of their lives, and belonged to the Presbyterian Church. As his health failed, Henry became a resident of the Autumn Hill Convalescent Home in Sugar Land, TX. Sadly, at the age of 87, Henry passed away in the Home on June 14, 1995. His remains were brought to Janet's hometown of Philipsburg for burial in the local cemetery, with Rev. William P. Moore leading the funeral service. An obituary appeared in the Clearfield (PA) Progress.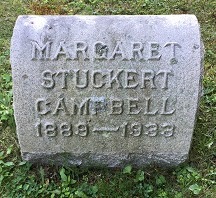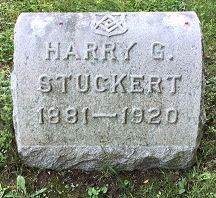 Husband Cemetery, Somerset
Daughter Margaret Kimmel (1888-1933) was born on Aug. 26, 1888. She was twice married. Her first spouse was Harry G. Stuckert Sr. (Oct. 17, 1881-1920), son of Christian and Mary (Jones) Stuckert of Pittsburgh's South Side. They were the parents of five sons -- James Stuckert, Schell K. Stuckert, Ellsworth Elmer Stuckert, Harry G. Stuckert Jr. and John Stuckert. Harry was employed in Pittsburgh in the early 1900s as assistant superintendent of South Side Hospital and in March 1907 left to take the helm of Ohio Valley Hospital at McKees Rocks. Later, he was employed as manager of the Rosenbaum Company. In 1908, Margaret and her baby son James were pictured in the Philadelphia Inquirer with other mothers and newborns at the Somerset Baby Show. They made a home in 1912 at 403 McKee Place in Oakland and in 1920 at 3215 Second Avenue in Homestead. While in Homestead, they belonged to First Presbyterian Church. The family was plunged into mourning when Harry contracted pneumonia and, after two weeks of suffering, died at the age of 38 on May 16, 1920. His remains were transported to Somerset for burial. The Pittsburgh Post-Gazette printed a brief obituary. Later, Margaret was joined in wedlock with Edmund E. Campbell ( ? - ? ). The Campbells dwelled on East Patriot Street and bore three more offspring of their own -- Virginia Campbell, Edmund Campbell and Margaret Jane Campbell. Margaret was active in the First Christian Church and a member of the Order of Eastern Star. For several years, Margaret was burdened by chronic cholecystitis, an inflammation of her gall bladder. At the age of 44, while preparing a dinner for the Somerset Lions Club, she became "violently ill," said the Somerset Daily American. She was rushed to nearby Johnstown Memorial Hospital and underwent surgery. The procedure caused her to suffer a pulmonary embolism, and she died on March 22, 1933. Interment was in Husband Cemetery in Somerset, with an obituary appearing in the Somerset Daily American.
Grandson Schell K. Stuckert (1911-1966) was born on March 11, 1911 in Somerset. He relocated to Tiffin, OH, where he was employed in a school of the Junior Order of United American Mechanics. At some point he relocated back to Pittsburgh and ran a business in East Liberty. Circa 1935, at the age of 24, he wedded 21-year Mary A. Hostler ( ? - ? ) of Tiffin. The couple divorced. On Jan. 17, 1946, he was joined in marriage with 42-year-old widow Cordelia (Hand) Brennan (Aug. 3, 1903- ? ), a native of Iowa and the daughter of Frederick C. and Rosa (Barkey) Hand of West Newton, Westmoreland County. The wedding was held in the home of Rev. Dr. and Mrs. Lynn Huff on Winebiddle Street, pastor of the East Liberty Methodist Church and a physician on the staff of West Penn Hospital. The announcement was made in the Monongahela (PA) Daily Republican. At the time, she was employed as a nurse in the Pittsburgh School District, and was an alumna of the West Penn Hospital School of Nursing. The couple did not reproduce. They are known to have vacationed in 1949 in Daytona Beach, FL and at times to Largo over the span of two decades. He operated an Atlantic gasoline service station at 5417 Verona Road in the Verona community in Pittsburgh. He may also have sold automobiles and was a member of the Masons. In the summer of 1966, the Stuckerts relocated to Florida and owned a house in the West Bay Drive Trailer Court in Largo, FL. His time there only lasted for four short months. At the age of 55, he died in Largo on Sept. 10, 1966. Co-officiating at his funeral were Rev. Norma. T. Allers of St. Luke's Methodist Church and Rev. Edwin W. Montfort of Largo Methodist Church. An obituary was published in the Tampa Bay Times and Tampa Tribune.
Grandson Ellsworth Elmer Stuckert (1916-1989) was born in about 1916. As with his brother Schell, he moved to Ohio where he studied in Tiffin at the school of the Junior Order of United American Mechanics. He married Juanita Mowry ( ? -2011). Their two known children were Alan W. Stuckert and Janet M. Stuckert. In 1937, he began Stuckert Service and Towing Company, located on Forbes Avenue in Oakland. The business continued under his leadership for 45 years, with the exception of his time in the U.S. Army during World War II. He returned the the business and finally retired in 1982. The family's residence was in the city's Sheraden neighborhood. He was a lay leader of the Crafton Heights United Methodist Church and later belonged to the Emanuel United Methodist in Elliott. He served as president of the Crafton Heights Little League Association and the Oakland Lions Club. Ellsworth also enjoyed his membership with the Moose Lodge 46 and the Tipton-Henderson Lodge of the Masons. At the age of 73, burdened with congestive heart failure, he was admitted to Presbyterian-University Hospital. Sadly, he died there on Dec. 17, 1989. A death notice was printed in the Pittsburgh Press, and his fellow Masons conducted a funeral service. Juanita outlived her spouse by 22 years and moved to the city's Asbury Heights area. At the age of 92, she passed away on June 6, 2011. A death notice in the Pittsburgh Post-Gazette said that she had been a faithful member of Emanuel Church for more than 50 years.
Great-grandson Alan W. Stuckert married Donna. They made a home for years in Houston, TX. He is believed to have been a sales representative for Humble Oil. Later, he became part of Exxon Mobil Corporation and was based in Houston as public affairs manager for gas and power marketing, serving in this role in 1990-2006..
Great-granddaughter Janet M. Stuckert resided in Crafton in 1989.
Grandson Harry G. Stuckert Jr. (1914?-1976) was born in about 1914. He lived in Somerset in the early 1930s. In about 1941, he relocated into the South Side neighborhood of Pittsburgh, where he operated Stuckert's Service Station in Oakland at the corner of McKee Street and Forbes Avenue. He owned the business for 35 years and was a member of the Moose Lodge in Bloomfield. Harry married Clara Jakielo ( ? - ? ). They were the parents of Joseph Stuckert, Mark Stuckert and Barbara Ann Stuckert. The family's address in the 1970s was 149 South 15th Street. Sadly, Harry died at home at the age of 62 on Oct. 3, 1976. An obituary in the Pittsburgh Post-Gazette reported that a funeral mass was held at St. Adalbert's Church, with burial in the church's cemetery in Carrick. The family was plunged into grief again on Jan. 25, 1990 when daughter Barbara Ann died.
Grandson John Stuckert made a home with his mother and step-father in 1933. Then by 1935, as had his brothers Schell and Ellsworth, he enrolled in the school of the Junior Order of United American Mechanics in Tiffin, OH.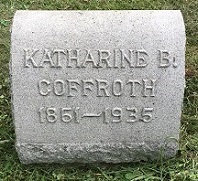 ~ Daughter Katharine B. "Kate" (Schrock) Coffroth ~
Daughter Katharine B. "Kate" Schrock (1861-1935) was born on Feb. 15, 1861 in Somerset.
As a young woman, in about 1880-1881, she joined her parents and some of her siblings in a cross-country move to Nebraska. There, they settled in Columbus, Platte County. Kate immediately was employed as a teacher in the new frame schoolhouse, with J.B. Shillito, H. Wasserberger and Jacob Judd serving on the school board.
On Aug. 9, 1881, the 20-year-old Kate married Jacob Kimmel "Jack" Coffroth (1858-1890), formerly of Somerset and now of Columbus and the son of Congressman Alexander Hamilton "A.H." and Nora (Kimmel) Coffroth of Somerset. The nuptials were led by Rev. S. Goodale at the home of Kate's parents. In a story about the happy event, the Columbus (NE) Journal reported "We congratulate our brother printer upon his good fortune in securing so beautiful, amiable and accomplished a bride."
As a confidant of President Abraham Lincoln, Jacob's father served as an honorary pallbearer for the funeral of the slain commander in chief in April 1865.
Prior to marriage, in 1877, Jacob had been editor of the Somerset (PA) Democrat and then left to attend a normal school to prepare for a career in teaching. Jacob's name was in the news in the fall of 1877, about two weeks after devastating railroad riots in Pittsburgh. There were still federal soldiers guarding the rail lines, and he was riding in a carriage toward the city. Along the way, several men asked if they could board the carriage. Jacob agreed and after the men climbed into the vehicle, he was gagged and mugged, losing a gold watch and chain, pearl ring and cash. A few days later, the watch was found in a Pittsburgh pawn shop.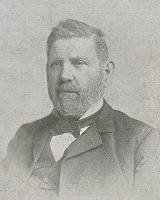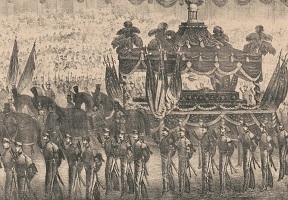 Left: Jacob Coffroth's famed father, Congressman Alexander Hamilton Coffroth, an honorary pallbearer at Lincoln's funeral, right.

Library of Congress
In December 1879, Jacob was named in the gossip columns of the Somerset Herald when he visited the District of Columbia. Around that time, he returned to the helm of the Democrat, which he co-owned with his brother A.H. Coffroth Jr. Their partnership dissolved in January 1880, with Jacob stepping away and the brother taking full control.
Federal census records for 1880 show Jacob working as a printer in Somerset and boarding in the house of Eliza A. Flick. He set his sights on opportunities further afield and by 1881 moved to Nebraska. About the year of marriage, Jacob was involved with the local Columbus newspaper when it changed ownership and its name. Formerly known as the Era, he renamed it The Telegram.
During the nine years of their marriage, the couple bore three children, of whom two are known -- John K. Coffroth, Ernest S. Coffroth and Alexander Hamilton CoffrothII. Sadness blanketed the young family when son Alexander II died in 1883 at the age of nine months.
But Jacob apparently was not content with newspapering again. Evidence suggests that he returned to Somerset by the summer of 1883 and launched Somerset Cigar Factory, with a manufacturing and retail store in the town's diamond section. He advertised in local newspapers that his products were handmade and that he also offered Havana Tobies as well as chewing and smoking tobacco, pipes, stems and tobacco pouches.
Jacob's barn mysteriously burned in the wee hours of Nov. 2, 1883. At 3:40 a.m., the cry of "Fire!" was heard, and the "alarmed citizens, men, women, and children, youth and age, wit and beauty, strength and weakness hurried to the scene," reported the Herald. "A valuable cow was dragged seemingly dead from the flaming building, but afterwards recovered. A horse worth three thousand dollars lay dead in his stall, having early succumbed to the suffocating influence of smoke. The citizens promptly organized a bucket brigade, and thus prevented the spread of the fire. Mr. Coffroth's loss will reach in the neighborhood of $2,000."
Jacob was appointed by President Grover Cleveland in April 1885 to be federal postmaster in Somerset to succeed Harriet Ogle, the borough's first woman postmistress. The news was printed in newspapers across the country, and the posting became official on Jan. 20, 1886. During his tenure of almost five years, he relocated the post office building to a site on the opposite corner of the diamond, where Oehling's Pharmacy stood later stood.
It was said that his "unvarying good nature and kindness made him universally liked," said the Herald. "Charitable, generous to a fault, he drew around him a host of friends..."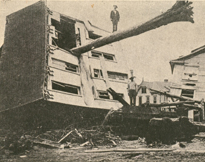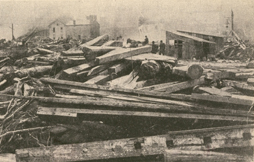 Wreckage from the Johnstown Flood, witnessed by Jacob K. Coffroth
Jacob was an eyewitness to one of the worst manmade tragedies in American history, the Johnstown Flood. On May 31, 1889, the South Fork Dam of a private hunting and fishing club collapsed under heavy rains. The lake behind the dam was owned by millionnaire industrialist Henry Clay Frick, future Secretary of State Philander Knox and others, perched high in the mountains above Johnstown, 32 miles from Somerset. The estimated 3.8 billion gallons of water poured down the mountainside, gaining speed for 14 miles before slamming with brutal force into the city below. At the time, Jacob was standing on the old Bedford Pike near the Somerset and Cambria Railroad crossing. He told a reporter from the Herald that he:
...saw the mighty rush of water coming and ran up the abrupt "Green Hill" as fast as his legs would carry him. From here he had a full view of the awful scene. The great volume of water came rushing twenty feet high, sweeping over like paper boxes and were carried by the current with frightful speed. Thousands of men, women and children were running for the hill on which he was standing, to escape from the terrible death that was bearing down on them with lighting speed. Hundreds were overtaken by the angry waters, and were swept away when within a few feet of safety. The few men on the hill with Mr. Coffroth used every effort at their command to assist the terror-stricken people. Dozens were helped out of the water just as they were about to be carried away by the resistless current. In the course of a half hour the hundreds of frame buildings that had been swept by came floating up the Stonycreek, their downward course having been checked by the massive stone bridge of the Pennsylvania Railroad Company, which acted as a dam, and forced the water back up the Stonycreek for a distance of several miles.
Some 2,200 citizens were killed in the catastrophe.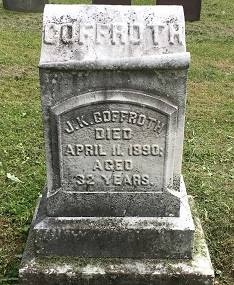 He resigned the postmaster's in March 1890, following the election of President Benjamin Harrison, who then selected his own slate of appointees. Jacob sold all of the furniture and fixtures to his successor, Josiah Keller. Just a few weeks later, Jacob was dead.
The end came suddenly and without a hint of warning. While at home on April 11, 1890, the 32-year-old became ill and went to bed. It was thought he was suffering from a "slight indisposition" and would be up and about in no time. At 1 p.m., he requested a drink of water. Said the Herald, "The attendant raised him up, held the glass to his lips, and before he could replace the glass on the table Jack sank back on the pillow, dead. Although apparently of very robust constitution, and the picture of good health, the fact that he was a sufferer from heart trouble had long been known to his physician and friends."
Word of his death was telegraphed to his sister Phoebe Grace Weaver in Columbus and printed in newspapers ranging from the Altoona Tribune in Pennsylvania to the Columbus Journal in Nebraska. Burial was in Union Cemetery. [Find-a-Grave]
Kate at age 29 was now rendered a single mother with two young sons. Undeterred by life's fate, she established her own notions store for women later in 1890. The shop was located at 109 East Main Street, with her residence on the upper floors. She advertised the sale of everyday women's goods at higher quality and lower prices than customers were accustomed to. In May 1892, she promoted the opening of her spring and summer millinery goods for sale. Then in May 1894, when she displayed a new line of bonnets, spring hats and millinery, a customer was quoted as saying "I only meant to have a peep at them, but before I got away I had to buy one. It is really the lovliest thing I ever saw in my life, and so becoming.... [E]verything in her store is new; new surprises wherever one looks; not a new feature missing. Everything from trimmings and untrimmed shapes to the most exquisite conceits in trimmed hats and bonnets." She operated the store at least through 1897.
Kate allowed her home to be utilized for the funeral of her mother-in-law in December 1893. She also maintained an active social life and hosted progressive euchre card-playing parties. By 1900, she was living in a Somerset hotel with her two sons. Still in Somerset circa 1907, she is known to have traveled to Nebraska to visit relatives and thence pushed on to Seattle.
The federal census enumeration of 1910 shows the widowed Kate and her widowed son John sharing a home in Pittsburgh. She remained in the Bellevue section of Pittsburgh until the summer of 1935, when she returned to Somerset and moved into the residence of her married niece Mrs. Jack Dice on West Church Street.
She passed away at the age of 74, in Somerset Hospital, on Christmas Eve 1935. Funeral services were held in the Dice home, led by Rev. F. Messenger of the First Christian Church. Her remains were lowered into rest in Union Cemetery, with an obituary printed in the Somerset Daily American.
Son John K. Coffroth (1886-1978) was born on Sept. 25, 1886 in Pennsylvania. He was married and widowed at a young age. Circa 1910, he and his mother resided together in Pittsburgh, and he earned a living as a clerk in a business of some sort. Circa 1919-1920, he married a second time to Anna McDonald (1890- ? ), daughter of James A. and Elizabeth (Monahan) McDonald of Pittsburgh. The children born to the second marriage were Elizabeth Katherine Ritchie, Margaret Louise Howard, John K. Coffroth Jr., James McDonald Coffroth, Patricia Ann Coffroth and Mary G. Coffroth. The family lived in the Bellevue section of Pittsburgh in 1930-1940 at 24 South Starr Avenue. In 1940, Anna's divorced father and single brother Michael lived in the household. John's occupation in 1930-1940 was as an assistant manager in a life insurance business. By 1948, the Coffroths had homes in both Bellevue and Miami, FL. John is believed to have died in Miami in November 1978.
Granddaughter Elizabeth Katherine Coffroth (1913- ? ) was born in about 1913. In or about January 1942, she was united in holy matrimony with William Hasson Ritchie ( ? - ? ), son of Dr. and Mrs. Delma Ritchie. The

Somerset Daily American

published the news of the wedding. The couple initially made a home in Washington, DC.
Granddaughter Margaret Louise Coffroth (1915- ? ) was born in about 1915. In a March 1941 wedding held in New York, she entered into matrimonial union with John Anthony Howard ( ? - ? ), son of John L. Howard of Lexington, KY. A news blurb about the marriage appeared in the Pittsburgh Sun Telegraph.
Grandson John K. "Jack" Coffroth Jr. (1920-1965) was born in about 1920. He suffered a serious and life-threatening accident at the age of nine in June 1928. While playing in a cherry tree near the family home in Pittsburgh's Bellevue section, he fell and fracutred his left arm. A strep infection developed, and he was admitted to a local hospital. Neighbor and friend Charles Hannan, of Florence Avenue, stepped forward and donated blood for the boy. The resulting transfusion saved John's life. At the age of 20, in 1940, he earned income as a sales clerk with a retail grocery store. He married Velma M. ( ? - ? ). The couple divorced in about 1946. John relocated to Miami, FL, where he was employed in the wealth management profession. In 1962, he pleaded guilty to charges of a swindle involving the stock of an oil company which had no assets but where he and others sold artifically-priced stock to investors. By 1964, he worked as an office manager and salesman for the registered broker-dealer firm Christopher Corporation. His registration with the Securities and Exchange Commission was revoked in January 1964 after allegedly using interstate facilities and the U.S. Mail to deceive investors. Specifically, he engaged in illegal activity to "sell and deliver promissory notes and common stock of Precision Corp., when no registration statement had been filed; made false and misleading statements to investors, and engaged in a course of business which operated as a fraud and deceit." said the

Miami News

. His home address in 1965 was of 2944 SW 14th Street. Sadly, he died at the age of 45 in Feb. 1965. A requiem mass was sung at St. Hugh's Catholic Church of Miami, with a death notice published in the

Miami News

.
Grandson James McDonald Coffroth (1922- ? ) was born in about 1922. On Dec. 28, 1947, at the age of about 25, he was joined in wedlock with Carol Dodge Armington ( ? - ? ), daughter of John Roy Armington of Sewickley, near Pittsburgh. The nuptials were held at Sewickley Presbyterian Church. A wedding announcement in the Pittsburgh Press reported that the newlyweds would live in Miami.
Son Ernest S. Coffroth (1888-1956) was born in Oct. 1888 in Pennsylvania. He was but a boy of two when his father died. As a teenager in 1905, he is known to have spent visits with his grandfather Alexander Hamilton Coffroth Sr. at the Somerset House. Ernest made a home in the Wilkinsburg section of Pittsburgh as an adult. In June 1908, at the age of 20, he married Ermine Peters ( ? - ? ) of Highland Avenue in Pittsburgh. News of their engagement was printed in the Pittsburgh Press. The couple bore a son, Ernest W. Coffroth. Suffering from health issues, he traveled to the West Coast in the spring of 1911 and paid a visit to his married aunt Phoebe Grace Weaver in Columbus, NE. Circa 1935, Ernest owned and operated an automobile service station at 7325 Penn Avenue in Pittsburgh and was an authorized Firestone tire dealer. He relocated from Oakmont to Miami, FL in 1951 and established a home at 3150 SW 14th Street. Sadly, he died in Coral Gables at the age of 67 on May 2, 1956. His remains were shipped to Pennsylvania for funeral services in Oakmont. An obituary was published in the Miami News and Somerset Daily American, the latter of which noted that he was "a first cousin of Mrs. John E. Dice, Sr., and Mrs. Emily K. Fluck and also related to the Coffroth families of Somerset."
Grandson Ernest W. Coffroth (1920-2005) was born on July 18, 1920. He is believed to have been employed at Kaufmanns Department Store in Pittsburgh in the 1940s. Evidence hints that he wedded Helen Mitchell (Feb. 15, 1919-2005), daughter of Libbie M. Mitchell. He spent his final years in New Kensington, PA and died there on March 18, 2005. Helen joined him in death just four days before Christmas 2005.
~ Daughter Phoebe Grace (Schrock) Weaver ~
Daughter Phoebe Grace Schrock (1863-1911) was born on March 7, 1863 in Shanksville near Somerset, Somerset County, PA.
She joined her parents and younger siblings in a migration to Nebraska in 1880-1881, initially settling in Columbus, Platte County. She later moved to the town of Crete and taught school for several terms in 1881-1882.
On July 25, 1883, she was united in wedlock with Louis William Weaver Sr. (July 25, 1860-1927), a native of Columbus and the son of German immigrants Michael and Dorothea (Heckman) Weaver. The wedding ceremony was held at the home of Phoebe's parents at Crete, Saline County, NE. In reporting on the nuptials, the local newspaper said that "The JOURNAL unites with the hosts of friends of the happy couple in wishing them long life and prosperity."
Their offspring were Earl S. Weaver, Dorothea "Dorothy" (or "Dora") Ripley, Lydia W. Janes, Louis William Weaver Jr., Vivian Marguerite "Margaret" Brian and Edward M. Weaver.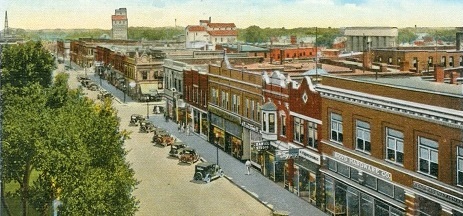 Bird's-eye view of Columbus, NE, including the Boyd Hardware, Toggery Furnishings and Daniel Studio buildings at lower right.
Louis held the distinction as the second white baby born in Platte County. Reported the Columbus Telegram, "He was a son of Michael Weaver, one of the pioneers who came here from Columbus, O., the next spring after the original band of 13 had staked out the townsite in 1856." He was born "four years after the town was founded...." He obtained only an elementary education because there was no high school in Columbus at the time. At the age of 19, in about 1879, he was hired as a clerk in the office of Platte County Treasurer. During the tenure of Treasurer John W. Early, Louis was promoted as his Deputy. He ran for Treasurer but was defeated, and he shifted his focus to business. Said the Telegram:
Starting in business for himself in 1883, he became one of the city's pioneer coal merchants. Establishing his office on the site now occipied by the Golden Rule store, at 2510 Thirteenth street, he bought and sold grain, produce and hides, as well as coal, in those first years, later opening a harness shop in connection with his coal business, L.A. Wiley going into partnership with him at that time. Three years later he bought Wiley's interest and after operating the shop for awhile, he sold the harness line to G. Grandlund and from that time on handled coal exclusively. When fire destroyed the building about nine years ago, he moved his office to its present location in his building occpied by the Grey Taxi company at 1363 Twenty-fourth avenue. When his son, Edward M. Weaver, who had been in the aviation service during the world war and had later homesteaded near Casper, Wyo., returned to Columbus in 1922, Mr. Weaver turned the management of the business over to him and then a year or two later retired from it altogether.
Federal census records for 1900 show that Louis earned a living as a harness-maker in Columbus. They owned two lots in block 60 of the town. Phoebe was "beloved by her family, and by many acquaintances in the city," said the Telegram, and was an active volunteer in the local Congregational Church.
In retirement, Louis constructed three brick buildings in the town's business district. Circa 1927, one was in use as home of the coal business and Grey Taxi; one as city hall; and one as the Golden Rule Store. He was so financially independent after that that he spent the majority of his time traveling and playing golf at the Wayside Country Club. One of his favorite destinations was Hollywood, CA, where his daughter Lydia Janes resided. He enjoyed his membership in the lodge of the Modern Woodman of America.
Phoebe died on Dec. 11, 1911 at home on 14th Street in Columbus, "following an illness of three months with nervous prostration," reported the Columbus Telegram. "For several days preceding dissolution she was known to be critically ill, and her husband and children were with her when the end came." Rev. G.A. Munro officiated at her funeral service.
Louis survived for another 16 years. After five years in widowerhood, he wedded a second time on July 15, 1916 to Josephine Byllesby ( ? - ? ), a former teacher at Columbus High School.
In November 1925, Louis and several of his adult children traveled to Lincoln to celebrate Thanksgiving with their married daughter Dorothea Ripley and to attend the Notre Dame vs. Nebraska college football game.
He spent the winter of 1926-1927 in California, returning home in April, and then in the summer of 1927 went to Rochester, MN. He experienced chronic stomach problems and underwent eight weeks of medical treatment in Denver. Not gaining any enduring relief, he was admitted to a hospital in Columbus. There, he died a week later at the age of 67 on Nov. 29, 1927. A lengthy obituary was published in the Telegram, saying he was a "prominent Columbus business man."
Mr. Weaver's greatest interest in life was in his home and family circle, and there was always a charming kindliness in his treatment of those about him. He was possessed of a keen sense of humor and was a most gracious and genial host. In his younger years, he loved to fish and hunt, evidencing in that manner the trait that in his later years caused him to find so much pleasure in his golf.
Funeral services were delayed a bit until his daughter Lydia Janes could arrive from Hollywood. Rev. Walter H. Riley, of the Federated Church, officiated, with interment in the local cemetery.
The couple is named in the 1950 book The History of Platte County, Nebraska, authored by Margaret Curry.
Son Earl S. Weaver (1884- ? ) was born in May 1884. He was married to (?) Harbert ( ? - ? ) and dwelled in Humphrey, NE in 1911 and in Scottsbluff, NE in 1927-1961. They produced at least four children, Ruth Weaver, Phoebe Tompkins, Mary Lou Weaver and Edward Weaver.
Granddaughter Phoebe Weaver ( ? - ? ) enrolled in a nurse's training course in Methodist Hospital in Omaha in January 1933 and graduated in January 1936. She received additional education and diploma from Wesleyan University in Lincoln in July 1936. On July 18, 1936, in a wedding held at the home of her parents in Scottsbluff, she married Bruce Tompkins ( ? - ? ), son of Bert Tompkins. Rev. George S. Morrell officiated. She was pictured in a wedding story in the Lincoln Star and Nebraska State Journal.
Daughter Dorothea "Dorothy" Weaver (1886-1964) was born in March 1886 in Columbus, NE. While her girlhood home was in Columbus, she spent more than a year in Seattle in 1904-1905 visiting her Schrock grandparents. She received a degree from the University of Nebraska. On Sept. 12, 1916, she married attorney Edwin Shepherd Ripley (1874-1932), son of Burlington Railroad veteran John A. Ripley of Galesburg, IL. The nuptials were held at the Federated Church, officiated by Rev. Thomas Griffiths. In about 1921, the couple moved to Lincoln, Lancaster County, NE, and never left. They were the parents of Doris Ripley and John Adams "Jack" Ripley. Having received a bachelor's degree (1901) and law degre (1904) from the University of Michigan, Edwin formed a law practice with Judge Fred Shepherd, known as Shepherd & Ripley. He served as treasurer of the missionary and benevolent funds of the First Congregational Church and in 1907 was elected secretary of the Lincoln Improvement Society. Then in 1911, he was a candidate for the position of secretary of the Nebraska Railway Commission. He ran for city commissioner in Lincoln in 1913 with his photograph printed in local newspapers. He was secretary in 1914-1915 to the Nebraska Republican Committee. Over the years, Edwin provided legal representation to the Lincoln Trust Company and the state railway commission and was an examiner for the commission under the blue sky law in commercial disputes. In May 1923, he was elected secretary of the Lancaster County Bar Association. Their home in 1932 was at 2116 E Street. Grief swept over the family when Edwin became critically ill in the spring of 1932. Dorothea's sister Marguerite Brian traveled to Lincoln to help. Edwin died at the age of 58 on May 5, 1932. Prominent obituaries were printed in the Lincoln Journal Star and Columbus Telegram. To support herself independently, Dorothy sought employment in Lincoln as an assistant county probation officer and was appointed by her husband's former law partner, Judge Shepherd. She held the job for two decades, from 1932 to 1952. Socially, she belonged to the First Plymouth Congregational Church and the Starcraft Order of Eastern Star. Her last address was 2230 Calvert Street. She died at the age of 78 on Sept. 14, 1964. An obituary was printed in the Lincoln Star. Rev. Ford Forsyth preached the funeral sermon, with interment in Lincoln Memorial Park. As contributions were made in their memory to the Lincoln Foundation, their names were inscribed in the organization's Book of Memory, on public display in the lobby of the Lincoln Center for Community Services.
Granddaughter

Doris Ripley (1919-2001) was born on Nov. 25, 1919 in Lincoln. She wedded Ray M. Napp ( ? - ? ). Their home for years was in Lincoln, and they were the parents of Richard Napp and Nancy Dalton

. Doris was a University of Nebraska graduate. She served as executive director of Camp Fire. She also was secretary for six years of the First Plymouth Congregational Church, was president of the Lincoln Council of Camp Fire board and Altrusa Club and co-founder of the Lincoln Volkssport Club. Later in life, she relocated to Arizona, residing in Scottsdale. She died on April 11, 2001. An obituary appeared in her hometown newspaper, the

Lincoln Journal Star

.
Grandson John Adams "Jack" Ripley

( ? - ? ) was born on (?). He was a graduate of the University of Nebraska. Circa 1940, he worked for Keller Crescent Advertising Company of Evansville, IN. On Sept. 1, 1940, he was united in matrimony with Mary Louise "Tish" Speidell ( ? - ? ), daughter of George R. Speidell of 3801 J Street in Lincoln. Mary Louise also was an alum of the university. By 1964, the couple had migrated to Southern California and lived in Whittier as of 2001.
Daughter Lydia W. Weaver (1888- ? ) was born in March 1888. In the summer and early fall of 1913, she and her grandmother Lydia Schrock spent four months traveling and visiting in California, Colorado and Washington State. In Seattle, she re-connected with former Columbus friends Margaret (Willard) Mengedoht, Lulu (Brodfuehrer) Ring, Mrs. Al Schram, Mrs. John Schram and Mrs. Farley. She wedded G.E. Janes ( ? - ? ). Circa 1927-1961, they dwelled in Hollywood and Los Angeles, CA.
Son Louis William Weaver Jr. (1890- ? ) was born in April 1890 in Columbus. He married Beatrice ( ? - ? ). One daughter was born to the couple, Ann Barry. The Weavers lived in Lincoln, Lancaster County, NE, at the address of 2744 Jackson Drive. Louis received a bachelor's degree in engineering in 1917 from the University of Nebraska. Then, during World War I, he served in the U.S. Army as a first lieutenant. His first engineering employment after the war was in the Lancaster County engineer's office for two years and then city engineer in Nebraska City and for an engineering firm in Omaha. In 1921, he was hired an an engineer by the Lancaster County Engineer's office and 11 years later, in 1932, appointed to the County Engineer position to fill a vacancy. At the next election, in 1934, he won as incumbent and remained in the role, into seven terms, for the balance of his life. He was praised by County Board Chairman Ralph Harlan and Commissioners Kenneth Bourne and William Grossman for his long-term work to improve the local road system. In the community and profession, he served as president of the Nebraska Association of County Engineers and belonged to the Nebraska Engineering Society, Engineers Club of Lincoln, the local Chamber of Commerce, Masons lodge and American Legion and the National Association of Professional Engineers. In February 1961, burdened with kidney problems, he was hospitalized in Lincoln General Hospital. He was under treatment there for about a month-and-a-half and, after suffering from a heart attack, died on April 9, 1961. An obituary in the Lincoln Journal Star reported that he "had served 40 years in the engineer's office [and] would have been 71 Tuesday."
Daughter Marguerite "Margaret" Weaver (1892- ? ) was born in November 1892. She was united in matrimony with Vivian Brian (1898-1958). They had a daughter, Mrs. Charles Gruenig. The family made a residence for decades in Columbus. As a youth, Vivian was an amateur wrestler and active with the local YMCA in Fremont, NE. He graduated from the Fremont Normal School, likely with the intent of becoming a teacher. Then in adulthood, he was a well-known local real estate broker and auctioneer and at one point was a Columbus city councilman. The family was plunged into mourning with Vivian died in Sept. 1958. His old hometown newspaper, the Fremont Tribune, ran an obituary. In Sept. 1970, Marguerite relocated to Oklahoma City at the age of 77 and received a farewell tribute from her friends with the Ladies Stagette.
Son Edward M. Weaver Sr. (1895-1971) was born in October 1895. He received an education at the University of Nebraska, graduating in 1917. Then during World War I, he served with the U.S. Army Air Corps. Once the war ended, he returned to Columbus and ran a coal business from 1922 to 1930. Edward married Phyllis R. ( ? - ? ). The two offspring of this marriage were Edward M. Weaver Jr. and Mary Lou Thornton. Edward seized an opportunity in 1932 when he founded a company producing potato chips, naming it Weaver Potato Chip Company. He served as the company's president and general manager for almost four decades until death intervened. Active in the community, he was a member of the boards of directors of Associated Industries of Lincoln and the Potato Chip Institute International. He was a member of the Downtown Development League, Elks Club, Scottish Rite, American Legion, University Club, Lincoln Country Club and Westminster Presbyterian Church. Seeking more influence in Lincoln in 1963, he ran for election as a city councilman but lost. By 1970, the Weavers had moved to Scottsdale, AZ. Edward passed away in Boulder, CO at the age of 74 on July 28, 1971. His obituary in the Lincoln Star carried his photograph.
Granddaughter Mary Lou Weaver married William Thornton. They dwelled in Lincoln.

In June 1965, two of their daughters were in the news for their respective graduations, Marsha Thornton from Lincoln Southeast High School and Shelly Thornton from Irving Junior High.
~ Daughter Mary "Edna" (Schrock) Haight ~
Daughter Mary "Edna" Schrock (1865- ? ) was born on July 16, 1865.
She migrated to Nebraska with her parents and some siblings in 1880-1881 and secured a teaching position. In September 1883, in her role on the executive committee of the Platte County Teachers Association, she helped lead an educational program for fellow educators at the Yellow school building.
Her home in 1885 was in Crete, NE, likely with her parents. That summer, she traveled to Columbus to see her sister Sarah Kimmel who was visiting from Somerset.
Circa 1887, Edna wedded widower Moses Eugene Haight (Sept. 19, 1848-1924), a native of New York. He was a hardware merchant and had been married before, bringing two offspring to the second union -- Neva Christner and Jay Fisher Haight.
The couple established their residence in Moses' home town of Crete, Saline County. They bore five more children of their own -- Mildred Clark, Eugenia Conrad, Morgan Everett Haight, Willett Haight and Alan Haight.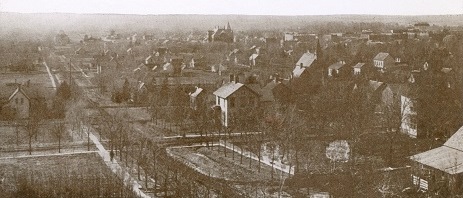 Crete, Nebraska, home of the Haights
In April 1891, Moses and his brother-in-law Louis W. Weaver Sr. and others are known to have departed Columbus for a hunting trip to Silver Creek.
Census records show the family in Crete in 1910, with Moses earning a living as a hardware store merchant. At one point Edna was a member of the school board of Columbus, only one of two women serving in this role up to the year 1938.
Edna and Moses moved to Oklahoma in about 1914, dwelling in Shawnee, Pottawatomie County. Moses earned income during those years in the business of providing loans to farmers. He became seriously ill in Shawnee in the summer of 1923, which led son Jay to travel from Los Angeles to be at his bedside. Moses passed into eternity on April 11, 1924. His remains were placed into eternal rest in Fairview Cemetery in Shawnee.
Edna remained in Shawnee for three decades in all. She was active as a matron with the Order of Eastern Star as well as the Sarah Harrison Chapter of the Daughters of the American Revolution. She often returned to Nebraska to spend long visits with her married daughter Eugenia Conrad.
With her health failing, Edna relocated to Oklahoma City in about March 1944, making her home with her son Alan and later married daughter NevaChristner at 2119 Elmhurst Street. She died in the Christiner residence at the age of 79 on Aug. 15, 1944. An obituary was published in the Oklahoma City Daily Oklahoman. She was survived by 11 grandchildren and six great-grandchildren.
Stepdaughter Neva Haight (1877- ? ) was born in Nov. 1877 in Illinois. She was joined in marital union with Fred W. Christner ( ? - ? ). They lived in Shawnee, OK at 2119 Elmhurst Street in 1944. By 1970, they were in Floida.
Stepson Jay Fisher Haight (1882- ? ) was born in July 1882 in Rockford, IL. He received his higher education at Doane College in Crete, NE. Unmarried in 1910, at the age of 27, he lived with his father and stepmother in Crete, and was employed as a secretary in his father's department store. Later in 1910, he moved to Burlingame, CA and managed advertising for the Granat Brothers for eight years. By 1919 he had changed companies and was employed in advertising for Albert S. Samuels Jewelry Company of San Francisco, where he spent the remainder of his long career. At the age of about 28, on June 22, 1921, he was joined in wedlock with Winifred Abernathy ( ? - ? ), in nuptials held at Weeping Water. Prior to marriage, she had taught in the schools of Beatrice, NE in 1919 and was dean of women for two years at Doane College. The couple immediately established a home in or near Burlingame at 1035 Geary Street. The couple bore two children -- Bruce Haight and Neva H. Woodbury. In 1926, he wrote what became a compelling and popular ad, "Who Pays for Advertising?" They remained Burlingame for years. At one point he was in San Diego, where he was president of the San Diego Rotary Club and San Diego Advertising Club. Jay was elected the first president of the Burlingame Recreation Commission. Jay retired from his position as vice president of the Samuels firm in 1954 and moved to Saratoga (?). He passed away in Saratoga, Santa Clara County, CA at age 87 on June 28, 1970. Funeral services were held in St. Andrew's Episcopal Church in Saratoga.
Grandson Bruce Haight lived in Los Angeles in 1970.
Granddaughter Neva H. Haight wedded (?) Woodbury. She resided in 1970 in Los Angeles.
Daughter Mildred Haight (1888- ? ) was born in May 1888 in Crete, Saline County, NE. She married (?) Clark ( ? - ? ). They were the parents of Ruth Clark and Mary Ellen Clark. Mildred's residence in 1935 was in Osage, WY and circa 1944-1945 in Hat Creek, WY.
Daughter Eugenia Haight (1891- ? ) was born in June 1891 in Crete, Saline County, NE. When she was 18 years of age, in 1910, she worked as a cashier in a store, likely her father's business. She wedded Dr. A.A. Conrad ( ? -1945) and remained in Crete for many years. They produced two daughters, Mary Jean Mooberry and Patricia Jones. A.A. was an alumnus of Doane College and in 1915 obtained a medical degree from Creighton University. Later, he took graduate classes at Harvard University. His medical internship was at St. Vincent Hospital in Portland, and then in July 1916 he went into practice for himself in Crete and was on the staff at Lincoln General Hospital. He continued for the rest of his life until poor health forced his retirement. In the community, he was secretary of the Crete Board of Education, a president of the Rotary Club of Crete and the Crete Commercial Club, and belonged to the Masons and Isaak Walton League. Professionally, he provided medical services for the Chicago, Burlington & Quincy Railroad and as a local examiner for the American Red Cross. He served terms as president of the Saline County Medical Association, as vice president of the Nebraska State Medical Association and president of its 7th District. He enjoyed breeding horses and had a stable at their home. Sadly, A.A. was gathered in by the Angel of Death on July 9, 1945 in Lincoln. Burial was in Crete Riverside Cemetery, with Rev. J.F. Balzer preaching the funeral sermon at the Congregational Church. Eugenia outlived her spouse by decades. She and her daughter Patricia Jones were pictured in the Lincoln Journal Star in April 1975 when Patricia sported a gown which her mother had worn to an auxiliary banquet in 1930. The photograph included Patricia's daughter Carolyn Jones wearing a pink embroidered satin robe dating to 1925.
Son Morgan Everett Haight (1893- ? ) was born in Oct. 1893 in Crete, Saline County, NE. He served in the U.S. Marine Corps during World War II in the South Pacific theatre. Evidence suggests that he was in Lusk, WY circa 1953.
Son Willett M. Haight (1902- ? ) was born in about 1902 in Crete, Saline County, NE. He is known in 1919 to have attended the horse races at the Oklahoma City Fair in Sept. 1919. At the age of about 27, in 1929, he married Corinne Rackley ( ? - ? ), daughter of B.H. Rackley of Purcell, OK. Her wedding portrait was printed in the Oklahoma City Daily Oklahoman. Corinne had attended the University of Oklahoma and later was active with Girl Scouts in Wewoka, OK. In 1932, living in Oklahoma, Willett was elected a judge in 1928 in the County of Pottawatomie, OK. He generated embarrassing publicity in the fall of 1932 when he and his brother Alan, driving to visit their sister Eugenia Conrad, picked up a hitchhiker and told the girl that they were bank robbers Pretty Boy Floyd and his brother George. They also told her they were carrying a machine gun. When the vehicle passed into Newton, KS, the girl asked to be let out, and then went to law enforcement authorities with a tip to be watching the Crete Bank. When it all was proven a hoax, a story ran in newspapers throughout the midwest. He migrated to Wyoming and put down roots by 1944 in Riverton, WY. In 1970, his home was in Enid, OK.
Son Alan Haight (1905- ? ) was born in about 1905 in Crete, Saline County, NE. He relocated to Oklahoma with his parents in 1914, settling in Shawnee. He first enrolled in Oklahoma Baptist University and after a year there transferred to the University of Oklahoma, earning a business administration degree. Alan was united in holy matrimony with Ferrell Pruett ( ? - ? ). They bore a son, Robert Haight. Alan was first hired by the Rock Island Railroad to work in the storekeeping department in Shawnee. Said the Yukon (OK) Sun, "Later he specialized in accounting and sales work prior to joining the Oklahoma tax commission in 1938 as assistant chief auditor in the general enforcement division. During the next six years with the tax commission he traveled throughout the state." He left state government in 1944 to go into business for himself. On July 19, 1944, he opened the Western Auto Associate store in Yukon, Canadian County. He was pictured in a Sun article on Aug. 4, 1949, saying that he had established his store in Yukon because of the community's track record of per capita income and per capita expenditures -- in other words, a good market for high net worth customers. Alan served as president of the Yukon Lions Club in 1948-1949, belonged to the Masons lodge and spent two years as treasurer of the First Christian Church. Alan's residence in 1970 was in Anadarko, OK.
~ Daughter Alice (Schrock) Sanner ~
Daughter Alice Schrock (1867-1953) was born on Aug. 5, 1867 in Somerset County, PA.
In about 1887, when she was age 19, Alice was united in marriage with 35-year-old John Gephart Sanner (Nov. 28, 1852-1936), son of Michael and Susan (Patton) Sanner. The couple was 15 years apart in age.
The pair produced four children, of whom three are known -- Helen Louise Sanner, Susan Caldwell Martin and Lyda Herrington.
John may be the same "John G. Sanner" who owned a boot and shoe store in Somerset and advertised in 1887 in the Somerset Herald. He was elected as a town councilman circa 1893.
By 1899, the Sanners relocated to Pittsburgh, where John accepted a position as superintendent of the Lindsay & McCutcheon iron mill. Alice was named in the Somerset Herald gossip columns in August 1899 when she returned to Somerset to see her widowed sister Kate B. Coffroth. At that time, the Somerset Herald remarked that "Mr. Sanner is another of the many Somerset boys who have met with success in the iron metropolis." Then in April 1902, he and business partners Peter Kell Sr. and Peter Kell Jr. incorporated the Kell Livery Company in the city.
The federal census of 1900 shows the family living on Ophelia Street. By 1910, the 56-year-old John had retired from the iron business and earned income as a liquor dealer. They lived at that time on Craft Place, and Alice's bachelor brother Ralph was in the household.
The 1920 census enumeration lists John as a retired contractor, and that their married daughter and son in law, Susan and J. Donald Martin, dwelled under their roof, as did Alice's unmarried, 42-year-old brother Ralph. Their home address in 1924 was Alder Street. When the census again was made in 1930, John's occupation again was shown as superintendent of a steel mill, after what seemed like a gap of several decades.
Sadly, John was cut away by the Grim Reaper of Death, at age 83, on Oct. 31, 1936. A death notice was printed in the Pittsburgh Press.
Alice as a widow resided in Pittsburgh at 5918 Alder Street.
At the age of 85, Alice was felled by a heart attack and died at home on Feb. 23, 1953. Daughter Helen signed the death certificate. Her remains were lowered into rest, joining her spouse in Allegheny County Memorial Park in Pittsburgh's North Hills.
Daughter Helen Louise Sanner (1888- ? ) was born in March 1888. She never married. In 1920-1930, she earned a living as a stenographer in a Pittsburgh steel mill office. Circa 1936, she dwelled at 5918 Alder Street. At the death of her uncle Jacob V. Schrock in 1969, Helen and her sister Susan were named in the Pittsburgh Press obituary as surviving nieces.
Daughter Susan Sanner (1890-1981) was born in Nov. 1890. In 1910, single at the age of 19, she was employed as an office stenographer in Pittsburgh. On July 24, 1919, she wedded World War I Jay Donald Martin (1889- ? ), son of Alfred F. Martin of Pittsburgh's Black Street. News of their engagement and wedding were printed in Pittsburgh newspapers. The ceremony was held at Emory Methodist Episcopal Church, officiated by Rev. Dr. Luther Freeman. The couple did not reproduce. During the war, Donald spent two years with the 80th Division, including service in France. The Martins made a home with Susan's parents in Pittsburgh in 1920-1930. Donald worked as a bookkeeper for Phoenix Glass Company in 1920 and as a clerk in a laundry in 1930. In 1969, at the death of her uncle Jacob V. Schrock, Susan and her sister Helen were named in his Pittsburgh Press obituary as surviving nieces. Susan was cut away by the Grim Reaper on Jan. 14, 1981.
Daughter Lyda K. Sanner (1893-1956) was born Nov. 20, 1893 in Somerset, Somerset County. She moved with her parents to Pittsburgh at the age of about six in 1899. Lyda was employed as a young woman as a file clerk with National Metal Company in Pittsburgh in 1920. At the age of 30, on April 30, 1924, she married Fox John Herrington Sr. (Dec. 6, 1892-1983), a native of Neshoba County, MS. Rev. Dr. John Ray Ewers officiated at the wedding, held in the East End Christian Church. News of the nuptials was printed in the Pittsburgh Post-Gazette. The newlyweds first lived on Elm Street in Wilkinsburg. They were the parents of an only son, Fox John "Jack" Herrington Jr. Early in his career, prior to marriage, Fox was a credit manager for a brick manufacturing company in Kittanning, PA. Circa 1928, Fox was pictured in the Pittsburgh Press for his role as advisor to the Reynard Club, which was going to hold a May dance at Webster Hall in Oakland. Fox was employed in 1940 as a mortgage clerk with First Federal Savings and Loan Association in Pittsburgh and held the title of settlement officer circa 1949. Their home in 1940-1956 was at 316 Spahn Street. Suffering from rheumatic heart disease, Lyda was admitted to Magee Womens Hospital in Pittsburgh where she succumbed to death on Jan. 27, 1956, at the age of 62. Funeral services were held in the Oakland section of Pittsburgh, and a death notice published in the Post-Gazette. Her remains were interred in Allegheny County Memorial Park in Allison Park. Fox married again in 1957 to Helen Lucile (Spencer) (1900-1988), a widow originally from Bowling Green, Wood County, OH. She brought three known adult children to the second union -- Marcia Christine Gregory, Charles H. Johnston and Spencer W. Johnston. She was employed as an executive secretary with the Westmoreland Public Health Association. When she retired in 1959, she was named chair of nursing services for the Westmoreland County Chapter of the American Red Cross. Fox continued his work with First Federal, retiring in late 1962. He was pictured and featured in a Dec. 9, 1962 Press story, in which he advised young married couples to "Buy a home while you're young" and to finance themselves by making as large a down payment as they could afford. The same article quantified his career accomplishments over 23 years, saying he had personally supervised more than 4,500 home mortgage closings "which poured more than 47 million dollars into the Pittsburgh economy." Fox passed away on Dec. 13, 1983 in Greensburg, Westmoreland County. Helen outlived Fox by five years and died on May 24, 1988.
Grandson Fox John "Jack" Herrington (1930- ? ) was born in about 1930 in Pittsburgh. He wedded Detroit native Joan E. Zurbrick (Oct. 3, 1933-2018). Their children were Dennis Herrington, Pamela Herrington and Nancy Long. Jack became employed by Mobil Oil Corporation, and over the years he is credited with several inventions. Among them were a plastic reclosable zipper, a disposable plastic cup dispenser with a spring, and an apparatus for producing a machine-direction heat seal. Other of his patented creations were a process for thermal treatment of a stream of extruded material, a rotating disk for translating draw tape and many others. The Herringtons lived for many years in East Bloomfield, NY. Joan began her own career as a secretary. She enjoyed decorating their home as well as cottages in the Thousand Islands and Keuka Lake. She belonged to the Fortnightly Club and Bloomfield Garden Club and enjoyed volunteering her time with the F.F. Thompson Hospital. Sadly, Joan died at the ae of 84 on Sept. 2, 2018. Burial was in East Bloomfield Cemetery.
~ Daughter Helen (Schrock) Downing ~
Daughter Helen Schrock (1869- ? ) was born in 1869 in Somerset County, PA.
As a teenager, she migrated to Nebraska with her parents and some of her siblings. Then in October 1898, at the age of 19, she "returned to her home in Somerset, Pa.," said the Columbus Journal, "after an extended visit in different places in Nebraska." She remained in the Somerset area but is known to have returned to Columbus in September 1900 to see her sister Phoebe Weaver. She spent the winter of 1901-1902 with the Weavers.
At the age of 32, in about 1901, she was united in holy matrimony with (?) Downing ( ? - ? ).
Clues hint that the couple produced a son, Edward E. Downing, born in about 1905.
Circa 1913-1920, when Helen was in her 40s, she lived in Seattle at 4566 Lucille Street. Census records for 1920 show her as a roomer in the household of a family named Williamson.
By 1930, she was widowed and made a residence in Portland, Multnomah County, OR, boarding in the household of Archie and Elthea Smith.
Son Edward E. Downing (1905?- ? ) was born in about 1905.
~ Son Edward "Morgan" Schrack Jr. ~
Son Edward "Morgan" Schrack Jr. (1872-1931) was born in 1872.
He and his sister Zoe and brother Jacob are believed to have migrated to Nebraska by the 1880s, putting down roots presumably in Columbus, Platte County. For a time, he worked in a local printing office.
By 1889, he made a home in Grand Island, Hall County, NE, and then migrated into Omaha, Douglas County, NE. There, he obtained a job in the composing room of the Omaha Bee newspaper.
Morgan was joined in holy wedlock on Sept. 18, 1898 with Georgianna Oliver (April 14, 1868-1900), a native of Nebraska and the daughter of Kate Oliver. The nuptials were officiated by Rev. Baird of the Presbyterian Church, held at the home of D.C. Morgan and reported on the pages of the Plattsmouth (NE) Journal. "Both are popular and well liked young people, and the bride's many friends here will wish them unbounded joy," said the Journal. "They will reside, for the present, with the bride's mother, at 131 South Twenty-fifth street."
The couple's only known children were John Schrack, born in 1898 in Colorado, and Katherine James.
The federal census enumeration of 1900 shows Morgan and Georgianna making a home in the boarding house of her mother Kate Oliver in Omaha. There, he continued his work as a printer.
Sadly, Georgianna died after just two years of marriage, in Omaha, on Sept. 16, 1900. Word was telegraphed to his sister Phoebe Weaver in Columbus and noted in the gossip columns of the Columbus Telegram. Her remains were laid to rest in Oak Hill Cemetery in Plattsmouth, Cass County, NE. [Find-a-Grave]
After some period of grieving, Morgan wed again to Amelia A. Roedel (March 2, 1884-1969), a native of McCook, NE.
The Schracks produced at least four more children of their own -- Helen Elizabeth Schrack, Amelia May Goldenbaum, Morgan Schrack Jr., Alice R. Gwinn. Grief cascaded over the family on May 29, 1904 when daughter Helen, just nine days shy of her second birthday, contracted diptheria and croup and died in or around Umatilla County, OR. She rests in Olney Cemetery in Pendleton, OR.
Morgan is known to have installed a printing plant in Pendleton, OR circa 1905. Its owner A.H. Harris had it moved in June 1905 to his job-printing facility in Walla Walla, WA. The news was reported in the Pendleton East Oregonian.
Their residence in 1910 was in Portland, Multnomah County, OR. He earned a living that year as a "printer - press." Amelia was a member of the Tabernacle Seventh Day Adventist Church.
In 1920, United States Census records list the family in Portland, with Morgan working as a foreman in a printing firm. His employer at that time appears to have been Sweeney, Varney & Straub, one of several printers for whom he worked over the years.
The family remained in Portland into 1930, with the census listing Morgan as superintendent of a printing business. After 26 years in Portland, Morgan must have felt the downturn of business due to the grip of the Great Depression. In late May 1931, he accepted an offer to become executive foreman of composing room of the Oregon State Printing Department in Salem, OR. The family moved to Salem at that time, reported the Salem Statesman Journal.
But Morgan was not destined to live much longer than a few months after the move to Salem. At the age of 58, he contracted a severe illness and suffered for several weeks until carried away by the Angel of Death, on Dec. 9, 1931. An obituary in the Roseburg (OR) News-Review said he "was born in Somerset, Pa." and was "survived by his widow and four children, all but one residing in Salem." John McKay of Portland was hired to succeed him. Burial was in River View Cemetery in Portland. [Find-a-Grave]
The widowed Amelia remained in Portland. She is known to have spent the summer of 1942 with her married daughter Amelia Goldenbaum on Holly Street in Newport News, VA. Another of the daughters wedded Jesse Morrison and lived in Pasadena, CA in 1952. She endured the untimely death of stepdaughter Katherine James in November 1952.
Amelia passed into eternity at the age of 85 on Aug. 8, 1969, in Castro Valley, Alameda County, CA. Her remains were brought back to Portland to rest with Morgan's.
Son John Schrack (1898- ? ) was born in 1898 in Colorado.
Daughter Katherine Schrack ( ? -1952). Circa 1919, she lived in Plattsmouth, NE and traveled to Lincoln and Sheridan, WY before going west to Portland to see her father. Her movements were chronicled in the Nebraska State Journal of Lincoln. She dwelled in Lincoln, NE in 1931 and in New York City in 1942. Katherine eventually married Paul R. James ( ? - ? ). They made a home in Baltimore, MD. Katherine became seriously ill and went to the home of her sister Amelia Goldenbaum in Hampton, VA. She died in the sister's house on Nov. 4, 1952. An obituary was printed in the Newport News Daily Press.
Daughter Amelia May Schrack (1912-1995) was born in 1912 in Oregon and grew up in Salem, OR. At the age of 18, in the winter of 1931, she attended Willamette University and was named editor of the freshman publication, The Collegian. She and another fellow student sailed to Japan in June 1934, at the invitation of the Japanese Students Association, to tour the island of Honshu and Korea. Her name and collegian activities often were printed in the gossip columns of the Salem Statesman Journal. Upon graduation, in 1935, she accepted a position at Syracuse University in New York as assistant dean of women. While at Syracuse, she received a masters degree in child psychology. By 1937, she moved to Newport News, VA, where she was employed as house director at the Virginia Hall of the Hampton Institute. Circa 1939, Amelia was united in wedlock with David M. Goldenbaum (1910-1999), a New York City native who worked at the time for the National Advisory Committee for Aeronautics at Langley Airfield in nearby Hampton. They were the parents of three sons -- Donald Goldenbaum, Paul Goldenbaum and Jon Goldenbaum. The family resided on Holly Street in Newport News, VA. In 1949, she was appointed treasurer of the local League of Women Voters chapter. She returned to her roots in education in 1954 when named a full-time instructor of mentally retarded children in the Tri-Cities and York County region. She continued her work with mentally challenged youth for a number of years. As part of their inter-faith marriage, they hosted candle-lighting activities at Temple Sinai synagogue. David spent his 40-year career as an aerospace engineer with what became the National Aeronautics and Space Administration (NASA). He enjoyed stage performances and was active with the Peninsula Community Theater. In 1960-1961, he served as an aerospace technologist and project engineer with the Mercury-Redstone rocket program and Alan Shepard's historic mission as the first man in space. David was transferred to Houston in mid-1962 to continue his work with the NASA space exploratin program. As she prepared to leave Newport News, Amelia was pictured and interviewed at length in the June 3, 1962 edition of the Newport News Daily Press. In retirement, they made a home in Shawnee Mission, KS, and he gave many talks to community groups about the future of the space program. David was pictured in the July 21, 1981 edition of the St. Joseph (MO) News-Press. She died in 1995 and he in 1999. They rest together in Oak Lawn Memorial Gardens in Olathe, Johnson County, KS.
Grandson

Donald Goldenbaum

was an engineer in 1962 working in Johnstown, Cambria County, PA, not far from Somerset, where his grandfather Schrack had been born some 90 years earlier.
Grandson Paul Goldenbaum

was a student in 1962 at Lynchburg College.
Son Morgan Schrack Jr. (1913-1982) was born on Nov. 4, 1913 in Oregon. At the age of 25, in 1940, he lived by himself in Washington County, OR. The federal census-taker marked him as married and having lived in Portland in 1935. He was self-employed as a shade-maker at that time. He relocated to Los Angeles, CA and was there in 1952. He may be the same Morgan Schrack of Van Nuys, CA who, in April 1958, was a TWA Airlines pilot who reported a near miss with four Air Force jet fighters over Silver Lake near Las Vegas. He is believed to have passed away in Watsonville, Santa Cruz, CA in July 1982.
Daughter Alice R. Schrack (1920- ? ) was born in about 1920 in Portland. She married (?) Gwinn ( ? - ? ). Her story and fae are unknown.
~ Son Jacob V. "Jake" Schrock ~
Son Jacob V. Schrock (1875-1969) was born in 1875.
Evidence suggests that he and his brother Morgan and sister Zoe migrated to Nebraska by the 1880s, putting down roots presumably in Columbus, Platte County. As a young teenager, he was popular with friends in Columbus and worked at Fitzpatrick's book store where he acquired the nickname "First Lieutenant." He also made a public recitation at the Columbus Lyceum at Fitzpatrick's Hall in March 1889. He resigned his position at the book store and in June 1890 returned to Somerset.
Still in Somerset in September 1892, he made another visit to Columbus to see his sister Mrs. Louis Weaver and to attend Doane College in the town of Crete. His return was noted in the gossip columns of the Columbus Journal.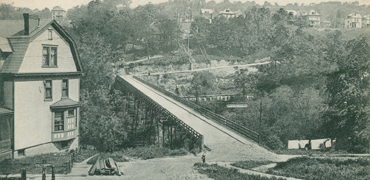 Birmingham Avenue Bridge in Avalon, PA, near Pittsburgh
Jacob married Margaret Toy (Feb. 15, 1875-1964), the daughter of Dr. Archy F. and Mollie (McQuillan) Toy of Pittsburgh. Margaret's father was an immigrant from County Antrim, Ireland and was a longtime dentist in Pittsburgh.
The two children born to this marriage were Archy T. Schrock and Edward M. Schrock II.
For 28 years, starting in about 1895, Jacob worked for Carnegie Steel Company, a predecessor to United States Steel Corporation. He was transferred to the company's Youngstown, OH works in about 1905 and remained for several years. He left Carnegie Steel in about 1923 to join a competitor, Jones & Laughlin Steel Corporation. He worked for J&L for the next 23 years in the accounting department as assistant to the general superintendent of the Pittsburgh Works. He retired in October 1946, after a career spanning more than half of a century, and was pictured in a retirement story in the Pittsburgh Post-Gazette.
The Schrocks moved to Pittsburgh's Avalon neighborhood in September 1929 and remained for years at 832 California Avenue. The couple belonged to the Bellevue Christian Church, where Jacob served as chair of the church board of elders in 1940-1956. Circa 1938, he was elected treasurer of the Men's Federation of Christian Churches of the North Boroughs and North Hills. He also was a member of the Bellevue Lions Club and spoke at many public events over the years, including to the Shadyside League circa January 1942.
Sadly, suffering from acute bronchial pneumonia at the age of 89, Margaret died in Suburban General Hospital in nearby Bellevue on Oct. 6, 1964. Her remains were placed into eternal repose in Union Dale Cemetery on Pittsburgh's North Side.
The widowed Jacob spent his final years in Florida. At the age of 94, on May 1, 1969, he passed away in DeBarry, Volusia County. The body was shipped home for funeral services in the family church. An obituary in the Pittsburgh Press said that he was survived by three grandchildren and six great-grandchildren.
Son Archibald T. "Archy" Schrock (1902-1976) was born in about 1902 in Avalon near Pittsburgh. At the age of three, he accompanied his family in a move to Youngstown, OH, where he grew to manhood and graduated from high school. He received a degree in 1928 from Bethany College in West Virginia's northern panhandle. On Aug. 24, 1932, at the age of about 30, he was joined in wedlock with Jane Isabelle Adams ( ? - ? ), daughter of Howard Adams of Perryopolis, Fayette County, PA. the Schrocks dwelled in Edgewood near Pittsburgh. The wedding was held in the Adamses' home, with Rev. Frank Helms leading the service. The Connellsville Daily Courier printed a related story. They were the parents of William Howard Schrock, Cynthia Thornbury and Margery Brown. Aaron spent his career in public education. His first assignments were at high schools in Brownsville and Edgewood. Then in 1937, he was named to teach at Fifth Avenue High School and remained there until 1943. From there hw as a principal at Beechwood and Lee schools in Beechview and then became principal of the Wightman and Davis elementary schools in Squirrel Hill and the Home for Crippled Children. He also was active with the annual March of Dimes fundraising campaign. The Schrocks were members of First Baptist Church in Oakland, and he belonged to the Pennsylvania State Education Association. After retirement in 1967, he migrated to Deltona, FL. He was part of the founding committee of the Deltona Public Library. He died at age 74 in Sanford, FL in January 1976. His remains were placed into everlasting rest in Deltona.
Grandson William Howard Schrock ( ? - ? ) was born in (?). On Aug. 31, 1963, he wed German resident Gisela Nikolaiczik ( ? - ? ), daughter of Johann Nikolaiczik of Gelsenkirchen. She flew from Germany to Pittsburgh for the event, and Dr. Charles C. Knapp officiated the ceremony held in his parents' home in Avalon. News of the marriage was published in the Pittsburgh Press. The newlyweds established their residence in Norfolk, VA. His home in 1976 was on Merritt Island, FL.
Granddaughter Cynthia Jane Schrock ( ? - ? ) was born in (?). In a Sept. 11, 1954 wedding ceremony held in the Kulmer Chapel of the Western College for Women in Oxford, OH, she married Thomas Glidden Thornbury ( ? - ? ). Their nuptials were officiated by Dr. Jenkins Davies, retired dean of the college. Reported the Uniontown (PA) Evening Standard, Cynthia "chose a chapel-length gown of Chantilly lace and hylon tulle over satin. Complementing her attire was a Juliet cap headdress with fingertip veil of illusion. She carried a bouquet of white chrysanthemums." The Thornburys dwelled in Atlanta immediately upon marriage, where Cynthia had enrolled in the University of Georgia, and Thomas was a staff member of the Navy Supply Corps School in Athens, GA. The couple made a home in Fort Wayne, IN in 1958-1976.
Granddaughter Margery Schrock ( ? - ? ) was born in (?). She received a bachelor's degree from the Western College for Women in Oxford, OH. In March 1958, she wedded Roger Kenneth Brown ( ? - ? ), son of Kenneth H. Brown of Lakewood, OH. She was pictured in a Pittsburgh Sun-Telegraph story about the wedding, which said that she "wore a waltz-length gown of lace [and] carried white lilacs." Roger was a graduate of Ohio Wesleyan University. They were in Albany, NY in 1976.
Son Edward M. Schrock II (1910?-1983) was born on or about June 9, 1910 in Youngstown, Mahoning County, OH. He grew up in Youngstown but eventually moved to Pittsburgh with his parents. At the age of 21, on Sept. 5, 1931, Edward eloped to Wellsburg, Brooke County, WV to marry 21-year-old Frances Queen ( ? - ? ), a native of Cincinnati. Rev. H.L. Wiggins, of the Christian Church, officiated at the wedding. Edward was employed as a metallurgist from 1936 to 1942 with Jones & Laughlin Steel Corporation in Pittsburgh. The couple's address in 1932 was Avalon, near Pittsburgh and in 1939 at 121 Milton Street in Aliquippa, Beaver County, PA. He showed so much promise that, during World War II, he was recruited by Col. George G. Eddy to help solve a problem. Edward was assigned to calculate quality and variations in the production of armor-plate steel by several government contractors in an effort to conserve the tonnage of armor plate being "shot up" at Aberdeen Proving Ground in Maryland. The statistical data Edward generated helped manufacturers cut in half the amount of steel needed for weapons testing, thus freeing more product to be available for actual combat. He was in Aberdeen from 1942 to 1947. The Schrocks established a residence in Erie, PA in 1950, where he worked for General Electric's Refrigeration Quality Control Division. While at GE, he authored the book Quality Control and Statistical Methods (1950). By 1952, he had changed employers and worked for Lukens Steel Company in Coatesville. From there, they moved to Baltimore, MD and were there in 1960-1969, with Edward named chief quality control engineer for American Radiator and Standard Sanitary Corporation. He was elected to the board of directors of the American Society for Quality Control. He gave a talk in 1969 on "The Quality Shape of Things to Come" at an ASQC meeting. He also authored The Good and The Bad News About Quality (1988). Edward may have spent his final years in Aurora, Arapahoe County, CO and died there in March 1983, but this is not confirmed.
~ Son Ralph C. Schrock ~
Son Ralph C. Schrock (1877-1953) was born in 1877.
A bachelor in 1910-1920, he was employed as a purchasing agent at a Pittsburgh pipe mill and dwelled in the home of his married sister Alice Sanner on Craft Place. By 1930, still in the Sanner household, he earned a living as a clerk in a steel mill.
Ralph eventully married Harriet (1888-1976). They are not thought to have reproduced.
At some point, Ralph held an executive position with United States Steel Corporation.
He lived in 1935 in Albuquerque, NM, and then in 1938 relocated to La Jolla, San Diego Coiunty, CA. They appear to have spent the balance of their lives in La Jolla.
Ralph passed away at the age of 76 on Aug. 30, 1953. He died just six months after his sister Alice Sanner. A brief obituary was printed in the Los Angeles Times. His body was shipped to Michigan to rest in Forest Lawn Cemetery in Saginaw, Saginaw County. [Find-a-Grave]
Harriet outlived her husband by 23 years. At the age of 88, she died in San Diego on Nov. 22, 1976. She sleeps in repose beside Ralph in Saginaw.
~ Daughter Zoe (Schrock) Bloedorn ~
Daughter Zoe Schrock (1881- ? ) was born in January 1881 in Somerset, Somerset County, PA.
At the age of three, she is believed to have relocated with her family to Nebraska, likely Columbus, Platte County, where she graduated from high school in 1899.
By 1900, she migrated again with her family to Seattle. In 1900, unmarried at the age of 19, she lived and home and earned income as a stenographer. She and her mother traveled back to Somerset in June 1904 to visit with Zoe's married sister and brother-in-law, Sarah and Dr. H.S. Kimmel.
At the age of about 23, on Aug. 24, 1904, Zoe married Charles F.W. Bloedorn (1881- ? ) of Platte Center, NE. The nuptials were celebrated in Seattle. Charles was a lumberman and operated a retail outlet in Orleans, Harlan County, NE.
The children born to this marriage were Lydia Bloedorn, Charles August Bloedorn and Helen Bloedorn.
The Bloedorns were counted in Orleans in the 1910 United States Census.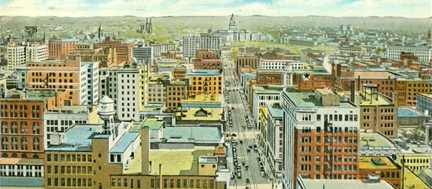 Skyline of Denver, Colorado, home of the Bloedorns
By 1935, they relocated to Denver, CO. That year, Zoe was named in the Somerset Daily American obituary of her sister Kate Coffroth, she made a home in Denver. Charles earned a living in 1940 as proprietor of a retail lumber company.
The family remained in Denver for decades. Their address in 1957 was 1901 Leyden Street. Zoe was still in Denver in 1969 at the time of death of her brother Jacob.
Daughter Lydia Bloedorn (1906- ? ) was born in about 1906 in Nebraska. She studied special education at Denver University, focusing on handicapped students, and became a school teacher as a young single woman. She was joined in wedlock with David L. Birkle (1905- ? ), son of Lou S. Birkle. The Birkles lived with David's father -- the superintendent of a local irrigation project, in Greeley, Weld County, CO in 1935-1940. Later, they moved to Platteville. In 1957, widowed, she sold her home and household goods and moved into the home of her parents at 1901 Leyden Street in Denver. By 1959, she had obtained her masters degree and was named audiologist and hearing therapost with the Denver Hearing Society.
Son Charles August Bloedorn (1909-1994) is believed to have been born on June 4, 1908 in Orleans, Harlan County, NE. He was a bachelor in 1940, at the age of 31, and dwelled in Denver with his parents. His work that year was as proprietor of a retail poultry and eggs business. He became a health food advocate and relocated to Washington, DC, where he was in business manufacturing healthy foods and vitamins. He is known to have made a speech in 1973 to the York (PA) Natural Food and Health Association. At some point he wedded ( ? - ? ). His wife served as curator general of the National Society of the Daughters of the American Revolution and in 1991 was keynote speaker at the DAR's centennial celebration. His final years are thought to have been spent in Bethesda, Montgomery County, MD. He died there on July 20, 1994. A memorial bearing his name is inscribed on a stepstone of an outdoor stairway in Oak Hill Cemetery in Washington, DC.
Daughter Helen L. Bloedorn (1916- ? ) was born in about 1916 in Nebraska. Unmarried at the age of 24, she lived with her parents in Denver and generated income as a secretary for a firm providing insurance and investments.
Copyright © 2016-2020 Mark A. Miner
Research for this page graciously shared by Paul Goldenbaum, the late Olive (Rowan) Duff and the late Donna (Younkin) Logan.