Home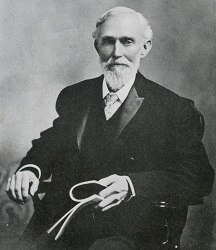 Capt. William M. Schrock
Capt. William Meyers Schrock was born on Aug. 19, 1837 in near the village of New Lexington in Somerset County, PA, the son of Aaron and Catherine (Meyers) Schrock and stepson of Mary "Polly" (Younkin) Smith.
He was only three years of age when his mother died and eight when his father married again.
As a young man, William joined the Disciples of Christ Church -- likely the Christian Church in Turkeyfoot -- established in Somerset County by his step-mother's brother, Dr. Jonas Younkin.
He was pictured and extensively profiled in the 1906 book, History of Bedford and Somerset Counties, in part for some remarkable experiences during his young manhood. The entry reads:
He was educated in the public schools of his native township, and in addition had the benefit of six months' attendance at a collegiate institute in Somerset Pennsylvania. At the early age of sixteen years he commenced to teach in the public schools, and assisted his father on the farm and in the blacksmith shop until he was eighteen years of age. He then obtained a position in a country store, and a year later, early in 1859, went with four companions to the west. They started with a three-yoke ox team and a supply of provisions to least them six months. They crossed the plains, then known as the Great American desert, in search of gold at Pike's Peak. In this search they were as unsuccessful as so many thousands of others, and Mr. Schrock returned to Somerset later in the same year, a bankrupt in money and worldly good, but rich in experience and knowledge of the then wild west. The exposure, suffering and misery of hundreds of people were heart-rending in the extreme. He again took up the work of a clerk in a store.
Back home, on Dec. 9 or 10, 1859, the 22-year-old William was joined in wedlock with 19-year-old school teacher Mary E. Foy (Sept. 6, 1840-1912), daughter of Rev. George and Sarah Catherine (Shank) Foy. Her father was a Methodist clergyman who had migrated to Somerset County from Lebanon County, PA.
Mary taught public school from age 16 to age 19, stepping down because schools at the time forbade the employment of married women teachers.
The couple went on to produce nine children -- Clora Barnett, twins Ella "Ellie" Lutz and Caroline Lucretia "Carrie" Lambert, Aaron F. Schrock, Julia M. Staniford, twins Minnie Hostetler and Lillie Schrock (the latter of whom died in infancy in 1872), Susan Walker and Harry "Foy" Schrock.

William's profile in the 1906 History of Bedford and Somerset Counties
During the heart of the Civil War in 1863, responding to President Lincoln's call for more voluntary enlistments, William was living in New Centerville, Somerset County. Within a week, he recruited 80 men to serve in a local company. Initially known as Capt. Schrock's Independent Company of Volunteer Infantry, it later became part of Company H of Ramsey's Battalion, Pennsylvania Infantry. The Somerset Daily American once said that "It was the only occasion during the course of the Civil War that any unit was mustered within the area of Somerset County." The infantry remained in New Centerville until July 6, 1863, following the Battle of Gettysburg, when they marched to Berlin and received weapons. They were ordered to report to Huntingdon, PA, and then served on provost duty during a military draft. In early September 1863, recounted the History of Bedford and Somerset Counties, Pennsylvania, the company marched to Harrisburg and then Gettysburg:
...where they guarded the field hospital on the battlefield until it was dispensed with in the latter part of October. This company was also in active service at Lewisburg, Sunbury and Selins Grove. From December 11, 1863 until January 8, 1864, the Somerset company was in charge of the Soldiers' Retreat at Harrisburg, where frequently rations were provided for from five hundred to one thousand soldiers who dropped off from trains at meal times. The company was mustered out January 8, 1864.
Seven months later, with the war continuing without an end in sight, he helped create another fighting body. This time it was Company K of the 5th Pennsylvania Heavy Artillery, again as described in the History of Bedford and Somerset:
During the month of August, 1864, Mr. Schrock again assisted in recruiting a company, this time of one hundred men, and was chosen captain, on arriving at the place of rendezvous, which was at Pittsburg. Here an artillery regiment which was in process of formation lacked a company with the requisite number of men, one hundred and forty-four. A veteran officer had forty men under his charge and expressed his willingness to join forces with Captain Schrock's company if the captaincy were given to him. Mr. Schrock resigned his command in favor of this veteran, and accepted a lieutenancy in the same company. Soon after reaching the fortifications at Washington, where the regiment had been ordered, Mr. Schrock succumbed to the strain of his overwork, and was stricken with fever and sent to the hospital, where he was obliged to remain for two months, and was finally discharged from the Georgetown Seminary Hospital as being incapacitated for further active service. This was January 2, 1865.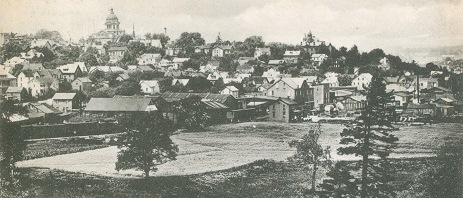 Somerset, early 1900s. The courthouse dome is the highest building in view.
After his honorable discharge, he returned home to his wife and family in Somerset. In 1870, with eldest brother, Edward, he established the Somerset Standard, a paper which was popular and influential for several years and later merged with another newspaper. The paper was printed every Friday, with annual subscriptions costing $2, paid in advance. Single copies in wrappers could be purchased in the office for a nickel. The Standard's motto was "Let the truth be our dictator." The pages contained nine columns, 22 inches wide, and advertisements were laid out down the left-hand column.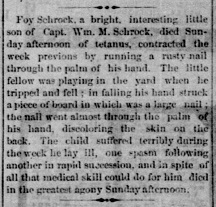 Little Foy's obituary, 1881, Somerset Herald.
Library of Congress/Penn State University Libraries
William was a charter member and adjustant of the Robert P. Cummins Post of the Grand Army of the Republic, a veterans' welfare organization. Among the Post's accomplishments was the erection of the Civil War soldiers' monument at the county courthouse. Active in public affairs, he servd as a viewer (inspector) of bridges in the county for decades and as Somerset Borough tax collector in the 1890s. At one point, for six years, he was the clerk for the Somerset County Commissioners.
As compensation for his wartime ailments, William was awarded a soldier's pension in April 1879. He received monthly government checks for the rest of his long life. [Invalid App. #276.814 - Cert. #170.688]
Tragedy's shroud blanketed the family in November 1881. Son Foy, considered "a bright, interesting little son," contracted tetanus. Reported the Somerset Herald, "The little fellow was playing in the yard when he tripped and fell; in falling his hand struck a piece of board in which was a large nail; the nail went almost through the palm of his hand, discoloring the skin on the back. The child suffered terribly during the week he lay ill, one spasm following another in rapid succession, and in spite of all that medical skill could do for him, died in the greatest agony..." Interment was in the family plot in Husband Cemetery, where Foy's sister Lillie had lain in repose since 1872.
William also was a surveyor and in 1905 is known to have helped plan for a new road from the Shanksville and New Baltimore Road to the Stoystown-Bedford Road. He won even more public acclaim in the winter of 1908-1909 when he transferred maps and plots of town tracts into one centralized book. This work was praised in the Cumberland (MD) Evening Times as "an innovation in Somerset county and all the attorneys say that it is a great convenience."
In her own right, Mary owned a millinery store in Somerset during the 1880s, said the Connellsville (PA) Daily Courier, "when her establishment was one of the most fashionable in the county."
In 1904, William and son-in-law, John A. Lambert re-started the Standard, and after several years stepped aside so that Lambert could continue independently.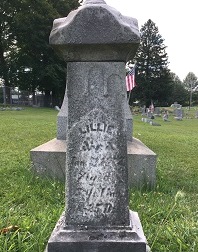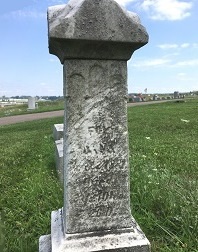 Graves of youngsters Lillie (1872) and Foy Schrock, Husband Cemetery
The Schrocks celebrated their golden wedding anniversary in December 1909. All five of their living adult daughters attended, with a story printed in the Pittsburgh Daily Post.
Continuing his work in the road and bridge field, he served as superintendent of bridge construction for the county in 1909-1910. He made news in January 1910 when writing "a scathing report regarding the condition of a number of bridges in which he severely censures contractors for negligence," said the Courier, "and the Grand Jury for not allowing the construction of new bridges at several points where old structures have become unsafe. The report states that one contractor for the work of repainting a number of bridges grossly neglected his work and violated his contract in that he did not paint the lower part of the bridge, where paint protection from the weather is most needed.... Capt. Schrock states that within recent years there have been erected a number of bridges in which railroad iron piers with make-shift abutments, that the iron has bent and sagged rendering these bridges highly unsafe."
At the age of 71, Mary suffered from diabetes and developed an abscess of the throat. When the infection became toxic, her health plummeted and she died on June 25, 1912. Burial was in the Husband Cemetery, with Rev. J.D. Garrison officiating. Obituaries were printed in the Pittsburgh Press as well as more local newspapers.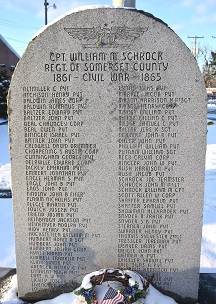 Monument to Capt. Schrock's company of Civil War soldiers, New Centerville, PA
.
Courtesy Linda Marker
William outlived his wife by a number of years. He remained involved in public matters and enjoyed traveling across the nation he had helped preserve. The January after his wife's death, he is known to have vacationed in Hot Springs, AR and thence to the West Coast to see his daughter Ella Lutz in Irvington, CA and brother Edward and family in Seattle.
Circa February 1914, maintained a government weather station in Somerset which measured snowfall and rain levels. He marked his 79th birthday in September 1916 with a party at his home for fellow members of the Robert P. Cummins Post of the Grand Army of the Republic. The Republic ran a story, saying that "Headed by the host, the veterans marched to the H.W. Walker company's icecream parlor, where icecream and cake were served. The parlor was appropriately decorated with flags and bunting -- the colors these men helped to preserve -- and with each plate of cream a miniature flag was furnished, and later worn by the soldiers. It is needless toadd that the time passed all too rapidly, for the guests were once again boys together, having a splendid time."
When celebrating his 83rd birthday in 1920, at a dinner for family, he gave cigars to the men and envelopes with crisp dollar bills to his three daughters. In a related story, the Standard said that "It is a pleasure to note that Captain Schrock's health has not broken, that his step is as active as that of a boy, and that his interest in the affairs of the G.A.R. and in public matters is unabated. On Friday, he motored twenty miles to perform a surveying job, and so it has been with him for a number of years. He has been keeping himself young in practice, and fit physically, by engaging in ouit-door activities, though very frequently he performs work that would be very tiring and exhausting to persons much younger than himself."
William and Jonas J. Beachy were among several elderly men from Pennsylvania who were honored in 1921 as pioneers of wagon travel across the Great Plains some 60-plus years earlier. The two were pictured in a story in the Nebraska State Journal of Lincoln, which said that "A somewhat belated effort is being made to gather up the stories of the survivors of that bold race of men who drove priaire schooners, ox teams and freight wagons across the Western plains prior to the civil war." Labeled as "schooner argonauts," the pair were cited for having "wagoned across the plains in 1859. Robert Bruce of Clinton, NY was the driving force behind the revived interest and had the photograph portraits made.
Beachy and William again were pictured together on the front page of the Meyersdale Republican on Oct. 8, 1925. The story said that they were the only two known survivors of:
...a company of 26 argonauts who on March 24, 1859, with oxteams and enthusiastic spirits, started to travel from Ogle Station now Ashton, Illinois, across 'the Great Plains,' to Pike's Peak, Colorado, in search of gold. Their slogan was "Ho! for Pike's Peak, or bust!" The expedition "busted" and most of the gold is still in the peak. Soon after these men returned to Illinois from their unsuccessful but exciting adventures, they separated, Capt. Schrock returning to his native heath, Somerset County, Pa. ... [while] Jonas J. Beachy remained at Ogle, Ill., until 1865, and then returned east to his former home near Grantsville, Md. After they had parted at Ogle Schrock wrote several times to Beachy, addressing him once at Grantsville, Md., likely before Beachy had returned to that place, for he got no reply to his letter, and again he addressed him at Ogle, Ill., without receiving a reply from him. By that time Beachy may have left Ogle and returned to Grantsville, and Schrock's letter missed him again, and so for a period of 61 years they were lost to each other. Capt. Schrock did not know anything of Mr. Beachy's where abouts until one day, over five years ago, he read a story by L.J. Beachy son of Jonas J. Beachy, published in the Meyersdale Republican, relating to their "Pike's Peak or Bust" trip 61 years before.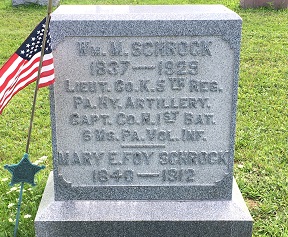 Husband Cemetery, Somerset
In June 1920, William traveld to Beachy's Mt. Nebo Farm in Grantsville and continued doing so every year through at least 1925. On Nov. 18, Nov. 25 and Dec. 9, 1926, William authored lengthy, bylined articles in the Republican about the memorable Pike's Peak trip of 67 years ago.
Over time, as soldiers from his former company died, William was named in some of their obituaries -- including Harrison Wiltrout in 1921 and Younkin step-cousin Jacob J. Rush in 1922.
Reminiscing into history gave William much pleasure. In March 1925, he was happily surprised to read in the Republican an account of his father having been apprenticed in young manhood to a veteran blacksmith, Joseph Jacob "Axie" Yoder. William dashed off a letter to the editor, saying the stories were "very interesting. I could not at first figure out as to how you obtained a copy of Father's agreement with Axie Yoder as an apprentice," he penned. "My mother was a daughter of Christian Meyers, who owned a farm about two miles down the river from Meyersdale, and which is still owned by some of the Meyers family, I think.... I have in my possession the original county settlements for the years 1796, '97, '98 and '99; also an article of agreement for the founding of a new town that fizzled out -- very interesting."
Despite his good physical condition, the end came quickly for William at age 91. While at home in mid-August 1929, he fell down a flight of stairs and fractured a rib. He was admitted to Somerset Community Hospital where he succumbed on Aug. 15, 1929. His death was top-headline news in the Daily American. An obituary in the Pittsburgh Press said that he was "one of Somerset's oldest citizens" and that he "would have celebrated his 92 birthday next Monday." The story was reprinted in newspapers throughout the state, among them in Tyrone, Kittanning and Harrisburg.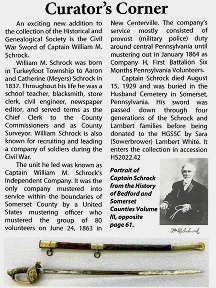 Laurel Messenger, Issue 1, 2023

Rev. Dr. George L. Roth, of St. Paul's Reformed Church, preached the funeral service in the chapel of Husband Cemetery, which he had helped construct in about 1923.. Opined the Daily American, "Captain Schrock loved the little chapel and superintended its erection and it is altogether fitting that he should be laid to rest from there." Pallbearers were Judge John A. Berkey, local attorneys Frederick W. Biesecker, Norman T. Boose and Leland W. Walker, Dr. Fred B. Shaffer, Joseph M. Bricker, George J. Krebs and Cecil C. McDowell.

In his last will and testament, William directed that everything in his ownership be sold, ranging from real estate to financial investments. He also bequeathed $100 and a Civil War sword to his great-grandson, William M. Schrock Lambert, and $50 to the Husband Cemetery Association. He wrote in the document that "The other sword, the Flag, the two sashes, the two officers' commissions, my father's volunteer commissions and cmopany rolls, as well as other relics and books are to be amicably divided within a reasonable time after my death."

Many years later, on Oct. 2, 1966, the Somerset County Historical and Genealogical Society dedicated a monument in memory of William's Civil War infantry, placed on the mustering grounds at New Centerville. Local attorney Robert Keim served as master of ceremonies and Rev. Gene Abel gave the invocation, Judge Thomas F. Lansberry the principal address and Rev. Henry B. Reiley Jr. the dedication prayer. Lansberry remarked in his comments that the local recruits "had ears to hear the call of Father Abraham," said the Daily American. "This was not hearing in the ordinary sense but it was that 'inner ear' through which they heard the call that challenged them to answer the call to colors. He said that they had real courage, not the false type which causes some beatnik to throw a molotov cocktail into a store window, or causes a riot in Watts or Cleveland, but that kind of courage which sends a man through the valley of the shadow of death for the sake of a cause which he considers to be bigger than himself." Also present at the event was George Hoburn, who designed and built the monument, and Bradley Cramer, grandson of Charles Cramer who first developed the monument placement idea.

A sword that William carried during the war was passed down over the span of four generations of the Schrock and Lambert families. It eventually was donated to the Historical and Genealogical Society of Somerset County by Sara (Sowerbrower) Lambert White and given accession no. HS2022.42. An article and photograph of the sword was published in the "Curator's Column" of the Society's Laurel Messenger newsletter in issue 1 of 2023.
Clora's grave, Husband Cemetery, Somerset
~ Daughter Clora J. (Schrock) Barnett ~
Daughter Clora J. Schrock (1860-1902) was born on Sept. 11, 1860 in Somerset.
She learned the art of fine sewing in her growing-up years. When she was 19 years of age, in September 1879, she won a prize for thread edging and a feather braid collar at the exhibition of the Somerset County Agricultural Society, and her name was printed in the Somerset Herald.
She wed Thomas Barnett ( ? - ? ) sometime during or before 1894.
Circa 1894, in Somerset, she led the Disciples of Christ Sunday School class and raised funds for the church's missionary society.
Grief blanketed the family on Aug. 23, 1902 when Clora passed away at the age of 41. Burial was in Husband Cemetery.
The fate of Thomas after that time has not yet been discovered.
~ Daughter Ella "Ellie" (Schrock) Lutz ~
Daughter Ella "Ellie" Schrock (1862- ? ) was born on March 31, 1862, a twin with her sister Carrie.
She wedded Dr. Charles A. Lutz ( ? -1936) of Philadelphia.
The couple were the parents of two children -- Julia Lutz and Mary Lutz.
Charles served as a physician employed by the Alaska Commercial Company in the Aleutian Islands for several years. He also was assigned to medical service on a steamship making regular trips from San Francisco to China.
With their home base in San Francisco, Ella often returned home to Somerset to visit and spend summers with her parents. While in Somerset in August 1889, they got word that her brother had died in Defiance, OH, and received a telegram saying that her husband was deathly ill and that she should return to California immediately. She did so, after first attending her brother's funeral. Charles fortunately survived the scare.
Circa 1909, the Lutzes made a home in Los Angeles and in 1912-1920 in Irvington, CA. By 1923, they had moved to Chicago and that year are known to have traveled in Europe. The Lutzes eventually returned to Irvington.
Charles died there in September 1936, with word telegraphed to Ella's family in Somerset.
Ella's fate has not been learned.
~ Daughter Caroline Lucretia "Carrie" (Schrock) Lambert ~
Daughter Caroline Lucretia "Carrie" Schrock (1862-1919) was born on March 31, 1862, a twin with her sister Ella.
On St. Patrick's Day 1881, just a few weeks shy of her 18th birthday, she married John A. Lambert (Jan. 17, 1854-1925), a native of Elizabeth, Allegheny County, PA who was living in nearby Johnstown at the time. Their nuptials were held on a Thursday at 3 p.m. at the Disciples of Christ Church in Somerset, officiated by Elder Woolery. The event was "witnessed by a host of friends of the high contracting parties," said the Somerset Herald. Park G. Kimmel, John N. Snyder, Frank Kimmel and Carrie's brother Aaron served as ushers.
The eight children born to this union were Herbert Schrock Lambert, William Dreas Lambert, John R. Lambert, Staniford Lutz Lambert, James "Frank" Lambert, Gladys Sloan, Margaret Adams and Marie Lippincott.
John had grown up as the son of a "veteran steamboat engineer on the Monongahela River" said the Meyersdale (PA) Republican, "and during his boyhood [he] assisted his father on the boat until he, too, became a licensed engineer and competent pilot of river transportation."
During his spare time he mastered telegraphy. In 1880, when work on the construction of the Somerset and Cambria Branch of the Baltimore & Ohio Railroad was commenced, Mr. Lambert became Somerset's first railroad telegrapher. When the branch was completed to Johnstown in 1882, Mr. Lambert became the first Baltimore & Ohio agent at Johnstown but he soon returned to Somerset as a telegraph operator and agent and remained in the position until 1890. .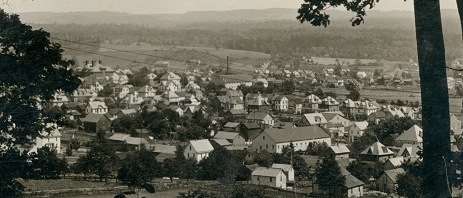 Bird's eye view of Somerset, Pennsylvania
In March 1889, in partnership with his father-in-law and Frank F. Koontz, John acquired the Somerset County Times newspaper from Edward H. Werner. He became sole owner in 1891 and renamed it the Somerset Standard, which he operated for the 34 remaining years of his life. Circa 1909-1912, John also served as federal postmaster in the county seat.
In March 1919, Carrie suffered a stroke of apoplexy and, 12 days shy of her 58th birthday, died at home on March 18, 1919. Burial was in Husband Cemetery. An obituary was printed in the Meyersdale Republican.
John outlived his bride by six years and maintained his residence on West Union Street, although suffering from heart valve problems during that period. On the fateful evening of Nov. 25, 1925, he attended a business meeting at Somerset Country Club and then began walking toward home. As he crossed Center Avenue, between the public square and courthouse square, his heart stopped, and he fell to the ground dead at the age of 71. Funeral services were held in the home, led by Rev. John C. Crowe of the Somerset Church of Christ. The Republican published an obituary.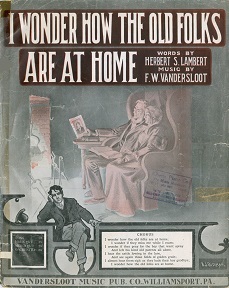 Hit song written by Herbert S. Lambert
Son Herbert Schrock Lambert (1882-1913) was born on March 4, 1882 in Somerset. Following his father's occupation, he became a newspaper editor and sought his fortune in northern California. Herbert moved to Oakland, Alameda County, where his mother's first cousin William Amos Schrock was a successful furniture manufacturer. There, circa 1892-1893, he was city editor for the Alameda Daily Telegram, but resigned at the start of 1893, saying the work was "too arduous." He returned to Somerset and was hired by his father as a typesetter for the Somerset Standard. Herbert married Christina Haase ( ? - ? ). They were the parents of an only son, Herbert Schrock Lambert Jr. In December 1909, he composed and printed sheet music for the song, "I Wonder How the Old Folks Are at Home." A related article in the Meyersdale Republican called him "a well known Somerset musician" and added that he had "demonstrated in a number of local-talent productions within recent years his ability along musical lines." The "Old Foks" song was set to music by F.W. Vandersloot of Williamsport, PA and became a national hit. The pair also wrote a compansion song, "Back At Dear Old Home Sweet Home." In November 1910, Herbert is known to have taken a 10-day vacation to Philadelphia and New York. He accepeted a position as editor of the San Leandro Standard and so relocated back to California, where he was considered "a popular young man in this district," said the Oakland Tribune. The couple's home in 1913 was in San Leandro. In the winter of 1912-1913, he is known to have spent a few weeks in St. Helena. Heartache cascaded over the family when Herbert developed a brain hemorrhage and had to stop work in February 1913. After suffering for three weeks, he succumbed to death in Oakland at the age of only 30 on March 3, 1913. Obituaries were printed in the Tribune among other papers. The Napa Journal reported that "Lambert was an educated and rather bright fellow, but practically all the time he was in St. Helena was ill, spending some of the time at the Sanitarium. He negotiated for the purchase of the Sentinel, but the deal did not go through. Mrs. Lambert took quite an interest in the Woman's Improvement Club while in town." Herbert's remains are in repose for all time in Mountain View Cemetery in Oakland
Grandson Herbert Schrock Lambert Jr. (1903-1961) was born on Dec. 12, 1903 in Somerset. As a boy, he moved to California with his parents and lived in San Leandro. Sadly, he was only 10 when his father died. Herbert returned to Somerset and, in about 1929-1930, married Ruth Groves Brody (Nov. 4, 1905-1965), daughter of John M. and Ida (Groves) Brody of Pittsburgh. In 1929, Herbert is known to have attended the funeral of his great-grandfather, Capt. William Meyers Schrock, in Somerset. Herbert Jr. joined the "conservative investments" firm of J.A. Ritchie & Company in Pittsburgh's Oliver Building in January 1930, with an advertisement placed in the Pittsburgh Post-Gazette. Herbert and Ruth lived in Churchill Boro and produced four daughters -- Margo Miller, Gladys Moore, Sarah Werner and Julie Lambert. Later, he earned a living as a salesman. Their address in the early 1960s was at 120 Oakview Avenue in Edgewood. At the age of 57, having suffered from hardening of the arteries and heart disease, passed away in Columbia Hospital in Wilkinsburg on Aug. 6, 1961. Burial was in Homewood Cemetery. As a widow, Ruth maintained a home in Wilkinsburg at 1423 Center Street. While eating one day, she accidentally inhaled her food which blocked her breathing passage, and she could not breathe. She died in Woodville State Hospital near Pittsburgh on Feb. 1, 1965. Interment was in St. Mary's Catholic Cemetery in Pittsburgh.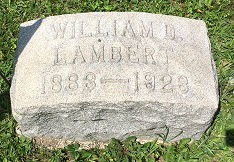 Husband Cemetery, Somerset
Son William Dreas "Will" Lambert (1883-1928) was born in 1883. As a young man, he delivered newspapers for his father in Somerset. During his summer vacations from school, he worked at the Highland Inn Summer Resort, "shining shoes and acting as a bell boy," said the Meyersdale Republican. He went on to work in the newspaper office for 14 years and managed the Somerset Opera House and a theatre in Meyersdale. On Nov. 12, 1912, he was married to Emily Belle Miller (Dec. 2, 1884-1967), daughter of Daniel S. and Mary (Lichty) Miller of Somerset. The ceremony was held at the Millers' home, led by Rev. S.G. Buckner of the First Christian Church. The children born to this marriage were William Meyers Schrock Lambert, Mary Ann Metzler and Pam Doak. Their granddaughter, the Pulitzer Prize-winning writer Annie Dillard, said that the Millers were "respectable" and the Lamberts "good-looking, prominent, wild.... The Lambert women were beautiful; they married rich men. The Lambert men were charmers; they drank hard and came to early ends." William was employed in the early 1910s as manager of Somerset Automobile Company, a dealer in Buicks. He is said to have won a contest and a free trip to Detroit by writing the advertising tagline "When better autombiles are built, Buick will build them." They were members of the First Christian Church. As with his older brother Herbert, William was a musician. In March 1913, he was named in the Pittsburgh Post-Gazette for playing in a Somerset orchestra with a large chorus performing J. Stainer's oratorio, The Crucifixion, in the First Christian Church.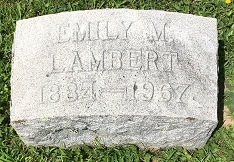 Husband Cemetery, Somerset
He was elected burgess of Somerset in 1917, succeeding William H. Welfley, and then in August 1923 announced his candidacy for the elected office of County Sheriff. As his grandfather was an esteemed Civil War veteran, William was active with the Capt. James Hinchman Camp of the Sons of Veterans and spoke at a reunion of the 133rd Pennsylvania Infantry in September 1919. Reported the Meyersdale Republican, William was "one of the promoters of Somerset's first independent Chautauqua... He was twice the Burgess... [and] was the sponsor of many progressive policies." His granddaughter Annie Dillard wrote that he was a handsome man and so admired that "no one in town voted for his opponent." Suffering from incurable heart disease, shortly after the trip to Detroit, the 41-year-old William died on Oct. 23, 1928 in Somerset Community Hospital. Burial was in Husband Cemetery, with Rev. John C. Crowe and Rev. Dr. A.W. Hayes co-officiating. Among those attending the funeral was his uncle, J.D. Lambert, of Connellsville. Emily Belle remained in Somerset as a widow. She declared her candidacy for Somerset Borough tax collector in 1929. In March 1959, she and her daughter Mary Ann were passengers aboard the Grace ocean liner Santa Rosa on a cruise to South America, Jamaica and Nassau. On its return, "when it rammed a tanker off the new Jersey shore," reported the Uniontown Evening Standard. While no one was harmed, all were shaken, with the two women's names appearing in related news stories. Emily died in Uniontown Hospital at the age of 82 on May 9, 1967. An obituary was published in the Connellsville Daily Courier.
Grandson William Meyers Schrock Lambert (1915-1991) was born in 1915. He married Sara ( ? - ? ). They bore four offspring -- Nancy Cook, Pam Lambert, Jean Lambert and William D. Lambert, MD. He lived in Pittsburgh in 1943. Circa 1967, he was in Labrador City in Newfoundland. Later, they relocated to Santa Fe, NM and then moved to Albuquerque, NM. The couple spent their winters in Sun City, AZ. He is believed to have been affiliated with the Lions Club and its Eye Bank for Macular Degeneration Research. William succumbed to death in a Sun City hospital on April 27, 1991. His remains were transported back to Somerset to sleep for all time in Husband Cemetery.
Granddaughter Mary Ann Lambert ( ? - ? ) - On March 11, 1936, she married 23-year-old William Judkins Metzler Jr. (May 9, 1912-2007), son of Sankey Wesley and Clare (Judkins) Metzler. The couple were the parents of John "David" Metzler and William L. Metzler. At the time of marriage, William was a Yale University graduate had been employed for two years with the family business, S.W. Metzler Stores Corporation, which owned Metzler's Store at 22 East Main Street in Uniontown. He became president and served for 23 years, from 1940 to 1963. In the community, he was a member of the boards of Uniontown Hospital, Uniontown Y.M.C.A., Area Council- Boy Scouts of America, Uniontown Parking Authority, United Fund-Advanced Gifts, Greater Uniontown Industrial Fund, Fayette Development Council and Penn State University's Fayette Campus. A member of the Rotary Club of Uniontown, he was a Paul Harris Fellow. Circa 1967, Mary Ann resided at 141 Belmont Circle in Uniontown, Fayette County, PA. The couple may have divorced, as William married again to Elizabeth Beall ( ? - ? ). William passed away in Pensacola, FL on June 12, 2007, with burial in Sylvan Heights Cemetery.
Husband Cemetery, Somerset

Granddaughter Pam Lambert (1921-2004) was born four days after Christmas 1921 in Somerset. She "grew up as a blonde beauty," said the

Pittsburgh Post-Gazette

, and was but the age of seven when her father died. This profound loss, wrote her daughter Annie, "left her forever full of longing." She abhorred anything German in her outlook despite the fact that she was one-half German in her family lineage. As a young woman, she attended Grove City College and was employed in Somerset as a receptions in the offices of architect Boyd Picking and attorney Joseph Cascio. Then in 1942, she moved to Pittsburgh where she served as secretary to the manager of the Roosevelt Hotel. On Nov. 11, 1943, she wedded Frank F. Doak ( ? -1996), son of Frank Fulton and Meta (Waltenberger) Doak Sr., with the ceremony held in the chapel of East Liberty Presbyterian Church of Pittsburgh, and Rev. Dr. Stuart Nye Hutchison officiating. Their wedding reception was held at the Fox Chapel home of Pam's aunt and uncle, Gladys and James Fownes. At the time, Frank was an executive with a family owned business, American Radiator and Standard Sanitary Manufacturing Company of Pittsburgh. The couple produced three daughters -- Meta Ann Dillard, Amy Ahrens Matos Fields and Molly Miller Simonds. Their first home was at 7000 Edgerton Avenue in Pittsburgh's East End. Later they lived in Point Breeze, a neighborhood noted for Frick Park and Clayton, the beautiful home of millionnaire coal and coke industrialist Henry Clay Frick. As a child, Frank read Mark Twain's book

Life on the Mississippi

several times. He was a graduate of Shady Side Academy and Washington and Jefferson College, majoring in history.

Dissatisfied with a business life, in 1955 Frank quit his job and took a solo boat trip down the Ohio River, and thence to the Mississippi, all the way to New Orleans. He returned to Pittsburgh and took a job in the Recorded Sounds recording studio, located in the city's Fulton Building. Frank made his mark in American popular culture when, in 1968, he played the part of scientist Dr. Grimes interviewed on television in George Romero's black-and-white film

Night of the Living Dead

. Widely admired as a zombie cult classic, the film plot revolves around a group of "ragtag" individuals who "barricade themselves in an old farmhouse to remain safe from a bloodthirsty, flesh-eating breed of monsters who are ravaging the East Coast," says the Internet Movie Database (IMDb). After a move to Ligonier, Pam founded and operated a retail stationery business, The Bwy Window. During the American Bicentennial, she chaired the community's Fellowship Chain, where some 1,776 people circled Ligonier's famed diamond, hand-in-hand. Later in life, circa 1994, Frank authored memoirs entitled

Something Like a Hoagie

. Pam and Frank spent their final years in Ligonier, Westmoreland County, where he volunteered with a community theatre. Frank was stricken with bone marrow cancer and died at the age of 80 on Feb. 20, 1996. The

Pittsburgh Post-Gazette

published a feature obituary the next day. Pam outlived her spouse by eight years. She died in Ligonier at age 82 on May 11, 2004.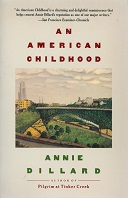 Annie Dillard's bestseller
Great-granddaughter Meta Ann Doak (1945-living) was born on April 30, 1945 in Pittsburgh. Using the married pen name "Annie Dillard," she went on to author the Pulitzer Prize-winning book Pilgrim at Tinker Creek, published in March 1974 when she was 28 years of age. Portions of the book originally were published in Harper's, The Atlantic Monthly, Travel and Leisure and Living Wilderness. Other of her books have been Tickets for a Prayer Wheel, Holy the Firm, For the Time Being, An American Childhood and The Maytrees. She taught English for more than two decades at Wesleyan University in Middletown, CT. She first married Richard H.W. Dillard and later wedded Robert D. Richardson. In 2015, she received a National Humanities Medal.
Son John R. Lambert Sr. (1885-1967) was born in 1885 in Somerset. He obtained a job with New York City's Department of Docks and Ferries, an agency headed by his uncle Charles W. Staniford. In the autumn of 1910, he spent time in Nome, Alaska, and then three weeks with his parents in Somerset, returning to New York in late November. He was still in New York in 1913 and then in Philadelphia by 1919. He relocated once more by 1925 to Milford, CT, where he spent the balance of his long life. John was united in holy matrimony with Lillian Keefe (1883-1964). The couple produced two children, John R. Lambert Jr. and Valerie Hemphill. John was a longtime real estate broker with the firm of Cross and Brown Company. Circa April 1926, the Lamberts were in Palm Beach, FL but maintained a home in Milford. Their address in the 1960s was 956 East Broadway. Lillian died at the age of 81 on Jan. 4, 1964. Funeral services were led by Rev. Edward R. Taft of St. Peter's Episcopal Church. John outlived her by three years. He passed away on Nov. 7, 1967. An obituary was printed in the Bridgeport Post, with the family asking that any memorial donations be made to the Milford Woman's Club. Their remains are in eternal repose in Milford Cemetery.
Grand

son John R. Lambert Jr. (1922-2010) was born on Sept. 12, 1922 in Milford, CT. After graduation from Trinity School for Boys in Manhattan, he attended Columbia University, with his education interrupted by World War II. He enlisted in the U.S. Army and took part on the D-Day invasion of Omaha Beach. In all, he was bestowed two Purple Hearts and a Silver Star medal. After the war, he returned to Milford and ran his own advertising agency, known as John R. Lambert Service. He then accepted a position with the Consumer Products Division of Bridgeport Brass Company. In October 1954, he was named advertising manager for Empire Brushes of Port Chester, NY. At the age of 49, in 1971, he wedded MaryAnn ( ? - ? ). Their union lasted for 39 years until the separation of death. He was the father of Jacquelyn Hartmann, Cydney Lambert-Broatch and Derrick Redman Lambert. Eventually John was tapped as vice president for one of the world's most prestigious agencies, Doyle Dane Bernbach, where he was director of print advertising and oversaw a team of 80 people. He enjoyed writing and creating poetry, jazz percussion playing, traveling and saltwater fishing. He died in West Haven Veterans Hospital on April 24, 2010. His remains were placed into repose in Milford Cemetery.
Granddaughter Valerie Lambert ( ? -1967) was born in (?). She was considered a lifelong resident of Milford, CT. Valerie was joined in matrimony with Philip S. Hemphill ( ? - ? ), son of Frederick R. Hemphill of Jamestown, NY and Arcadia, FL. The family dwelled at 8 Union Street and were the parents of Sara Schrock Agnew and Mrs. A.T. Clark. They were members of the Milford Yacht Club and the Milford Woman's Club. Daughter Sara is known to have attended the Day Prospect Hill School in New Haven and obtained a degree from Wheaton College in 1965. Sadly, Valerie endured the death of her father in early November 1967 only to be swept away by the Grim Reaper less than a month later, on Dec. 3, 1967. An obituary appeared in the Bridgeport Telegram. In 1966, daughter Sara married George Bliss Agnew III and lived in New York City and daughter Mrs. Clark was in State College, PA.
Son Staniford Lutz Lambert (1887-1927) was born on Sept. 15, 1887 and named for two of his uncles. During World War I, he joined the American Expeditionary Force and was placed within the 80th Division. He saw service overseas. After the war, he came back to Somerset and joined the family automobile business. He then established a home circa 1919 in Pittsburgh, where he sold the Lambert Plate Holder, a device mounted on vehicles to hold their license plates in place. The federal census enumeration of 1920 shows the couple residing on Shady Avenue in Pittsburgh, with John's occupation shown as "Partner - Manufacturing Co." They also owned a summer home west of Somerset along the Mt. Pleasant Pike. Staniford and attorney Robert Sloan of New York are known to have toured Europe, arriving back home in June 1925. That same year, he began operating a general store in the town of Kimmelton, Somerset County. He married Lillian Wallace (1879-1933). The bride was seven years older than the groom. They bore two offspring, John Wallace Lambert and Margaret Lambert. Lillian and the children remained in Pittsburgh at the time when he was residing in Kimmelton. Death swept him away at the age of 39 on Dec. 5, 1927, while in a private hospital run by Dr. Salas in Johnstown, Cambria County, PA. Interment was in Husband Cemetery. In an obituary, the Meyersdale Republican said that "He was admitted to the institution about two weeks ago, and apparently was on the road to recovery until Saturday when he suddenly developed pneumonia. His condition at once assumed an alarming phase and he failed rapidly until the end." Rev. John C. Crowe, of the Christian Church in Somerset, preached the funeral sermon. Lillian joined him in death in January 1933
Grand

daughter Margaret Lambert ( ? - ? ) was joined in marriage on May 1, 1937 with Job Taylor II in a ceremony held in Wilkinsburg near Pittsburgh.
Son James "Frank" Lambert (1886-1926) was born on Feb. 16, 1886 in Somerset. He joined the U.S. Armed Forces and served during World War I. Then in 1919 he took part of the occupation of Germany. He married Maude Silver ( ? - ? ). The couple did not reproduce. They lived in Somerset until about 1925, when they moved to Miami and he became a real estate businessman. He traveled to Havana, Cuba in the spring of 1926 to explore other real estate investment opportunities. But fate tragically intervened. While in Havana on April 16, 1926, he was badly injured in an automobile accident and died at the age of 38. Burial was in the Cementerio de Cristóbal Colón in Havana.
Daughter Gladys Lambert (1891-1981) was born on Oct. 11, 1891. She married Robert Shunk Sloan (1879-1936). One known son was born to the couple, Robert Sloan. They dwelled in New York in 1919 and in Plainfield, NJ in 1925-1926. Sadly, Robert passed away in Pine Castle, Orange County, FL on Oct. 22, 1936, at the age of 57. Gladys outlived him by 45 years. Later, she wedded James Alden Fownes ( ? -1969), a former Pittsburgher who once served as president of Gem Manufacturing Company on the city's North Side. James was an alumnus of Shady Side Academy and a well-known golfer, belonging to the Fox Chapel Golf Club and Duquesne Club. He had been married before and brought a daughter to the union, Ann Hunter. The Fownses resided in Winter Park, Orange County, FL circa 1967. Socially prominent, Gladys' photograph often was published in the society columns of the Orlando Evening Star. She loved to visit New York City and see Broadway theatre shows. One of her best friends was Mrs. James Murray, who lived in Pittsburgh but rented villas every year in Rome. Sadly, thought to have been suffering from Parkinson's Disease, James passed away at Winter Park on Sept. 2, 1969. His remains were shipped back to Pittsburgh for interment in Homewood Cemetery. Gladys survived him by a dozen years. Her address in the early 1980s was 690 Osceola Avenue. She died in Winter Park at the age of 89 on April 27, 1981. Burial was in Greenwood Cemetery in Orlando, with Fr. John Borley officiating. Son Robert "Bobby" Sloan was in Philadelphia in 1974 and Winter Park in 1981.
Daughter Marie Lambert (1893-1915) was born on Dec. 12, 1893. She wedded Edward P. Lippincott ( ? - ? ). The young couple established a residence in Philadelphia at the address of 4422 Sansom Street. Tragically, while expecting a baby in the summer of 1915, her embryo attached to the outside of the uterus, (known as an ectopic gestation), which ruptured and bled heavily. She was admitted to Howard Hospital in Philadelphia where she succumbed at the age of 21 on July 20, 1915. Her remains were lowered into repose in West Laurel Hill Cemetery. A death notice was printed in the Philadelphia Inquirer.
Daughter Margaret "Margo" Lambert (1900- ? ) was born in about 1900. She was unmarried at home in 1919. She wedded (?) Adams and in 1926-1928 was in Somerset. Research suggests that she married a second time to Frank Riley/Reilly ( ? - ? ). She is known to have undergone open heart surgery at the Mayo Clinic in July 1963. Circa 1967-1981, she lived in Winter Park, FL.
~ Son Aaron F. Schrock ~
Son Aaron F. Schrock (1865-1898) was born on May 16, 1865.
As with his father and uncle, he became a newspaperman.
Circa 1890, he resided in Defiance, OH, where he was editor of the Daily News and a related weekly newspaper.
Sadly, he died in Defiance in August 1898, with the news telegraphed to his parents in Somerset.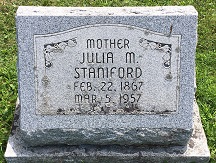 Husband Cemetery, Somerset
~ Daughter Julia M. (Schrock) Staniford ~
Daughter Julia M. Schrock (1867-1957) was born on Feb. 21 or 22, 1867.
When she was age 18, in June 1886, she was joined in holy wedlock with Charles Wilkinson Staniford (Feb. 19, 1861-1948), son of Daniel Staniford and a native of Rockport, MA. The wedding was held in the parlor of her parents' Somerset home with 30 guests present.
At the time of marriage, Charles was employed as a civil engineer in Somerset, working on construction of the South Penn Railroad. He had received a degree in 1881 from New York University.
The only son born to the couple was Foye Fossett Staniford Sr.
Their home for decades was in a hotel in New York City, with Charles earning a living as chief engineer for the city's department of docks and ferries. After the death of her mother, Julia returned to Somerset in August 1912 to spend several weeks with her father. Concurrently, Charles traveled to Canada to examine and report on a large harbor project on the Saguanay River in Quebec near the mouth of the St. Lawrence River.
Said the Somerset Standard, "Mr. Staniford's counsel is frequently sought by cities and corporations contemplating harbor improvements." Added the Somerset Daily American, "Many well known piers, railroads and buildings were the products of his engineering skill."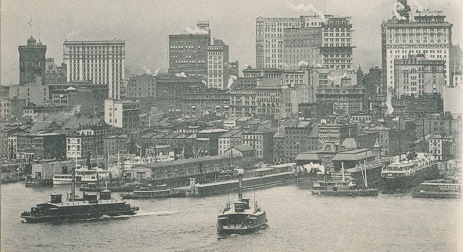 New York City's ferries and docks, superintended by Charles W. Staniford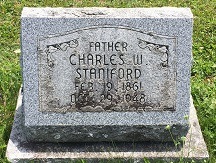 Husband Cemetery, Somerset
Julia and Charles returned to Somerset to visit her father in October 1920. They had a home in Suffern, NY. They also constructed a summer home, named "Stanicroft," located on Parson's Hill in Somerset, where Julia lived every year from May until November. Among her guests at Stanicroft, Julia enjoyed hosting the novelist Carolyn Wells. When Wells published the novel In the Tiger's Cage, in 1934, she dedicated the volume to Julia's nephew, Fred B. Walker.
Charles had "made many warm friends [in Somerset] and was always a welcome visitor here," said the Daily American.
Charles spent the last 15 years of his life as a consulting engineer with the New Jersey Harbor Commission. In retirement, they dwelled in Robert Treat Hotel in Newark, NJ. He was a member of the board of directors of the Society of Civil Engineers.
Charles died in the Treat Hotel at the age of 87 on Oct. 29, 1948. The body was shipped to Somerset for interment in Husband Cemetery. Rev. Dr. I. Hess Wagner, pastor of Trinity Lutheran Church, led a funeral service at the graveside. The Daily American printed an obituary.
As a widow, Julia came returned to Somerset in 1949 to live with her sister Minnie Hostetler in the Straub Apartments. Said the Daily American, "She has not been in very good health for several years and since the death of her husband ... she decided to return to her birthplace to reside."
Then for the last seven years of her life, Julia was a resident of the Galen Nursing Home in Rye, NY. She died there on April 5, 1957. Her remains were shipped back to Somerset to rest in Husband Cemetery, with Rev. Dr. I. Hess Wagner, of Trinity Lutheran Church, officiating at the funeral.
Son Foye Fossett Staniford Sr. (1890- ? ) was born in about 1890 in New York. Although he grew up in Suffern, NY, he spent many summer vacations as a boy in his mother's hometown of Somerset. He studied at Mercersburg Academy in 1908 and was a sprinter on the school's track team. Evidence suggests that he was twice married. His first wife was an actress, Gloria Goodwin (1900- ? ), a native of Missouri. Thee couple eloped, with their nuptials held on Oct. 25, 1917 in Norwalk, CT, with the news announced on the pages of the Greenville (SC) News. They were nine years apart in age. At the time of marriage, Foye was serving as chief engineer with the Naval Reserves in New London, CT, and Gloria was performing with a theater company performing "Love o' Mike." Foye and Gloria dwelled on Manhattan's East 65th Street and were the parents of Gloria Staniford. Circa 1920, Foye was employed as manager of a motor truck company. Gloria was pictured in the New York Daily News in May 1929 for her portrayal of "Spirit of the Black Mask" at a carnival for charity. The marriage fell apart in late 1929, when Foye, who was earning $17,000 a year in salary, insisted that his wife continue her work on stage, despite her interest in living in ease. She also returned to their home one weekend in tony Eastern Point of New London only to find him surrounded by other women. She filed for divorce, with the Daily News reporting the action. Then by 1930, he wedded again to Cordelia Thompson (March 15, 1900-1970). She had been married and divorced from Hobart Warren Thompson and brought three offspring to the union -- Mary Cordelia Thompson, John Hobart Thompson and McKean Thompson. Foye and Cordelia went on to produce another child of their own -- and Foye F. Staniford Jr. In 1930, they resided in Albany, NY, where he was vice president of Mack Truck. The United States Census of 1930 shows the family employing three servants in the home. They transferred by 1935 to Loudonville, Albany County, NY. Then in May 1938, he was named president of Mack International Motor Truck Corporation, a subsidiary company of Mack Trucks Inc. He also was elected vice president of the parent company with responsibility for sales and then named to the board of directors in December 1938. Cordelia made national news in July 1938 when, while swimming in the surf at the Southampton Beach Club with her friend Mrs. John A. Warner, some $15,000 worth of their jewelry was stolen. The Stanifords lived in Hewlett Bay Park in 1940 and Cedarhurst, Long Island, NY in 1941. He is known to have enjoyed fishing with friend John C. Williams of Princeton and in April 1941, in Key West, they reeled in a tarpon weighing 85 lbs. and measuring 67½ inches in length. During World War II, the company is known to have built vehicles for national defense and public works projects. Tragically, Cordelia's son John, a soldier in the U.S. Army, was killed in Germany in 1945. Later, Cordelia is known to have golfed in tournaments held at the Rockaway Hunting Club. Sadly, Cordelia died in December 1970.
Grandson Foye

Fossett

"Sonny" Staniford Jr. (1931-2019) was born on Feb. 1, 1931 in Albany, NY. As a young man, he was educated at the Pomfret School, an independent boarding school in Connecticut, and the University of Virginia. He served in the U.S. Navy. He was twice-wed. His first spouse was Ellen Breed ( ? - ? ). They are believed to have been the parents of Foye McKean Staniford, William Mansfield Staniford, Ellen Whitman Williams and Louise Blakeney Williams. Foye was admitted to the New York Stock Exchange and served as a senior vice president with the New York financial services firm Pershing & Company. For fun, he spent time with friends at the Tampa Bay Downs racetrack, Lawrence Beach Club and Rockaway Hunting Club. He is said to have dressed colorfully and to have been an avid fan of the New York Giants of the National Football League and the University of Virginia Cavaliers. After Ellen's death, Foye was joined in wedlock with Elizabeth "Lee" ( ? - ? ). He died at the age of 88 on Dec. 30, 2019.
Step-granddaughter Mary Cordelia Thompson (1924- ? ) was born in about 1924. She studied at Miss Porter's School in Farmington, CT and was admitted into membership of the New York Junior League. At her social debuntante in September 1940, she was pictured in the Brooklyn Daily Eagle. On March 23, 1946, in a ceremony held in Trinity Church in Hewlett, Long Island, Mary was united in wedlock with Edward Matthews Crane Jr. ( ? - ? ), son of Edward Matthews Crane Sr. of Rumson, NY. Rev. J. Reginald Moodey officiated at the wedding. The Long Branch (NJ) Daily Record reported that she "wore a white gown of satin and tulle and an heirloom lace veil attached to a coronet of the lace. She carried a bouquet of gardenias." Prior to marriage, Edward had left Princeton University to join the U.S. Marine Corps during World War II and served for two years in the Pacific Theatre.
Step-grandson John Hobart Thompson (1925- ? ) was born in about 1925. He received his education at Phillips Academy in Andover, MA in 1942 and then enrolled at Yale University. Within a year, in 1943, he left school to join the U.S. Army during World War II. He was shipped overseas and was killed in action in Germany on Jan. 26, 1945. A telegram was sent to his mother informing her of the loss. The New York Daily News ran a one-paragraph story.
Step-grandson McKean Thompson (1926- ? ) was born in about 1926. As with his brother Foye, he was educated at the Pomfret School and studied Yale University. During World War II, he joined the U.S. Marine Corps and was deployed in China. After the close of the war, he was employed by Abbott, Proctor and Paine of New York. On June 16, 1951, he was united in the bonds of matrimony with Barbara Ogden Benkhart ( ? - ? ), daughter of George F. Benkhart of Hewlett, Long Island and the granddaughter of Charles Richardson of Sewickley, near Pittsburgh. The nuptials were held at Trinity Church in Hewlett, Long Island, and led by Rev. J. Reginald Moodey. Said the Pittsburgh Sun-Telegraph, "She is a graduate of Miss Porter's School, Farmington, Conn., and made her debut in 1946 at a dinner dance at the St. Regis Hotel, New York and at the Debutante Cotillion there."
~ Daughter Minnie (Schrock) Hostetler ~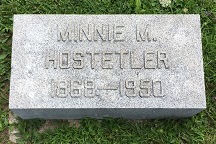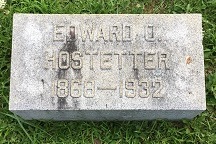 Husband-and-wife graves with the family name spelled differently
Daughter Minnie Schrock (1868-1950) was born on Dec. 6, 1868 in Somerset, a twin with her sister Lillie, who died at birth. She claimed at times to have been born in Illinois.
At the age of 20, circa 1889, Minnie married 21-year-old Edward O. Hostetler (July 17, 1868-1932) -- sometimes spelled "Edwin" and "Hostetter" -- and the son of William M. and Sarah Jane (Knee) Hostetler, the father a veteran of the Civil War.
Evidence suggests that they did not reproduce.
Originally making a home in Pittsburgh, the couple were in South Huntingdon, Westmoreland County, PA in 1900, with him earning a living as a merchant tailor. From there they relocated in about 1910 to El Paso, TX. Then in 1920, they were in Shelbysville, Shelby County, KY, where Edward owned his own tailor's shop. The federal census of 1920 shows that they provided a home for 28-year-old niece Ruth McCollum, a native of West Virginia who worked in Edward's shop, operating a dry cleaner.
The Hostetlers returned during the 1920s to southwestern Pennsylvania and made homes in Johnstown and Monessen, and then by 1930 were back in Somerset, where Edward ran a tailoring and dry cleaning business. The United States Census of 1930 shows Edward's widowed mother Sarah and 21-year-old boarder Helen M. Zenenak living under their roof.
Their home was at 167 West Union Street.
Sadly, burdened with cirrhosis of the liver, the 63-year-old Edwin died in Somerset on Feb. 2, 1932. His remains were placed into rest in Husband Cemetery. His surname was inscribed on his grave marker as "Hostetter."
Minnie continued running the business as a widow. Said the Somerset Daily American, "Blessed with a friendly and kindly disposition, Mrs. Hostetler enjoyed a host of friends and ... was a familiar figure on the street where she always had a friendly greeting for all whom she encountered in her daily walks."
At Easter 1950, she underwent major surgery at Somerset Community Hospital. Several weeks later, she was transferrred to Memorial Hospital in Cumberland, MD to undergo specialized care. She then returned to the Somerset hospital where she spent the final five months of her life. She died there at the age of 81 on Sept. 7, 1950. Her surname, engraved on her grave marker, was spelled "Hostetler."
~ Daughter Susan (Schrock) Walker ~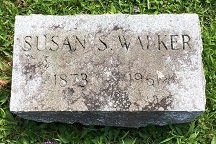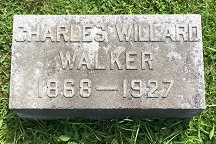 Husband Cemetery, Somerset, PA
Daughter Susan Schrock (1873-1961) was born on Jan. 13, 1873.
On Oct. 6, 1897, the 24-year-old Susan was united in matrimony with Charles Willard Walker Sr. (Nov. 5, 1868-1927), son of Silas and Elizabeth (Walker) Walker. The nuptials were held on a Wednesday at 1 p.m. in the Disciples of Christ Church in Somerset. In reporting on the upcoming event, the Somerset Herald said that "Several hundred invitations have gone out and the wedding will be one of the largest witnessed in Somerset for a number of years, as both the bride and groom are deservedly popular."
The marriage produced two sons -- Dr. Charles "Willard" Walker Jr. and Fred B. Walker.
The family resided on West Union Street in Somerset, where Charles, an attorney, was in private practice. He was an alumnus of Pennsylvania College at Gettysburg, graduating in 1891. He and A.L.G. Hay went into business as law partners from 1893 to 1897. Said the Meyersdale Republican:
From the time of his admission to the bar until the hour of his death, Mr. Walker was promineint in the social and business life of the county-seat. He was a member of the Town Council for several years, and served as president of that organization. He was a Democrat in politics and one of the leaders of the party in the county. His colleagues of the bar are free to credit him with having had one of the finest legal minds in the county. He went into court with his cases well prepared. He practiced in the Superior and Supreme Courts of the State, and in the United States Court. He became the editor of the Legal Journal after the death of H. Frank Yost. He was a member of the Law Library Committee, which built up the present fine Library.
The Walkers were members of Trinity Lutheran Church, where he taught the men's Bible class. He also belonged to the Modern Woodmen of America and the Somerset lodge of the Masons. Susan and her sister Julia Staniford are known to have entertained 60 of their friends at a four-hand euchre and flinch party in August 1904 at the home of their sister Carrie Lambert, with the news reported in the gossip columns of the Somerset Daily American.
On Oct. 10, 1927, just a few weeks before his 60th birthday, Charles was stricken with a cerebral hemorrhage and died the next day. Burial was in Husband Cemetery, with Dr. I. Hess Wagner officiating. An obituary in the Republican said that he "had been in impaired health for about two years, but with the exception of being away from his office for a day or two when he suffered from colds or other disorders, he continued to practice his profession until closing time on Monday evening. He had about thrown off a cold from which he suffered for a week or more. On Monday evening, he remained in an up town office with a friend discussing various matters, returnign to his home at 9:30, apparently in very good spirits. Shortly after reaching his home he took a hot bath and then retired to his bed room, where he read until eleven o'clock. Mrs. Walker, who occupied a room adjacent, was awakened by his heavy breathing, and when she entered, she found him unconscious. Dr. Fred B. Shaffer responded to a telephone call and a while later Dr. Charles Barchfield joined him. The two physicians failed to rouse him from his state of coma. The stroke was superinduced by a siege of stomach troubles and other complications."
Susan spent many years as a widow and spent her winters in Florida. In 1938, she was in St. Petersburg and in 1950 and 1957 in St. Augustine. She also is known to have occupied space in the Balis Apartments in Somerset in 1946.
She died in 1961, possibly in April in Saint Johns, FL. No obituary has yet to be found. Her remains were brought to Somerset and were laid to rest beside her husband's, re-united in death after a separation of more than three decades.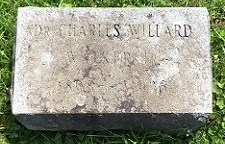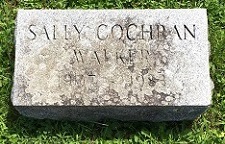 Graves of Dr. Willard and Sally Walker, Husband Cemetery
Son Dr. Charles "Willard" Walker Jr. (1898-1986) was born in about 1898. He was a dental student at the University of Pittsburgh in 1927-1928. Upon his graduation, he passed the Maryland state board examination. On Dec. 11, 1929, in a wedding held in Pittsburgh, he and Sally Cochrane ( ? -1983) became man and wife. At least one daughter was born to this marriage, Suzanne F. Walker. They established a home in Cumberland, Allegany County, MD, where he operated a dental practice circa 1929-1946. As their only daughter was ill, they moved back to Somerset in July 1934, with Willard opening a dental office in the Schenck Building on West Main Street. His specialty was children's dentistry. Unspeakable grief blanketed the family on Nov. 4, 1935, when their daughter Suzanne died at the age of three after suffering from anemia of the spleen and gastro-intestinal bleeding. The Walkers are believed to have relocated back to Cumberland and to have spent their winters in St. Augustine, FL. Willard joined a dental supply company in Pittsburgh in 1946. They also may have had a home in Greensburg, Westmoreland County, PA and were there in 1946-1947. By 1950, they were in Connellsville, Fayette County. Sadly, Sally succumbed to the Angel of Death in 1983. Willard outlived her by three years. He died in 1986. Burial was in the Walker family plot in Somerset's Husband Cemetery.
Husband Cemetery, Somerset

Granddaughter Suzanne Elizabeth Walker (1932-1935) -- also spelled "Susanne" -- was born on April 18, 1932 in Cumberland, Allegany County, MD. She was sickly as a toddler and suffered from anemia of the spleen. She and her parents moved to Somerset in 1934, and her grandmother Susan Walker is known to have returned to Somerset from her home in Cumberland, MD about the same time to provide constant care for the child. At her third birthday, in April 1935, Suzanne received a special birthday party held at her grandmother's home on West Union Street. In reporting on the event, the

Somerset Daily American

said that "Juvenile games were played and refreshments served. The dining room table was attractively decorated in keeping with the Easter season, centered by a large cake appropriately ornamented. Each guests received a purple Easter basket filled with eggs and bunnies." But the girl was not destined to bloom into full childhood. Her spleen anemia grew worse, and in autumn 1935 she began to hemorrhage in her gastro-intestinal tract. She was admitted to Somerset Community Hospital, where the Angel of Death spirited her away on Nov. 4, 1935, at the age of three years, six months and 16 days.

Her remains were placed into the gentle sleep of eternity in Husband Cemetery.

In an obituary, the

Daily American

reported that "In spite of her tender years, Susanne had a host of admiring and affectionate friends to whom her passing has been the cause of profound sorrow."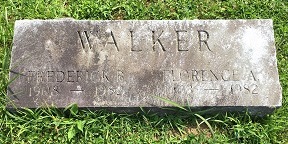 Husband Cemetery, Somerset
Son Frederick B. Walker (1908-1982) was born in 1908. He attended George Washington University in the District of Columbia. In 1934, he was singularly honored when the novel In the Tiger's Cage, by Carolyn Wells, was dedicated in his name. The author was a good friend of Fred's aunt, Julia Staniford, and met her when she was a guest of the Stanifords at their summer home in Somerset. Frederick married Florence (Anderson) Wagaman Marshall (1903-1982). The bride was five to six years older than the groom. She was divorced from two previous husbands, Leon C. Hagaman of Chicago and Meredith R. Marshall of Pittsburgh. As such, she brought three children into her marriage with Frederick -- Lois (Hagaman) Flagle, John Marshall and Mary "Meredith" Holzer. One known daughter was born to the Walkers' union -- Carole Trickett. When the federal census enumeration was made in 1940, the combined family resided together in Somerset, with Frederick employed in a theater as a "theatrical producer." Circa 1941, Frederick was working in New York City. The Walkers had a summer home in Somerset, a stone structure named Ninniewood, comprising 16 acres along Route 53. Then by 1942 they had relocated to Greensburg, Westmoreland County, PA. In 1950, now in Lambertville, NJ, they returned to Somerset to visit Fred's aunt, Minnie Hostetler, who was in poor health in Somerset Community Hospital. They remained in Lambertville in 1952 at the marriage of daughter Meredith. The couple made a home in the early 1980s in Media, Delaware County, PA. Fred and Florence both passed into eternity in 1982, he on Jan. 15 and she on March 22. A short obituary appeared in the Somerset Daily American. The remains were brought back to Somerset to repose in Husband Cemetery.
Granddaughter Carole Walker (1937- ? ) was born in March 1937 in Somerset. As had her older step-sister Mary Meredith, Carole studied at the Solebury boarding school in Bucks County, PA. Although it was kept hidden for more than six decades, she as a teenager was the subject of sexual abuse at Solebury, drawn by a language teacher into a sexual relationship. After leaving Solebury, she graduated from Pembroke College and Brown University and did post-graduate studies at Smith College in Northampton, MA. In 1962, she wedded George A. Trickett Jr. ( ? -2015), son of George A. Trickett Sr. of Winchester, MA. News ot their engagement was published in the

Boston Globe

. At the time, George was studying at Boston University. The couple's four daughters were Jennifer Trickett, Heather Trickett, Hannahlore Trickett and Sarah Trickett. Carole was a social worker, where she spent her career. Circa 1982, Carole dwelled in West Fairlee, VT and in 2014 in Farmington, ME. She also has been a teacher and poet and taught writing workshops. Carole tried during the 1990s to meet with Solebury administrators and hold them accountable for the abuse she had suffered years before. The requests apparently fell on deaf ears. At the age of 76, in about 2014, Carole drove to Bucks County to testify before a grand jury about the matter. A related article with her quotes was printed in the

Philadelphia Inquirer

, finally a public exposeé to the truth.
Great-granddaughter Jennifer Trickett ( ? - ? )
Great-granddaughter Heather Trickett ( ? - ? )
Great-granddaughter Hannahlore Trickett ( ? - ? )
Great-granddaughter Sarah Trickett ( ? - ? )
Step-granddaughter Lois Hagaman (1923-1963) was born in about 1923 in Ohio. At the age of 17, she lived with her mother and stepfather in Somerset. As the step-daughter of a theatre producer, she was considered "an old hand at haunting the back-stages of productions," said the Somerset Daily American. She graduated from the University of Arizona. During the World War II years, she was employed in scientific research at the Tiffany Foundation laboratories on Long Island. During the winter of 1946, she worked in Hollywood doing research related to technicolor filming. At the age of about 23, on July 3, 1946, she was united in the bonds of holy matrimony with Charles Denhard Flagle ( ? -2016), son of Charles Denhard Flagle of Baltimore, MD. News of the marriage was reported in the Somerset Daily American, which noted that Rev. Dr. George L. Roth of St. Paul's Evangelical and Reformed Church performed the nuptials, "Before an improvised altar built about the stone fireplace at Ninniewood, the Frederick Walker home.... Masses of rhododendron, white lilies and blue delphinium banked before the fireplace and, flanked on both sides by lighted tapers, formed the background. [She] wore white embroidered organdy, with marquisette off the shoulder yoke, long sleeves, and long full skirt. Her fingertip veil was of tulle, with heirloom rosepoint lace framed as a Dutch coif about her lovely red-gold hair." At the time, Charles had received a degree from Johns Hopkins University and was earning a living as an investment banker with a firm based in Hartford, CT. The couple made a home in Baltimore and produced a family of offspring -- Charles "Lawrence" Flagle, Judith Ellen Anderson and Douglas A. Flagle. They made a home in Ruxton, MD at 1822 Circle Drive. Charles went on to a career in health care education as a professor with Johns Hopkins Bloomberg School of Public Health. Said the Baltimore Sun, he "was well known for bringing the field of operations research and the use of technology to the forefront of public health." The family were members of First Unitarian Church. The Flagles were plunged into grief when Lois passed away at the age of about 40 in 1963. Charles outlived her by more than half a century and married again to Janet W. ( ? - ? ). Their union endured for 41 years until cleaved apart by death. Upon retirement, he was named professor emeritus at Johns Hopkins and maintained a home in Towson, MD. At the age of 97, on Sept. 4, 2016, he was swept away by the Angel of Death as a resident of Blakehurst Retirement Community. An obituary ran in the Sun, with a memorial service held at the Episcopal Church of the Redeemer.
Great-grandson Charles "Lawrence" Flagle ( ? - ? ) was born in (?). He attended the University of Maryland and obtained a bachelor's degree from Towson State University. In September 1976, in a ceremony held at the county courthouse in Towson, MD, he was joined in wedlock with Towson State University senior Judy Marie Riley ( ? - ? ), daughter of Hugh P. Riley Jr. of Berwind, WV. News of their marriage was announced in the Baltimore Sun. Lawrence was deceased by 2014.
Great-granddaughter Judith E. Flagle ( ? - ? ) wedded (?) Anderson. Her home in 2014 was in Sequim, WA.
Great-grandson Douglas A. Flagle ( ? - ? ) dwelled in Towson, MD.
Step-grandson John Marshall (1930- ? ) was born in about 1920 in Ohio. In 1940, when he was 10, he dwelled in Somerset with his mother and stepfather. Then when he was 15 years of age, in 1945, he studied at Massanutten Military Academy in Woodstock, VA. John dwelled in 1982 in Newark, NJ and in 2014 was in Bethesda, MD. He was the father of Meredith Marshall and perhaps several sons.
Step-granddaughter Mary "Meredith" Marshall (1931-2014) was born in about 1931 in Pennsylvania. Circa 1945, she was a student attending Linden Hall at Lititz, PA and in 1949 graduated from the Solebury School in Bucks County, PA. Upon her graduation, she relocated to Baltimore, MD. On May 10, 1952, when she was about age 21, she was joined in the bonds of wedlock with Austin Holzer Jr. ( ? - ? ). The ceremony was held in Baltimore' Emmanuel Reformed Episcopal Church. Their union endured for an extraordinary 62 years until ended by her death. They were the parents of Andrew Timothy Holzer, Marshall David Holzer Sr. and Alison Duckworth. From Baltimore, the couple relocated to Columbia, MD and once again to Boston by 1982. In time, they migrated to Burlington, VT and remained for good. The couple were members of the First Unitarian Universalist Society of Burlington. Two old friends from Baltimore stayed in touch over the years -- Nancy Weimer and Bette Thomson. The Holzers grieved in 1995 at the death of their son Andrew. Sadly, having endured Parkinson's Disease for many years, she was admitted to Vermont Respite House, where she succumbed to death on Oct. 11, 2014. Her obituary appeared in the Burlington Free Press.
Great-grandson Andrew Timothy Holzer ( ? -1995) was born in (?). Sadly, at the age of 35, he died in Vermont Respite House in Williston, VT on Feb. 22, 1995. An obituary in the Burlington Free Press disclosed that the cause of death was AIDS.
Great-grandson Marshall David Holzer Sr. ( ? - ? ). was twice wed. His first wife was Lucie ( ? -living). The couple bore three children -- Celine Ann Holzer, Marshall David Holzer Jr. and Martin Holzer. After a divorce, Marshall married again to Yulia ( ? -living). They were the parents of Danil Holzer and made a home in 2014 in Moscow, Russia. Marshall Sr. is believed to be Chairman/CEO of Eastern Continental Investments Ltd. of Plattsburgh, NY, a firm with interests in the industrial equipment sector.
Great-granddaughter Alison Holzer ( ? - ? ) was joined in marriage with (?) Duckworth ( ? - ? ) and later Douglas Bergstein ( ? - ? ). She is the mother of Geoffrey.
Copyright © 2016-2020 Mark A. Miner
Content for this biography graciously shared by Linda Marker, the late Olive (Rowan) Duff and the late Donna (Younkin) Logan.