At the age of 17, on June 12, 1859, she was joined in holy wedlock with 17-year-old Jacob J. Rush (March 30, 1841-1922), the son of Jehu and Mary (Hanna) Rush, and a native of Fort Hill, Upper Turkeyfoot. Their wedding ceremony took place at the home of Sarah's parents, with justice of the peace Alexander Hanna officiating.
Jacob stood 5 feet, 5 inches tall and weighed 153 lbs. He had a dark complexion, grey eyes and black hair.
Jacob's grandparents, William and Sarah (Kirkpatrick) Rush, were said by the Somerset Herald to have been "among the early pioneers of the Jersey settlement. Jacob Rush, Sr., his grandfather, was a Revolutionary soldier, and his name appears in the records of the Turkeyfoot Baptist church as a member in 1775."
Sarah and Jacob went on to produce a large family of 13 children, of whom two died in infancy, unnamed, and the other known as follow: Emma Jane Younkin, Sabina Dull Forquer, Mary Enos, Frederick "Logan" Rush, Grant Rush, Harvey Rush, Edna Rush, Anna Kutz, Margaret Ellen Sellers, Maude Crow, Lloyd Scott Rush and Sarah "Sadie" Parnell. Sadly, their baby Edna died at age 13 days on March 23, 1874.
Continuing in the military tradition, four years into marriage, Jacob went to New Centerville to join the Union Army, recruited by Martha's step-cousin, Capt. William Meyers Schrock. The Somerset Daily American said that "It was the only occasion during the course of the Civil War that any unit was mustered within the area of Somerset County." The new infantrymen were assembled in the flat field at what today are the grounds of the annual Farmers and Threshermens Jubilee. Four other Younkin cousins and spouses joined the company as well.
Initially known as Capt. Schrock's Independent Company of Volunteer Infantry, it later became part of Company H of Ramsey's Battalion, Pennsylvania Infantry. The soldiers remained in New Centerville until July 6, 1863, following the Battle of Gettysburg, when they received orders to march to the nearby town of Berlin to receive weapons. The men then were ordered to report to Huntingdon, PA, and served on provost duty during a military draft. In early September 1863, recounted the History of Bedford and Somerset Counties, Pennsylvania, the company marched to Harrisburg and thence to Gettysburg:
After the war's end, Jacob and Sarah made their home for six years in Westmoreland County, PA, and then spent a year in Fayette County before returning to Ursina in about 1872. He was a charter member of the Ross Rush Post of the Grand Army of the Republic in Ursina, along with other Younkin kinfolk including son-in-law LeRoy Forquer, Harrison K. Younkin, Balaam Younkin, John Enos (of the family of Samuel G. and Mary Ann [Younkin] Phillippi), Marcellus Andrews and Charles Rose.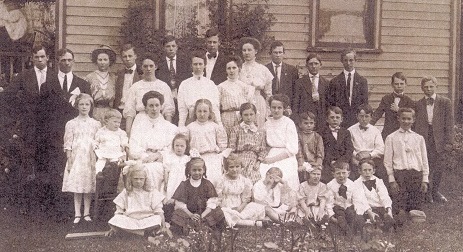 Above and below, family groups at the Rushes' 50th wedding anniversary in 1909. Courtesy Blair Younkin Jr.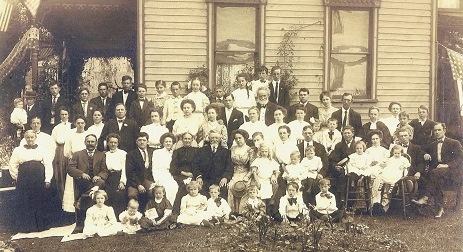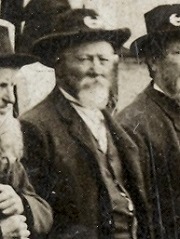 Jacob at a Civil War soldiers
reunion at the Jersey Church
In 1891, he was awarded a federal pension as compensation for wartime injuries or ailments. [App. #1.046.653 - Cert. #761.165] His friends John J. Farling and G.W. Beck signed affidavits confirming his claims of poor health. When examined by military surgeons in November 1891, he complained that "I have very weak eyes, I can't read any print without glasses; I have catarrh badly. I have rheumatism in right shoulder + arm. My heart beats very fast. Often can't sleep at all in bed. I get shortness of breath + difficult breathing."
Said a newspaper, "he followed the occupation of farmer for a number of years, when he received the appointment of gauge in the United States Internal Revenue Service and moved to Rockwood where he remained for ten years, until he severed his connection with the government service, and moved to Ursina where he resided for the last 30 years, having built a fine home in which he died. He was for many years a member of the Church of God and a sincere Christian. He was a devoted husband and father, honest and reliable in his dealings, a good neighbor, generous and kind to all. He was of a cheerful and genial disposition and bore his long sickness with patience and fortitude."
Double tragedy rocked this family when their sons Harvey and Grant, both employed as trainmen with the Baltimore and Ohio Railroad, were killed on the rails in separate accidents, Harvey's death taking place on Sept. 28, 1896 while on a siding in Confluence, and Grant's two years later on Oct. 26, 1898, in Baltimore, MD, with burial at Ursina.
The couple celebrated their golden wedding anniversary on June 12, 1909. At the dinner, 33 grandchildren and eight great-grandchildren attended. Said a newspaper, "An excellent dinner was served on the lawn and all present did justice to this well prepared meal. The Confluence Band was present and played the entire afternoon much to the pleasure of all."
Sarah died five months after the anniversary, and after a month of battling typhoid fever, at the age of 68 on Nov. 9, 1909, with burial in Jersey Church Cemetery. A local newspaper reported that she had been "ill for five weeks of typhoid fever, and had recovered her health to such an extent that the nurse was preparing to leave, when the patient died of heart failure."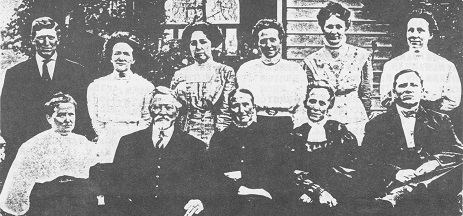 Above: Sarah, Jacob and children, back, L-R: Scott Rush, Sabina Forquer, El Fuller, Mary Enos, Emma Younkin, Ann Kutz. Front, L-R: Margaret Sellers, Jacob & Sarah, Sadie Parnell, Logan Rush, published in the book Draketown: Past & Present. Below: News of the Rushes' 50th anniversary in 1909; and Jacob's obituary, 1922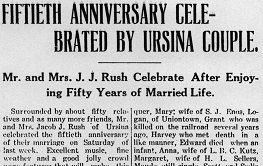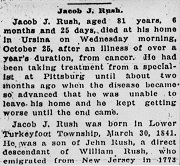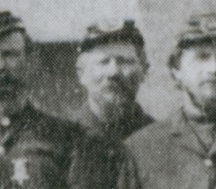 Jacob among fellow members
of the Ursina American Legion
Jacob survived her by 13 years. At the age of 74, he married again on June 6, 1915 to widow Jemima (Lichliter) Harshman of Ursina. Rev. Jonathan S. Boyd officiated. Among the witnesses to the wedding were Ada Younkin and George Dull. The daughter of Jacob and Martha (Williams) Lichliter, she had lost her first spouse Albert Harshman in July 1911. Their marriage lasted for seven years.
In 1916, his monthly pension check totaled $16 but by 1922 it had increased to $72. Suffering from cancer of the lip, face and neck glands, which he had first noticed a dozen years earlier, Jacob's health began to decline. He underwent radium and X-ray treatments, which helped at first, but did not ultimately succeed.
His son L.S. Rush often stopped by the house to make sure Jacob and Jemima's needs were being met. With the father's eyesight and hearing very poor, at times the son had to lead the father to the bathroom and around the house.
Jacob passed away in Ursina on Oct. 25, 1922, at the age of 81 years, six months and 25 days. An obituary in the local newspaper said that his death had been caused by cancer and that he "had been taking treatment from a specialist at Pittsburg until about two months ago when the disease became so advanced that he was unable to leave his home and he kept getting worse until the end came." Funeral services were held in the Rush dwelling, led by Rev. Philip Yates, with burial in the Jersey Church.
"The funeral was a large one," said a newspaper. "All the children were present with the exception of Mrs. Kutz." Six of his grandsons served as pallbearers, among them Melvin and Gilbert Sellers, Fred and Ward Younkin and Harry and Walton Enos. Additional military escorts included Hiram Frantz, son-in-law Le Roy Forquer, James K. Johnson, S.M. James and I.L. Hall. Those who traveled to attend the funeral were Logan Rush, Mrs. Max Rush, Sadie Workman, Sadie Hughey, Russell Younkin, Annie Swan, William Swan, Mr. and Mrs. Norman Rush, Ira Rush, Mrs. Robert Swan and Mary Miller of Connellsville; Maude and J. Benton Crow, George Titlow, John Boyle and John Thompson from Uniontown; B.F. Hanna and Bruce Harned, Rockwood; Mrs. Ward Dull of Meyersdale; Ellen Brougher, Mr. and Mrs. Fred Ream and son, and Ellen Crossen of Kingwood; Mrs. Gebhart of Casselman; Warren Rush and James Rush, Philadelphia; and I.T. Huff. H.L. Campbell and E.G. Kaiser of Humbert. The newspaper reported that he was survived by 43 grandchildren, 27 great-grandchildren and one great-great grandchild.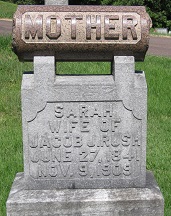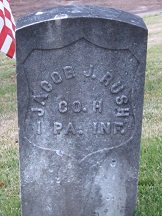 Graves of Sarah and Jacob, Jersey Baptist Church Cemetery
Many years later, on Oct. 2, 1966, the Somerset County Historical and Genealogical Society dedicated a monument to honor the company, with Jacob's name inscribed, placed on the site of the mustering ground. Local attorney Robert Keim served as master of ceremonies and Rev. Gene Abel gave the invocation, Judge Thomas F. Lansberry the principal address and Rev. Henry B. Reiley Jr. the dedication prayer. Lansberry remarked in his comments that the local recruits "had ears to hear the call of Father Abraham," said the Daily American. "This was not hearing in the ordinary sense but it was that 'inner ear' through which they heard the call that challenged them to answer the call to colors. He said that they had real courage, not the false type which causes some beatnik to throw a molotov cocktail into a store window, or causes a riot in Watts or Cleveland, but that kind of courage which sends a man through the valley of the shadow of death for the sake of a cause which he considers to be bigger than himself." Also present at the event was George Hoburn, who designed and built the monument, and Bradley Cramer, grandson of Charles Cramer who first developed the monument idea.
Jacob and his son-in-law Leroy Forquer are pictured among members of the Harry Lichty Post of the Ursina American Legion in the 1993 book Draketown: Past and Present.

LeRoy Forquer
~ Daughter Sabina Dull (Rush) Forquer ~
Daughter Sabina Dull Rush (1862-1944) was born on Feb. 22, 1862.
In 1884, at the age of 22, she wed 41-year-old widower Le Roy (or "Leroy" or simply "Lee") Forquer (1843-1932), a veteran of the Civil War who was nearly twice her age. He was a native of Brandonville, Preston County, WV and the son of Samuel and Isabelle (McGrew) Forquer. As such, Leroy was only two years younger than his wife's father.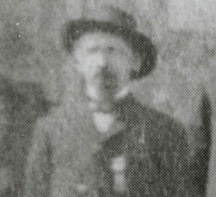 LeRoy Forquer
During the war, Leroy served as a corporal with the 4th West Virginia Cavalry, Company I.
Leroy had been married before -- his first wife Mary A. Brooks (Harned) Forquer dying in 1879, with burial under a large obelisk monument in the old section of the Jersey Church Cemetery. Thus Sabina inherited one stepson, James C.M. Forquer, with another William Harned Forquer having died in infancy.
Sabina and Leroy had five more children of their own -- Rush M. Forquer, Mary Alice Forquer, Sarah Isabelle Coffroth, Carrie Van Sickel and Anna Jacobs.
In 1879, Leroy was awarded a pension as compensation for his Civil War service. [App. #321.750, Cert. #244.188] After Leroy's death, Sabina began receiving his Civil War pension payments. [App. #1.727.586, Cert. #A-12-21-32 Pa.] In early adulthood, he was a teacher in Brandonville, Preston County, WV. In 1871, he moved to Ursina, where he became a merchant in partnership with John Faidley, and later went out on his own. From 1889 to 1893, he served as postmaster of Ursina.
In 1884, he was mentioned frequently in the book History of Bedford, Somerset and Fulton Counties, Pennsylvania (Chicago: Waterman, Watkins & Co.) In the volume, he received special credit as follows: "Many interesting facts relative to early families and early events have been furnished for this chapter by Mr. Lee Forquer, of Ursina, who has made a special study of the early history of this region." At one time he possessed a complete record of the minutes of the Jersey Church spanning 1775 to 1860.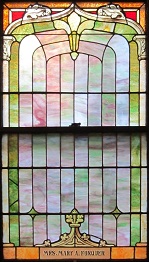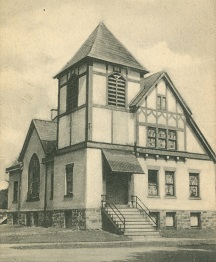 Stained glass memorial window in the Turkeyfoot Valley Baptist Church, Confluence, in memory of LeRoy's first wife


LeRoy with fellow Rush Post
members at the Jersey Church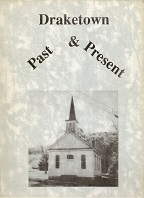 Book picturing LeRoy
LeRoy was especially active with the Ross Rush Post #361 of the Grand Army of the Republic (GAR) in Ursina. The Rush post, named after a local soldier killed by an enemy sharpshooter in Hanging Rock, VA, was founded in July 1883 as part of a national organized effort to advocate for patriotic education, make Memorial Day ("Decoration Day") a national holiday, lobby Congress to establish regular veterans' pensions and support Republican political candidates. In his flourishing handwriting, LeRoy took minutes of that inaugural meeting, stating that: "Post assembled, and was mustred, in due form, by Commander Charles J. Harrison, of R.P. Cummins Post No. 210, Department of Pennsylvania Grand Army of the Republic, by Special Order No. 109 (Commander Harrison, of Somerset Post having been duly instructed by Order above mentioned), to muster Rofs Rush Post No. 361 (Ursina Penna.) G.A.R."
The following officers were mustered and installed: Commander, Enoch D. Yutzy.; Senior Vice Commander, Benjamin F. Snyder. Junior Vice Commander, George W. Anderson. Chaplain, thomas W. Anderson. Quarter Master, Noah Scott. Surgeon, none. Officer of the Day, William H. Kessler. O.G., Jackson Lenhart. Adjustant, LeRoy Forquer. Sergeant Major, Alfred M. Snyder. Quarter Master Sergeant, Jerome B. Jennings. Comrades mustered, Jacob J. Rush, William Shaw, Andrew Holliday, William R. Thomas, Harrison Younkin, Abram A.Miller, Marcellus Andrews, Harrison Vansycle, Charles Rose, Isaac Vansycle, John Enos, Samuel Oneal, Eli Hann, Andrew J. Cross, Sylvester Herring, Samuel Nicola.
In May 1912, when the new First Baptist Church of Confluence -- nicknamed the "Mountain Chapel" -- was dedicated, LeRoy made a donation so that a stained glass window could be named in memory of his first wife Mary. It extended from floor to ceiling, with Mr. and Mrs. Hulda Mountain and Mrs. Alfred King also named in memoriam. Other memorial windows in the sanctuary honor Amanda (King) Younkin, first wife of Balaam Younkin and daughter of Barbara (Younkin) King, Lucinda (Sweitzer) Younkin, Jehu and Mary Ann (Ream) McMillan of the family of Samuel W. Ream, Mary A. Brooks (Harned) Forquer (first wife of LeRoy Forquer of the family of Frederick Dull), Ruth Rush, Mr. and Mrs. N.B. Critchfield, Rev. and Mrs. J.R. Brown, Rev. and Mars. W.P. Fortney and daughter Ruth, Almira Lenhart, Mr. and Mrs. Noah Bird, Ella Bird and Mr. and Mrs. Eli Osler.
In describing the dedication, the May 9, 1912 edition of the Meyersdale Republican reported: "The church is a neat building with cut-stone foundation, the latter being high enough over ground to give a commodious basement where the heating apparatus is located, and this basement can be finished for class rooms or other purposes, should the growth of the congregation require it. The style of architecture is Gothic, the walls being of pressed brick of a light neutral color; the gables are of concrete, with slated roof. The exterior of the building, while neither imposing nor massive, has an air of cozy comfort and refinement about it that cannot fail to please.... The pews, doors and finish are of quartered oak, frescoed walls and ceilings done in panel work, the latter being of light tint, with the light softened through windows of stained glass, make a pleasing effect that must be seen to be appreciated."

LeRoy's prominent signature
Tragedy swept over the family during World War I when married son James, an officer with the Engineer Reserve Corps, died of pneumonia meningitis in Carnegie, PA. Leroy died of kidney and hardening of the arteries at the age of 89 on Oct. 26, 1932. In a lengthy obituary, the Meyersdale Republican noted: "Among those attending the funeral were: Mrs. Gertrude Forquer, Louise Forquer, Eugene Forquer, Mr. and Mrs. Frank Hart, and Neri Hart, Carmichaels, Pa.; Dr. and Mrs. A. G. DeFoe, Bruceton Mills, W.Va.; Mrs. Dayton Forquer, and Mr. and Mrs. William Smith, of Brandonville, W.Va.; Mr. and Mrs. Wm. Morgan, Albright, W.Va.; Lee A. Smith and Miss Lillian Smith, Morgantown, W.Va.; Mr. and Mrs. J. Benton Crowe, and C. F. Smith, Uniontown; Mrs. Alletta Mayer, and Rev. Lorring Howell and family, Amboy, W.Va.; Rev. J. H. Bush, Markleysburg; Mr. and Mrs. F. M. Parnell, Mr. and Mrs. Rush Parnell, Louise Parnell, Wilson, Pa.; Mr. and Mrs. L. S. Rush, Acosta; Mr. and Mrs. H. L. Sellers, Confluence; Mrs. Calvin Lephart, Casselman, Pa.; Mrs. Ellen Crossen and Mr. and Mrs. Fred Ream, Kingwood, Pa.; Mrs. Wm. Heil, Casselman, Pa.; Earl and Mrs. Ruth Sellers, Connellsville."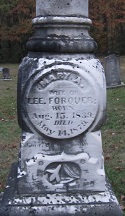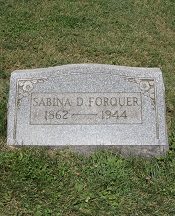 Graves of Leroy's wives Mary and Sabina, Jersey Baptist Church Cemetery
Suffering for two decades from diabetes, Sabina contracted gangrene of the left leg. The infection could not be cured, and her health declined rapidly. She died at age 82 on June 28, 1944. Burial was in the Jersey Church Cemetery, with Rev. Harold S. Kinard preaching the funeral. At her death, said the Meyersdale Republican, of her 11 living grandchildren, six were serving in the U.S. military during World War II. One or more of their children was underage at the time of Sabina's death and thus was entitled to Civil War pension payments until reaching the age of maturity. [XC # 2.654.000]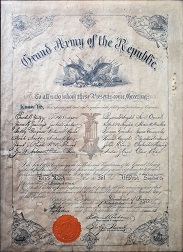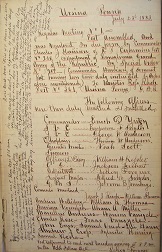 Ross Rush Post charter and inaugural meeting minutes, July 23, 1883, both bearing LeRoy's name. Courtesy Sons of Union Veterans of the Civil War, Mt. Union Church Camp #502. Below: LeRoy stands 2nd from left with Rush Post members at the Jersey Church cemetery.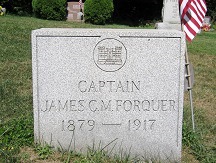 Jersey Baptist Church Cemetery
Stepson Capt. James C.M. Forquer (1879-1917) was born on April 26, 1879 in Ursina, with his mother tragically dying less than three weeks after the birth. He was five years old when his father married our Sabina Rush. At the age of 34, on May 17, 1913, James married Gertrude Westbrook Hart (Nov. 2, 1882-1958), daughter of W. Franklin "Frank" and Mary Olive (Rich) Hart of Carmichaels, Cumberland Township, Greene County. The couple produced two children -- Mary Louise Warnick and Eugene Forquer. He served in the U.S. Army during the Spanish-American War. Afterward, he studied engineering at West Virginia University, with a commission in the student cadet corps and receiving a gold prize for writing "the best thesis on military tactics of the graduating class," said the Pittsburgh Post-Gazette. He obtained employment as a civil engineer with the Pennsylvania Railroad and in the mid-1910s was involved with the Pennsy's eastern operations. He was a member of Beta Theta Pi and the American Society of Civil Engineers. Then during World War I, he left the railroad to join the Engineer Reserve Corps, where he received the commission as a captain and was stationed in Carnegie on the outskirts of Pittsburgh. Their address was 407 Mansfield Avenue. In November 1917, he was expecting to be summoned by the War Department for active military service in France. Tragically, he contracted pneumonia meningitis and la grippe and succumbed on Nov. 18, 1917 at the age of 38 years, six months and 22 days. After a funeral service held in their home, James' remains were transported to Ursina for additional services at his father's home followed by burial at the Jersey Church Cemetery. A notice of his death was published in the Pittsburgh Press. In widowhood, Gertrude returned to her home area of Carmichaels, Greene County, PA where, in 1919, the Meyersdale Republic reported that she received as visitors her husband's parents and brother Rush Forquer visiting from Rochester, NY. She never remarried over the remaining four-plus decades. She appears to have spent her widowed years on a farm in Carmichaels. Further horror blanketed the family during World War II when son Capt. Eugene Forquer died on a Japanese ship as a prisoner of war. At the age of 75, she suffered a heart attack and was admitted to the Women's Hospital in Pittsburgh, where she died a day later on Aug. 22, 1958. Son-in-law Ernest Warnick of Washington, PA signed her official certificate of death. Her remains were placed into eternal repose in Glades Cemetery in Carmichaels.
Step-granddaughter Mary Louise Forquer (1916- ? ) was born in 1916 in Carnegie, Allegheny County, PA. She was but one year of age when her father died and likely had little if any memory of him, and grew up in Carmichaels, Greene County. She became a teacher and circa 1942 taught biology and English at Uniontown Senior High School. On July 27, 1943, in Luzerne County, PA, the 27-year-old Mary Louise was joined in wedlock with 28-year-old Ernest Leon Warnick ( ? - ? ), son of Ernest A. and Nellie S. (Williams) Warnick of Wilkes-Barre, Luzerne County. Rev. Ira Legrande Crooks officiated at the ceremony held in Carmichaels.At the time, Ernest was serving as a first lieutenant in the U.S. Army and living at 281 Carey Avenue in Wilkes-Barre, although he probably had met Mary Louise when he was serving as an electrical engineer with West Penn Power in Washington, Washington County, PA. During World War II, Ernest served with the Signal Corps and spent 16 months in the Pacific Theatre. Once the war ended, the Warnicks returned to Washington.
Step-grandson Capt. Eugene Forquer graduated in 1938 from Penn State University, where he was a member of the Reserve Officer Training Corps (ROTC). He then was employed as a traveling salesman for a nationally known soap company. When called to active duty in the U.S. Armed Forces in June 1941, he underwent training at Fort Jackson, SC. He was deployed to the Pacific Theatre in the "Philippine Campaign," in order to train native troops, arriving just two weeks before the Japanese attack on Pearl Harbor. On Dec. 29, 1941, he sent a cablegram to his mother stating that he was "enjoying the War," said the Uniontown Morning Herald. He then became part of the campaign in Bataan and saw action at Corregidor. Tragically, in May 1942, he went missing and was unaccounted for when Gen. Jonathan Wainwright surrendered the Allied forces at Manila, and was presumed to be captured. The family was unaware of his fate for years. Special prayer services were held at his home church, Glades Presbyterian Church in Carmichaels. In May 1943, his family received word from the War Department that he was listed among Japanese prisoners of war. During his imprisonment, he kept a diary which he later buried at a prison camp in Cabanatuan. His last entry, written on Oct. 15, 1944, stated that he was on a prison ship in Manila harbor and feared it would be sunk by American B-29 bombers. His very last word in the diary was "Kismet" -- translated to "It was fated." At the end of the war, on or about Aug. 4, 1945, the War Department released names of the casualties, with Eugene listed among the dead in the Pacific. His secret diary was found after the Allies recaptured the Philippines, and sent to the War Crimes Commission, with a copy forwarded to his mother. Reported the Pittsburgh Press, "Thus ended the life of a soldier who had put up one of the finest battles on record to survive against all odds. Starved, beaten and suffering from beri-beri, pellagra, malaria and amoebic dysentery, Capt. Forquer recorded his fight in the diary for nearly two years." Among his entries in the diary, he wrote on July 16, 1943: "Most of the guards who are not armed with rifles carry a hoe or pick handle which they use frequently. I have seen a good, stout hoe-handle splintered on some unfortunate's back. At other times they are made to kneel down while the guard proceeds to administer, which usually consists of a combination of blows with any kind of club hand, kicking in vital spots, such as the kidneys and groin. If any kind of blow is warded off by an upraised arm or by ducking, it seems to only infuriate the guard to a higher pitch of brutality." His diet at times consisted of a scoop of rice mixed in with greens, green soup and a small ear of corn. He also was forced to subsist on the leaves of beans and okra, stalks and leaves of corn, papaya trees, fried grubs, cats, dogs, frogs, rats, roots and lizards -- anything they could chew and swallow.

Forquer properties in Ursina, 1876, Atlas of Somerset County, on either side of
North Fork Creek and one adjacent to the Ursina & North Fork Railroad
Daughter Mary Alice "Mayme" Forquer (1885-1979) was born on Feb. 6, 1885. She never married but was a teacher for decades in the Meyersdale School District. She lived in Markleysburg in 1977. She died in February 1979 and rests for eternity in the Jersey Church Cemetery in Ursina.
Daughter Sarah Isabelle "Sadie" Forquer (1888-1977) was born on Aug. 17, 1888 in Ursina. As an adult, she earned a living as a bookkeeper in Ursina. Sadie married fellow bookkeeper Alexander "Ward" Coffroth (1887- ? ), son of Alexander Hamilton and Gertrude (Ward) Coffroth, and a native of West Virginia. The couple was wed on July 18, 1920, when Sarah was age 31 and Ward 33. They lived in Confluence, where Ward continued his occupation as a payroll clerk, and where they were members of the Calvary United Methodist Church. They had four known children, James Merwin Coffroth, Dr. Leroy Ward Coffroth, Hu Louise Blake and Frederick F. Coffroth. Sarah died in Somerset Community Hospital on July 7, 1977, at the age of 88. Burial was in Somerset County Memorial Park, with Rev. H. Carl Buterbaugh officiating.
Grandson Leroy Ward Coffroth ( ? -1985) was a 1950 graduate of Thomas Jefferson University, 1950 and interned at Bryn Mawr Hospital and was a resident in anesthesiology at Allegheny General Hospital, Pittsburgh. He practiced in Somerset from 1953 to 1961 and was in residency in Pittsburgh from 1961 to 1964 when he moved to Sacramento. He was a Navy gunnery officer in World War II, taking part in the invasions of Leyte Gulf, Linguian Gulf and Okinawa, and during the Korean War was a medical officer on Guam. He was active in the profession as certified fellow in anesthesiology with the American College of Anesthesiologists and as a member of the American Medical Association and American Society of Anesthesiologists. He also was active with the Sacramento Chapter of Sons of American Revolution, Scottish Rite Masonry and Ben Ali Temple of the Shrine in Sacramento, and served on the boards of the Sacramento Safari Club and California Wildlife Federation. He died on May 24, 1985 in Sacramento, with a lengthy obituary in his hometown newspaper, the Somerset Daily American.
Grandson Frederick F. Coffroth was an attorney in Somerset in 1977.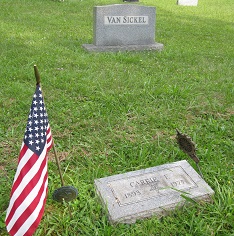 Carrie Van Sickel's grave, Ursina Cemetery
Daughter Carrie Forquer (1893-1977) was born on July 6, 1893 in Ursina. She married Ralph W. Van Sickel (April 28, 1893-1966), son of William Ellsworth and Cora (Anderson) Van Sickel of Ursina. During World War I, Ralph served as a private with the 20th U.S. Engineers, enlisting on Feb. 9, 1918, and training at Camp America University in Washington, DC. The Van Sickels dwelled in Ursina and produced two sons, Robert E. Van Sickel and Donald W. Van Sickel who died in infancy. Carrie was active in the community as a member of the Eastern Star of Somerset, United Methodist Church of Confluence, Ursina American Legion Auxiliary and Daughters of the American Revolution. Ralph belonged the the local Masons lodge. In January 1964, he was elected president of Ursina Borough Council, with Mrs. Blair Younkin appointed to be borough auditor. For the last 11 months of his life, Ralph was stricken with recurring cancer of the rectum which spread to his abdomen. He was admitted to Somerset Community Hospital, where he succumbed in 1966. Carrie survived him by 11 years and made her home in the Yough Apartments. She is known to have traveled to visit relatives in Florida in February-March 1976. She died at home at the age of 83 on April 9, 1977. Burial was in the Ursina Cemetery, with Rev. Arthur Gotjen leading the service. An obituary was published in the Somerset Daily American.
Grandson Robert E. Van Sickel (1930-2014) was born on April 15, 1930. After high school graduation, he attended Bethany College in West Virginia and played varsity baseball and football. He married Doris E. Augustine (Aug. 13, 1933- ? ), and their marriage endured for 64 years until the separation of death. They produced two children, Christine Richey and William E. Van Sickel. Said a newspaper, Robert "hauled lumber, mine posts, and steel for a number of years. In 1956 he began a banking career. He managed banks in Markleysburg, Meyersdale, Stoystown and Berlin. He was the Senior Vice President in charge of Loan Administration at National Bank of Western Pennsylvania. He then joined a consulting firm working at banks in eastern PA and MD. He was a substitute teacher at Somerset Vo-Tech for several years and a caretaker at Yough Housing in Confluence. He had a pilot's license and made his first solo flight at age 17. He also owned his own plane for several years. Bob was an avid golfer, who loved Middlecreek Golf Course and was treasurer of the Industrial Golf League for many years. He was most proud of his induction into the Somerset County Baseball Hall of Fame. At one point, he was invited to a tryout camp for the Pittsburgh Pirates as a catcher."
Sadly, Robert died on Nov. 27, 2014 at the age of 84, with burial near his parents' graves in Ursina Cemetery, following a funeral service led by Rev. Dr. Arthur J. Gotjen.
Son Rush M. Forquer (1891-1978) was born on Jan. 23, 1891 in Ursina. He made his home in Rochester, NY in 1919-1932 and in Boca Raton, Palm Beach County, FL in 1977. He was a member of the Kiwanis Club and enjoyed playing golf in its tournaments held at the Boca Raton Hotel and Club. He died in Boca Raton on Oct. 8, 1978.
Daughter Anna Forquer (1896-1980) was born on Feb. 16, 1896 in Ursina. She wed Thomas J. Jacobs (1893-1973), a native of Somerfield, Somerset County, but did not reproduce. She was a lifelong member of the Ursina Church of God and the Women's Fellowship for Christian Service. Robert passed into eternity at the age of 79 on May 2, 1973. Her home in 1977 was in Ursina. Anna survived him by seven years. She died at the age of 84, in the Fazio Nursing Home in Markleysburg, on Oct. 23, 1980. Said the Somerset Daily American, she was survived by 10 nephews and nieces. Burial was in the Jersey Church Cemetery with Rev. Vernon Witt officiating.
~ Daughter Mary (Rush) Enos ~
Daughter Mary Rush (1864- ? ) was born on March 15, 1864. She wed a cousin, Samuel "Judson" Enos ( ? - ? ) , son of John and Martha Jane (Phillippi) Enos and grandson of Samuel G. and Mary Ann "Polly" (Younkin) Phillippi. See the Phillippi/Enos bio for more.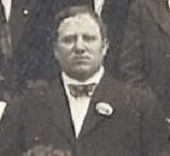 Logan Rush
~ Son Frederick "Logan" Rush ~
Son Frederick "Logan" Rush (1866-1945) was born on July 3, 1866 in Somerset County.
He married Ida Ann Snyder (Oct. 10, 1868-1948) in July 1888, when he was age 22 and she 20. (Her name also has been given erroneously as Mattie H. Snyder.") Ida was the daughter of Benjamin F. and Amanda B. Snyder of Ursina.
They bore three sons -- Warren Rush, James Rush and Franklin Maxwell "Max" Rush.
They made their home in Connellsville, Fayette County, where Logan was active politically. Early in his career he was proprietor of the Smith House of Connellsville and an H.C. Frick Coke Company employee of the Union Supply Company at the Leisenring No. 1 coal mine. In commenting on his work at the store, the Connellsville Daily Courier once noted that "He is universally liked by the hundreds of patrons of the store in the Lensenring district. He treats them with the utmost courtesy and is extremely solicitous for the welfare and advancement, assisting them along the rugged paths of life."
In May 1907, he got into a political fight which the Uniontown Morning Herald called the "political sensation of the hour." The brawl earned him front-page coverage in the Herald with a political cartoon and article which said that "the vanquished warrior, [who] came in for lots of ridicule, no small amount of censure and not a word of sympathy. There is usually very little of the latter for the man who starts a fight and gets a bat in the jaw for his pains."

Fayette County stationery bearing Logan Rush's name as commissioner, 1916, along with the names of Charles H. Hutt and George F. Hoover (left). Below: the Ohio Pyle House which Logan and son Max owned in the early 1900s.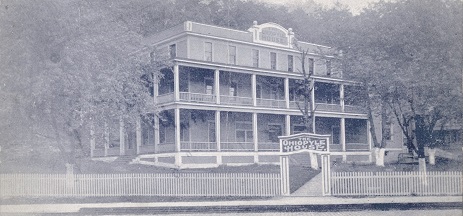 He served two terms as register of wills and recorder of deeds, and one term as president of the county commissioners (1916-1920). His name was published in hundreds of newspaper articles during that period. Circa 1922, he ran for state senate on the Republican ticket, but eventually withdrew.
By 1930, when he was in his early 60s, Logan and Ida Ann relocated to North Philadelphia, where they dwelled at 1415 Clearview Street. The Rushes celebrated their 50th wedding anniversary in 1938.
Logan died in Philadelphia of endocarditis at age 79 on Aug. 10, 1945. Burial was in Oak Grove Cemetery in Uniontown.
Ida followed him in death three years later, in St. Luke's Hospital in Bethlehem, PA on May 18, 1948. The body was shipped back to Uniontown to rest in Oak Grove Cemetery, with Rev. Dr. W.L. Hogg of Uniontown officiating at the burial. Her obituary was published in the Connellsville Daily Courier.
Son Franklin Maxwell "Max" Rush (1889-1918) was born on May 16, 1889 in Ursina. He attended the Kiskiminetas College at Saltsburg, PA and graduated as president of the class. He also attended Washington and Jefferson College. Max. He received an appointment to the U.S. Military Academy at West Point in July 1909 at the influence of Senator George T. Oliver. Max was onetime owner of the Ohiopyle House Hotel. In 1913, at the age of 24, he married Mara Lou Dull (Oct. 7, 1892-1950), daughter of William and Rose (Marietta) Dull of Connellsville. They had two children -- Frederick "Logan" Rush II and Dorothy Virginia Rush. Prior to marriage, Mara Lou attended Mary Baldwin Seminary in Staunton, VA. Tragically, Max's life was cut short when he succumbed of typhoid fever at age 29 in July 1918. Mara Lou survived her husband and made her home as a widow in Connellsville with an address of 202 West Green Street. On Dec. 2, 1929, at the age of 35, she married a second time to 34-year-old heating salesman Alfred J. Ridge (1895-1948), son of Patrick and Delia (Joyce) Ridge and a resident of Rippey Street in Pittsburgh. Rev. Huber Ferguson officiated at the nuptials held in Washington, Washington County, PA. Alfred's brother, Walter Ridge, was a movie actor who toured with the ice skating troup of Olympic medal winner Sonja Heinie. Heartache swept through the family on Dec. 18, 1942 at the death of their 27-year-old daughter Dorothy in Pittsburgh. During World War II, Alfred was commissioned as a captain in the U.S. Army's engineering department and was assigned to a post at Camp Claiborne, LA. The Ridges relocated by 1946 to Victoria, TX but returned to live in Pittsburgh, at 3061 Texas Avenue in Dormont. She was a member of the East Liberty Presbyterian Church, the Philip Freeman Chapter of the Daughters of the American Revolution and the ladies auxiliary of the Milton L. Bishop Post of the American Legion. On the fateful day of April 4, 1948, Alfred took his own life by jumping from the Neville Street Bridge in Pittsburgh. Widowed for the second time, Mara Lou moved to Connellsville where she spent her final years, partly with her sister in law Mrs. J. Raymond Mestrezat but also with her son Logan in Philadelphia. Mara Lou was stricken with a severe heart attack on Oct. 25, 1950 and was admitted to Connellsville State Hospital. She did not recover and succumbed 10 days later on Nov. 4, 1950. Dr. Herbert Braun, of the First Presbyterian Church of Connellsville, led the funeral service, with burial in Oak Grove Cemetery in Uniontown.
Grandson

Frederick "Logan" Rush II

(1913-1981) was born in 1913. During World War II, he served in the U.S. Army. He relocated to Philadelphia where he spent the rest of his years. He passed into eternity in 1981. His burial was in Uniontown in Oak Grove Cemetery.
Granddaughter Dorothy Virginia Rush

(1915-1942) was born on Valentine's Day 1915 in Connellsville. She did not marry and in in about 1938 relocated to Pittsburgh, where she dwelled at 370 South Negley Avenue. Then in about 1940, Dorothy became employed as

a stenographer, bookkeeper and clerk with American Oil Company

.

Having endured heart problems, she continued to work and, on the last day of her life, put in a full day and was "apparently in good health," reported the Connellsville Daily Courier. But after returning home, she suffered a fatal heart attack and succumbed at the age of 27 on Dec. 18, 1942.

The remains were transported to Connellsville for funeral services and then to Uniontown for interment in Oak Grove Cemetery.

Warren W. Rush's workplace, Bethlehem Steel in Bethlehem, PA
Son Warren W. Rush (1891- ? ) was born in 1891 in Ursina. As a teenager, he studied at the Kiskiminetas Prepatory School in Saltsburg, PA. On Nov. 5, 1913, at the age of 22, he was united in holy matrimony with 20-year-old Merle E. Todd ( ? - ? ), daughter of T. Springer and Jennie S. (Jeffries) Todd of Uniontown. Rev. T.M. Thompson officiated. Among their offspring were Springer Todd Rush and an infant child who died in September 1919. In 1914, he worked as a clerk in the Fayette County Recorder of Deeds offfice, and in 1915 began employment as a clerk at Fayette Title and Trust Company. By 1918, Warren accepted a position as manager of the Philadelphia branch of the Rice Coal & Coke Company. By 1932, he obtained a new opportunity with Bethlehem Steel Company, where Merle's cousin Walter Hess was an executive. The Rushes enjoyed returning to Uniontown for visits with Merle's parents. They continued to reside in Bethlehem, PA in 1945-1948.
Great-grandson Springer Todd Rush Jr. ( ? - ? ) grew up in Bethlehem. On Jan. 20, 1973, he was united in matrimony with Suzanne Gaye Hotvedt ( ? - ? ), daughter of Alfred Hotvedt of Burke, VA. Their nuptials were held in First Presbyterian Church, Annandale, VA, with a reception at the Officers Club at Fort Myer. A story in the Allentown (PA) Morning Call said that both groom and bride had received degrees in sociology at Moravian College. The newlyweds made their home in Charlottesville, VA. Springer is believed to have married a second time, circa 1983, to Anne Preston Fitchett ( ? - ? ), with news of their marriage license published in the Charlottesville Observer.
Son James H. Rush served in the U.S. Marine Corps during World War I. He made his home in 1945-1948 in Jersey City, New Jersey.
~ Son Grant Rush ~
Son Grant Rush (1868-1898) was born on Nov. 1, 1868.
As a young man he married Margaret "Maggie" Critchfield (1871-1950).
The three offspring produced by this marriage were Homer Rush, Dewey Rush and Fay A. Rush.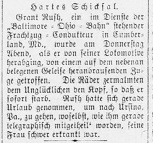 Grant's German obit in Der Deutsche Correspondent
Circa 1898, he worked away from home as a freight conductor for the Baltimore and Ohio Railroad in Cumberland, MD. Tragically, as with his brother Harvey two years earlier, Grant was killed in a B&O accident in Cumberland on Oct. 26, 1898. His remains were returned to Ursina for burial, most likely at the Jersey Church. An account of his death was published -- in German language -- in Der Deutsche Correspondent (Baltimore, MD, Oct. 29, 1898). Under the headline "Hartes Schicksal" -- "Hard Fate" -- or "Hard Destiny" -- the story read (as translated into English):
Grant Rush was in the service of the Baltimore and Ohio Railroad where he was standing as the conductor on a freight train in Cumberland, Md. It happened on Thursday evening as he was getting down from his locomotive when from the next track came another train at a high rate of speed. He was caught by the wheel and his head was completely pulverized in the accident. Rush had just taken some vacation time and was on his way to Ursina, Pa. He had just received a telegram advising him that his wife was very sick.
Widowed at the age of 27 with three children to raise, Maggie apparently did not marry again. She resided in Ursina as a widow for more than half a century. She died in 1950 and is buried in the Jersey Baptist Church.
Son Homer Rush (1891-1958) was born on Sept. 24, 1891. He was joined in marriage with a cousin, Beatrice Younkin (July 6, 1899-1974), daughter of Silas and Zobeida Jane (Ream) Younkin. See the Younkin biography for more.
Son Dewey Rush ( ? - ? )
Daughter Fay Rush (1896-1981) never married and was a longtime teacher in the Turkeyfoot Valley area. Fay died on Jan. 12, 1981 in Somerset Community Hospital with burial beside her mother. An obituary in the Meyersdale Republic noted that she was survived by a niece Eileen Cape of Miami and nephews William Rush of Youngwood, Westmoreland County, PA and Jack Rush of Miami. [Find-a-Grave]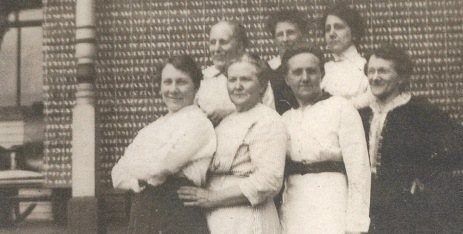 The Rush sisters -- Top, L-R: Emma, Margaret, Sabina. Bottom, L-r: Molly, Ann, Sadie, Maude.
Courtesy Blair Younkin Jr.
~ Daughter Anna Lois (Rush) Kutz ~
Daughter Anna Lois Rush (1875-1971) was born on June 15, 1875.
She wed Linus B.C. Kutz (1877-1933).
They bore one known son, Harold Rush Kutz.
By 1922, they had moved south to Raleigh, NC and remained there for decades. There, Linus used his skills as a saw mechanic to gain employment as a saw filer in an iron works.
In the summer of 1922, Anna traveled back to Ursina to visit her ailing father. After completing the visit that fall, she returned home to Raleigh, only to learn a few weeks later of the father's death. Unable to make another long return trip, she was the only one of her siblings not to attend their father's funeral.
Anna is known to have returned from Raleigh for a reunion of the Ross Younkin family in August 1952.
In 1930, they lived on West Hargett Street in Raleigh and kept a number of lodgers.
Sadness enveloped this family when Linus died on March 13, 1933 at the age of 58.
Anna survived as his widow for 38 years. In 1968, she was named in the Uniontown Morning Herald obituary of her sister Maud Crow. She died in Raleigh at the age of 95 on March 31, 1971, with burial in Montlawn Memorial Park.
~ Margaret Ellen (Rush) Sellers ~
Daughter Margaret Ellen Rush (1878-1965) was born on March 6, 1878 and grew up in and around Ursina.
She was joined in wedlock with barber Harry "Lee" Sellers (1875-1952), son of Augustus and Sarah "Sadie" (Lenhart) Sellers of Ursina. They were wed on June 29, 1899, when she was 21 years of age and he 24, with Rev. J.R. Brown officiating at Confluence.
Later, Lee managed a hotel in Confluence, and they dwelled at 414 Yough Street.
In about 1932, his right leg was amputated.
Tragically, at the age of 77, he fell getting into bed and fractured his right hip. He lingered in Confluence's Price Hospital for nearly a month and finally died on Aug. 27, 1952. Interment was in the Jersey Baptist Church Cemetery.

Bird's eye view of Confluence
~ Daughter Maude (Rush) Crow ~
Daughter Maude Rush (1881-1968) was born on May 31, 1881. She single at age 28 circa 1909, with her home in Uniontown.
On April 16, 1912, when she was age 31, she was united in wedlock with J. Benton Crow (1884-1961), son of Josiah B. and Elizabeth (McCombs) Crow. The ceremony was held at the home of Maude's brother Logan Rush, and was performed by Rev. Dr. Joseph B. Risk of the First (or "Asbury") Methodist Episcopal Church. The news was reported in Uniontown and in the Pittsburgh Post-Gazette. At the time, Benton was employed as deputy recorder of deeds in Fayette County.
They went on to have three children -- Sally D'Auria, Nancy Byrne and J. Benton "Cy" Crow Jr.
Their home for many years was in Uniontown, where he was clerk for the Fayette County Commissioners circa 1905. He attended Knox College in Illinois and Washington & Jefferson College, and became a lawyer. For many years, said the Uniontown Morning Herald, he served "as a state inheritance tax adjustor for Fayette County. He was associated since 1925 as a special agent and agent-emeritus for the Northwestern Mutual Life Insurance Company."
He was a longtime member of the First Presbyterian Church, the Sons of the American Revolution and the Kiwanis Club. She belonged to the Trinity United Presbyterian Church and the Daughters of the American Revolution (based on the service of her ancestor Jacob Rush [1755-1850]).
In April 1957, the couple celebrated their 45th wedding anniversary with a dinner at White Swan Hotel in Uniontown.
He died at age 77 on Dec. 1, 1961, with burial in Oak Grove Cemetery.
Maude survived him by seven years and died on Nov. 24, 1968. Burial was in Confluence Baptist Cemetery.
Daughter Sarah C. "Sally" Crow (1914-1973) was born on March 7, 1914 in Uniontown. She married Lewis M. D'Auria of Connellsville. They produced two children -- David C. D'Auria and Linda Jane D'Auria. The family were members of St. Rita's Roman Catholic Church. Their address in the early 1970s was 513 Race Street in Connellsville. Sally passed away at the age of 59, in Presbyterian Hospital in Pittsburgh, on July 16, 1973.. Following a mass of the resurrection held at the family church, Sarah's remains were lowered into eternal repose in Green Ridge Memorial Park, with Fr. Nichoals Mitolo officiating.
Daughter Nancy Crow was employed at Bell Telephone Company in Uniontown circa 1941. She wedded Thomas Ira Byrne Jr. ( ? - ? ) of Uniontown. Their known offspring were Elizabeth "Betsy" MacBride, Thomas Ira Byrne III, and Richard W. Byrne. As a teenager, Thomas earned money as a lifeguard at the swimming pool of the Summit Hotel in Uniontown. During World War II, as a radio technician with the Air Force, he received an air medal for outstanding achievement in action in Australia. They were married circa 1945-1946 and initially dwelled in Pittsburgh. By 1949 they had returned to Uniontown with an address of 38 Lawn Avenue, and by 1954 were on Elizabeth Street. The Byrneses often traveled to Pittsburgh to visit with family and in 1952 saw a performance of South Pacific at the Nixon Theater. They also enjoyed vacations to Ocean City, NJ. Thomas' employment circa 1954 was as district sales manager for Easy Washing Machine Company. He was active with the First Presbyterian Church of Uniontown and in 1958 served as general chairman of a fundraising campaign to pay for construction improvement loans for the Christian education and music departments. Daughter Betsy studied at the University of Pittsburgh in the mid-1960s, was employed at Uniontown Hospital and married Jonathan Christian MacBride. Circa 1967, son Thomas had written an autobiography, What -- Me Worry?, in 1970 was with the U.S. Army in Brunswick, GA and Japan, and in July 1975 wedded Martha Annette Saunders in the chapel of the Mariotte Inn in Louisville, KY, where he worked as an air traffic controller with the Federal Aviation Administration.
Son J. Benton "Cy" Crow (1917-1977) was born in about 1917. He obtained an undergraduate degree from Washington and Jefferson College. During World War II, he served in the U.S. Armed Forces. He never married and was at home circa 1957. His address in 1977 was 45 North Mt. Vernon Avenue in Uniontown. He earned a living as a case worker with the Fayette County Board of Assistance. He died at the age of 60 on July 25, 1977, with an obituary appearing in the Uniontown Evening Standard. Dr. Earl P. Confer preached the funeral sermon, followed by interment in Oak Grove Cemetery.
~ Son Lloyd "Scott" Rush ~
Son Lloyd "Scott" Rush (1883-1969) was born on April 7, 1883. He resided in Ursina in 1922.
He often looked in on his elderly father and step-mother in the early 1920s and sometimes stayed the night if they needed special attention.
Scott married Mayme Ann Courtney (1882-1963), daughter of Francis and Alice (Dougherty) Courtney of Indian Creek, Fayette County.
Their three children were Robert O. Rush, Dorothy Rush and Thomas Courtney Rush.
In 1945-1963, they lived on Jacob Street in Confluence, Somerset County.
Mayme was burdened with hypertension and heart disease and passed away at the age of 80 on on Feb. 27, 1963.
Scott outlived her by six years and died in 1969. They rest side by side for eternity in the Confluence Baptist Church Cemetery.
~ Son Harvey Rush ~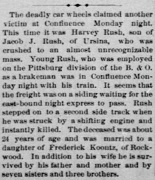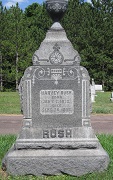 Harvey's news obituary and grave marker
Son Harvey Rush (1872-1896) was born on Jan. 7, 1872 in Somerset County.
On Feb. 24, 1895, when he was age 23, he married 18-year-old Margaret C. "Maggie" Koontz (1877-1899), daughter of Frederick and Sarah Koontz of Rockwood. Because she was legally underage, her parents both had to provide written consent to the marital union. Rev. Long officiated at the ceremony held in Rockwood.
Harvey was a laborer with the Baltimore and Ohio Railroad at Ursina.
Tragically, at the age of 24, he was killed in a B&O accident on Sept. 28, 1896. In reporting on the incident, the Somerset Herald said: "The deadly car wheels claimed another victim at Confluence Monday night. This time it was Harvey Rush, son of Jacob J. Rush, of Ursina, who was crushed to an almost unrecognizable mass. Young Rush, who was employed on the Pittsburg division of the B. & O. as a brakeman was in Confluence Monday night with his train. It seems that the freight was on a siding hill waiting for the east-bound night express to pass. Rush stepped on to a second side track when he was struck by a shifting engine and instantly killed."
His broken remains were laid to rest under a tall, elaborately carved marker at the Jersey Church. Near the top is a circle with six spokes, labeled with the initials of his union, the Brotherhood of Rail Road Trainmen, Lodge 218.
Compounding heartache upon anguish, Maggie only outlived her husband by three years. She passed into eternity, at the age of 22, on June 10, 1899. She rests with Harvey under their large grave monument.
~ Daughter Sara "Sadie" (Rush) Parnell ~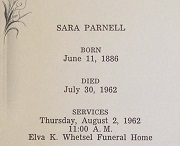 Sara's funeral card
Daughter Sara "Sadie" Rush (1886-1962) was born on June 11, 1886 in Ursina. She was 26 years younger than her eldest sibling.
Sadie married Franklin "Merrill" Parnell (1884-1968), son of John B. and Etta (Altfather) Parnell of Confluence.
They made their residence in 1920 in Ursina, where Merrill earned a living as a grist miller of flour. That year, their next door neighbors were double cousins Fred and Mary Elizabeth (Layfield) Younkin of the family of Ross and Emma (Rush) Younkin.
Later, they relocated to 426 North Sixth Street in Clairton, Allegheny County, PA.
The couple produced five known children -- Clema Ruth Bender, Frederick M. Parnell, Merrill "Rush" Parnell, Ella Louise Decima and Mary Jayne Linhart.
Sadie is believed to have inherited two large folio books of her brother in law Leroy Forquer's containing handwritten minutes of the Ross Rush Post of the Grand Army of the Republic.
Sadly, they endured the death of their 55-year-old daughter Clema Bender in March 1959.
Sadie died of a heart attack at the age of 76 on July 30, 1962. Her remains were placed into eternal repose in Jefferson Memorial Park, with Rev. Richard Rapp overseeing the funeral service. Her funeral card was tucked into the back of one of the GAR books.
Franklin joined her in death in 1968. The GAR books were acquired in 2016 by the Sons of Union Veterans, Mount Union Church Camp 502.
Daughter Clema Ruth Parnell (1903-1959) was born on Aug. 16, 1903 in Ursina. She married Parke R. Bender ( ? - ? ). The couple's two children were Robert T. Bender and Betty B. Shearer. He initially was employed as a clerk in the Confluence station of the Baltimore and Ohio Railroad. They resided in Ohiopyle, Fayette County in 1922 and later relocated to Greensburg, Westmoreland County. In about 1956, they gave up their home and moved to East Franklin Township near Kittanning, Armstrong County, where she spent the final three years of her life. At the age of 55, suffering from heart failure, Clema was admitted to the Armstrong County Memorial Hospital, where she lingered for a week until death swept her away on March 4, 1959. Funeral services were led by Rev. William M. Bayle of St. Paul's Episcopal Church, and her remains were transported back to Pleasant Hills for burial in Jefferson Memorial Park. An obituary appeared in Simpson's Leader-Times of Kittanning. Circa 1959, son Robert lived in Applewold, PA and daughter Betty Shearer in Jeannette, Westmoreland County, PA.
Son Frederick M. "Fred" Parnell (1905-1984) was born on March 4, 1905 in Ursina. Circa 1959, he made his home in Clairton, Allegheny County. He passed into eternity at the age of 78 on Feb. 2, 1984. Interment was in Jefferson Memorial Park.
Son Merrill "Rush" Parnell (1914-2006) was born in about 1914 in Ursina. He married Anna Maye ( ? - ? ) and they remained together for 65 years. The Parnells resided in Jefferson Hills near Pittsburgh and produced two offspring -- Barbara Parnell and Nancy Polick. Rush was a longtime member of the Masons lodge in Wilson near Clairton. On Feb. 23, 2006, Rush passed away at the age of 92. Funeral services were held in Pleasant Hills Community Presbyterian Church, with burial following in Jefferson Memorial Park. The Pittsburgh Post-Gazette published a death notice.
Daughter Ella Louise Parnell (1916-2004) was born in about 1916. She was wedded to Elmer Decima ( ? - ? ). They dwelled in Pleasant Hills in the South Hills suburbs of Pittsburgh. The couple produced three children -- Judy Snyder, Carole Johnson and Don M. Decima. Ella Louise died on March 9, 2004. Her death notice was printed in the Pittsburgh Post-Gazette. A memorial service was held in the Pleasant Hills Community Presbyterian Church.

Bernard Linhart's workplace, the Clairton Works of U.S. Steel. From a painting by Howard Fogg for the Pittsburgh & Lake Erie Railroad Co., of the New York Central System.
Daughter Mary Jayne Parnell (1921-2008) was born on June 18, 1921. She married Bernard Linhart (Oct. 18, 1919-2008), son of Bernard and Margaret (Miller) Linhart. The Linharts remained together for 66 years until the separation of death. They had two children -- Cindi Linhart and Sue Ann Linhart. They made their home in Wilson, Allegheny County, PA. Mary Jayne was a graduate of Grace Martin's Secretarial School and went on to work in clerical positions with United States Steel Corporation and the City of Clairton. She was a member of the board of deacons of Wilson Presbyterian Church and enjoyed her membership in several local bridge clubs. Bernard followed local politics closely and in 1985 was quoted in the Pittsburgh Press advocating that the community of Wilson be separated from Clairton to help reduce financial debt. During World War II, Bernard served in the Pacific Theatre with the Navy Seebeas. He spent 42 years with U.S. Steel, likely in its Clairton works. He also was a clerk of session of their church and was a choir member and Sunday School leader. He belonged to the Tall Cedars of Lebanon and, in retirement, was president of the Clairton Area chapter of the American Association of Retired Persons (AARP). Bernard died at the age of 88 on June 14, 2008. Just a little more than two weeks later, Mary Jayne followed him to the grave on July 1, 2008. Interment was in Jefferson Memorial Park. A death notice for both was published in the Pittsburgh Post-Gazette.
Copyright © 2014-2020
Research for this page graciously shared by
the late Donna (Younkin) Logan,
Clark Brocht, Linda Marker and Blair Younkin Jr.