Home

Jacob Sturtz was born in about 1803 or 1804 in Southampton Township, Somerset County, PA, the son of John "Adam" and Maria "Catherine" (Gaumer) Sturtz Sr.
At a young age he relocated to Salem, Muskingum County, OH.
Jacob appears to have been married twice, both times with cousins. His first spouse was Rachel Sturtz ( ? - ? ), one of 15 children of Christian and Margaret "Peggy" Sturtz. In an interesting twist, Jacob's uncle Jacob Gaumer Jr. was wedded to Rachel's sister Elizabeth "Betsy" Sturtz, also of Muskingum County.
Together, Jacob and Rachel produced one known son -- Valentine Sturtz.
Sadly, Rachel's fate is unknown.
In time, Jacob married again to cousin Lydia Leydig (1809-1876), the daughter of Jacob and Mary (Sturtz) Leydig.
When the federal census enumeration was made in 1850, the Sturtzes lived in Salem, Muskingum County, where Jacob earned a living as a merchant and son Valentine as a clerk. That year, Jacob's aged, widowed mother lived under their roof as did 18-year-old Magdalene Shatten.
Eventually they migrated to near Adamsville, Muskingum County, OH.
In a short reference in the 1912 book by John W. Jordan and James Hadden, entitled Genealogical and Personal History of Fayette County, Pennsylvania, Vol. III, Jacob was said to have "moved to Adamsville, Ohio; he was a farmer, later a merchant."
Sadly, just a few weeks before her 67th birthday, Lydia passed away in Adamsville, on Jan. 8, 1876. Her remains were placed into eternal repose in the New Hope Evangelical Lutheran Cemetery.
Jacob outlived his wife by only slightly more than two years. He died in Adamsville on Jan. 12, 1878. They rest side by side at New Hope. [Find-a-Grave] Curiously, although he only was eight years old at the time of the War of 1812, his grave marker is inscribed that he apparently served in that conflict. While odd, this will be researched.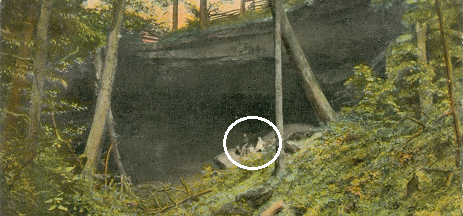 Horseshoe Rock in Adamsville -- note the adult and child circled
~ Son Valentine Sturtz ~
Son Valentine Sturtz (1827-1900) was born in about 1827 in Somerset County, PA. He was very young when his mother presumably died and Lydia Leydig became his stepmother.
He relocated with his father and stepmother to Muskingum County, OH.
In young adulthood, he stood 5 feet, 8 inches tall, and had a sandy complexion, dark hair and blue eyes.
At the death of his grandfather Christian Sturtz, he was named in the man's last will and testament as the "only heir of Rachel Sturtz of the daughters of C. Sturtz." As such, in 1848, while residing in Muskingum County, OH, he received a cash payment from the estate, via the hand of John Sturtz, of $142.73. He also was named in the heirs' petition to evaluate the deceased's real estate to determine whether to subdivide it among the family.
When Valentine was age 23 in 1850 and 33 in 1860, unmarried, he lived with his father and stepmother and worked as a clerk in or around Salem, Muskingum County, OH. He became enamored of a new technology known as Daguerreotype photography and apparently operated his own studio or business as a "Daguarian Artist" in and around Salem in 1860.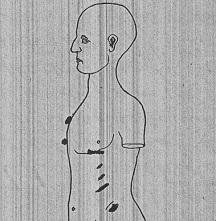 Surgeon's markings of Valentine's
ulcers of the breast and side
National Archives
After the outbreak of the Civil War, Valentine is believed to have joined the Union Army, where he was assigned to the 160th Ohio Infantry, Company H, also known as the Ohio National Guard, commanded by Col. Reasoner. He enlisted on May 2, 1864 and held the rank of private. Within a month, he was treated for "fatigue."
While on duty in the Shenandoah Valley on July 3, 1864, he was afflicted with a bacterial infection of his face as well as ulcers on his chest and abdomen. He complained that his health was badly injured by being "constantly exposed to the cool night air and hot air during the day and repeated drenching rain without tends or other adequate shelter. He also recalled "marching in the hot sun and suffocating dust and wading the Shenandoah river while warm & then lying in wet clothes all night."
In all, he served for three months until his discharge on Sept. 8, 1864. Valentine held the rank of private. His name has been spelled in military records as "Sturrts" and "Sturts."
Valentine returned home after his discharge. Circa October 1866, he held the post of clerk of election in Salem Township, Muskingum County.
Then at the age of 40, on April 23, 1868, he was united in wedlock with 39-year-old Jane (Miller) Cunningham ( ? -1870). Justice of the peace Isaac Seward officiated at the nuptials held in Guernsey County. Their marriage lasted for just two years until her untimely death on Nov. 20, 1870.
On Aug. 3, 1886, Valentine filed to receive a military pension as compensation for wartime ailments or injuries. [Invalid App. #581.663 - Cert. #552.336] He claimed he was afflicted with skin infection, chronic liver and kidney disease, heavy perspiration and hay fever.
Valentine dwelled in North Salem, Guernsey County, OH circa 1880-1890, where he worked as a house carpenter and justice of the peace, with the ability to perform weddings. He also appears to have been appointed as North Salem postmaster circa 1891-1897.
On June 11, 1881, at the age of 54, he wedded his second bride, Adeline (Miller) Matthews ( ? - ? ). Officiating was justice of the peace Joseph M. Bell of North Salem.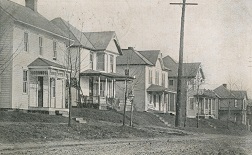 East end of New Concord, Ohio
They became parents of twin daughters born in 1882 in North Salem -- Hannah Belle Young and Anna McDonald.
In 1890, Valentine was listed in a special federal census of Civil War veterans and their widows. A news story in the Cambridge Jeffersonian suggests that he was nominated for justice of the peace in North Salem Township circa March 1896.
Valentine passed away at the age of 73 on Feb. 4, 1900. The cause of death, and his final resting place, are not yet known.
Adeline's fate is lot to history for now.
Daughter Hannah Belle Sturtz (1882-1974) was born on March 14 or 16, 1882 in Adamsville, Muskingum County, a twin with her sister Anna. News of the births was published in the Cambridge (OH) Jeffersonian. Circa 1900, at the age of 18, she is believed to have lived and worked in the household of David and Ellen Lynn in Westland, Guernsey County as a servant. At the age of 35 on March 30, 1918, she was united in wedlock with 32-year-old George Washington "Wash" Young ( ? -1959), son of Benjamin and Jane (Miller) Young. Rev. H.A. Kelsey performed the nuptials. At the time, she was employed as a stenographer in Cambridge, Guernsey County, and he as a coal miner in Crooksville, OH. Hannah's employer was a Cambridge wholesale and retail firm, and they belonged to the North Terrace Church of Christ. They produced a son, Kenneth Young, who worked with his father in a restaurant in the early 1940s. The Youngs endured overwhelming heartache when their son was killed in combat in Germany during World War II on March 10, 1945. George passed away in 1959. Hannah survived her spouse by 15 years and made her home at 2028 Hazel Avenue, bearing the designation as a Gold Star Mother of Perry County, OH. As her health failed, she was admitted to Frame Nursing Home, where she spent the final three weeks of her life. Hannah Belle died on Jan. 29, 1974. An obituary in the Zanesville Times Recorder noted in an obituary that "There are no immediate survivors."
Grandson Kenneth Young ( ? -1945) was born in about 1919. On March 29, 1942, he joined the U.S. Army during World War II and attained the rank of sergeant. While on an apparent leave on March 29, 1944, he married Betty Ater ( ? - ? ), daughter of Charles Ater. She was a graduate of Meredith Business College and attended Ohio State University. They resided with her parents at 625 St. Louis Avenue in Zanesville, but their marriage only lasted less than a year. He was sent overseas in December 1944 and served with the Third Army under Gen. George S. Patton. Tragically, he was killed in action in Germany at the age of 26 on March 9, 1945. He was pictured in the Zanesville Times Recorder in an announcement of his death. Betty remained a widow for a little more than two years and supported herself working in a Social Security office in Zanesville. On April 25, 1947, in a ceremony held at St. John's Lutheran Church, she married again to Richard Emery ( ? - ? ), son of S.A. and Helen Emery. Rev. Louis Valbracht officiated. They made their residence on Euclid Avenue in Zanesville. Richard was an Army veteran of the war and worked as a teller at First National Bank. She belonged to the Euclid Avenue Methodist Church, and she was a member of the Order of Eastern Star, while he attended St. John's church.
Daughter Anna D. Sturtz (1882-1958) was born on March 14 or 16, 1882 in Adamsville, Muskingum County, a twin with her sister Hannah. News of the births was published in the Cambridge (OH) Jeffersonian. When she was 26 years of age, circa 1908, she lived in Westland Township, Guernsey County. On Nov. 25, 1908, the 26-year-old Anna was joined in holy matrimony with 22-year-old William C. McDonald ( ? -1960), son of William L. and Alice (Jenkins) McDonald of Newark, Licking County, OH. Rev. Charles N. Church, pastor of the Methodist Episcopal Church, led the wedding ceremony. William earned a living at the time as a teamster and dwelled in New Concord, Muskingum County. The couple established a home in East Fultonham, OH and belonged to the East Fultonham Methodist Church. They produced two children -- Iona McDonald and Frank L. McDonald.William was a longtime engineer for the New York Central Railroad, compiling 44 years of service. He also was a member of the Brotherhood of Railroad Engineers. William retired on April 5, 1956. In late 1957, she moved from East Fultonham to Roseville, OH, where she was admitted to Good Samaritan Hospital. She died there at the age of 76 on April 24, 1958. Burial was in Fultonham Cemetery following funeral services held in the family church, with Rev. William L. Watkins officiating. An obituary was published in the Zanesville Times Recorder. William lived for another two years and, after suffering a stroke, died at the age of 73 on Jan. 30, 1960.
Granddaughter Iona McDonald (1909-1991) was born on Aug. 15, 1909 in New Concord, Muskingum County. She appears to have never married and to have lived at home with her parents in East Fultonham until their deaths. She was a longtime member of the Christian Fellowship Church of Nashport, OH. Later in life, she lived in Fountain Square in Zanesville. She passed into eternity at the age of 82 on Sept. 21, 1991 and rests with her mother and father in Fultonham Cemetery. The Zanesville Times Recorder noted in an obituary that she was survived by two friends, Helen Wyatt and Rev. Maxine Baker.
Grandson Frank L. McDonald (1913-1923) was born on April 9, 1913. Sadly, he did not survive childhood. At the age of 10, he contracted hypostatic pneumonia with serious vomiting and was admitted to Bethesda Hospital in Zanesville. He could not rally and died on July 9, 1923. Hhis remains rest for all time in Fultonham Cemetery.
~ More ~
We are grateful for records provided by Gilbert R. Gaumer of Glendale, MO (compiled 1973-1980), Paul K. Gaumer and Mary L. Shirer in the preparation of this biography.
The Gaumer and Hoyman clans are profiled in the 486-page book Some Notes, Quotes, and Quips of the Hoyman Clan and Related Lines, authored by David LeRoy Baldwin and published by Gateway Press in 1993.
Copyright © 2000, 2011, 2015-2018 Mark A. Miner
Contributing their knowledge to this biography have been the late Gilbert R. Gaumer, Barbara (Moss) Wardsworth, Keith Sturts and Virginia Easley DeMarce.