Susanna (Sturtz) Hoyman
(1811-1887)
Susanna "Susan" (Sturtz) Hoyman was born on Sept. 14, 1811 in Southampton Township, Somerset County, PA, the daughter of John "Adam" and Maria "Catherine" (Gaumer) Sturtz Sr. She and her husband were pioneers of Illinois.
She married Rev. John Hoyman Jr. (1811-1867), a native of Wellersburg, Somerset County and son of John Henry and Elizabeth Susan (Uhl) Hoyman Sr. In a profile of his son Henry in the book In the Foot-prints of the Pioneers of Stephenson County, Illinois, the following is written about Rev. John:
[He] was an honored clergyman of the German Reformed church, and left a name as an unselfish and earnest worker in the cause of religion.... In early life he was a farmer, and had learned the carpenter trade. He had a mill on the farm, and was an active and pushing character. He became interested in religious questions however, while still a young man, and studied for the ministry at Tiffin, Ohio. His wife, Susan Stirtz, was born in Somerset county, Pennsylvania, and died in Freeport ... at the age of seventy-five.
They are believed to be the same John and Susanna Hoyman who, in 1850, resided in Berlin, Somerset County, PA.
If so, their 11 children were Catherine Baltzer, Charles Hoyman, Elizabeth Hoyman, George Hoyman, Mary Hoyman, Susanna Ziebach, Henry Hoyman, Matilda Richmond, Nancy Jane Wottring, Louise Emeline Ruston and Flora "Floe" Hoyman, born over a 18-year-span between 1833 and 1851.
John is believed to be the same "J. Hoyman" who in 1853 served as pastor of the Stoystown Reformed Church in Somerset County. A profile of the church, in Waterman Watkins & Co.'s 1884 book, History of Bedford, Somerset and Fulton Counties, lists him by name and states that the "congregation formerly worshiped in an old log church (Reformed and Lutheran) situated in the cemetery east of town. The present church is an old frame building, capable of seating about three hundred persons, with steepel, bell and organ." He also is named in the book as pastor of the Shanksville Reformed Church, organized in 1848.
In 1856, John received a call to lead a church congregation in Illinois, and so uprooted his family and relocated to Orangeville, Stephenson County. There, he remained in his church for a decade. Then, he accepted a position with a church in Ohio, and relocated to Marion County. After spending a year there, he died in Delaware County on Aug. 16, 1867 at the age of 56. Interment was in Prospect Cemetery in Prospect, Marion County. [Find-a-Grave]
Susan survived her husband by 20 years, and returned to their former home in Freeport, IL. She died on July 13, 1887 at the age of 75. Burial was in Freeport City Cemetery. [Find-a-Grave]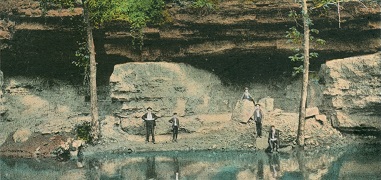 Twin cave in Krape Park, Freeport, Illinois
~ Daughter Catharine (Hoyman) Baltzer ~
Daughter Catharine Hoyman (1833-1915) was born in about 1833.
Evidence suggests that on March 24, 1853, Catharine married Aaron Balser (or "Baltzer"), son of John and Mary (Gehrhart) Baltzer of Berlin, PA. At the time, Aaron was a chair maker and lived in Stonycreek Township, Somerset County. The ceremony was held in "The City" in Shade Township, according to the precepts of the Lutheran Church, with J.K. Miller officiating.
Their brood of offspring included Emma Jane Trotter, John Henry Baltzer, Charles M. Baltzer, Mary Susan Martin, Lulu Gingrich, Jessie Blanche Springman, Fannie Mae Baltzer, Elva Baltzer, Alma Daubenspeck, Walter Baltzer and Robert C. Baltzer.
Catharine died at the age of 82 on Sept. 5, 1915 in Freeport, Stephenson County, IL. Burial was in Orangeville Cemetery. [Find-a-Grave]
Daughter Emma Jane Baltzer (1854-1947) was born in 1854. She married (?) Trotter.
Son John Henry Baltzer (1855-1905) was born in 1855. He married Emma Baer ( ? - ? ). They produced two daughters, Florence Baltzer and Geneva Baltzer. Sadly, daughter Florence died in infancy. John Henry passed into eternity at the age of 50 on Oct. 15, 1905 in Freeport.
Son Charles M. Baltzer (1857-1872) was born in 1857. He died at the age of 14 on April 17, 1872.
Daughter Mary Susan Baltzer (1860-1922) was born in 1860. She wedded (?) Martin.
Daughter Lulu Baltzer (1863-1959) was born in 1863. She was joined in matrimony with (?) Gingrich
Daughter Jessie Blanche Baltzer (1864-1934) was born in 1864. She was united in wedlock with (?) Springman
Daughter Fannie Mae Baltzer (1868-1933) was born in 1868. She may never have married.
Daughter Elva Baltzer (1870-1888) was born in 1870. She died at the age of 18 on May 20, 1888.
Daughter Alma Baltzer (1870-1890) was born in 1870. She wedded (?) Daubenspeck. Tragically, she died at the age of 19 on Jan. 22, 1890.
Son Walter Baltzer (1872-1917) was born in 1872. He died at the age of 44 on Feb. 15, 1917 in Freeport.
Son Robert C. Baltzer (1876-1910) was born in 1876.
~ Son Charles W. Hoyman ~
Son Charles W. Hoyman (1834- ? ) was born on Nov. 4, 1834 in Somerset County, PA.
He wedded Emma Swinehart (March 12, 1837-1914), daughter of Samuel and Susan Swinehart.
They were the parents of Harry E. Hoyman and Nellie H. Loose.
As an adult, he made a home in Somerset, Perry County, OH.
He died in Somerset, OH at the age of 43 on Feb. 19, 1878. Burial was in the Somerset Methodist Cemetery. [Find-a-Grave]
Emma outlived her spouse by 36 years and spent her final time with her married daughter Nellie at 1113 Franklin Avenue in Columbus, Franklin County, OH. Suffering from cardiac dropsy and asthma, she passed away in Columbus at the age of 77 on July 25, 1914. C.E. Loos signed the official Ohio certificate of death. Interment was in Somerset.
Son Harry E. Hoyman (1862-1927)
Daughter Nellie H. Hoyman (1877-1960) married C.E. Loos.
~ Daughter Elizabeth Hoyman ~
Daughter Elizabeth Hoyman (1837- ? ) was born in about 1837.
Nothing more about her is known.
~ Son George W. Hoyman ~
Son George W. Hoyman (1838-1917) was born on Nov. 2, 1838 in Somerset County.
George married Catherine M. Bower (1844-1910).
Their offspring were Arthur T. Hoyman and Vere B. Trevillian.
Catherine passed away in 1910.
George lived for seven years as a widower. He died in Chicago at the age of 79 on Dec. 15, 1917. His remains were transported to Orangeville Cemetery in Stephenson County, IL.
Son Arthur T. Hoyman (1862-1926)
Daughter Vere B. Hoyman (1887-1977) was born in 1887. She wedded (?) Trevillian.
~ Daughter Mary Hoyman ~
Daughter Mary Hoyman (1841- ? ) was born in about 1841.
~ Daughter Susanna "Susan" (Hoyman) Ziebach ~
Daughter Susanna "Susan" Hoyman (1842-1931) was born on May 12, 1842.
She was united in marriage with (?) Ziebach.
She died at the age of 89 on Oct. 3, 1931. Burial was in Oakland Cemetery in Freeport, Stephenson County, IL.
~ Son Henry Hoyman ~
Son Henry Hoyman (1844-1915) was born on March 25, 1844 in Somerset County, near the Maryland state line. At the age of 12, in 1856, he traveled with his parents when his father was appointed pastor of a church in Stephenson County, IL.
At the age of 16, said a history, "the exigencies of the family situation at home compelled him to assume the responsibility of his own maintenance, and he became a clerk in a hardware story." He stood five feet, 10 inches tall, weighed 165 lbs and had a fair complexion, hazel eyes and dark hair.
When the Civil War erupted, he was living in Freeport, IL and enlisted in the 46th Illinois Volunteer Infantry, Company A. His regiment was dispatched to New Orleans and took part in the battles of Fort Spanish and Fort Blakely. Later, he took part in the capture of Mobile, AL and was on the Red River expedition. While at Natchitoches, LA, he was debilitated by sore eyes, impairing his vision. He eventually was honorably discharged at Baton Rouge, LA.
He returned home to Stephenson County where he was met at the railroad depot by friend Eli S. Chamberlin and was driven a dozen miles to his home. For two years, he boarded with Chamberlin and sold feed and flour. His eyes were so bad, he said, that he had to be kept in a dark room for months. Then he sold pumps for a year, possibly in Monroe, MI, followed by a dozen years selling grain in Shannon, Carroll County, IL. He then relocated to Dakota and spent three years engaged in the grain business followed by five years in a similar line of work at Lena. In February 1891, he moved again and came to Freeport, opening his own livery, feed and sale stable business, catering in weddings, parties and funerals. He joined the Modern Woodmen of America and the John A. Davis Post of the Grant Army of the Republic.
On May 30, 1874, at the age of 30, he was united in marriage with 20-year-old Alice Margaret Schmeltzer (1854-1936), daughter of Jacob D. and Anna Maria (Mingle) Schmeltzer and a native of Rock Grove, Stephenson County. Rev. Isaac A. Stites officiated at the nuptials held in Dakota, IL. Henry was a decade older than his bride.
They produced three children -- Edith McDonald, Bessie Hoyman and Harry Holland Hoyman.
He is profiled in the 1900 book In the Foot-prints of the Pioneers of Stephenson County, Illinois. The chapter reads, in part:
Henry Hoyman, Freeport, is the proprietor of a well appointed livery and sales stable, and is known to the traveling public as a genial and accommodating gentleman. he has had a varied experience, confronted danger on the battlefield, and wrestled with adverse fate, and now as the shadows are beginning to lengthen down the road of life, he has the privilege of looking back over years of honorable and useful toil with the feeling that he has acquitted himself with credit wherever he has been placed.

Henry's letterhead, 1904
As he aged, during the years 1890 to 1915, Henry worked as a liveryman. He remained afflicted with rheumatism as well as heart and stomach ailments, rendering him unable to undertake manual labor. His eyes often were red and inflamed, and he had trouble reading and making out objects in the distance. He finally succumbed at the age of 71 on Oct. 18, 1915.
Edith spent her final years at 410 South Walnut Street in Freeport. Diagnosed with hardening of the arteries, she suffered a stroke and died on June 12, 1936 at the age of 81. Son Harry signed the death certificate. Burial was with her husband in Oakland Cemetery in nearby Florence, Stephenson County.
Daughter Jennie Edith Hoyman (1877- ? ) was born on Jan. 30, 1877. She married attorney Peter E. McDonald (1872-1935) in 1930. Peter was active in politics and served as a master in chancery in Freeport, Stephenson County. Tragically, on Nov. 4, 1935, Peter died of injuries sustained after being struck by an automobile. They are mentioned in the 1935 book Illinois Democracy: A History of the Party and Its Representative Members, Past and Present, volume 2, and in the 1936 Annual Report of the Illinois Bar Association. Jennie's fate is not known.
Daughter Bessie May Hoyman (1879- ? ) was born on July 13, 1879.
Son Harry Holland Hoyman (1892-1989) was born on Feb. 20, 1892 in Freeport, Stephenson County. During World War I, from May 1, 1918 to Oct. 29, 1919, he served as a private in the supply company of the 8th U.S. Infantry, with activity in Siberia, Russia. He took many photographs during the war, and his album today is preserved by the Stephenson County Historical Museum in Freeport. He also wrote about his Russia experiences for the 1970 book History of Stephenson County [link]. Harry was united in marriage with Freeport native Doris Kruse (1892-1993). They resided in Freeport but did not reproduce. Said a newspaper, Doris "was employed by State Bank and Freeport Building & Loan before retiring. She was a member of Scottish Rite Woman's Club, Commandery Auxiliary, Freeport Country Club and Old Freeport Club. A member of First Presbyterian Church, she sang in the choir there many years. Before that, she sang in Chicago and Rockford churches." He died in Freeport at the age of 97 on May 1, 1989. His name is etched in a wall along the Walk of Honor at the National World War I Museum and Liberty Memorial in Kansas City. Doris outlived her husband by four years. She passed into eternity at the age of 100 on March 24, 1993. [Find-a-Grave]
~ Daughter Matilda (Hoyman) Richmond ~
Daughter Matilda Hoyman (1846-1909) was born on July 30, 1845 in Somerset County, PA.
She was joined in wedlock with Owen Richmond (Sept. 7, 1834-1894).
Their offspring were Gertrude Richmond, Hoyt Richmond and Paul Owen Richmond. Sadly, daughter Gertrude died young and son Hoyt passed at the age of two in 1881.
The Richmonds lived in Marion County, OH, where Owen was a merchant. They were members of the Reformed Church, where she "was ever a faithful and untiring worker," reported a newspaper.
Sadly, Owen died in at the age of 59 on Jan. 26, 1894. His remains were lowered beneath the sod in Prospect Cemetery in Marion County.
Matilda spent her final years with her sister Flora in the village of Prospect, Marion County. Stricken with cancer of the rectum and intestines, she died at the age of 64 on Aug. 14, 1909. Burial was in Prospect, following funeral services led by Rev. W.E. Huckerieder of the family church, with her sister Flora "Floe" Hoyman of Prospect signing the Ohio death certificate. Said a local newspaper, she "was well known and highly respected and her loss will be deeply felt by a large circle of friends."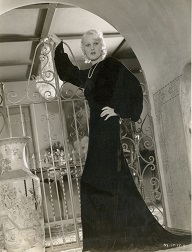 Hazel at home in Beverly Hills

Ziegfeld Follies star
Hazel Forbes
Son Paul Owen Richmond (1884-1932) was born on Sept. 13, 1884 in Prospect, Marion County. He was only nine years old when his father died. Paul left home at the age of 18 and moved to Cleveland to work for R.L. Watkins Company, a cosmetic manufacturing concern. He later became vice president of the firm and was considered a millionaire. At its height, the Watkins firm employed 1,000 people and produced 150 different brands of soap, medicines and cosmetics in 11 different U.S. cities. His first wife was Mona Louise (Rogue) Behrens (1889-1930), daughter of John and Louise Rogue, a native Baltimore County, MD but a resident of Boston. Sadly, she died in Miami, FL at the age of 40 on Feb. 23, 1930. Her remains were placed in the Richmond plot of graves in Prospect Cemetery. In April 1931, at the age of 46, he married a second time to 21-year-old Ziegfeld Follies showgirl Hazel Forbes (Nov. 26, 1910-1980). The nuptials were held in the Methodist Episcopal Church in Kennedysville, MD following a cruise on Paul's yacht, accompanied by Hazel's mother. She was divorced from automobile salesman Edward Judson, and in agreeing to marry our Paul, promised to give up her career and become a "musical comedy prima donna." But less than a year later, Paul was stricken with double pneumonia and treated in Harbor Sanatorium in Manhattan, NY. Hazel sat at his bedside throughout until his death on Jan. 16, 1932. His remains were brought back to Prospect for burial. Said a newspaper, "Since Richmond's death ... she has refused to accept offers for parts in new Broadway shows, saying that she will continue to obey the wishes of her husband and never return to the stage." Hazel inherited his millions in cash and Watkins stock and lived a long life. For awhile, she participated in the management of the Watkins company but eventually sold her stock and pursued movie parts without success. Said the St. Louis Post-Dispatch in a full-page story in November 1934, "Critics have continued to recognize her beauty, but casting directors have been persistently hard-boiled." In 1934, she received her break when she was cast in her debut, the RKO Pictures comedy film Down to Their Last Yacht, starring Mary Boland, Polly Moran and Ned Sparks. The movie plot revolves around a wealthy family turned poor in the 1929 Wall Street crash and who are so desperate that they rent out their yacht for a host of misadventures. She married for a third time in Miami Beach on April 16, 1938 to nightclub singer, actor and trans-Atlantic flyer Harry Richman. Among the attendants and groomsmen at the wedding were motion picture producer Major Albert Warner, tinplate heir William B. Leeds and sportswriter Damon Runyon. The Richman marriage was doomed from the start, and she sued for divorce in 1941, claiming "It's just the life he leads, the jumping around from place to place, the late hours and all the nervous tension," she said in a story in the Philadelphia Inquirer. "But just because we didn't stay married is no reason why we can't stay friends." She went on to wed her fourth husband, Army Air Corps Major Charles C. Eberly. Hazel announced in September 1945 that she was going to Reno, NV to divorce Eberly. She passed away on Nov. 19, 1980.
~ Daughter Nancy Jane "Jenny" (Hoyman) Wottring ~
Daughter Nancy Jane "Jenny" Hoyman (1848- ? ) was born on June 7, 1847.
She was wedded to farmer Reuben Wottring (1838-1902) of Ohio. They made their home in Delaware County, OH.
The couple produced one son, Elmer Hoyman Wottring, born in March 1869.
Their marriage was short-lived. At the age of 22, on Dec. 6, 1869, just nine after giving birth, Jenny died. Burial was in Prospect Cemetery in Marion County, OH.
Reuben lived for another 32 years and remained in Prospect, Marion County, OH. A newspaper once said he was "one of the prominent farmers and horsemen of this section, owning a large farm south of town. He was a model farmer."
He married two more times, first to Lydia B. (1853-1875) and second to Louise C. Hoffman (1856-1939). He produced one child each with the second and third wives, but both died in infancy.
Tragically, at the age of about 63 or 64, Reuben fell down a flight of stairs in July 1902 and suffered a concussion and bleeding of the brain. He remained unconscious for a week, and a medical expert was called from Cleveland, but to no avail. He passed away on July 17, 1902, with burial in Prospect Cemetery following funeral services in the Reformed Church, led by Rev. O.M. Schaaf
Son Elmer Hoyman Wottring (1869-1927) was born on March 13, 1869 in Delaware County, OH, and was but nine months old when his mother died. He grew up with stepmothers Lydia Wottring and Louise C. Wottring. He spent his life in Delaware and Marion Counties, and for decades lived in Prospect, Marion County, where he operated a livery business. Elmer married Mattie Grigsby ( ? - ? ). Their two offspring were Marguerite Elizabeth Sweeney and Pearl Genevieve Wottring, who died in infancy in 1890. Their home was 1.5 miles south of town, and they were members of the Prospect Baptist Church, with Elmer belonging to the Modern American Woodman lodge. He was considered "one of the best known residents of this community," said a newspaper. At the age of 58, on June 4, 1927, he died in Prospect. Following funeral services led by forrmer pastor Rev. A.R. Woodworth, now of the Baptist church of Perry, OH, burial was in Prospect Cemetery. He was eulogized in a local newspaper as having been "a kind and affectionate husband and father, his life motto was the Golden Rule."
~ Daughter Louise Emiline (Hoyman) Ruston ~
Daughter Louise Emiline Hoyman (1849- ? ) was born on Feb. 22, 1849 in Stoystown, Somerset County.
She relocated to Illinois as a girl and grew up in and around Freeport, Stephenson County.
Louise married John Edwards Ruston (May 25, 1846-1921), son of John and Martha (Edwards) Ruston.
John died on June 23, 1921 at the age of 75. Burial was in Oakland Cemetery in Freeport.
At the age of 83, she succumbed on July 13, 1932 in Freeport.
~ Daughter Flora "Floe" Hoyman ~
Daughter Flora "Floe"Hoyman (1851-1935) was born in about 1851 in Pennsylvania. She came to Illinois as a young girl, and never married.
She and her siblings lived in a range of separate households when Flora was in her teens. Circa 1860, when she was 19, she boarded with the family of Samuel and Susan Zeibach in Freeport, Stephenson County.
As an adult, she moved to Ohio and dwelled with her sister Matilda Richmond in Prospect, Marion County, OH. In the 1910s, she returned to Freeport, Stephenson County where she spent the final two-plus decades of her life.
Flora hosted Thimble Club meetings in her Marion home over the years and enjoyed entertaining her visiting nephews and nieces.
She died at home on Dec. 29, 1935. The funeral and burial were held in Freeport. An obituary appeared in the Marion (OH) Star, which noted that Mrs. Kenneth F. Swaney of 627 Pearl Street in Marion was a grand-niece.
~ More ~
We are grateful for records provided by Gilbert R. Gaumer of Glendale, MO (compiled 1973-1980), Paul K. Gaumer and Mary L. Shirer in the preparation of this biography.
The Gaumer and Hoyman clans are profiled in the 486-page book Some Notes, Quotes, and Quips of the Hoyman Clan and Related Lines, authored by David LeRoy Baldwin and published by Gateway Press in 1993.
Copyright © 2000, 2011, 2015-2018 Mark A. Miner
Contributing their knowledge to this biography have been the late Gilbert R. Gaumer, Barbara (Moss) Wardsworth and Keith Sturts.