Earl Calvin Trout
(1888-1959)


Earl and Edna Pearl Trout
Earl Calvin Trout was born on Feb. 13, 1888 in West Overton, Westmoreland County, PA, the son of Isaac F. and Emma (Minerd) Trout.
As a young man, Earl is believed to have worked with his father in their small grocery store at Foxtown, Hempfield Township, Westmoreland County. When the federal census was taken in 1910, the 22-year-old resided at home with his parents.
When he was age 27 and she 18, in about 1915, Earl married Edna Pearl Felgar (Sept. 20, 1896-1949), the daughter of John and Anna M. (Bryan) Felger. They were eight years apart in age.
The Trouts produced six children -- Stanley Robert Trout, Ray G. Trout, twins Dora Belle Stefl and Dolly Delle Croushore, Emma Kate Shincovich and Anna Jane Christner.
The federal census of 1920 shows the family living in Foxtown, next door to his widowed mother and unmarried sister Dollie Trout, and two houses away from his aunt and uncle, Bertha and Samuel Van Dyke, and his widowed grandmother, Elizabeth (Livingston) Minerd. Earl's employment was marked as house painter.
In 1930, the census shows the growing Trout clan making its home in Hempfield Township, with Earl continuing his longtime occupation as a general painter.
Their home in the late 1940s was in Export, Westmoreland County.
Sadly, Edna Pearl suffered from heart problems and hardening of the arteries and in August 1949 was stricken with an infection of her heart muscle tissues. She lasted only two days and succumbed on Aug. 12, 1949, at the age of 61.
Earl survived his wife by a decade. He moved to a new home at 1700 Washington Street in South Greensburg in about 1958. A year later, after suffering a heart attack, he died at home on Oct. 2, 1959 at the age of 71. Interment was beside Edna Pearl in Wesley Chapel Methodist Cemetery in Scottdale.
~ Son Stanley Robert Trout ~
Son Stanley Robert Trout (1916-2002) was born in 1916.
He married Blanche Henry (1918-2001), the daughter of Leonard F. and Henrietta (Caroll) Henry.
They lived in Youngwood, Westmoreland County, and had one son, name not yet known. Their address in 1959 was South Seventh Street.
Stanley served in the U.S. Navy in the Pacific Theatre during World War II. Later, for 44 years, he worked for Robertshaw Controls in Youngwood. He also was a member of the Armbrust Wesleyan Church, life member of the Youngwood Sportsmen Association and the Jeannette American Legion.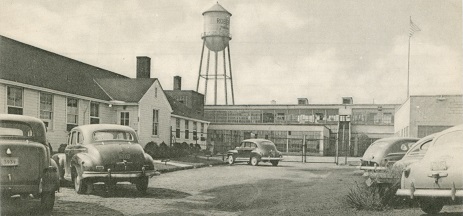 Robertshaw Controls plant in Youngwood
Blanche, said the Greensburg Tribune-Review, was "a member of the Armbrust Wesleyan Church. She retired from Kmart and was a former secretary at the VFW Post 211 of Youngwood."
Blanche passed away on July 13, 2001 at IHS of Greater Pittsburgh at Greensburg. She was age 83.
Stanley only survived his wife by six months. He died at age 86 on Jan. 24, 2002, at Hempfield Manor in Greensburg. He was laid to rest in the Westmoreland County Memorial Park.
~ Son Ray G. Trout ~
Son Ray G. Trout (1918-2010) was born on May 20, 1918 in Hunker, Westmoreland County. Following graduation from high school, he received degrees in aeronautical and mechanical engineering from Indiana Technical University.
In about 1943, at the age of 25, Ray married Eleanor Riblett (June 1, 1918-2011), daughter of Jacob C. and Ella J. Riblett of Youngwood. At the time, Ray was employed and lived in Fort Wayne, IN, and their wedding was held there in a Presbyterian Church. Their marriage lasted for 67 years.
Their offspring were Diann Chethik, Polly Sage, Amy Kershaw and Ray G. Trout Jr.
During World War II, Ray served as an aeronautical engineer with contractor Taylorcraft Aviation Company, where he designed aircraft and gliders and was involved with the "GLOMB" project -- an experimental type of glider bomber. Said a newspaper:
He later worked for Aeronca Aircraft Co., and Piasecki Helicopter Co. (now Vertol). After moving to Delaware, he worked for Continental Diamond and Fiber Co. in Newark. Ray retired from New Castle County Engineering in 1983. Some of the highlights of his career included redesigning Steve Whitman's "Lil Buster" airplane that now hangs in the Smithsonian and a letter of commendation from the govenrment for his work on the Saturn Project at Cape Canaveral. His name was inscribed on the National Aviation and Space Exploration Wall of Honor on June 2, 2000. [View the memorial on the Smithsonian website.]
Eleanor was awarded a degree in elementary education from West Chester (PA) University. She went on to a teaching career with Red Clay School District in wilmington, New Castle County, DE, retiring in 1980.
Over the years, they endured the deaths of their son-in-law Kenneth Norris and granddaughter Alison Trout.
He passed away in the home of a daughter in Smyrna, DE on March 12, 2010. Following funeral services held at Red Clay Creek Presbyterian Church in Wilmington, interment was in the church cemetery.
Eleanor only lived for about a year as a widow and succumbed on Feb. 27, 2011. An obituary was published in the Wilmington News Journal. She and Ray rest together under a granite bench at the Red Clay Creek church burying grounds.
Daughter Diann Trout ( ? -living) married Frank Chethik. In 2010, they resided in El Granada, CA.
Daughter Polly Trout ( ? -living) was wedded to Fred Sage. They dwelled in Wilmington, DE. Their daughter Wendy (Sage) Baker generously has shared information for this biography.
Daughter Amy Trout ( ? -living) was first married to Kenneth P. Norris (1952-1977), son of Raymond B. and Janet S. Norris. Kenneth was a well-known scholastic football and basketball player and wrestler, named "Outstanding Senior Athlete" at Dickinson High School, who played for three years at the University of Delaware as a member of the class of 1975. After marriage, Raymond was employed in Chester, PA as a supervisor with Congoleum Corporation. Tragedy shook the family as Amy was expecting her first child. In the wee hours of the morning of Christmas Eve 1977, Kenneth was "killed when his 1976 Mustang hit a utility pole on Stanton-Ogletown Road near the rear entrance to Delaware Park," reported the Wilmington Morning News. Burial was in Red Clay Creek Cemetery, and inscribed on his grave marker are these words: "Love shared is life's eternity." After several decades, Amy married again to Kenneth Kershaw and lives in Townsend, DE.
Son Ray G. Trout Jr. ( ? -living) was joined in marriage with Tina. Their home is in Lewes, DE.
~ Daughter Anna Jane (Trout) Christner ~
Daughter Anna Jane Trout (1920-2008) was born in 1920.
She resided in Greensburg and married Charles Christner Sr. ( ? - ? ).
They had three children -- Charles E. Christner Jr., Paul E. Jacobs and Linda Koshar.
Said the Greensburg Tribune-Review, "Anna was an avid bingo player at the Greensburg Moose for nearly 50 years. She enjoyed crossword puzzles and crocheting."
Anna died at Excela Westmoreland Hospital in Greensburg on Oct. 23, 2008, at the age of 87. Interment was at Hillview Cemetery in Greensburg.
~ Daughter Dora Belle (Trout) Stefl ~
Daughter Dora Belle Trout (1922- ? ) was born in 1922, a twin with her sister Dolly.
She married (?) Stefl.
They lived in Greensburg in 2008.
~ Daughter Dolly Delle (Trout) Croushore ~
Daughter Dolly Delle Trout (1922-1972) was born in 1922, a twin with her sister Dora.
She married (?) Croushore, also spelled "Croushane."
She died as she neared her 50th birthday in April 1972.
~ Daughter Emma Kate (Trout) Shincovich ~
Daughter Emma Kate Trout ( ? - ? ) was born in about (?).
She was wedded to (?) Shincovich ( ? - ? ), also spelled "Sinovich."
Circa 2008, she resided in Ruffsdale, Westmoreland County.
Copyright © 2002, 2006, 2009, 2011, 2017 Mark A. Miner
Minerd.com extends appreciation to Wendy Sage Baker, who has contributed to this biography.