Missouri 'Dollie' Trout
(1882-1968)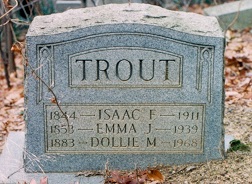 Stone Church Cemetery
Missouri "Dollie" Trout was born in September 1882 in Westmoreland County, PA, the daughter of Isaac F. and Emma (Minerd) Trout and a twin with her sister Mississippi.
The twins were born prematurely. They weighed a few pounds each and were not expected to live, and were named either for the rivers or the states. Sadly, little Mississippi died within a short time, while Missouri is said to have been placed in a cigar box in the oven to keep her warm, and obtained the nickname when her father remarked that she looked like a "doll."
Dollie never married. She was a longtime member of the Christian Alliance Church of Youngwood.
.
In 1900, she resided with her married sister and brother in law, Annie and James Hower, in Hempfield Township, Westmoreland County.
Dollie must have had a heart for those who were down and out. In September 1929, on the Republican ticket, she ran for but did not receive a nomination as Director of the Poor in Westmoreland County. A story in the Pittsburgh Post-Gazette noted that she was among 15 contenders for the position, in which Edward Klingensmith of Vandergrift and John H. Hamburg of Irwin were finalists.
In her later years, Dollie lived in a trailer in New Stanton, Westmoreland County. She was said to "have read tea leaves" to predict the future.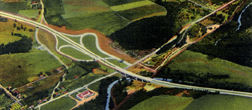 New Stanton interchange, PA Turnpike
New Stanton was a quiet farming community until about 1940, when the newly built Pennsylvania Turnpike cut through the area. An interchange was established at New Stanton, and still exists today. An aerial photograph of the looping exit/entrance ramps are seen here.
Dollie passed away on March 7, 1968 in Westmoreland Hospital in Greensburg at 86 years of age. She was laid to rest beside her parents at the Stone Church Cemetery near Hunker, PA. A brief death notice in the Connellsville Daily Courier reported that "Surviving are several nieces and nephews."
Copyright © 2002, 2004, 2008, 2018 Mark A. Miner