Home

Sarah 'Elizabeth' (Turner) Smalley
(1865-1909)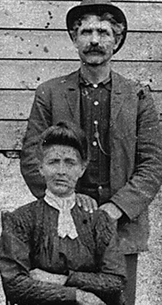 Elizabeth and George Smalley
Sarah Elizabeth "Lizzie" (Turner) Smalley was born in June 1863 (or 1865) in Fayette County, PA, the daughter of George Washington and Mary Frances (White) Turner.
Lizzie left behind a very scant paper trail.
She married George "Burl" Smalley (May 1849-1930), the son of William and Mary Smalley. The wedding took place in about 1883, when Lizzie was age 18, and George was 34. She was 16 years younger than her husband. Interestingly, George is said to have been born "on the ocean" in 1849 during his family's emigration from England to the United States.
Their two sons were Charles H. Smalley and Frederick G. Smalley.
The federal census enumerations of Stewart Township for 1880 and 1900 show the family together, with George laboring as a farmer.
Sadly, Lizzie died without much warning on April 8, 1909, when she was just 45 years of age. A physician wrote on her death certificate that "death sudden and there was no Doctor could get to her." Interment was in Bryner Ridge Cemetery.
As a widower, George made his home with his son Frederick in Stewart Township. The 1910 census shows the 60-year-old George, and 20-year-old son Frederick, living under the same roof. Their occupations that year both were marked as "farmer."
George's listing in the 1920 census has not yet been located.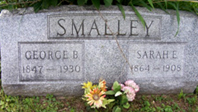 Bryner Ridge Cemetery
The shadow of death dealt a cruel blow to the family on Dec. 2, 1924, when 40-year-old son Charles, a farmer, was struck and killed by a railroad train in a freak accident at Ohio Pyle. County Coroner S.A. Baltz wrote: "Struck by B. and O. train No. 8 at grade crossing. Fractured skull." Burial was in Bryner Ridge Cemetery. A.A. Corriston of Ohio Pyle, a friend of the family, was the source for information on the death certificate.
George died sometime during the day on March 18, 1930, at the age of 81. Son Fred found him dead in bed that evening. The Uniontown Daily News Standard eulogized him as "one of the oldest citizens of Stewart township..." The funeral was held at the home, led by Rev. Kooser. George and Lizzie are buried together at Bryner Ridge Cemetery, also known as Middle Ridge and the old Sproul(e) farm cemetery over the years.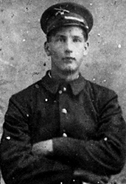 Charles in uniform
~ Son Charles Henry Smalley ~
Son Charles Henry Smalley (1884-1924) was born in 1884.
Charles and Annie Crowthers ( ? - ? ), who were not married, produced a daughter in 1907, Ruth Anna Smalley.
He resided in Ohiopyle in 1911. That year, in March 1911, when he was age 26, Charles eloped to Cumberland, MD to be united in holy matrimony with 16-year-old Florence May Armel (1894-1988). She was a native of Hawkeye near Greensburg, Westmoreland County, PA and the daughter of John and Mary (Basinger) Armel. News of their marriage was printed in the Pittsburgh Post-Gazette.
The couple produced a family of seven children -- Ruth Anna Forney, Harry Smalley, Robert Smalley, John Smalley, Lee Verner Smalley, Ralph Smalley and Edna Thorpe.
When the census was taken in 1920, the Smalleys lived next door to Charles' brother Frederick. The two brothers made a living as coal loaders at a nearby mine.
In November and December 1919, Charles placed the following two classified advertisements in the Connellsville Daily Courier, showing his mettle but also a sense of humor, and displaying some of the complexities of the farming life at the time:
Notice.
THE PARTIES THAT SHOT MY hog are known and unless they call and settle, will be arrested. Chas. H. Smalley, Ohiopyle, Pa.
Strayed.
STRAYED--ON MY PREMISES, ONE bob tall horse. Owner may have same by proving ownership, paying for this ad and feed. Chas. H. Smalley, Ohiopyle, Pa.

News coverage, 1924
Tragedy rocked the family on the morning of Dec. 2, 1924, when the 40-year-old Charles was in Ohiopyle. He had made stops to obtain his mail at the post office and to purchase groceries at the store of R.W. Whipkey Company. While heading home, his horse was startled by a noise, and bolted toward the railroad crossing. At the same time, a Baltimore & Ohio Railroad locomotive was bearing down on the crossing. Charles managed to turn the horse away, but his sled crossed into the path of the train, demolishing the sled, and killing him instantly. His mangled remains were laid to rest in the Bryner Ridge Cemetery, not far from the grave of his mother. Obituaries were printed in the Daily Courier and the Uniontown Morning Herald as well as across the state in newspapers in Lancaster and Scranton.
Several days later, the Fayette County Coroner held an inquest. C.L. Whipkey, a storekeeper at the crossing, gave testimony that "the crossing has claimed one death a year for the last thirteen years," reported the Scranton (PA) Tribune. Given the freak nature of the accident, the jury absolved the B&O Railroad from blame, but also recommended that the company "install a crossing warning system at Ohiopyle that would be more uniform than that now in use," reported the Courier. In providing eyewitness testimony, storekeeper Whipkey said that "warning bells ring from several minutes, to two or three hours ahead of trains going in one direction but only a few minutes the other direction. Smalley was crossing the tracks while the bell was ringing."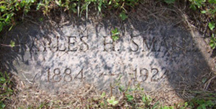 Charles' overgrown grave marker
Widowed, Florence survived her husband by an extraordinary 64 years. In 1931, she endured the death of her 15-year-old son Robert from the effects of heart valve disease. Then again in 1947, she grieved at the accidental death of son Lee in an industrial accident.
Florence bore several other children during her widowed years. In 1928, she and township road laborer Frank Wallace ( ? - ? ) became the parents of a son, Frank Wallace.
Then by 1930 she had married lumber camp fireman James Shipley (1900- ? ). The pair produced two more offspring, James I. Shipley and Mary Watson. The federal census of 1930 shows the combined family in Stewart Township, with Florence and James Shipley marked as husband and wife and with her former lover Frank Wallace living next-door, and her son Fred Smalley and family a few houses away.
She and Frank Wallace appear to have reconnected again by 1933 and were the parents of Mildred Mae Martin and William "Donald" Wallace.
The 1940 United States Census shows "Florence M. Smalley" as a single mother in Stewart Township with seven children under her roof. That year, son Lee lived at home and provided income through his employment as a laborer with the Works Progress Administration.
She relocated to New Hampshire to reside with or near one or more of her sons. There, in Manchester, Hillsborough County, she died on Jan. 25, 1988, at the age of 94. Her remains were lowered into eternal rest in New St. Joseph Cemetery in Bedford, NH.
Daughter Ruth Anna Smalley (1907-1984) was born in 1907. She wedded Lester Edwin Forney (1901-1978), son of Harry W. and Katie Savilla (Bonawitz) Forney. They established a residence in Greensburg, Westmoreland County. The couple bore one known daughter, Eleanor H. Roadcap. Sadly, Lester died in 1978 at the age of about 77. Ruth Anna survived for anothr six years. She succumbed to death in 1984. Their remains are at rest in Oak Hill Cemetery in Millersburg, Dauphin County, PA.
Granddaughter Eleanor H. Smalley (1934-2007) was born on Feb. 4, 1934 in Greensburg, Westmoreland County. She was united in wedlock with her first husband, Casper C. Hepler (July 3, 1933-Feb. 6, 1970). Casper was a veteran of the Korean War, having sereved as a corporal with Company A of the 862nd Engineers. The couple relocated to Harrisburg, Dauphin County, PA. Casper died in 1970, at the age of 36, with burial in Oak Hill Cemetery in Millersburg, Dauphin County. Later, she married Less C. Roadcap (1931- ? ). She passed away on May 9, 2007. Interment of the remains was in Salem Lutheran Cemetery in Killinger, Dauphin County.
Son Harry Smalley (1913- ? ) was born in about 1913 in Stewart Township, Fayette County. At the age of 17, in 1930, he dwelled with his mother and step-father James Shipley in Stewart Township. His home in 1947 was in Scottdale, Fayette County.
Son Robert C. Smalley (1915-1931) was born on April 26, 1915 in Stewart Township, Fayette County. He was not destined for a long life. In about 1928, he was diagnosed with heart valve disease. He bore the ailment for three years. The Angel of Death carried him away at the age of 15 on Feb. 20, 1931. Burial was in Bryner Ridge Cemetery. James Shipley of Ohiopoyle signed the official Pennsylvania certificate of death.
Son John H. Smalley (1918- ? ) was born in about 1918 in Stewart Township, Fayette County. Circa 2009, he was in Hookset, NH.
Son Lee Vernard/Verner Smalley (1920-1947) was born on May 14, 1920 in Stewart Township, Fayette County. When he was 19 years of age, in 1940, he resided at home and earned a living as a laborer with the Works Progress Administration (WPA). The well-known WPA program was one of the ways President Roosevelt and the federal government tried to overcome high unemployment during the Great Depression. It was one of FDR's largest and most ambitious undertakings of his "New Deal" to get the nation back on sound economic footing. Over the years, the WPA hired millions of out-of-work individuals to build public works projects, such as roads, bridges, retaining walls and buildings. Many of these structures still exist today and continue to benefit society. As an adult, Lee lived in rural Dunbar, Fayette County. He was involved in a relationship with but possibly not married to Thelma "Pearl" Hall (June 18, 1918-1976), daughter of James H. and Birdie (Smitley) Hall of Dunbar. The couple were the parents of two sons, Marvin Lee Smalley and Ralph Dale Smalley. Circa 1945-1947, Lee was employed as a jackhammer operator at a quarry of the New Castle Lime and Stone Company in Dunbar. He belonged to the Bluestone Quarry Local of Dunbar, a union organization. On the fateful day of Sept. 9, 1947, while at work, the 27-year-old was drilling in a tunnel at the quarry when there was a rock fall without warning. He was instantly killed. The county coroner wrote that he had sustained a fracture of skull, crushed left shoulder and laceration of the left leg and arm. Reported the Daily Courier, "It was the first calamity at the plant in seven years." His broken remains were lowered into eternal repose in Franklin Cemetery in Dunbar. Officiating at the funeral service was Rev. W.S. Hamilton of the Franklin Memorial Methodist Church. Pearl lived for another nearly three decades. She bore these additional offspring -- Gerald Hall, Darrell Hall, Robert Hall, William Darnell, Phyllis Wingrove, Rita Hall and Beatrice Sally Hair. As a patient in Frick Community Hospital in Mount Pleasant, Westmoreland County, she was carried away by the Angel of Death at age 58 on Sept. 3, 1976. She was laid to rest beside Lee in Franklin Cemetery. An obituary in the Daily Courier noted that she was survived by 27 grandchildren and two great-grandchildren.
Grandson

Marvin Lee "Spike" Smalley

(1944-1975) was born on Aug. 31, 1944 in Dunbar. He relocated to Manchester, NH. He married Barbara H. Collins (Dec. 12, 1941-2002), a native of Lancaster, Coos County, NH and the daughter of Arthur Delbert and Olive Helen (Walker) Collins . One son was born to this union, Marvin Lee Smalley Jr. When he was only 31 years of age, he died in Manchester on Sept. 6, 1975. An obituary was published in the

Daily Courier

. His remains were transported back to Dunbar to sleep in Franklin Cemetery. Barbara lived for another 27 years and supported herself as a bartender at the North American Social Club. She bore at least two more children, Joseph Poirier and Bonnie Pettigew. She passed away in Manchester's Elliot Hospital on Nov. 18, 2002. Burial of her cremains was in Forest Vale Cemetery in Jefferson, Coos County.
Grandson Ralph Dale "Jomp" Smalley

(1946-2007) was born on Sept. 9, 1946 in Dunbar. He was united in wedlock with Louella Vern "Welly" Hall (June 1, 1948-2006), a native of connellsville. They lived in Connellsville in 1976. She was gathered in by the Grim Reaper at age 57 on May 8, 2006. Burial was in Hill Grove Cemetery in Connellsville. Ralph only outlived her by 17 months. He passed away at age 61 in Pittsburgh on Oct. 24, 2007. He rests for all time in Dunbar's Franklin Cemetery.
Son Ralph D. Smalley (1922- ? ) was born in about 1922. He was deceased by 2009.
Daughter Edna Smalley (1923-2019) was born on Christmas Day 1923 near Uniontown and was a baby when her father was killed. When she was 16 years of age, on March 2, 1940, she married Omer Allen Thorpe Sr. (Feb. 2, 1916-1986), also a resident of Fayette County, and son of Edward and Rose (Henning) Thorpe. Their marriage endured for 46 years before cleaved apart by death. The couple bore six known offspring -- Omer Allen Thorpe Jr., Donna Ellen Meloy, Barry Wayne Thorpe, Sharon Woodby, Karen Steele and Tami Gaugler. Omer joined the U.S. Navy during World War II. Circa 1947, they dwelled in rural Dunbar. The family relocated to Ohio, first settling in Windham and then in 1985 moving to Newton Falls, Trumbull County, where they spent the rest of their lives. Sadly, Omer passed into eternity at age 70 on Aug. 9, 1986. Edna survived as a widow for another 33 years. She was a member of the First Church of the Nazarene in Warren and the Church of the Nazarene in Windham. She was active in her congregations, serving as president of the Missionary Society and teaching Bible School and Sunday School. She also liked to camp, crochet and read. Her final years were spent in the Laurie Ann Nursing Home in Newton Falls. She succumbed to death on Oct. 21, 2019. Her cremains were interred in the Hawley Cemetery in Pritchard, Portage County, OH. An obituary noted that she was survived by six grandchildren, six great-grandchildren and five great-great grandchildren.
Grandson Omer Allen Thorpe Jr. (1940-2017) was born on June 5, 1940 in Pennsylvania. His first wife was Donna June Puhalsky (May 21, 1940-2019), daughter of Henry and Myra Florence (Jones) Puhalsky of Youngstown, OH. They produced two children -- Michael Allen Thorpe and Cindy Peterson. The couple divorced. Later, Omer wedded Sarah R. (Nov. 26, 1941-1981). The pair made a home in Ravenna, Portage County, OH. Sadly, Sarah died in Nov. 1981. Omer outlived her by 36 years. In 1988, he endured the untimely and tragic death of their son when the vehicle he was driving crashed into a signpost and tree limb on Mumford Road along the Geauga-Portage County line. At the age of 76, Omer passed away in Louisville on April 4, 2017. He rests in Maple Grove Cemetery in Ravenna. Former wife Donna June died in Windham, Portage County on Aug. 17, 2019.
Granddaughter Donna Ellen Thorpe (1944-2018) was born on June 27, 1944 in Pennsylvania. She was married twice to the same man -- Gordon R. Meloy (June 15, 1944-1997). They first tied the knot on May 24, 1964. The couple did not reproduce. After a divorce, they re-married in 1994. Three years later, Gordon was cut away by the Grim Reaper on March 16, 1997. Donna lived for another 21 years. She died in Newton Falls at the age of 74 on Aug. 29, 2018. They slumber in Hawley Cemetery in Pritchard, Portage County.
Grandson Barry Wayne Thorpe (1954-2012) was born on July 23, 1954 in Pennsylvania. Whether or not he married is not yet known. He died at the age of 58 in Youngstown, Mahoning County, OH on Oct. 23, 2012.
Granddaughter

Sharon Thorpe ( ? - ? ) married Ernest Woodby. They were in Newton Falls in 2019.
Granddaughter Karen Thorpe ( ? - ? ) wedded Edward Steele. They relocated to Homestead, FL.
Granddaughter Tami Thorpe was united in marriage with David Gaugler

. They dwell in Akron, OH.
Florence's son Frank "Bucky" Wallace (1928- ? ) was born in 1928 in Stewart Township, Fayette County. He resided in 2009 in Chalk Hill, Fayette County.
Florence's son James I. "Jim" Shipley (1930- ? ) was born in 1930 in Stewart Township, Fayette County.
Florence's daughter Mary M. Shipley (1931-2009) was born in 1931 in Stewart Township, Fayette County. She was unmarried and lived with her mother in 1947. Eventually she married (?) Watson. The family dwelled in Lorain, OH. She died in 2009.
Florence's son Willard Wallace (1933- ? ) was born in about 1933 in Stewart Township, Fayette County.
Florence's daughter Mildred Mae Wallace (1933-2009) was born on Dec. 29, 1933. She was single in 1947 and dwelled at home. She was united in matrimony with David Lester Martin ( ? - ? ). The 10 offspring born to this couple were David Lee Martin, Lester E. Martin, Gayla Kopistecki, Coburn Martin, Trudy Martin, Lawrence Martin, James Martin, Smalley Martin Sr., Stewart Martin and Julie Martin. She died in Dunbar at the age of 75 on June 30, 2009. The funeral service was conducted by a distant cousin of Charles Henry Turner's, Rev. Lee Maley, of the family of Martha (Mayle) Mayle. Burial was in Franklin Cemetery in Dunbar, with an obituary appearing in the Daily Courier.
Florence's son William Donald "Don" Wallace (1936-1999) was born the day after Christmas in 1936. He married Iva Derby ( ? - ? ), with their marriage enduring for 33 years. Their children were Mark Wallace, William Wallace Jr., Jean Wallace and Ann Wallace. His final residence was in Manchester, Hillsborough County, NH. He passed into eternity on the second day of 1999.
~ Son Frederick Grant Smalley ~
Son Frederick Grant Smalley (1889-1974) was born on Oct. 22, 1889 on Kentuck Knob, near Ohiopyle, Fayette County
He served in the U.S. Army during World War I.
Frederick wed Laura Watson (1904-1989), the daughter of W.J. Watson, in about 1919. Laura was age 15 at the time of marriage, while Frederick was a dozen years older.
They bore six children, all sons but one -- Roy G. Smalley, James E. Smalley, Frederick Smalley, Clyde C. Smalley, George R. Smalley and Sylvia M. Smalley.
The 1920 census shows the newlyweds living near Ohiopyle, with Frederick employed as a loader in a local coal mine.
Just a few doors away from the Smalleys in 1930 lived Frederick's step-grandmother, Flora (Hull) Turner, and her children ranging in age from 11 to 22.
Frederick passed away on Oct. 12, 1974, at the age of 85. At the time, said the Uniontown Morning Herald, he was survived by 18 grandchildren and 10 great-grandchildren. He was laid to rest in Middle Ridge Cemetery.
Laura outlived her husband by 15 years. She died in 1989.
Son Roy G. Smalley (1922- ? ) was born in about 1922 in Stewart Township, Fayette County. He joined the U.S. Army in about 1938 and, circa 1945, was stationed at Fort Story, VA. He was married. They produced at least two offspring, Peggy Hall and Barbara J. Milliman. Roy enjoyed hunting and often was in the news for the bucks he brought down.
Granddaughter Peggy Smalley was joined in marriage with Michael Hall, son of Wendell Hall of Hardy Hill in Dunbar. Their children were Anita Marie Hall and Michael Hall. At the children's early birthdays, they were pictured in the Daily Courier.
Granddaughter Barbara J. Smalley ( ? - ? ) was born on (?). On Aug. 17, 1974, she wedded Dennis A. Milliman, son of Richard W. Milliman. At the time of marriage, she worked for Montgomery Ward and Co. at the Laurel Mall, while he was employed by DeClemente Service. Their home in 1977 was at 149 Connellsville Street in Dunbar. They were the parents of Annie B. Millman.
Son James E. Smalley (1924- ? ) was born in about 1924 in Stewart Township, Fayette County. During World War II, he served in the U.S. Army as a member of the 328th Infantry Division. He was sent to Europe in August 1944 and received wounds in action in France. Circa January 1945, he convalesced in an Army hospital in England.
Son Frederick Smalley (1928- ? ) was born in about 1928 in Stewart Township, Fayette County. He was in Connellsville in 1974.
Son Clyde C. Smalley ( ? - ? ) served in the U.S. Navy circa 1956-1957. He was deployed aboard the USS Hamner destroyer and took part in a six month cruise in the western Pacific Ocean. In the mid-1970s, he dwelled in Dunbar, Fayette County.
Son George R. Smalley learned the electrician's trade and earned a living over the years. He made a home along Ohiopyle Road in Ohiopyle in 1974. He is thought to have been elected in 1975 to the Uniontown Area School Board.
Daughter Sylvia M. Smalley was deceased prior to 1974.
Copyright © 2003-2004, 2006-2007, 2009-2010, 2020 Mark A. Miner
Grave marker photos courtesy of Brenda (Turner) Blake, which also are posted on the Find-A-Grave webpages for Bryer Ridge Cemetery.