William Whetzel
(1887-1964)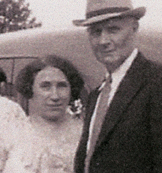 Kathryn and William

William Whetzel was born on Feb. 2, 1887 at Leisenring, near Dunbar, Fayette County, PA, the son of John "Homer" and Mary (Minerd) Whetzel.
William entered into marriage with Kathryn Brooks (1888-1969), the daughter of Hazell and Jane (Williams) Brooks of Woods Run, Washington County, PA. The wedding took place in about 1909, when William was age 22, and Kathryn 19.
They made their home in the early years of marriage in South Brownsville, Fayette County.
The couple did not reproduce.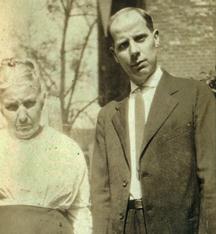 William and his mother, early 1920s

Tragedy struck in 1913-1914, when William's brother and sister-in-law Elmer and Hazel Whetzel both died, leaving five young orphaned children. William and Kathryn took in two of the girls, and raised them as their own -- Hazel Elizabeth Whetzel and Bertha Mae Whetzel. Apparently, they may not have formally adopted the girls.

The federal census of 1920 shows William, Kathryn, Hazel Elizabeth and William's widowed mother Mary living in a house on Prospect Street in Brownsville. William labored that year as a coal miner.

When the census again was taken in 1930, William, Kathryn and 18-year old "niece" Hazel Elizabeth made their home on Bank Street in South Brownsville. Lodgers Charles W. Teeple and James L. Laughrey boarded in the household. That year, William was employed as a laborer in a local laundry.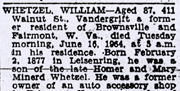 Uniontown Evening Standard

At some point, after 1930, the family relocated to Fairmont, Marion County, WV, where William was employed as an auto parts clerk by Fairmont Auto Supplies owned by Wallace D. and Anna (Hagen) Craig.

William may later have purchased the store, according to the Uniontown (PA) Evening Standard.

While in Fairmont, the Whetzels were members of the Fairmont Presbyterian Church.

As they aged, the Whetzels moved again, from Fairmont to Vandergrift, Westmoreland County, PA, where their married niece Hazel Rowe made her home. Their address was 411 Walnut Street in Vandergrift.

William was burdened with heart disease and hardening of the arteries. He eventually became paralyzed on the left side of his body.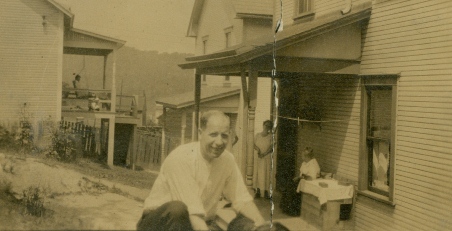 Above: William at his mother's home in Brownsville, circa 1923. Below: William and Kathryn's grave at Redstone Cemetery.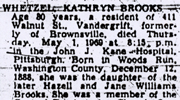 Obituary, 1969

At the age of 87, William died at home on June 16, 1964. He was laid to rest near his mother in Redstone Cemetery, following a funeral led by Dr. D. Alan Mertens.

Kathryn outlived her husband by five years. She was sent for medical treatment to the John J. Kane Hospital in Pittsburgh, and died there at the age of 80 on May 1, 1969.

Her remains were transported to Brownsville to join her husband in eternal rest in Redstone Cemetery.

An obituary in the Uniontown Morning News said that Kathryn was survived by nieces Mrs. Wallace Craig of Clarksburg, Mrs. Paul Tarleton of Fairmont and Mrs. Elizabeth Rowe of Vandergrift.

Copyright © 2000, 2002, 2007-2008, 2011, 2022 Mark A. Miner