When the federal census was taken in 1900, 18-year-old Elmer worked as a coke drawer and was listed as living with his widowed mother and brother William in Franklin Township, Fayette County.
Elmer and Hazel were wed in in late 1904 or early 1905.
They went on to produce five children -- Anna Gertrude "Annie" Hagan, Edith Whetzel, Charles Elmer "Buddy" Whetzel, Hazel Elizabeth Rowe and Bertha Mae Hagan.
The Whetzels moved to South Brownsville, PA in about 1901. He worked for the Brownsville Brewing Company for eight years, and was a night watchman at the company's South Brownsville plant. He was a member of the Brownsville Lodge, No. 357, of the Knights of Pythias.
As a town hard by the Monongahela River, Brownsville was prone to occasional flooding. The old postcard seen here depicts high water in Brownsville circa 1906. Note the citizens on their porch roof at left, and the rowboat in the upper right hand corner. It's not known where exactly the Whetzels lived in town, and whether they faced any hardships due to the rising, dangerous river.
The census of 1910 shows Elmer's mother Mary, age 56, residing in their household in Brownsville.
In the summer of 1913, Hazel was pregnant with their fifth child, and 31-year-old Elmer became ill with heart valve problems, causing "cardiac regurgitation." When further stricken with rheumatic fever, he "was compelled to remain indoors" and became bedfast, reported a newspaper. Sadly, on July 29, said the Uniontown Morning Herald, he "was seized by pains about the heart. His condition became critical in a short while and attending physicians failed to ease the heart attacks. Shortly after noon he passed away."
Elmer was laid to rest in an unmarked grave at Redstone Cemetery, in Section D Extension, Lot 15. The founder of this website visited the cemetery in March 1999, and obtained records from the caretaker indicating the location of the lot.
Widowed with five children, Hazel was left alone to carry on. Adding to the tragedy, just five months later, on Jan. 15, 1914, the Shadow of Death visited the family again, claiming Hazel herself at the untimely age of 31. The cause of death was peritonitis -- a deadly performation of the bowels -- added to the effects of childbirth with their youngest daughter.
Her five orphaned children ranged in age from eight years to a few days.
The children were divided and while some were raised by friends and family, while others were committed to the Children's Aid Society of Fayette County.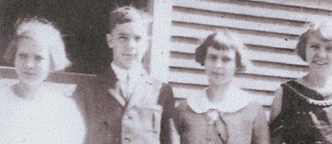 Four of the orphaned Whetzels, left to right: Hazel "Elizabeth" Rowe, Charles Elmer Catherwood, Bertha Mae (Hagan) Tarleton and Anna Gertrude (Hagan) Craig. Missing: Edith Sevilla (Inks) Toward.
~ Daughter Anna Gertrude (Whetzel) Hagan Craig ~
Anna Gertrude "Annie" Whetzel (1906- ? ) was born in about 1906 in Brownsville, Fayette County.
Three years after the death of her mother, she was adopted at the age of 11 in 1917 by Percy D. and Laura H. Hagan of Uniontown, Fayette County, and was raised under the new name of "Anna Gertrude Hagan."
On March 18, 1926, Anna Gertrude married Wallace Downey "W.D." Craig Sr. (May 7, 1904-2003), son of Altha M. and Estella (Crow) Craig of Uniontown. Their marriage endured for nearly six decades until death cleaved them apart.
They were the parents of Barbara A. Dorsey, Estella Jane Bartlett, Joyce Elaine Dorsey and Wallace Downey Craig Jr.
The Craigs lived in Fairmont, Marion County, WV circa 1940, and Anna Gertrude's widowed mother lived under their roof that year. Later, they moved to Buena Vista Avenue in Clarksburg, Harrison County, WV. They were members of First Presbyterian Church of Clarksburg. Wallace was an owner of Craig Motor Service Company, an automotive supplies firm operating in West Virginia, Pennsylvania and Maryland. He served on the board of directors of the Salvation Army, belonged to the Fairmont lodge of the Masons for a half century and was a member of the Osiris Temple Shrine in Wheeling.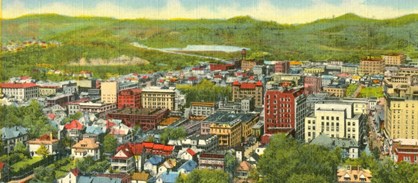 Bird's-eye view of Clarksburg
She was mentioned in the 1969 Uniontown Morning News obituary of her aunt, Kathryn (Brooks) Whetzel.
Later in life, the Craigs relocated to Volusia County, FL. Anna Gertrude died there on June 28, 1985. Her remains were transported back to Clarksburg for burial in Elkview Masonic Cemetery. [Find-a-Grave]
Wallace lived for another 18 years and was admitted to The Heritage in Bridgeport. He died there age the age of 98 on Feb. 12, 2003. An obituary noted that his survivors included 10 grandchildren, several great-grandchildren and one great-great grandchild. Interment was in Elk View Masonic Cemetery, with Rev. Dr. Eric Faust officiating at the funeral service.
Daughter Barbara Ann Craig (1927- ? ) was born on July 27, 1927 in Uniontown, Fayette County, PA. She moved to West Virginia with her parents when a very young girl. As a young woman, she lived at 19 Park Drive in Fairmont. At the age of 25, on July 25, 1953, Barbara Ann wedded 27-year-old Daniel Manning Dorsey Jr., ( ? - ? ), son of Rev. Daniel Manning and Matson (Parsons) Dorsey Sr. of Charleston, Kanawha County, WV. Daniel's father performed the nuptials. (In an interesting twist, Barbara's sister Joyce married Daniel's brother William.) Sadly, Barbara died young. The widowed David continued to make his home in Clarksburg.
Daughter Estella Jane "Stella" Craig (1930-2003) was born on June 5, 1930 in Fairmont. She married Fred Rex Bartlett (Nov. 5, 1929-2007), a native of Fairmont and the son of Johnson Joseph and Winifred Alice (Rex) Bartlett. Their offspring were Laura Dickson, Judy Taylor and David Bartlett. Circa 2003, they dwelled in Bel Air, MD. Estella died in Bowie, Prince George's County, MD at the age of 73 on July 7, 2003. Burial was in Lakemont Memorial Gardens in Davidsonville, Anne Arundel County, MD. A death notice in the Washington Post noted that she was survived by six grandchildren. Fred lived for another four years in Bowie. He succumbed on Aug. 6, 2007, with funeral services held at St. Matthews United Methodist Church. For both Estella and Fred, the family requested that any memorial donations be made to the Alzheimer's Association.
Daughter Joyce Elaine Craig (1935- ? ) was born on May 29, 1935 in Fairmont. Her home as a young woman was 212 Buckhannon Avenue in Clarksburg. On April 27, 1962, she was joined in marriage with William Parsons Dorsey (Aug. 31, 1935- ? ). He was the son of Rev. Daniel Manning and Matson (Parsons) Dorsey of Charleston, Kanawha County WV. Rev. Samuel E. Glass, of the First United Presbyterian Church of Clarksburg, led the nuptials. They lived in Marietta, OH in 2003.
Son Wallace Downey Craig Jr. (1940-2016) was born in about 1940 in Fairmont. As a youth, he was a student at Greenbrier Military Academy and at Manlius Military Academy, where he received the rank of second lieutenant upon graduation. He served in the U.S. Army during the Korean War. On July 29, 1961, he was united in wedlock with Constance "Jean" Spino ( ? - ? ). Their marital union endured for 55 years, and they produced these children -- Kim Craig, Cathy Wilson and Robin Brannon. They made a residence in Bridgeport near Clarksburg. Wallace was employed for many years with his father's automotive supply business, Craig Motor Service. He also owned and operated State Motor Company. Sadly, Wallace suffered a lengthy illness and succumbed on Christmas Eve 2016 as a patient at Louis A. Johnson Veterans Administration Medical Center. His cremains were placed into rest in the West Virginia National Cemetery in Pruntytown, WV, with Rev. John Koerner officiating.
~ Daughter Edith (Whetzel) Inks Toward ~
Edith Whetzel (1908-1951) was born on Jan. 23, 1908 in Brownsville, Fayette County.
Orphaned at age six, she immediately was taken into the home of cousins Albert and Etta (Frederick) Inks. They legally adopted her on March 20, 1914, just two months after Hazel's death.
Edith married Norman Toward (May 8, 1911-1988).
Later, they and her adoptive parents dwelled near Gettysburg, Adams County, PA. They relocated in about 1948 to Grantham, Cumberland County.
Sadly, stricken with cancer of her uterus, Edith succumbed at the age of 43 on Nov. 11, 1951. Burial was in Fairview Cemetery in Arendtsville, Adams County. On her death certificate, Albert and Etta were listed as her parents. [Find-a-Grave]
Norman outlived his first wife by three-and-a-half decades. He is believed to have married a second time to Virginia S. (Sept. 8, 1909-1986). She died in 1986, leaving him widowed for a second time.
His residence in 1988 was in Mechanicsburg, Cumberland County, PA.
Norman passed away three days before Christmas 1988. He and Virginia rest for all time in Indiantown Gap National Cemetery in Annville, Lebanon County.

Elizabeth Rowe
~ Daughter Hazel "Elizabeth" (Whetzel) Rowe ~
Hazel "Elizabeth" Whetzel (1911-1989) was born on Nov. 11, 1911.
At the death of her mother n 1914, when Elizabeth was age two-and-a-half, she was sent to live with her uncle and aunt, William and Kathryn (Brooks) Whetzel, who raised Elizabeth as their own. (The sisters are seen here, with Elizabeth at left and Bertha at right.)
Circa 1913, the Whetzels made their home at Brownsville. This family later moved to Fairmont, Marion County, WV.
Hazel married Ronald Jay Rowe (Sept. 12, 1917-1999), son of Steele O. and Bertha M. (Lockard) Rowe. He was six years younger than his bride.
Ronald was a veteran of World War II, having been inducted into the Army in April 1941 and serving in Europe.
They were the parents of Betty Kay Deemer and Ronald J. Rowe Jr.
They lived at one point at 149½ Hamilton Avenue in Vandergrift, Westmoreland County, PA.
At the 1969 death her aunt and foster mother, Kathryn (Brooks) Whetzel, Elizabeth was mentioned in the 1969 Uniontown Morning News.
Elizabeth died in June 1989. Burial was in Greenwood Memorial Park in Lower Burrell, Westmoreland County.
Ronald survived his wife by a decade. He joined her in eternity in Jan. 1999 at the age of 81.
Daughter Betty Kay Rowe (1943-2018) was born on Aug. 25, 1943 in Fairmont. She married William "Bill" Deemer (Sept. 28, 1937-2018), son of William F. and Elizabeth (Vonlan) Deemer of Pittsburgh. The couple met while they both were students in nursing school, and the union lasted for half a century. They apparently did not reproduce but spent careers in the nursing profession, with William a nurse anesthetist at Pattie A. Clay Hospital in Richmond, KY. They were active in breeding dogs and volunteer service with the Cavalier King Charles Spaniel Club. William served in the U.S. Air Force and was an elder with Paint Lick Presbyterian Church in Kentucky. He read avidly, especially American history, and was a master gardener. A friend once wrote this of Betty and Bill:
The couple worked together at hospitals, first in Pittsburgh and then New Orleans. Somehow the Blue Grass of Kentucky called them to move there, and in 1974 they bought a lovely old farmhouse and started breeding Irish Wolfhounds under the Fitzarran name. Betty was at home with the dogs while Bill worked as a nurse anesthetist at Patty Clay Hospital in Richmond, KY. Soon Fitzarran Wolfhounds were winning at multiple shows, and during the 80's the Deemers were considered one of the top Wolfhound breeders in the world. One of their proudest accomplishments was winning Best in Show at two Irish Wolfhound National Specialties with litter mates Fitzarran Jade (1991) and Fitzarran Jubal (1993). Betty was also editor of the Wolfhound publication Harp & Hound for 10 years. Then Betty discovered Cavaliers, and threw herself into her new breed with the same passion and commitment that she had shown with Wolfhounds. She was a dedicated supporter of CKCSC, USA, and Cavaliers of the Midwest, including being CMW's Rep to the National Board many times. While she was on the Board, she started the first Judges' Committee, which she chaired for many years.... She also served as Ethics Committee chair.
Circa 2008, she contributed valuable material for this biography. William died in Berea, KY on Dec. 17, 2012. Rev. Bryce McGowan offiicated at the funeral service, with cremation following. The Richmond (KY) Register printed an obituary. Betty's final years were spent in Cincinnati. Betty died at the age of 74 on June 26, 2018. Burial was in Lexington Cemetery in Lexington, KY.
Son Ronald J. Rowe Jr. was born in (?). In about 1972, he wedded Sandra Lee Ferrero. They dwelled for decades in Vandergrift, Westmoreland County.
~ Son Charles Elmer Whetzel Catherwood ~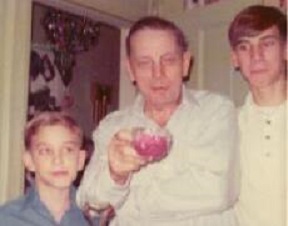 Charles Catherwood with grandsons
Chuck Miller and Tony Prozzoly
Charles Elmer Whetzel (1909-1990) was born on or about Dec. 15, 1909 in Brownsville, Fayette County.
He was adopted at age six on Sept. 26, 1916 in Pittsburgh, Allegheny County, PA by Thomas J. and Mary (Benson) Catherwood and was raised under the name "Catherwood."
On Nov. 28, 1934, the 25-year-old Charles married 19-year-old Dorothy Cantaral (March 21, 1915-1946), daughter of Charles and Mary (Edwards) Cantaral of Burgettstown, Washington County, PA. Because she legally was underage, her father signed his consent. Rev. Ralph M. Grove performed the wedding ceremony in Noblestown, PA.
They were the parents of one known daughter, Elaine Mary Miller.
Circa 1940-1946, they dwelled on Railroad Street in Midway, Washington County, PA, where Charles earned a living as a road construction laborer.
Tragically, Dorothy contracted fibroids of her ovaries which led to pus-filled bacterial infections. She also was stricken with a cerebral embolism. She was admitted to Pittsburgh's Mercy Hospital, where she remained for 76 days. Unable to recover, she died at the age of 30 on Feb. 19, 1946. Funeral services were held in her mother's residence in Champion Hill, Sturgeon, PA. Interment was in Robinson Run Cemetery in McDonald, Allegheny County. A notice of death was printed in the Pittsburgh Press.
After about a year as a widower, Charles married for a second time. On Feb. 13, 1947, in nuptials held in Washington County, he wedded 47-year-old Hilda Mae (Hair) Cossell (Jan. 28, 1900-1981), daughter of Jess and Annetta (Campbell) Hair. Rev. John W. Love, of the First Christian Church of Washington, performed the ceremony.
At the time, he was employed by American Zinc and Chemical Company and lived at 418 South Main Street in Burgettstown. Hilda was divorced from William Cossell, had a daughter Anna Grace Leibler and dwelled in Washington, Washington County.
The second marriage lasted for 34 years. Sadly, Hilda passed away on March 16, 1981. An obituary in the Pittsburgh Post-Gazette reported that her survivors included seven grandchildren, four great-grandchildren and two great-great grandchildren.
At some point after Hilda's death, Charles relocated to Georgia, where he made a home in Hinesville, Liberty County. He is believed to have died on March 13, 1990. Interment was in Oglethorpe Memorial Park in Hinesville. [Find-a-Grave]
Daughter Elaine Mary Catherwood (1938-2001) was born on Oct. 2, 1938 in Midway, Washington County, PA. She was a member of the Washington Avenue Presbyterian Church of Carnegie, PA. She relocated to Georgia with her parents. She was twice married. Her first spouse was Anthony Paul Prozzoly Sr. They produced these offspring -- Marco Charles Prozzoly, Anthony Paul Prozzoly Jr.and Ronald Nicholas Prozzoly. Later, after a divorce, she was wedded to Marvin Leon "Marty" Miller (April 23, 1940-2014), a native of Broseley, MO and the son of Gilbert and Clara Elizabeth (Stucker) Miller. They went on to have a son, Charles Marvin "Chuck" Miller. In about 1958, Marvin joined the U.S. Army and spent two decades of military service, which included the Vietnam War. During his Army career, he also received overseas postings to Korea, Okinawa, Japan, Germany, Turkey and Belgium. Upon retirement from the military, the family established a home in Hinesville, Liberty County, GA. Marvin received a business degree from St. Leo College and a master's degree in banking from Troy State University. He went on to employment with several financial institutions. After retirement, he earned income for the Liberty County Sheriff's Department as a crossing guard. In about 2001, he began attending Gum Branch Church. Elaine worked over the years as a food services supervisor at the post exchange (PX) at Fort Stewart, GA. Sadly, Elaine passed away in Hinesville at the age of 62 on June 3, 2001. Her remains were interred in Oglethorpe Memorial Park in Hinesville, where her father also rests. A death notice was published in the Pittsburgh Post-Gazette. Marvin married a second time to Elizabeth "Anne" Savage (Nov. 19, 1944-2017). Marvin passed away at the age of 74 at Hospice Savannah on Oct. 11, 2014. Rev. Gabe Gill officiated at the funeral, with burial in Georgia Veterans Memorial Cemetery in Glennville. Anne followed him to the grave at the age of 73 on Dec. 4, 2017. Other children involved with this family were Richard Leon Miller, George Albert Carter, Jeffrey Scott Carter and Jason Allen Carter. Former husband Anthony Paul Prozzoly Sr. wedded again to Shirley Swentkowsky (divorced 1966) and Ramona Klein.
Grandson Anthony Paul Prozzoly Jr. dwelled in Kingsland, GA in 2001 and today may be in Jacksonville, FL.
Grandson Marco Charles Prozzoly (1959-2014) was born in about 1959. He resided in Carnegie near Pittsburgh. On April 4, 1992, while living in the First Avenue Hotel in Carnegie, the building caught fire, and he jumped to safety from a third-story window but was critically injured, with burns over 25 percent of his body. Sadly, he died at the age of 55 on Sept. 10, 2014. Burial was in Chartiers Cemetery, with a death notice appearing in the Pittsburgh Post-Gazette.
Grandson Charles Marvin "Chuck" Miller ( ? - ? ) married Eileen. She made contact with the founder of this website circa 2002-2004. They lived in Pittsburgh until about 2002, when they relocated to Milledgeville, GA after Chuck was promoted and transferred by his company. They returned to Pittsburgh in the summer of 2003.
Bertha Tarleton
~ Daughter Bertha Mae (Whetzel) Hagan Tarleton ~
Bertha Mae Whetzel (1914-1994) was born on Jan. 6, 1914 and was nine days old when her mother died.
She was adopted by the Hagan family, and grew up with her sister Anna Gertrude in Uniontown.
Bertha married Paul Denton Tarleton (April 26, 1906-1971), son of Ulysses Grant and Alice (Wright) Tarleton.
The couple lived in Fairmont, Marion County, WV and were the parents of Nancy Lou Reynolds and Jack Tarleton.
She was mentioned in the 1969 Uniontown Morning News obituary of her aunt and foster mother, Kathryn (Brooks) Whetzel. Their address in 1965 was 609 Morgantown Avenue in Fairmont.
Sadly, Paul passed away at the age of 65 on Dec. 14, 1971.
Bertha Mae lived for another 23 years. She died on Sept. 17, 1994. Burial was in Maple Grove Cemetery in Fairmont.
Daughter Nancy Lou Tarleton (1943-2013) was born on Sept. 11, 1943 in Fairmont. On March 20, 1965, she married John William Reynolds (May 3, 1941-2010), son of Samuel and Genevieve Reynolds of Rivesville, Marion County. Rev. Harry G. Wright, a Methodist minister on sabbatical leave, performed the nuptials. They lived in Fairmont and were the parents of John Reynolds and Rose Vandergrift. Over the years, Nancy worked at G.C. Murphy, Bell's Furniture, Educational Resource Center and Dairy Creme Corner in Fairmont. Sadly, John died in 2010. Nancy Lou outlived him by three years. As her health failed, she was admitted to Ruby Memorial Hospital in Morgantown. She died there on March 10, 2013. Her remains were cremated.
Son Jack Tarleton (1937- ? ) was born in 1937 in Fairmont. He served in the U.S. Air Force, followed by a career with Pratt & Whitney Aircraft. In about 1966, Jack married Marilyn Stewart ( ? - ? ). They remained together for 47 years. They were the parents of Brian Tarleton. The Tarletons established a home in East Hartford, CT. Sadly, at the age of 76, Jack died at home on Jan. 4, 2014. Burial was held at Riverside Cemetery in Farmington, CT. In an obituary, the family requested that any memorial donations be made to the American Lung Association.
Copyright © 2000-2003, 2008, 2014, 2018 Mark A. Miner
Minerd.com extends its gratitude to Marilyn (Jenkins) Prinzing and the late Betty (Rowe) Deemer for contributing significant material for this biography.