James Riley Woody
(1895-1987)

James Riley Woody was born on July 1, 1895 in Stewart, Athens County, OH, the son of Fleming and Susanna (Minerd) Woody. He was the eldest son born of a father who was a former slave, and considered himself of "African" origin.
As a young man, James was of medium height and build, with black eyes and black hair. He resided in Stewart where he was a "farmer and worked in the timber industry," said the Athens Messenger. He was a member of the Bethany Ridge Methodist Conference Church.
He married Arlie Mae Walker ( ? - ? ) and they had seven children -- Paul Parker Woody, Hazel Willette, Dorothy Norman, Patty Mayle, William Riley Woody, Donald Eugene Woody and Genevieve Gillard.
As a 22-year-old single man, James registered for the military draft during World War I. At the time, he told the registration agent that he worked in farming for "Wm. Coen ... near Stewart" and that his "Mother and cripled Bro" depended upon him for support. He also said he had "No use of left arm" and signed his name with an "X" indicating he could not read or write.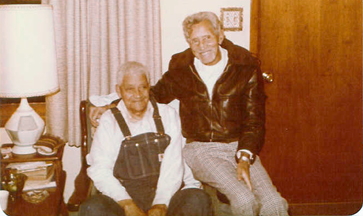 James (left) and his nephew by marriage, William Peters

When the federal census was taken in 1930, the 34-year-old James lived with his 69-year-old mother, both of them marked as widowed, and both listed as unable to read or write. Residing two doors away was James' longtime employer, farmer William E. Coen.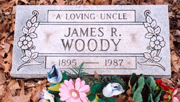 James enjoyed visiting married sister Lucy Dalton and her husband in Stewart, and they always had fun playing bid seven-up and horse shoes.
James passed away at age 92 on Sept. 17, 1987, and is buried at Stewart Cemetery. In his obituary in an Athens newspaper, his mother's maiden name was spelled "Mineard."
Copyright © 2004-2006, 2009, 2011 Mark A. Miner