James Riley Woody
(1895-1987)

James Woody

James Riley Woody was born on July 1, 1895 in Stewart, Athens County, OH, the son of Fleming and Susanna (Minerd) Woody. The eldest son of a father who was a former slave, James considered himself of "African" origin.
As a young man, James was of medium height and build, with black eyes and black hair. He resided in Stewart where he was a "farmer and worked in the timber industry," said the Athens Messenger.
He was united in the bonds of holy matrimony with Arlie Mae Walker (May 25, 1912-1980), daughter of James and Hattie Walker of Athens County.
The family of children they produced together included Paul Parker, Hazel Willette, Dorothy Norman, Patty Mayle, William Riley Woody, Donald Eugene Woody and Genevieve Gillard.
As a 22-year-old single man, James registered for the military draft during World War I. At the time, he told the registration agent that he worked in farming for "Wm. Coen ... near Stewart" and that his "Mother and cripled Bro" depended upon him for support. He also said he had "No use of left arm" and signed his name with an "X" indicating he could not read or write.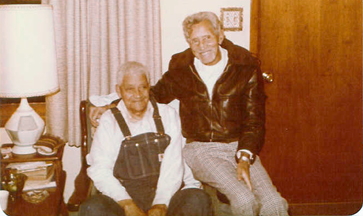 James (left) and his nephew by marriage, William Peters
Obituary, 1987

James and Arlie Mae eventually divorced. She wed a second time to Jay Wilbur Adams ( ? - ? ) and put down roots in Chesterhill, Athens County. She died at the age of 68, in Marietta Memorial Hospital, on Sept. 7, 1980. Her obituary in the Zanesville Times Recorder noted that Rev. Frank Peoples led the funeral service, held in the Southland Mission Church, with interment following in Southland Cemetery.

When the federal census was taken in 1930, the 34-year-old James lived with his 69-year-old mother, both of them marked as widowed, and both listed asunable to read or write. Residing two doors away was James' longtime employer, farmer William E. Coen.
Stewart Cemetery

James enjoyed visiting married sister Lucy Dalton and her husband in Stewart. They always had fun playing bid seven-up and horse shoes. He was a member of the Bethany Ridge Methodist Conference Church.

In 1983, James endured the untimely death of his daughter Genevieve Gillard in Zanesville.


Toward the end of his life, he was admitted to reside in the Arcadia Nursing Home in Coolville.

James passed away at age 92 on Sept. 17, 1987, and is buried at Stewart Cemetery. Helen Coe officiated at the funeral service. In his obituary in an Athens newspaper, his mother's maiden name was spelled "Mineard." Inscribed at the top of his grave marker are the words "A Loving Uncle."



~ Son Paul Parker ~

Son Paul Parker (? - ? )



~ Daughter Hazel (Woody) Willette ~

Daughter Hazel Woody ( ? -living).

Prior to marriage, she became the mother of two sons -- Lex Larue Woody and Jeffrey Woody. Son Lex was born in February 1957 in Zanesville.

Hazel married Bobbie Gene Willette (1936-1998), son of Jesse E. and Matilda Mae Willette of Zanesville.

The couple's five known children were Candia Tabler, Regina Mae Willette, Tequila Willette, Bobbi Jean Draughan and Robert Willette.

Hazel and Bobbie Gene separated in about 1970. He moved to New Haven, CT. Hazel filed a legal claim against him for non-support. Reported the Zanesville Times Recorder, he pled guilty, "was placed on five-years probation and ordered to begin immediate support of his four children."

Circa 1976, Hazel made her home in Amesville. She remained in Amesville for years.

The family was plunged into mourning when daughter Regina became ill in about 1974. She suffered for two years and eventually was treated in Children's Hospital in Columbus. Unable to recover, she died in Children's at the age of nine on Nov. 24, 1976. Her remains were lowered under the sod of Kilvert Cemetery, with an obituary appearing in the Times Recorder.

Former husband Bobbie Gene returned to Zanesville and wed again on June, 3, 1978 to Donna Harris ( ? - ? ). She is believed to have brought two of her own daughters into the union -- Jeannie Cado and Jane Harris. They became the parents of a son, Frank Willette. Their addresses were 604 Echo Avenue and 31225 East Pike. He earned a living as a driver for Roadway Trucking Company and belonged to the Flames Motorcycle Club and the Apostolic Christian Church. He was arrested for drunk driving a number of times over the years. He passed away in Genesis-Good Samaritan Campus at age 62 on Feb. 11, 1998. After a funeral service led by Elder Frank McDonald, burial was in Woodlawn Cemetery.

Son Lex Larue Woody (1957- 2020) was born on Feb. 3, 1957 in Zanesville. He grew up considering Herbert Norris as his "father at heart." Lex was the father of Danyell Singree and Mandy Thompson. He is known to have been in Zanesville in 1998 and in Amesville in 2020. Sadly, he passed away at home at the age of 63 on June 30, 2020. The headcount of his survivors was 6 grandchildren and two great-grandchildren. The remains were laid to rest in Kilvert Cemetery.
Granddaughter Danyell Singree made a home in 2020 in Lima, OH.
Granddaughter Mandy Thompson resided in Zanesville in 2020.
Son Jeffrey Woody ( ? - ? ) lived in Stewart, OH in the late 1990s and in Nelsonville in 2020.
Daughter Candia Willette ( ? - ? ) married (?) Tabler. She dwelled in Stewart, OH in 1976, Zanesville in 1998 and Athens in 2020.
Daughter Tequila Willette ( ? - ? ) resided in 1998 in Zanesville and in 2020 in Columbus.
Daughter Bobbi Jean Willette ( ? - ? ) entered into marriage with (?) Draughan. Her home was in Zanesville in 1998-2020.
Son Robert Willette ( ? - ? ) was joined in wedlock with Kathy. The pair settled in Zanesville.

~ Daughter Dorothy (Woody) Norman ~
Daughter Dorothy Woody ( ? - ? ).
She was united in matrimony with Herbert Norman ( ? - ? ).
She made her residence in 1980 in Ironton, Lawrence County, OH. By 1983, she moved to Guysville and then by 1987 relocated to Marion, OH.

~ Daughter Patty (Woody) Mayle ~
Daughter Patty Woody ( ? - ? ).
On July 17, 1965, she was joined in wedlock with Howard J. Mayle (March 8, 1946-1985), a native of Washington County, OH and the son of Alonzo and Esta (Hurst) Male.
One known daughter born to this union was Dawn Mayle.
In 1980-1985, the Mayles dwelled in Cutler, OH. They belonged to the Southland Mission Church.
Howard was employed as an equipment operator for the Marietta office of the Ohio Department of Transportation. He held a membership in the Communications Workers of America.
Tragedy struck on the fateful day of July 19, 1985. While driving his hay wagon on Ohio Route 555 near Chesterhill, the wagon was struck by a dump truck. Morgan County authorities put out a search for the hit-and-run driver. Rev. Frank Peoples preached the funeral sermon, with the remains laid to rst in Southland Cemetery. His obituary appeared in the Zanesville Times-Recorder. He was survived by his brothers John Mayle, Jethro Mayle and Richard Mayle and sisters Sharon Lucas, Julia Mayle, Elaine Mayle and Erma Hull.
Daughter Dawn Mayle ( ? - ? )
~ Son William Riley Woody ~
Son William Riley Woody ( ? - ? )
William was deceased by 1980.


~ Son Donald Eugene Woody ~
Son Donald Eugene Woody ( ? - ? )
Donald was deceased by 1980.


~ Daughter Genevieve (Woody) Gillard ~
Daughter Genevieve Woody (1934-1983) was born on Sept. 23, 1934 in Athens County.
She wed Harvey Eugene "Mike" Gillard (Nov. 15, 1938-2019), a native of Zanesville and the son of Raymond and Lela (Holbert) Gillard.
Four daughters they produced together were Jocelyn Barnett Parker, Sonya Glaze Huffman, Michelle Gillard and Claudia R. Lemert.
Genevieve earned income as a nursing technician at Good Samaritan Medical Center, while Harvey was employed for more than 30 years in the foundry of Burnham Boiler.
The family lived in Zanesville, OH. They were members of the Kingdome Hall of Jehovah's Witnesses. At one point the pair separated, with Genevieve filing for divorce in October 1974, citing neglect, as reported in the Zanesville Times Recorder.
Later, in 1977, Genevieve lived at 476 Larzelere Avenue. It's possible that the couple reconciled.
Sadly, after what the Zanesville Times Recorder called "a short illness," she died at home at the age of 48 on Sept. 8, 1983. Larry Bee officiated the funeral service. Burial of the remains was in Zanesville's Woodlawn Cemetery.
The widowed Harvey survived his bride by 36 years. He remained in Zanesville. As his health declined, he became a resident of Altercare Nursing Home.
Harvey passed away at the age of 80 on June 1, 2019. He was pictured in an obituary in the Times Recorder. His survivors included 10 grandchildren and a baker's dozen great-grandchildren. Brother Jamel A. Scott presided over the funeral, with interment in Woodlawn Cemetery.
Daughter Jocelyn Gillard was twice-wed. Her first spouse was (?) Barnett. She dwelled in Zanesville circa 1983. By 2019, she had married a second time to Kim Parker and moved to Canton, OH.
Daughter Sonya Gillard attended Zanesville High School and in 1977 took part in a Spanish language competition held at Heidelberg College in Tiffin, OH. She was married two known times. Her first husband was Michael Glaze. Their home in 1983 was in Zanesville. Later, she wed Billy Huffman. The pair relocated to Munfordville, KY.
Daughter Michelle D. Gillard ( ? - ? ) was born in (?). As a Zanesville High School student in 1979, she was pictured in the Zanesville Times Recorder for playing in the 17th Annual Bonanza of the Bands held with 13 other bands in the high school stadium. Then in 1981, she authored a paper on the activities of bees for the Regional Space Shuttle symposium held in Cleveland at the NASA Lewis Research Center. She and John Scott are known to have been the parents of Keshia Lashae Gillard. Grief cascaded over their worlds when daughter Keshia died at age 18 days in Children's Hospital in Columbus, OH on Nov. 17, 1981. In time Michelle moved to Munfordville, KY.
Daughter Claudia Gillard ( ? - ? ) was born in (?). In June 1982, a cheerleader and musical group member at Grover Cleveland High School, she made news in the Zanesville Times Recorder when she captured second prize in a "Melting Pot Menu Contest" sponsored by COED Magazine. Claudia was joined in wedlock with (?) Lemert. Circa 2019, she lived in Zanesville.


Copyright © 2004-2006, 2009, 2011, 2022 Mark A. Miner