Erskin Hazard Wortman
(1881-1953)
Erskin Hazard Wortman was born in June 1881 in Dunbar, Fayette County, PA, the son of Moses "Ross" and Hester Ann (Minerd) Wortman. The family name also has occasionally been misspelled as "Workman."
As a boy or early teenager, Erskin and his parents and siblings moved to Cumberland, Allegany County, MD, where he apparently spent the rest of his life.
He never married.
As a young man, Erskin and his parents and siblings relocated to Cumberland, Allegany County, MD, where the father became proprietor of a hotel. Erskin was put to work in the establishment, and in 1900, at age 18, was the hotel clerk.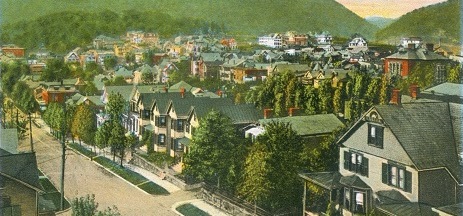 Cumberland's west side looking toward the "Narrows" -- the notch in mountain range on the horizon.
He remained in his parents' dwelling as of 1910, when he worked as a fireman at a local iron furnace in Cumberland.
By 1920, Erskin and his widowed mother made their home with his married sister and brother in law, Ada and Edward Collins in Cumberland. Erskin's occupation, as recorded by the census-taker, was "storeroom man" for the Baltimore and Ohio Railroad.
In 1930, when he was age 49, he made his residence with his widowed mother on Arch Street in Cumberland. His work that year was driving trucks for the railroad.
Circa 1939, at the death of his elderly mother, Erskin resided in Cumberland. He continued his work as a B&O storekeeper until retirement in about 1943.
Erskin's final years were spent in his home at 121 Lafayette Avenue. He died in the city's Sacred Heart Hospital on March 22, 1953, at the age of 72, after a stay of several weeks. Funeral services were led by Rev. Douglas L. Carl, of the Calvary Evangelical United Brethren Church. Pallbearers were Warren Barringer, Norman Durbin, Ernest Keller, John Nealis, Roy Parks and Roy Van Fleet. Burial was in Mt. Pleasant Memorial Cemetery. Obituaries were printed in the Connellsville Daily Courier and Cumberland News. The Courier misspelled the name of Erskin's mother as "Minert."
Copyright © 2006, 2009, 2021 Mark A. Miner