Mary 'Maude' (Wortman) Lewis
(1883-1976)
Mary "Maude" (Wortman) Lewis was born on Dec. 29, 1883 in Dunbar, Fayette County, PA, the daughter of Moses "Ross" and Hester Ann (Minerd) Wortman.
The family name also has occasionally been misspelled as "Workman."
Little is known about her life. As a girl or young teenager, Maude and her parents and siblings moved to Cumberland, Allegany County, MD.
Maude married Thomas G. Lewis (1883-1937).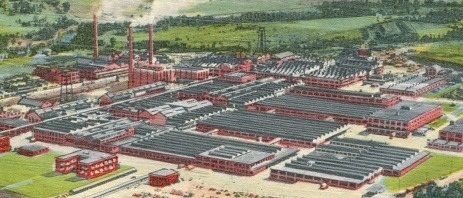 Cumberland's manufacturing plant of Celanese Corporation
The couple produced six known children -- Ada B. Jenkins, Ross G. Lewis, James M. Lewis, Thomas Lewis, Wanda Virginia Ashenfelter and Nellie M. Lewis.
Their home in 1912, at the birth of their son James, was in McKeesport near Pittsburgh. Later they migrated to Cumberland, Alleghany County, MD and stayed for good. Thomas earned a living employed by the local plant of Celanese Corporation of America. Their address in 1937 was 107 Mary Street.
Sadness cascaded over the family when James, at age 54, was admitted to Memorial Hospital. He died after eight days on Sept. 21, 1937. Funeral services were held in the Lewis residence, with burial following in Rose Hill Cemetery. His obituary was published in the Cumberland Evening Times.
Maude was a member of Calvary United Methodist Church. In 1952, Maude endured the untimely death of her son James, a veteran of World War II who suffered from tuberculosis.
Maude spent her final years at 205 Humbird Street. She succumbed to death in Cumberland's Sacred Heart Hospital at the age of 92 on March 20, 1976. Her survivors were counted as 15 grandchildren and six great-grandchildren.
In Maude's obituary in the Cumberland Sunday Times, the maiden name of her mother was spelled "Mennert."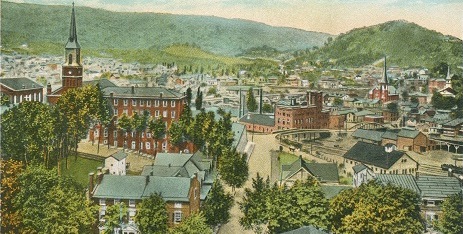 Bird's-eye view of Cumberland as seen from the county courthouse
~ Daughter Ada B. (Lewis) Jenkins ~
Daughter Ada B. Lewis (1907?-1968) was born in about 1907 in Cumberland.
She was joined in matrimony with Clarence Lee Jenkins Sr. (1904-1990).
The family dwelled at 27 Marion Street in Cumberland.
The only child born to this union was Clarence Lee Jenkins Jr.
As her health failed, Ada was admitted to Cumberland's Sacred Heart Hospital. There, she died at the age of 61 on May 21, 1968. Funeral services were held in the Melvin United Methodist Church, led by Rev. William Louis Piel. The remains were laid to rest in Hillcrest Burial Park, escorted to the grave by pallbearers Kenneth Ashelfelter, Gayle Calhoun, Alfred Lantz, Roger Lantz, Willis Lewis and Eugene Streets. An obituary appeared in the Cumberland News.
Clarence survived his bride by 22 years. Death claimed him in 1990.
Son Clarence Lee Jenkins Jr. ( ? - ? ) was born in (?). In young manhood, he served in the U.S. Navy for six months. He then relocated to Staunton, VA, where on Sept. 1, 1949, he began employment as a psychiatric aide at the Western State Hospital. He was selected as the "outstanding psychiatric aide" there in 1952 and nominated for a national award. Said the Cumberland Evening Times, "In his assistance with the rehabilitation of patients, he has formed ball teams, has a small musical group and promotes various other activities to encourage them to participate." On April 20, 1955, in nuptials held in Staunton, he was joined in matrmony with Bonnie Lynn Chrisman ( ? - ? ), daughter of Warren Chrisman. The wedding was held in Calvary Evangelical United Brethren Church, presided over by Rev. Joseph Seepley. In announcing the marriage, tthe Cumberland News said that the "only attendants were the bridegroom's parents, grandmother, Mrs. Mary M. Lewis and cousins, Miss Barbara Ashenfelter and James Lewis. The bride was attired in a tan suit with which she wore black accessories." Prior to marriage, Bonnie Lynn had earned income in a Staunton music store. The couple was in Staunton in 1968.
~ Son Ross G. Lewis ~
Son Ross G. Lewis (1921-1986) was born in about 1921 in Cumberland.
During World War II, he served in the U.S. Army Air Corps.
Ross entered into marriage in 1944 with Hallie O. Phares ( ? - ? ) of Cumberland.
They relocated to Baltimore, where they spent the balance of their lives.
The three offspring produced by their union were Roger Twigg, Thomas W. Lewis and Pamela Jean Jackson.
He was a longtime truck driver and home-repairs contractor. For the final 17 years of his career, he drove for Calvert Wholesale Florist Inc., retiring in January 1986. He belonged to the Improved Order of Red Men and the Disabled American Veterans. Hallie was a member of the Women of the Moose and the Red Men auxiliary.
Their residence in the mid-1980s was on Roland Avenue in Hampden, near Baltimore.
Ross passed into eternity at the age of 65 on Sept. 20, 1986. An obituary in the Baltimore Sun reported that he was survived by 10 grandchildren and two great-grandchildren. Burial was in the Maryland Veterans Cemetery in Garrison Forest.
Hallie outlived her spouse by nine years. In 1992, she began to reside in the Coursey Station Retirement Community. After a stroke, at the age of 72, she died in Caton Manor Nursing Center on Jan. 19, 1995. The Sun carried her obituary.
Son Roger Twigg lived in Lansdowne, MD in 1986 and in Linthicum, MD in 1995.
Son Thomas W. Lewis made his home in 1986-1995 in Dundalk, MD.
Daughter Pamela Jean Lewis wedded (?) Jackson. She is known to have been in Lansdowne, MD in 1986-1995.
~ Son James M. Lewis ~
Son James M. Lewis (1912-1952) was born on Sept. 11, 1912 in McKeesport, near Pittsburgh.
In adulthood, James resided in Cumberland at 27 Marion Street. He was married and divorced.
He served in the U.S. Armed Forces during World War II.
James earned a living in Cumberland through his work at the N. and G. Taylor Tinplate Mill. Later, he labored as a tire retreader, possibly with Kelly-Springfield Tire Company, a large employer in the city. He held a membership in the Evangelical United Brethren Church.
For the last 56 months of his life, suffering from congestive heart failure and tuberculosis, James made his home in the DeShong Veterans Administration Hospital in Butler, Butler County, PA. He underwent surgery to create a thoracotomy, an opening in the chest to give physicians easier access for examinations.
He died there at the age of 39 on New Yeaer's Day 1952. His remains were shipped to Cumberland for burial. Rev. B.F. Hartman, of the Cumberland Methodist Circuit, officiated the funeral service. Additional rites were provided by the Fort Cumberland post of the American Legion. Interment was in Mt. Pleasant Methodist Cemetery.
~ Son Thomas Lewis ~
Son Thomas Lewis ( ? - ? )
Circa 1952, he dwelled in Baltimore.
His residence circa 1976 was with his elderly mother in Cumberland.
His fate is not yet known.
~ Daughter Wanda Virginia (Lewis) Ashenfelter ~
Daughter Wanda Virginia Lewis (1923-2000) was born on Jan. 21, 1923.
She wedded Kenneth Elmer Ashenfelter (March 13, 1922-2010), the son of Ernest G. Ashenfelter and Ethel Mae (Brant) Ayres.
The couple put down roots in Wiley Ford, Mineral County, WV.
During World War II, Kenneth served in the U.S. Army and was posted to Seward, AK.
The couple were the parents of Barbara Vincent, Sharon Stahl, Kenneth Lee Ashenfelter and Randy Ashenfelter. Sadly, son Kenneth died in infancy in 1958.
Circa 1960, Kenneth worked for the South Cumberland Planing Mill. He also was elected in 1952 as fire chief of the Wiley Ford Volunteer Fire Company, and was a member of the Masons. In later years he was employed by Lowe's.
In the mid-1970s, they lived in Wiley Ford.
Wanda succumbed to the angel of death on March 30, 2000 in West Virginia. Burial was in Restlawn Memorial Gardens in LaVale, MD.
Kenneth spent eight years as a widower. He passed away at the age of 87 on Feb. 4, 2010. Upon his death, his remains were cremated. His wartime uniform and gear were donated to the Seward Museum.
Daughter Barbara Ashenfelter was joined in wedlock with Dr. Clarence Vincent. The couple was in Maryland in 2010.
Daughter Sharon Ashenfelter was united in matrimony with John Stahl. They have dwelled in Pennsylvania.
Son Randy Ashenfelter has made a home in West Virginia.
~ Daughter Nellie M. Lewis ~
Daughter Nellie M. Lewis ( ? - ? )
Nellie dwelled in Baltimore circa 1952.
She made a home with her aged mother and brother Thomas in Cumberland circa 1976.
Then by 1986, she had relocated to Wiley Ford, Mineral County, WV, where her sister Wanda Ashenfelter is known to have lived.
Copyright © 2006, 2021 Mark A. Miner