Frank Errold Wydman Sr.
(1872-1956)
Frank Errold Wydman Sr. was born on on March 6, 1872 in Indiana, the son of Rev. William H. and Lucy Ellen (Minor) Wydman.
He likely was born in or near the towns of Henryville and Wooster, Scott County, IN, where his father was serving at the time as a minister of local Methodist churches. As a boy, he moved frequently as his father received new pastoral assignments every few years.
In his life's work, he was a prominent Republican, police commissioner and secretary of the board of health of Corning, New York.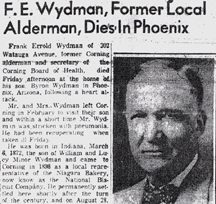 Obituary, 1956
At the age of 34, Frank married 21-year-old Alice "Allie" Agett (1885-1956 ), a native of Lyons, NY, and the daughter of Mrs. and Mrs. Albert H. Agett. The wedding ceremony was performed on Aug. 28, 1905 by Rev. William H. Reese, pastor of the First Methodist Church. The couple was 13 years apart in age.
The Wydmans resided in Corning, Steuben County, NY, and produced a family of four children -- Frank "Errold" Wydman Jr., Alice Lucille Bissett, Byron Albert "Bud" Wydman and Mary Lange Settle.
A local newspaper reported that Frank:
... came to Corning in 1898 as a local representative of the Niagara Bakery, now known as the National Biscuit Company. He permanently settled here shortly after the turn of the century... [He] was active in politics and from 1930 to 1934 served as alderman of the Second Ward. For many years he served as a Republican committeeman. During the early 1930s he sought the GOP nomination for mayor and opposed Dr. John L. Miller in the primaries. When Dr. Miller became mayor, he appointed Mr. Wydman police commissioner. Subsequently, he was named a health commissioner by Mayor Daniel Stimson. He served in this capacity for the next 12 years, after which he was designated clerk of the board... [He] was an enthusiastic follower of baseball games and participated in the sport in his youth.
Frank was a member of the Northside Club in Corning and a 32nd Degree Mason.
At first, they lived in Buffalo, and then later in Corning, Steuben County, NY, where in 1906 was residing there at 194 East Third Street. When the federal census was taken in 1910, their home was located at 223 Cedar Street, with Frank's widowed mother in the household. She passed away on Dec. 13, 1917, and her remains were returned to Indianapolis for burial.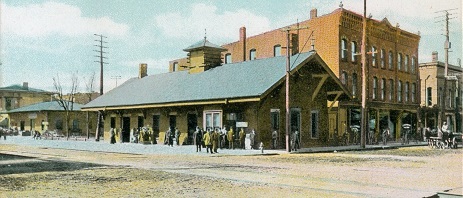 Erie Railroad station and St. James Hotel in Corning
Frank's older brother Howard, age 60 and apparently suffering from a serious illness, came to live with the Wydmans in Corning in 1927. At the time, the family home was at 202 Watauga Avenue. Apparently failing in health, Howard later went to the Robert Packer Hospital in Sayre, Bradford County, PA, in late March, where he died on April 13, 1927.
The 1920 U.S. Census shows Frank earning a living as a commercial salesman in Corning and in 1930 as a salesman for a wholesale grocery business.
Alice herself kept a high profile in the community. Said a local newspaper, she was:
... a life member of the Crystal City Chapter, Order of the Eastern Star, of Mizpah Court Order of the Amaranth and of Corning Rebekah Lodge. She was a past worthy matron of the OES, a past royal matron of Mizpah Court and a past noble grand of the Rebekahs. She was also a member of the Steuben District Association of present and past matrons of the OES. A long time member of the First Presbyterian Church at Corning, [she] was one of the founders of the Nichols Bible Class of that church, and president of it at the time of her death.
In August 1955, the Wydmans celebrated their golden wedding anniversary. A story in the Elmira Advertiser noted that more than 230 guest attended an open house in their home.
At the age of 84, Frank passed away on April 6, 1956, after suffering a heart attack at the home of their son Byron in Phoenix, AZ.
Alice died just a few months later, on July 5, 1956. She was laid to rest with her husband in Hope Cemetery Annex.
Today's Corning, Market Street. Below: Corning landmarks.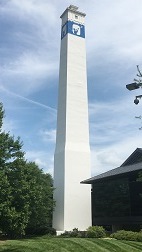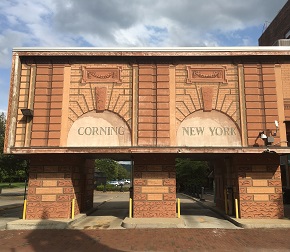 ~ Son Frank "Errold" Wydman Jr. ~
Son Frank "Errold" Wydman Jr. (1909-1985) was born in about 1909.
Circa 1917, he lived with his wife and parents in Corning. He went on to graduate from Corning Free Academy in 1928 and received a bachelor's degree from Mansfield State Teachers College in 1933. He obtained a master's degree in education from Cornell University in 1939.
At the age of 25, on July 8, 1934, Errold married Juanita Esther "Neeta" Hunt (1914- ? ), daughter of Margaret Hunt of Bath, Steuben County, NY. The nuptials were held in the home of Juanita's parents, officiated by Rev. Norman Remmel of the St. James Episcopal Church of Rochester. Reported the Elmira Star Gazette, "The bride's gown was white net over taffeta with net jacket, white picture hat and accessories of white. She carried a bouquet of white roses and sweet peas."
The couple produced two children -- Beverly Anne Scholl and Gary Wydman.
In the mid-1930s, armed with his bachelor's degree, Errold taught science and coached athletics at Campbell Centralized High School. He then was named in 1938 as a high school teacher at Oxford in Chenango County.
When the federal census enumeration was made in 1940, the family made a home in Oxford, Chenango County, NY.
Said the Corning Leader: "A science teacher in the Corning-Painted Post School District, he retired in 1972. He coached the East High School track team from 1969-73. He received his master's degree in education at Cornell University. He was a member of Christ Episcopal Church; the Northside Club, Masonic Lodge 1036, the Corning Consistory; and in 1984 was inducted into the Sports Hall of Fame for his contribution to sports. A past-president and secretary of the Babe Ruth League, he also was a coach and taught all skill levels. He was active in the Boy Scouts."
Juanita was employed by the City of Corning.
Sadly, Juanita passed away sometime before 1964.
Errold married again to Lillian Rawcliffe ( ? -2000), who had come to the community in about 1960. She was divorced from her first husband, James Rawcliffe. Two stepsons were brought into the marriage -- Kent Paul Rawcliffe and Lee J. Rawcliffe.
Errold passed away after a battle with Alzheimers on Aug. 10, 1985, at the age of 76. He was buried at Hope Cemetery.
Lillian outlived her husband by 15 years. She was a longtime member of Christ Episcopal Church and sang in its choir. She also enjoyed volunteering to help local people afflicted with Alzheimer's Disease. She died on April 20, 2000. An obituary in the Star Gazette noted that she was survived by six grandchildren and a great-grandson. A memorial service was held in her church.
Daughter Beverly Anne Wydman (1936- ? ) was born in about 1936. She received her degree from Genesee State Teachers College with a major in speech and dramatics. On July 19, 1958, she married Frederick A. Scholl ( ? - ? ), a Corning resident of 270 Park Avenue and the son of Arthur H. Scholl. Rev. Daniel Sweet officiated at the nuptials ceremony held at Christ Episcopal Church in Corning. Beverly was pictured in Elmira Star-Gazette stories about their engagement and subsequent wedding. Frederick was a graduate of Syracuse University, having received a degree in 1958 in production management in the College of Business Administration. They are believed to have resided in Skaneateles, Onondaga County, NY and have been members of the Skaneateles Lake Association.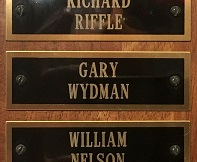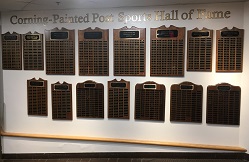 Gary Wydman's plaque in the Corning-Painted Post High School Sports Hall of Fame, football, 1975, housed in the lobby of Baron Steuben Place on Market Street. His father also was enshrined, in 1985, as a contributor.
Penn State-Syracuse
football program, 1964
Son Gary Wydman ( ? -living) was born in (?). He played football and baseball for Corning-Painted Post High School during the mid-to-late 1950s. He then joined the Penn State Nittany Lions football team, coached by Rip Engle, with the team beating Georgia Tech in the 1961 Gator Bowl, although Gary did not play his freshman year. With Engle as head coach, Gary also played under up-and-coming assistant coach Joe Paterno. He suffered knee and ligament injuries and sat out the 1962 season. But in 1963, Gary returned and was starting quarterback for two years. Wearing uniform no. 25, he starred in a number of winning games, including a major upset of Ohio State, and was widely praised for his open-field running. The Nittany Lions, however, did not appear in bowl games during those his junior and senior years. During the two years in which Gary led the offense, and although he would not have known given the remoteness of the connection, Penn State's athletic director was his distant cousin Ernest "Ernie" McCoy, son of Jarrette "Ernest" and Melinda Jane "Jennie" (Browning) McCoy of the family of Lyman Gaumer. On Dec. 12, 1964, Gary was joined in marriage with Susan Elizabeth Norseen ( ? - ? ), daughter of John D. Norseen of Mt. Lebanon, a suburb of Pittsburgh. The nuptials were held in the Sunset Hills United Presbyterian Church in Mt. Lebanon, with Susan pictured in a wedding story in the Elmira Star Gazette. Just a few weeks later, he threw a key touchdown pass in the annual Blue-Gray All-Star football game and tied for the game's most valuable player award. He was honored with a testimonial dinner in February 1965, with Coach Engle among the speakers. In 1975, he was enshrined in Corning's sports hall of fame. Once graduated, Gary was hired by Corning Glass in 1965 and transferred to Marshall, MI. He was transferred back to Corning and in 1977 held the position of sales and marketing manager of component sales for Corning's Consumer Products Division. Gary was elected president of Corning's Family Service Society in 1980. By 1984, he had been transferred again to Dallas, TX. In July 1986, Gary founded the firm Wydman & Associates, Inc., of Fairview, TX, a recruiting and staffing firm. His Corning experience, he says, covered a wide range of "sales, sales management, marketing management and human resource management positions in a Fortune 500 company. Responsibilities have included managing people, budgets, projects and P & L statements. All this activity occurred in several businesses ranging from packaging materials, consumer and OEM markets, to working in an R & D organization, and in a start-up business unit." Today he and his son are partners in the Wydman & Associates firm.
~ Daughter Alice Lucille Wydman a.k.a. Alice Mann ~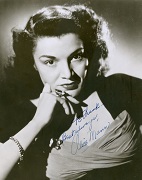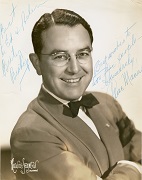 Singer Alice Mann and bandleader-spouse Billy Bishop
Daughter Alice Lucille Wydman (1910-1998) -- stage name "Alice Mann" -- was born on Oct. 14, 1910 in Corning, Steuben County, NY.
Unmarried at the age of 19, in 1930, Alice worked as a saleslady at a local dry goods store.
Alice was a talented singer and performed in high school musicals. Then in 1932, during the depths of the Great Depression, she was hired as a vocalist by WESG-AM Radio in Elmira, using the stage name "Alice Mann" and billed as "Blue Gown." Dale L. Taylor was the station manager who gave her the big break.
During that experience, while in Syracuse, she was recruited to join a big band led by Billy Bissett (Aug. 24, 1906-1995). A native of St. Catherines, Ontario, Canada, he went by "Bissett" in Europe but in the United States used the stage name "Billy Bishop." She traveled to Toronto's Royal York Hotel to join the band n the summer of 1934. The band then made plans to accept an engagement in London. English labor regulations forbade her from performing, so while Billy performed in London's Savoy Hotel, she toured with Jack Hylton in Paris and Berlin and throughout the European continent. She also toured with Freddy Gardner.
Alice and Billy fell in love and, upon returning from London, were marrried in Corning in August 1937. They then sailed back to London, departing Aug. 27, 1937.
The Bishops "traveled the world," said the Elmira (NY) Star Gazette. The band was known as the "Billy Bishop Orchestra" and "Waltz Time" taglined as "Music from Mayfair" and was represented by General Artists Corporation. Alice's sister Mary eventually married Billy's drummer, John "Robert" Lange. Among their top hits were Never in a Million Years, In a Little French Casino and There's a Lull in My Life. Dennis Day also sang with the band at one time.
The couple were contracted to play in the Cafe de Paris during the month of August 1939. Once the month closed out, they planned to return to the United States to care for their aging parents. But World War II broke out in Europe with the German invasion of Poland on Sept. 1, and overseas travel bans forced them to change plans. The war put a damper on prospects for additional touring and recording. Billy himself may have served in the U.S. Army during the war.
In July 1946, the Bishops are known to have been in Chicago and in the midst of concluding series of shows for the Black Hawk Restaurant and beginning another for the Melody Mill Ballroom in North Riverside, IL.
In 1953, Billy broke up his band "after 22 years as a top-line leader in the realm of rhythm," reported the Star Gazette. "He is entering the financial world -- a stock broker, no less... He and Alice will make their home in Beverly Hills, Calif. ... But they're coming back to Corning to visit the folks before they settle down ... This may give us a chance to hear Billy's vocals, his chimes and his specialties on the piano and solovox ... Howzabout a party with Billy and Alice entertaining? ... After all, Alice Wydman Bishop is the only girl from this neck of the woods who can say that she starred at the Trianon and Aragon in Chicago, The Palladium and the Cafe de Paris in London -- and at Frank Dailey's Meadowbrook Club..."
They resided in Sherman Oaks, CA in 1956 and upon retirement moved to Poway, CA in 1969. The couple did not reproduce.
Writing in the Star Gazette in March 1979, "Verse & Worse" columnist Joe Hayes said that "One of my finest experiences in 50 years of columning came last week when I received a night-time phone call from Billy and Alice Wydman Bishop of Poway, Calif. They were excited about an upcoming reunion of the Wydman family. Alice said the reunion would be held at the home of Mary Wydman Settle in Phoenix, Arizona. 'Billy and I will be there,' she said. 'Bud will come from Denver and Errold and his wife will come from Corning. It promises to be a great get-together'."
The couple was interviewed by BBC radio broadcaster Alan Dell in July 1982, which included clips from their performances. (Listen to the show on YouTube.)
Billy died in Poway on July 7, 1995.
At the age of 88, Alice joined him in eternity on Dec. 5, 1998. An obituary was printed in the North County Times. They rest in Dearborn Memorial Park in Poway. [Find-a-Grave]
He is profiled in the book American Big Bands by William F. Lee.
~ Son Byron Albert "Bud" Wydman Sr. ~
Son Byron Albert "Bud" Wydman (1918-1997) was born on Aug. 10, 1918 in Corning, Steuben County, NY.
In 1940, unmarried at the age of 21, he lived at home in Corning and worked as a shipper for a wholesale grocery business.
Byron married his first bride Elizabeth "Betty" Eudaly ( ? - ? ).
Their three children were Byron Albert "Bud" Wydman Jr., Dale Wydman and Sue Ann McNeely.
They lived in Colorado in the 1940s and in Phoenix, AZ, in the 1950s. In 1955, The family returned to New York for his parents' 50th wedding anniversary.
By 1969 the couple had relocated to Golden, CO.
Betty was deceased prior to 1969.
Byron is thought to have married again to Audrey Jane (?) (July 29, 1922-2012).
Byron passed away on Sept. 29, 1997 in Denver.
Audrey Jane outlived her spouse by 15 years. The Angel of Death carried her away at the age of 89 on May 12, 2012.
Their cremains rest in Montview Garden Columbarium located in Montview Boulevard Presbyterian Church.
Son Byron Albert "Bud" Wydman Jr. (1944-2019) was born on Nov. 16, 1944 in Colorado. He was joined in wedlock with Barbara JoAnn Crawford ( ? - ? ). Their marital union endured for 45 years until the separation of death. They produced a family of five sons -- Byron Albert Wydman III, Donald Eric Duncan, David Carl Duncan, Christopher Allen Wydman and Craig Philip Wydman. Byron served for eight years in the U.S. Navy. then, for three decades, he worked for Continental Automotive in Newport News, VA. "He was an active member of Waverly Hunt club for 45 years," said an obituary. "His passion was the outdoors and the fellowship of the sport." He died in Waverly, VA on May 8, 2019, at the age of 74.
Grandson

Byron Albert Wydman III

married Wendy.
Grandson Donald Eric Duncan
Grandson David Carl Duncan
Grandson Christopher Allen Wydman
Grandson Craig Philip Wydman
Son Dale A. Wydman ( ? - ? ) was born in (?). He was united in holy matrimony with Dorothy Albert ( ? - ? ), daughter of Lloyd Albert of Golden, CO who at one time had lived in Clatonia, NE. The wedding ceremony was held on Sept. 6, 1969 at the First Methodist Church of Golden, led by Rev. Eugene Worth. At the time, both were students at Colorado State University. Dorothy was pictured in an engagement announcement story in the Beatrice (NE) Daily Sun. The couple made a home in Arvada, CO in 1978. In 2015, Dorothy was named in a Daily Sun article about a local Tai Chi for Better Balance class.
Daughter Sue Ann Wydman ( ? - ? ) was born in (?). She wedded (?) McNeely. She was deceased by 2019.
~ Daughter Mary (Wydman) Lange Settle ~
Daughter Mary Wydman (1921-2007) was born on Feb. 22, 1921 in Corning.
When she was 19 years of age, in 1940, she resided at home and earned a living as a sales woman in a retail hat shop.
In 1943, she was joined in wedlock with John "Robert" Lange ( ? - ? ).
They bore twin daughters Lisa Kee and Sandra Maggio.
Robert was a percussionist and played in a band led by his brother-in-law Billy Bishop.
The Langes made a home in Chicago in 1946 and in Missouri in the early 1950s. They would often have moved to begin new engagements.
But the marriage was troubled, and the couple separated in 1951, with Mary moving back to Elmira, NY. Then in April 1953, John filed for divorce in the circuit court of Audrain County, alleging that his wife "does not approve of his vocation as a musician, and refuses to reside where he wishes, and has ceased to love him," reported the Mexico (MO) Ledger.
In January 1951, in Corning, Mary and her sister Alice attended the annual March of Dimes ball held in the State Armory building.
By 1956, she had relocated to Sherman Oaks in the San Fernando Valley of Los Angeles.
She eventually married again to Joe E. Settle ( ? -1977) and made her home in Phoenix. She earned a living as an interior designer.
Sadly, Joe died in 1977 from the effects of cancer.
In 1979, the widowed Mary hosted a reunion of the Wydman family. Then, after retirement, she traveled extensively, to Canada, Egypt, England, Ireland, Mexico and Spain. She liked to bowl and to volunteer her time with such community charities as Oasis, Sun Health Hospice and Hospice of the Valley "where she was able to bring smiles to the faces of those less fortunate or deathly ill," said the Arizona Republic.
Heartbreak enveloped the family when daughter Lisa Lange died at the age of 60. At the time, Mary resided in Peoria, AZ and former husband Robert in Monroe City, MO.
Mary died in Peoria at the age of 86 on March 27, 2007. Her photograph appeared with her obituary on the pages of the Republic.
Daughter Sandra Lange (1945- ? ) was born on June 22, 1945 in Corning, a twin with her sister Lisa. Sandra wedded (?) Maggio and made a home in Peoria, AZ. Their family of offspring were Michael Maggio and Robert Maggio.
Daughter Lisa Lange (1945-2006) was born on June 22, 1945 in Corning, a twin with her sister Sandra. She was age six when her parents separated, and she moved with her mother to Elmira, NY. On June 20, 1967, she was united in holy matrimony with her high school beau, Dr. Jimmy Wayne Kee (Sept. 19, 1944-2006), son of James Lee and Cordie Elizabeth (Watson) Kee. Their union endured for 38 years. Jimmy was a native of Del Rio, TX and grew up in Lubbock, TX and Phoenix. The couple produced four children -- Kevin Kee, Jared Kee, Laura White and Marisa Chandler. Lisa obtained a bachelor's degree in English in 1967 from Arizona State University and a master of arts degree in 1969 from Memphis State University. She went on to a 32-year career of teaching English and literature, including 24 years at Jackson Christian School in Jackson, TN. Said the Jackson (TN) Sun: "She was known for using slogans - such as Surpass Vanilla! and ARETE ... going Beyond Excellence - to illustrate life lessons. Among her many achievements, Mrs. Kee served for 10 years as coach of the school's United States Academic Decathlon team, which represented the state of Tennessee in national finals competition in both 1991 and 1996. She also coordinated the annual J.C.s. Jog-A-Thon fundraising campaign for 14 years, raising approximately $500,000 for the school. Respected by faculty and students alike, Mrs. kee was honored multiple times as Jackson Christian School's Teacher of the Year." In 1996, she earned the Tennessee Outstanding Achievement Award, presented by Governor Don Sundquist. She also was named Christian Educator of the Year by the National Christian School Association in 2004, the year she retired from teaching." She was honored further when the school created an award in her name, the Lisa Kee Teacher of the Year Award. Jimmy served on the board of the Jackson school for 25 years, including nine years as chair, and in 1995 a new elementary school building was named in their honor. In her spare time, Lisa taught women's Bible classes at the North Jackson Church of Christ. Jimmy also had a long and storied career. He received a bachelor of science degree in 1966 from Harding University and then his medical degree in 1970 from the University of Tennessee at Memphis. In 1976, he became board-certified by the American Board of Surgery and in 1979 from the American Board of Plastic and Reconstructive Surgery. He served in the U.S. Air Force during the Vietnam War and retired with the rank of lieutenant colonel. Said the Sun:
Dr. Kee's postgraduate work included an internship at David Grant USAF Medical Center at Travis Air Force Base in California from 1970 to 1971; a residency in general surgery, also at David Grant, from 1971 to 1975; and a residency in plastic surgery at Wilford Hall USAF Medical Center in San Antonio, Texas from 1975 to 1977. Dr. Kee returned to California in 1977 to serve as chief of plastic surgery service at David Grant USAF Medical Center through 1980. In 1980, Dr. Kee traded military practice for private practice by relocating to Jackson, Tennessee where he became the first plastic and reconstructive surgeon to serve the West Tennessee medical community. The Plastic Surgery Clinic of Jackson initially cared for patients from rented office space on West Forest Avenue and later moved to a permanent location on North Parkway. In 1992, Dr. Kee formed the Clinic for Cranial and Facial Anomalies, a charitable program which benefits West Tennessee children and is supervised by the Tennessee Department of Health's Children's Special Services. He also served as assistant clinical professor of the University of Tennessee Family Medicine program in Jackson and served as a board member for the Jackson Area Chamber of Commerce. Dr. Kee worked as a solo practitioner in Jackson for 17 years before adding a partner, Dr. Marshall Yellen, in 1997. Dr. Kee was a member of the West Tennessee Physician's Healthcare Alliance and served on the active staff of Jackson-Madison County General Hospital and on the courtesy staff of Regional Hospital of Jackson from 1980 until his retirement in 2004.... Dr. Kee also was an active member of the North Jackson Church of Christ, serving as a deacon involved in missions. Dr. Kee used his professional skills for numerous medical mission campaigns to Tegucigalpa, Honduras. He regularly led the congregation in its song worship, taught Bible classes when called upon and opened up his home for Bible studies and group fellowship.
Sadly, Lisa died at the age of 60 on Feb. 19, 2006. An obituary was published in the Sun. Jimmy only outlived his bride by three months. Stricken with cancer of the colon for the last dozen years of his life, he passed into eternity at the age of 61 on May 11, 2006. His obituary in the Sun said that during his 34-year career, he "maintained his kind disposition and forged a reputation for treating his patients and co-workers with respect and humility." Their remains are in eternal repose in the mausoleum of Highland Memorial Gardens.
Granddaughter Laura Kee married Nathan White and lived in Nashville.
Granddaughter Marisa Kee wedded Rhett Chandler, son of Mike and Linda (Young) Chandler

. Circa 2006, their home was in Mt. Juliet, TN. They were the parents of Keely Elizabeth Chandler and Griggs Wydman Chandler. Marisa has worked as a speech therapist. An attorney, Rhett practiced with Kennedy & Brown in Nashville for almost five years followed by the firm of Marshall & Associates in Mt. Juliet for nearly four years before joining Liberty Mutual Insurance in Nashville in April 2017.
Copyright © 2006-2007, 2017, 2019 Mark A. Miner