Howard O. Wydman
(1867-1927)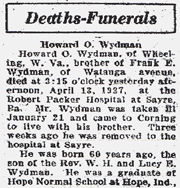 Corning Evening Leader, 1927
Howard O. Wydman was born on Nov. 28, 1867, most likely in Cincinnati, Hamilton County, OH, the son of Rev. William H. and Lucy Ellen (Minor) Wydman. He came into the world at a time when his father was studying for the Methodist ministry in Cincinnati.
As a boy, Howard likely moved frequently as his father accepted a pastoral position in Indiana and then received new church assignments every few years.
He is known to have graduated from the Hope Normal School in Hope, Bartholomew County, IN, and from DePauw University in Greencastle, IN. Howard is believed to have been enrolled at the "Methodist Univesity" in 1890 at the time of his father's death in Indianapolis in 1890.
Howard never married.
In 1917, Howard resided in Buffalo, NY, and his widowed mother often came to live for long periods in his home.
Market Square, Wheeling, WV
Circa 1927, when he was age 60, Howard resided in Wheeling, Ohio County, WV. He was employed there as a telegrapher. How or why he moved from Buffalo is a mystery. A bird's eye view of Wheeling's busy Market Square is seen here.
When he was age 60, while in Corning in January 1927, Howard was diagnosed with cancer of the descending colon. He was cared for in the home of his married brother Frank Errold Wydman Sr.
In late March 1927, clearly not recovering, he was moved to the Robert Packer Hospital, located across the state line at Sayre, PA, where he underwent surgery. It was hopeless, and he died on April 13, 1927.
His obituary was publishing in the Corning (NY) Evening Leader. He was laid to rest in the Hope Cemetery Annex in Corning. Sister in law Alice Wydman signed the official Pennsylvania certificate of death.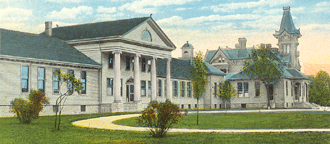 Robert Packer Memorial Hospital, Sayre, PA
Copyright © 2007, 2019 Mark A. Miner