Home

Elizabeth (Youngkin) Fister
(1836-1911)


Elizabeth and Daniel Fister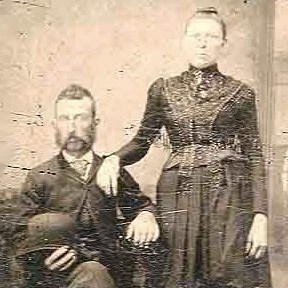 Elizabeth and Daniel Fister


Courtesy Herbert Rickards
Elizabeth (Youngkin) Fister was born on Sept. 25, 1835 or 1836, the daughter of Charles and Hannah (Troxell) Youngkin.
Elizabeth resided in White Township, Cambria County as a young woman.
On May 16, 1852, in a wedding ceremony held in Clearfield County, PA, she married Daniel Feister ( ? - ? ), also spelled "Fister," and a native of Centre County, PA but a resident at the time of Beccaria Township, Clearfield County. Justice of the peace James Gill presided at the nuptials.
Their marriage endured for 44 years. No official record of the union was kept except for a certificate in Gill's handwriting. Elizabeth's sister and brother-in-law Sarah and John Warrick testified many years later that they had known the couple for decades and that they had never been married to anyone else other than each other.
Daniel stood 5 feet, 9 inches tall and had a florid complexion, light hair and blue eyes. In 1859, they hosted the marriage ceremony of Elizabeth's sister Sarah to John Goss Warrick in Clearfield County.
During the Civil War, sfter a dozen years of marriage, Daniel joined the Union Army as a member of the 3rd Pennsylvania Heavy Artillery, Battery K. He enlisted in Clearfield on Feb. 27, 1864 and served under the command of Capt. John Shrinener/ Sheibuner. His regiment belonged to the Department of Virginia based at Fortress Monroe, VA. Daniel was honorably discharged at Fortress Monroe on Nov. 9, 1865 and returned home.
Together, they bore 14 children -- Charles A. Fister, Andrew Jackson Fister, William Henry Fister, Jeptha Potts Fister, John E. Fister, Sarah E. Fister, Mary C. Fister, Isabella Susan "Susie" Bruce, Samuel Dean Fister, Frances H. Fister, Cyrus David Fister, Martha Anna Fister, Genette "Nettie" Wyckoff and Effie Fister.
The Fister home from 1852 to 1879 was in Bacaria Township, Clearfield County. Then in 1879, the family migrated west and established a new home in Nebraska. The 1890 special census of Civil War veterans shows the couple in Tekamah, Burt County, NE, where they owned two town lots in the Railroad Addition.
A quarter century after the war's end, suffering from kidney and heart disease, added to neuralgia of the neck and breast, Daniel was awarded a military pension in 1890 for his wartime service. [Invalid App. #818.344 - Cert. 907.115] Because he was infirm and unable to earn a living by manual labor, he also received $10 per month from the Burt County Soldiers Relief Fund, administered by S.C. Brooks of Tekamah. Elizabeth had to begin performing clothes-washing for others to make ends meet.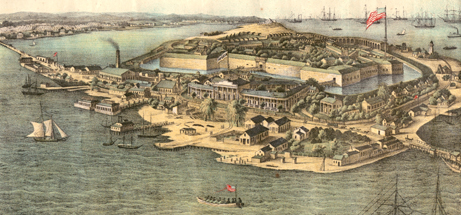 Fortress Monroe, VA, Daniel's base of opeerations during the Civil War
Daniel during that era Daniel weighed between 208 lbs. and 220 lbs. with just a few of his teeth left. Of his disabilities, wrote friend Peter Hoffman, "The slightest exertion upon his part produces shortness of breath." Neighbors Joseph Palmanter and W.H. Taylor wrote that "We have worked with him in the field and many times he was obliged to stop work... [H]e would get very pale and his breath would be very short and he would be unable to stand." Other neighbor F.E. White said that "I see him veery often and know from personal knowledge that he is a person of good moral habits and strict integrity and of good repute."
His physician Dr. W.L. Pierce of Tekamah wrote:
He is troubled with some form of kidney disease and probably has stone in the bladder. His head bothers him a great deal both by meadache and dizziness. He cannot travel at all in the dark. He has some rheumatism in the hips back and neck, and arms and legs, in fact he is hardly ever free from pain. I have not prescribed any medicine for him as he is in poor circumstances and he does not wish to run in debt to procure medicine. He is gradually getting more useless and at the present time is not able to perform more than one forth ordinary manuel labor.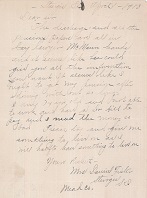 Elizabeth's letter, 1910
National Archives

Daniel died in Tekamah on Sept. 22, 1896. A brief notice in the Blair (NE) Pilot-Tribune said that Daniel, "a relative of the Warrick family of this county, was buried at Tekamah on Tuesday of this week." Among those viewing the body were Elijah Tuttle and Daniel Fisher of Tekamah.

As a widow, Elizabeth successfully petitioned the government to receive her husband's pension. [Widow App. 641.494 - Cert. 435.479]. The amount she received was $8 each month.

She married a second time on April 17, 1898 to 67-year-old Seth Kelley/Kelly ( ? - ? ), of Burt County, by the hand of justice of the peace James C. Shaw. Seth was a native of New York and the son of John and Sarah (Berger) Kelly. The second marriage lasted for only a few years until his demise in May 1902.

Elizabeth outlived her second spouse by nine years. During that period, she variously resided with her married children. Circa 1910-1911, she was in Sturgis, Meade County, SD with daughter and son-in-law Frances and John Kincheloe, and in 1911 in Herman, Washington County, NE, sharing a home with her son Cyrus.

Elizabeth re-applied to the Pension Bureau to regain her first spouse's soldier pension and receive the amount accrued since her second marriage. Among those coming forward to provide affidavits of support were A.P. Mason and Charles Haney of Tekamah. In a letter to the pension commissioner circa 1910, she wrote "I am 74 yrs old and not able to work and have a Dr. bill to pay and I need the money so bad."

She passed away at age 76 on Nov. 11, 1911. An obituary in the Pilot reported that Elizabeth "wasn't sick a day, her tired old heart just ceased to beat last Saturday and death came without a struggle." Services were held in the Tekamah Methodist Church. Among those traveling to attend her funeral were Mrs. John Kreiser and son Homer Fister from Kansas City as well as Sam Warrick and Maud Warrick.

The couple was pictured in the October-November-December 1990 edition of the Younkin Family News Bulletin, published by Donna (Younkin) Logan.

~ Son Charles A. Fister ~

Son Charles A. Fister (1854-1898) was born on Jan. 7, 1854 in Glenhope, Clearfield County, PA. Circa 1878, he married Mary Catherine Rickard ( ? - ? ). The couple together bore a son, Harvey John Fister. The marriage appears to have ended in divorce by 1901, when Mary Catherine wed Charles' younger brother John. Late in life, Charles lived at 200 State Street in Helena, MT. Charles belonged to the Blackfoot Tribe of the Improved Order of Red Men. Sadly, having become seriously ill at the age of 44, Charles died at home a month later on Aug. 19, 1898. Burial of the remains was in the Odd Fellows Cemetery in Helena. Reported the Helena Independent Record, "Members of the lodge and numerous other friends followed the body to the Od Fellows' cemetery, where the interment took place." Mary Catherine outlived her spouse by more than four decades. She passed away in 1942.

~ Son Andrew Jackson Fister ~

Son Andrew Jackson Fister (1855-1910) was born on Oct. 24, 1855 in Clearfield County, PA. When he was 23 years of age, on Sept. 27, 1879, he was joined in wedlock with a cousin, Sarah Maria Youngkin (Jan. 20, 1862-1960), daughter of Joseph and Elizabeth Jane (Smith) Younkin of the family of David and Susanna "Susan" (Copp) Younkin. The wedding was held in Lynnville, Jasper County, IA. The pair bore nine children -- Henry Clifford Fister, Charles Edward Fister, Joseph Wilbert Fister, Pearl Elizabeth Fister, Clarence Cecil Fister, Harrison Daniel Fister, Clara Belle Fister, Ina Mary Fister and Oscar Norman Fister. Sadly, at the age of 55, Andrew passed away in Lander, Fremont County, WY. Burial was in the local Mt. Hope Cemetery. Sarah Maria outlived him by an extraordinary half-century. Toward the end she went to live in the Lee Nursing Home in Lander. Death swept her away on Nov. 23, 1960, at age 98.

~ Son William Henry Fister ~

Son William Henry Fister (1857- ? ) was born on Oct. 10, 1857 in Glenhope, Clearfield County. He and Callie Warrick ( ? - ? ) were united in matrimony. Their two children were Lynn Fister and Homer Fister.

~ Son Jeptha Potts Fister ~

Son Jeptha Potts Fister (1858- ? ) was born on March 25, 1858 in Glenhope, Clearfield County. On Nov. 15, 1885, in a wedding held in Burt County, NE, the 25-year-old Jeptha wed 16-year-old Rosa E. Taylor ( ? - ? ). Rev. John Patrick officiated the ceremony held at the home of Japeth's father. As Rosa legally was too young to marry, her father William H. Taylor signed his consent. Then on June 22, 1897, living in Butte, MT, Jeptha married a second time to Mary Sullivan ( ? - ? ). News of their marriage license was printed in the Butte (MT) Miner. The second marriage lasted for five years, although by 1900 Jeptha had moved out and was living in Sweet Grass, Chouteau County, MT, earning a living as a quartz miner. Mary filed for divorce in 1902 in district court in Butte. She said in her complaint, published in the Butte Daily Post, that "for more than a year last past Fister has not only failed to support [her] but that his failure was due to idleness profligacy and dissipation. Mrs. Fister says that she has received nothing from her husband in the time stated and has wholly and fully relied upon the charities of her friends." Judge Clancy granted the divorce on the grounds of desertion. The United States Census of 1910 lists Jeptha as residing in Cartersville, Lewis and Clark County, MT, continuing to mine quartz for a living. By the mid-1920s, he migrated to California. He died on June 15, 1926, with burial in Westwood Cemetery in Lassen County, CA.

~ John Edward Fister ~

Son John Edward Fister (1860-1917) was born in about 1860 in Clearfield County, PA. He was a 19-year-old when he accompanied his parents and family on a migration to Nebraska. Evidence hints that he married his brother Charles' former wife Mary Catherine (Richard) Fister in 1901, following a divorce. John held a membership in the Montana lodge No. 1 of the Independent Order of Odd Fellows and the Modern Woodmen of America. He succumbed to death in Helena at age 58 just three days before Christmas 1917. Reported the Helena Independent Record, last rites were performed by members of his Odd Fellows lodge. Music was provided by Henry Kain, Frank Gonzales and Adam Haegele, with William J. Melugin accompanying on piano. Burial was in the IOOF Cemetery, Helena. The Record said that the "floral tributes were very numerous in number. Members of the Modern Woodmen of America attended the funeral, together with other friends of the deceased and his family."

~ Daughter Sarah E. Fister ~

Daughter Sarah E. Fister (1863- ? ) was born in 1863 in Clearfield County, PA.

~ Daughter Mary C. (Fister) Stewart ~

Daughter Mary C. Fister (1865- ? ) was born on April 25, 1865 in Clearfield County, PA. At the age of 15, on June 27, 1880, she entered into the bonds of marriage with George W. Stewart ( ? - ? ). Their nuptials were held in Fort Calhoun, Washington County, NE. She dwelled in South Dakota at some point.

~ Daughter Isabella Susan "Susie" (Fister) Bruce ~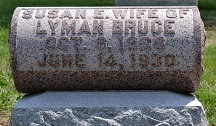 Tekamah Cemetery


Courtesy Jeanne Pritchett
Daughter Isabella Susan "Susie" Fister (1866-1930) was born on Oct. 6, 1866 in Clearfield County, PA. At the age of three, she traveled from Pennsylvania with her family and settled in Burt County, NE. At 16 years of age, on Nov. 23, 1882, she married 24-year-old Iowa native Lyman Bruce (1858-1919), son of W.J. and Caroline Bruce. Isabella's father signed his consent to the marriage since she legally was underage. The couple tied the knot in Takemah, NE. Isabella's father and Lyman's sister both were witnesses to the ceremony. Five children were born into this family -- Clarence Conger "C.C." Bruce, Mrs. Charles Eby, Mrs. Frank E. Amick, Mrs. Charles Patterson and one who was deceased by 1930. The Bruces spent a quarter-century as farmers, and in 1917 relocated into the town of Tekamah. The pair endured the untimely death of their married daughter Mrs. Eby of tuberculosis on June 10, 1910. In 1919, only two years after their move into Tekamah, Lyman died in 1919. On his red barre granite grave marker was carved a large, oval log of the Woodmen of the World Memorial. Death swept away Isabella at home in Tekamah at age 63 on June 14, 1930. The Herman (NE) Record said that "Death came without warning as the result of heart disease." Rev. D.A. McCullough presided over the funeral service. Burial followed in Tekamah Cemetery. Her survivors included two grandchildren, Kenneth and Agnes Cameron.
~ Son Samuel Dean Fister ~
Son Samuel Dean Fister (1868-1943) was born on May 30, 1868 in Clearfield County, PA. He obtained an eighth-grade education. He was twice married, first at age 26, on Jan. 14, 1897, to 21-year-old Doris Skinner ( ? - ? ) in Burt County, NE. She was a native of Erie County, NY and the daughter of Sidney S. and Lucy (Austin) Skinner. Baptist minister Rev. T. Howsand led the ceremony, in Tekamah, NE, witnessed by George and Effie Hoffman. He is known to have served in the U.S. Armed Forces with the 1st South Dakota Infantry. during the Spanish American War. Samuel's second bride, on July 31, 1904, was Anna Mariah Wilde (1868-1948), an immigrant from England who had come to America as a child in 1874. Their wedding was held in Croyden, Morgan County, UT. Four known children born to this union, all in Utah, were Gareld D. Fister, Lawrence W. Fister, LeRoy D. Fister and Marie Dominguez. Samuel and Anna Mariah made a home in 1910 in Salt Lake City, where he earned a living as a structural iron worker. They lived in Utah in 1929 and in 1935-1940 were in Rialto, San Bernardino County, CA. The federal census of 1940 shows daughter Marie as age 22 and divorced with her two children in the household -- Anna Marie Dominguez and Alvero Dominguez. Samuel died in San Bernardino on Feb. 23, 1943. Annie passed away five years later in 1948.
~ Daughter Frances H. (Fister) Kincheloe ~
Daughter Frances H. Fister (1870-1913) was born on May 10, 1870 in Clearfield County, PA. On Aug. 2, 1887, at the age of 17, she wed John J. Kincheloe (Nov. 1856- ? ), a native of Missouri, with the ceremony held in Washington County, NE. The bride was 13 years younger than the groom. The couple bore three children, of whom two are known, Mary V. Kincheloe and Eula M. Hoehn. The family made its residence in 1889 in Wyoming and in 1896-1900 in Jackson, Shelby County, MO. By 1910, they migrated to South Dakota, putting down stakes in or near Sturgis, Meade County, SD, with John earning a living as a dairy farmer, and Frances' widowed mother living under their roof. Sadly, Frances died at age 43 on Aug. 11, 1913. Evidence suggests that John outlived his wife by a baker's dozen years and passed away in 1926, with burial in Bear Butte Cemetery in Sturgis.
~ Son Cyrus David Fister ~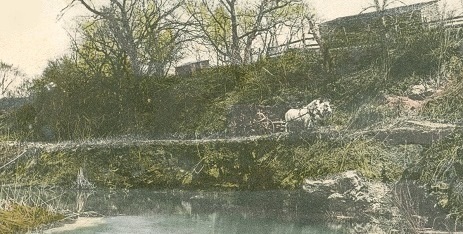 Horses and wagon out for a ride along Tekamah Creek in Tekamah, NE
Son Cyrus David Fister (1872-1929) was born on New Year's Eve 1872 in Clearfield County, PA. When he was eight years old, he and his family relocated to Nebraska, settling near the town of Tekamah, Burt County. When he was 13, in 1885, he became a member of the Methodist Episcopal Church. On Oct. 21, 1894, in nuptials held in Tekamah, he married Cora Alice Moore (Aug. 15, 1874-1947), daughter of Albert Lloyd and Ella Permelia (Gossard) Moore of Tekamah. The first two of their babies Guy and Cyrus died young, but the third Ella M. Fister lived into childhood, as did the resulting nine offspring -- Guy Philip Fister, Cyrus Floyd Fister, Ella Marie Tucker, Albert Lloyd Fister, Walter David Fister, Dean Melvin Fister, Goldie Alice Fister, Dorothy Mae Elizabeth Ott and Cyrus "Bud" Fister. When she was 31 years of age, in about 1905, she was stricken with arthritis "which left her an invalid," said the Grant (NE) Tribune-Sentinel, which rendered her unable to attend church services. The newlyweds migrated to near Herman, Washington County, NE and spent 27 years in that locality. During that time he belonged to the local lodge of the Masons. Census records show that they dwelled in 1900 on a farm in Herman. Then on March 1, 1921, they moved to Grant, Perkins County, NE and remained for good, but in doing so he gave up his Masons membership. For the last six years of his life, Cyrus endured an enlarged heart. On Valentine's Day 1929, after five weeks of being bedfast, Cyrus died at the age of 56. An obituary in the Tribune-Sentinel opined that Cyrus "was a very industrious and quite a successful farmer. In all his relations with the community he was honorable and upright. He bore the respect of the community, and men speak well of his life and characteer. There is a common sense over he untimely death of Brother Cyrus..." Well-attended funeral services were held in the Methodist Episcopal Church, followed by burial was in Fairview Cemetery in Grant. His Masonic brethren acted as pallbearers. His obituary was reprinted in the Herman (NE) Record. Cora outlived her husband by 18 years and moved to Colorado. She endured the untimely death of her daughter Dorothy Mae Elizabeth on Aug. 15, 1944. Despite her afflictions, said the Tribune-Sentinel, "she was always cheerful and had a smile for every one." Death claimed her in the home of her youngest son Bod in Holyoke, Phillips County, CO at age 72 on the Fourth of July 1947. Rev. O.W. Michel led the funeral service, with burial in Fairview. She was survived by 29 grandchildren and seven great-grandchildren.
Gr

anddaughter Ella Marie Fister (1899-1975) was born in 1899. She married (?) Tucker ( ? - ? ). They moved to Visalia, CA and were there in 1929. Then in 1947, the Tuckers dwelled in Haigler, NE.
Ina (Fister) Bright

Grandson Albert "Lloyd" Fister (1902-1972) was born on Nov. 12, 1902 in Herman, Washington County, NE. When he was 21 years of age, on March 14, 1924, he wed Oma Pearl Whiteley (Oct. 30, 1903-1992), a native of Imperial, NE and the daughter of Burr Harrison and Carrie Elizabeth (Coles) Whiteley. Their nuptials were held in Julesburg, CO. In 1929, they lived in Grant, NE and in 1947 in Bridgeport, NE. The couple's six children were Ina Pearl Bright, Inez Mae Fister, Cyrus Donald Fister, Lloyd Ronald Fister, Gerald Leroy Fister and Robert Dale Fister. Albert passed away at age 69, on June 2, 1972, in Bridgeport, Morrill County, NE. Oma Pearl lived for another two decades. She surrendered to death at age 88 on May 13, 1992 in Roseburg, Douglas County, OR. Their daughter Ina married Claude Myers Bright and contributed important research to Younkin researcher and publisher Donna (Younkin) Logan.
Granddaughter Dorothy Mae Elizabeth Fister (1915-1944) was born in 1915. When she was 16 years old, on April 6, 1931, she married Kenneth Ott ( ? - ? ), son of Henry Ott. The wedding was held in Holyoke, CO. Sadly, she died on Aug. 15, 1944.
~ Daughter Martha Anna (Fister) Lillie ~
Daughter Martha Anna Fister (1874-1925) was born in 1874 in Clearfield County, PA. At age 19, on Oct. 17, 1893, she was joined in the union of wedlock with Ernest Henry Lillie ( ? - ? ). Martha died at age 51 on Feb. 2, 1925.
~ Daughter Genette "Nettie" (Fister) Wyckoff ~
Daughter Genette "Nettie" Fister (1876- ? ) was born in about 1876 in Takemah, NE. When she was the age of 17, on March 1, 1894, she was joined in marriage with 24-year-old Bert E. Wyckoff ( ? - ? ), a Takemah native and the daughter of Albert E. and Phoebe Wyckoff. She resided in 1929 in Helena, MT.
~ Daughter Effie (Fister) Hoffman ~
Daughter Effie Fister (1879-1938) was born in 1879. On March 25, 1896, at the age of 17, she wed 26-year-old George Hoffman ( ? - ? ), a native of Cook County, IL and the son of Peter and Jennie (Sellers) Hoffman. Officiating was Rev. O. Eggleston, pastor of the Tekamah Methodist Episcopal Church. Because Effie was underage, her father had to sign his consent to the union. Circa 1929, Effie was in Helena, MT. At the age of 59, on Oct. 13, 1938, Effie passed into eternity.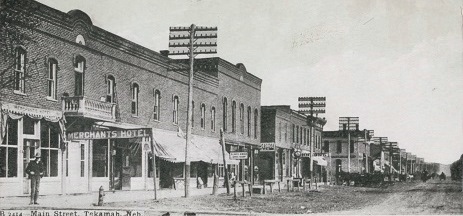 Unpaved Main Street in Tekamah, NE
Copyright © 2021 Mark A. Miner
Minerd.com extends its gratitude to the late Donna (Younkin) Logan, Ina (Fister) Bright and Isabelle Tilton for their research contributions to this biography.