Home

Charles Youngkin
(1809-1887?)
Charles Youngkin was born in 1809 in Northampton County, PA, the son of Henry and Anna Mariah (Overpeck) Younkin Jr. He was baptized on Sept. 7, 1809 in the Stone Church in Kreidersville, Northampton County, PA.
He and Hannah Troxell (Aug. 5, 1821-1898) were joined together in matrimony in about 1840. Born in Blair County, PA, Hannah was one of 11 children of John Troxell Sr., "one of the oldest and best known families in the northern part of this county," said the Altoona Tribune. She never learned how to read.
Their nine known children were Elizabeth Fister, Sarah A. Youngkin, John Clinton Youngkin, Mary Dean, Henry Youngkin, Susan Youngkin, Albert Youngkin, Andrew Jackson "A.J." Youngkin and Richard B. "R.B." Younkin. One of the daughters married Simon Hollis of Haynes, WV.
When the federal census was enumerated in 1850, the Youngkins made a home in White Township, Cambria County, with Charles laboring as a lumberman.
By 1860, Charles' primary occupation was farming, as shown in that year's census. At that time, the census-taker spelled the family name "Younken." He continued his work as a farmer through the Civil War years and into 1870. The 1870 U.S. Census shows that two-month-old grandson C.H. "Harry" Lumedue/Lummado lived in the household.
The 1880 census indicates that only two sons were left in the Youngkin household, now in Reade Township, Cambria County, as well as 10-year-old grandson C. "Harry" Lumedue/Lummado.
Charles passed away in about 1887.
Hannah survived as a widow for almost 11 years. Her final home was in Fallen Timber, Cambria County. Toward the end, she endured what the Tribune called "extreme suffering" and died on March 10, 1898.
From the time she was taken ill until the end came she was confined to bed, most of the time being obliged to sit propped up, on account of the paroxysms of coughing, which rendered breathing difficult. The physicians said she had a form of the grip, accompanied with some dropsical affection at first, but the cough was the principal trouble, and medical skill was unable to do more than give ease and keep the vital spark in the frail body for a limited time. Every kindness and attention that children and grandchildren and friends could bestow was cheerfully given, and hopes were entertained for a time of a partial restoration to health, but there was a sudden relapse the evening of the day she died, and, peacefully as if going to sleep, she passed away... Mrs. Youngkin was a remarkably well preserved woman prior to her last illness, being possessed of a splendid memory, excellent business qualities and of a stirring, industrious nature particular to all the members of her father's family. She accomplished more work than the average young woman. Her step was as quick and firm and erect as a girl, and no one enjoyed fund and merriment more than she. She was a devoted mother, and her prayer to the last was for the children and that they might meet her in heaven, where she wanted to go to meet her husband and the little ones who were taken in childhood. The greatest respect and kindness was shown through her illness by the great number of persons who visited her. The neighbors were exceedingly kind and showed themselves to be friends in need by giving every assistance to the sorrowing children in their time of trouble, from the beginning of her sickness until the remains were consigned to the grave... The community has lost a good neighbor and the children a loving and devoted mother whose cheery countenance and wise couinsel will be greatly missed.
Hannah was age 76 years, seven months and five days at death, and had outlived four of her nine children. She also was survived by her brother Perry Troxell of near Glasgow and sister Mary Gates of Beaver Valley, the sister attending the funeral service but with great difficulty given her delicate health. A brief service was held in Hannah's residence, with a longer one occuring at the United Brethren Church in Beaver Valley, led by Rev. Spanogle of Coalport, who preached on John 14 -- "I go to prepare a place for you." Rain and high winds made the roads almost unpassable for those who came.
Hannah's estate was comprised of 135 acres of land, of which 65 were clear, adjoining the Cresson and Clearfield Railroad. The tract contained an orchard and good sources of water, under which were valuable deposits of coal. A public sale was held on Nov. 26, 1898.
~ Daughter Elizabeth (Youngkin) Fister ~


Elizabeth and Daniel Fister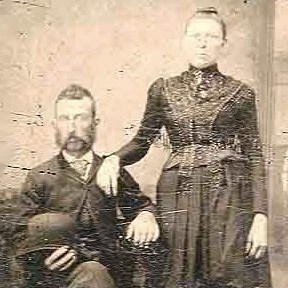 Elizabeth and Daniel Fister


Courtesy Herbert Rickards
Daughter Elizabeth Youngkin (1836-1911) was born on Sept. 25, 1835 or 1836.
On May 16, 1852, in a wedding ceremony held in Clearfield County, PA, she married Daniel Feister ( ? - ? ), also spelled "Fister." Justice of the peace James Gill officiated.
During the Civil War, Daniel served in the Union Army as a member of the 3rd Pennsylvania Heavy Artillery, Battery K. He joined the army on Feb. 27, 1864 and was honorably discharged at Fortress Monroe, VA on Nov. 9, 1865.
Together, they bore 14 children -- Charles A. Fister, Andrew Jackson Fister, William Henry Fister, Jeptha Potts Fister, John E. Fister, Sarah E. Fister, Mary C. Fister, Isabella Susan "Susie" Bruce, Samuel Dean Fister, Frances H. Fister, Cyrus David Fister, Martha Anna Fister, Genette "Nettie" Wyckoff and Effie Fister.
The Fister home from 1852 to 1879 was in Bacaria Township, Clearfield County. Then in 1879, the Fisters migrated west and established a new home in Nebraska. The 1890 special census of Civil War veterans shows the couple in Tekamah, Burt County, NE.
A quarter century after the war's end, in 1890, Daniel was awarded a military pension for his wartime service. [Invalid App. #818.344 - Cert. 907.115]
Six years later, Daniel died in Tekamah on Sept. 22, 1896. A brief notice in the Blair (NE) Pilot-Tribune said that Daniel, "a relative of the Warrick family of this county, was buried at Tekamah on Tuesday of this week."
As a widow, Elizabeth successfully petitioned the government to receive her husband's pension. [Widow App. 641.494 - Cert. 435.479].
She married a second time in 1898 to 67-year-old Seth Kelly ( ? - ? ), of Burt County, by the hand of justice of the peace James C. Shaw. Seth was a native of New York and the son of John and Sarah (Berger) Kelly. The second marriage lasted for only two years until his demise.
She outlived her second spouse by 13 years and variously resided with her married children. Circa 1910, she was in Meade County, SD with daughter and son-in-law Frances and John Kincheloe, and in 1911 in Herman, Washington County, NE, sharing a home with her son Cyrus.
She passed away at age 76 on Nov. 11, 1911. An obituary in the Pilot reported that Elizabeth "wasn't sick a day, her tired old heart just ceased to beat last Saturday and death came without a struggle." Services were held in the Tekamah Methodist Church. Among those traveling to attend her funeral were Mrs. John Kreiser and son Homer Fister from Kansas City as well as Sam Warrick and Maud Warrick.
The couple was pictured in the October-November-December 1990 edition of the Younkin Family News Bulletin, published by Donna (Younkin) Logan.
Son Charles A. Fister (1854-1898) was born on Jan. 7, 1854 in Glenhope, Clearfield County, PA. Circa 1878, he married Mary Catherine Rickard ( ? - ? ). The couple together bore a son, Harvey John Fister. The marriage appears to have ended in divorce by 1901, when Mary Catherine wed Charles' younger brother John. Late in life, Charles lived at 200 State Street in Helena, MT. Charles belonged to the Blackfoot Tribe of the Improved Order of Red Men. Sadly, having become seriously ill at the age of 44, Charles died at home a month later on Aug. 19, 1898. Burial of the remains was in the Odd Fellows Cemetery in Helena. Reported the Helena Independent Record, "Members of the lodge and numerous other friends followed the body to the Od Fellows' cemetery, where the interment took place." Mary Catherine outlived her spouse by more than four decades. She passed away in 1942.
Son Andrew Jackson Fister (1855-1910) was born on Oct. 24, 1855 in Clearfield County, PA. When he was 23 years of age, on Sept. 27, 1879, he was joined in wedlock with a cousin, Sarah Maria Youngkin (Jan. 20, 1862-1960), daughter of Joseph and Elizabeth Jane (Smith) Younkin of the family of David and Susanna "Susan" (Copp) Younkin. The wedding was held in Lynnville, Jasper County, IA. The pair bore nine children -- Henry Clifford Fister, Charles Edward Fister, Joseph Wilbert Fister, Pearl Elizabeth Fister, Clarence Cecil Fister, Harrison Daniel Fister, Clara Belle Fister, Ina Mary Fister and Oscar Norman Fister. Sadly, at the age of 55, Andrew passed away in Lander, Fremont County, WY. Burial was in the local Mt. Hope Cemetery. Sarah Maria outlived him by an extraordinary half-century. Toward the end she went to live in the Lee Nursing Home in Lander. Death swept her away on Nov. 23, 1960, at age 98.
Son William Henry Fister (1857- ? ) was born on Oct. 10, 1857 in Glenhope, Clearfield County. He and Callie Warrick ( ? - ? ) were united in matrimony. Their two children were Lynn Fister and Homer Fister.
Son Jeptha Potts Fister (1858- ? ) was born on March 25, 1858 in Glenhope, Clearfield County. On Nov. 15, 1885, in a wedding held in Burt County, NE, the 25-year-old Jeptha wed 16-year-old Rosa E. Taylor ( ? - ? ). Rev. John Patrick officiated the ceremony held at the home of Japeth's father. As Rosa legally was too young to marry, her father William H. Taylor signed his consent. Then on June 22, 1897, living in Butte, MT, Jeptha married a second time to Mary Sullivan ( ? - ? ). News of their marriage license was printed in the Butte (MT) Miner. The second marriage lasted for five years, although by 1900 Jeptha had moved out and was living in Sweet Grass, Chouteau County, MT, earning a living as a quartz miner. Mary filed for divorce in 1902 in district court in Butte. She said in her complaint, published in the Butte Daily Post, that "for more than a year last past Fister has not only failed to support [her] but that his failure was due to idleness profligacy and dissipation. Mrs. Fister says that she has received nothing from her husband in the time stated and has wholly and fully relied upon the charities of her friends." Judge Clancy granted the divorce on the grounds of desertion. The United States Census of 1910 lists Jeptha as residing in Cartersville, Lewis and Clark County, MT, continuing to mine quartz for a living. By the mid-1920s, he migrated to California. He died on June 15, 1926, with burial in Westwood Cemetery in Lassen County, CA.
Son John Edward Fister (1860-1917) was born in about 1860 in Clearfield County, PA. He was a 19-year-old when he accompanied his parents and family on a migration to Nebraska. Evidence hints that he married his brother Charles' former wife Mary Catherine (Richard) Fister in 1901, following a divorce. John held a membership in the Montana lodge No. 1 of the Independent Order of Odd Fellows and the Modern Woodmen of America. He succumbed to death in Helena at age 58 just three days before Christmas 1917. Reported the Helena Independent Record, last rites were performed by members of his Odd Fellows lodge. Music was provided by Henry Kain, Frank Gonzales and Adam Haegele, with William J. Melugin accompanying on piano. Burial was in the IOOF Cemetery, Helena. The Record said that the "floral tributes were very numerous in number. Members of the Modern Woodmen of America attended the funeral, together with other friends of the deceased and his family."
Daughter Sarah E. Fister (1863- ? ) was born in 1863 in Clearfield County, PA.
Daughter Mary C. Fister (1865- ? ) was born on April 25, 1865 in Clearfield County, PA. At the age of 15, on June 27, 1880, she entered into the bonds of marriage with George W. Stewart ( ? - ? ). Their nuptials were held in Fort Calhoun, Washington County, NE. She dwelled in South Dakota at some point.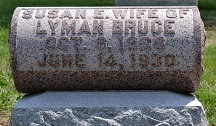 Tekamah Cemetery


Courtesy Jeanne Pritchett
Daughter Isabella Susan "Susie" Fister (1866-1930) was born on Oct. 6, 1866 in Clearfield County, PA. At the age of three, she traveled from Pennsylvania with her family and settled in Burt County, NE. At 16 years of age, on Nov. 23, 1882, she married 24-year-old Iowa native Lyman Bruce (1858-1919), son of W.J. and Caroline Bruce. Isabella's father signed his consent to the marriage since she legally was underage. The couple tied the knot in Takemah, NE. Isabella's father and Lyman's sister both were witnesses to the ceremony. Five children were born into this family -- Clarence Conger "C.C." Bruce, Mrs. Charles Eby, Mrs. Frank E. Amick, Mrs. Charles Patterson and one who was deceased by 1930. The Bruces spent a quarter-century as farmers, and in 1917 relocated into the town of Tekamah. The pair endured the untimely death of their married daughter Mrs. Eby of tuberculosis on June 10, 1910. In 1919, only two years after their move into Tekamah, Lyman died in 1919. On his red barre granite grave marker was carved a large, oval log of the Woodmen of the World Memorial. Death swept away Isabella at home in Tekamah at age 63 on June 14, 1930. The Herman (NE) Record said that "Death came without warning as the result of heart disease." Rev. D.A. McCullough presided over the funeral service. Burial followed in Tekamah Cemetery. Her survivors included two grandchildren, Kenneth and Agnes Cameron.
Son Samuel Dean Fister (1868-1943) was born on May 30, 1868 in Clearfield County, PA. He obtained an eighth-grade education. He was twice married, first at age 26, on Jan. 14, 1897, to 21-year-old Doris Skinner ( ? - ? ) in Burt County, NE. She was a native of Erie County, NY and the daughter of Sidney S. and Lucy (Austin) Skinner. Baptist minister Rev. T. Howsand led the ceremony, in Tekamah, NE, witnessed by George and Effie Hoffman. He is known to have served in the U.S. Armed Forces with the 1st South Dakota Infantry. during the Spanish American War. Samuel's second bride, on July 31, 1904, was Anna Mariah Wilde (1868-1948), an immigrant from England who had come to America as a child in 1874. Their wedding was held in Croyden, Morgan County, UT. Four known children born to this union, all in Utah, were Gareld D. Fister, Lawrence W. Fister, LeRoy D. Fister and Marie Dominguez. Samuel and Anna Mariah made a home in 1910 in Salt Lake City, where he earned a living as a structural iron worker. They lived in Utah in 1929 and in 1935-1940 were in Rialto, San Bernardino County, CA. The federal census of 1940 shows daughter Marie as age 22 and divorced with her two children in the household -- Anna Marie Dominguez and Alvero Dominguez. Samuel died in San Bernardino on Feb. 23, 1943. Annie passed away five years later in 1948.
Daughter Frances H. Fister (1870-1913) was born on May 10, 1870 in Clearfield County, PA. On Aug. 2, 1887, at the age of 17, she wed John J. Kincheloe (Nov. 1856- ? ), a native of Missouri, with the ceremony held in Washington County, NE. The bride was 13 years younger than the groom. The couple bore three children, of whom two are known, Mary V. Kincheloe and Eula M. Hoehn. The family made its residence in 1889 in Wyoming and in 1896-1900 in Jackson, Shelby County, MO. By 1910, they migrated to South Dakota, putting down stakes in or near Sturgis, Meade County, SD, with John earning a living as a dairy farmer, and Frances' widowed mother living under their roof. Sadly, Frances died at age 43 on Aug. 11, 1913. Evidence suggests that John outlived his wife by a baker's dozen years and passed away in 1926, with burial in Bear Butte Cemetery in Sturgis.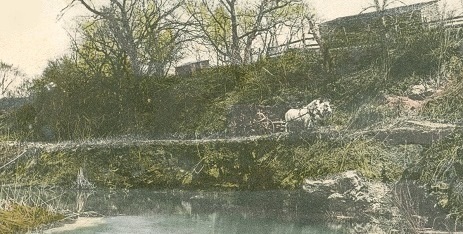 Horses and wagon out for a ride along Tekamah Creek in Tekamah, NE
Son Cyrus David Fister (1872-1929) was born on New Year's Eve 1872 in Clearfield County, PA. When he was eight years old, he and his family relocated to Nebraska, settling near the town of Tekamah, Burt County. When he was 13, in 1885, he became a member of the Methodist Episcopal Church. On Oct. 21, 1894, in nuptials held in Tekamah, he married Cora Alice Moore (Aug. 15, 1874-1947), daughter of Albert Lloyd and Ella Permelia (Gossard) Moore of Tekamah. The first two of their babies Guy and Cyrus died young, but the third Ella M. Fister lived into childhood, as did the resulting nine offspring -- Guy Philip Fister, Cyrus Floyd Fister, Ella Marie Tucker, Albert Lloyd Fister, Walter David Fister, Dean Melvin Fister, Goldie Alice Fister, Dorothy Mae Elizabeth Ott and Cyrus "Bud" Fister. When she was 31 years of age, in about 1905, she was stricken with arthritis "which left her an invalid," said the Grant (NE) Tribune-Sentinel, which rendered her unable to attend church services. The newlyweds migrated to near Herman, Washington County, NE and spent 27 years in that locality. During that time he belonged to the local lodge of the Masons. Census records show that they dwelled in 1900 on a farm in Herman. Then on March 1, 1921, they moved to Grant, Perkins County, NE and remained for good, but in doing so he gave up his Masons membership. For the last six years of his life, Cyrus endured an enlarged heart. On Valentine's Day 1929, after five weeks of being bedfast, Cyrus died at the age of 56. An obituary in the Tribune-Sentinel opined that Cyrus "was a very industrious and quite a successful farmer. In all his relations with the community he was honorable and upright. He bore the respect of the community, and men speak well of his life and characteer. There is a common sense over he untimely death of Brother Cyrus..." Well-attended funeral services were held in the Methodist Episcopal Church, followed by burial was in Fairview Cemetery in Grant. His Masonic brethren acted as pallbearers. His obituary was reprinted in the Herman (NE) Record. Cora outlived her husband by 18 years and moved to Colorado. She endured the untimely death of her daughter Dorothy Mae Elizabeth on Aug. 15, 1944. Despite her afflictions, said the Tribune-Sentinel, "she was always cheerful and had a smile for every one." Death claimed her in the home of her youngest son Bod in Holyoke, Phillips County, CO at age 72 on the Fourth of July 1947. Rev. O.W. Michel led the funeral service, with burial in Fairview. She was survived by 29 grandchildren and seven great-grandchildren.
Gr

anddaughter Ella Marie Fister (1899-1975) was born in 1899. She married (?) Tucker ( ? - ? ). They moved to Visalia, CA and were there in 1929. Then in 1947, the Tuckers dwelled in Haigler, NE.
Ina (Fister) Bright

Grandson Albert "Lloyd" Fister (1902-1972) was born on Nov. 12, 1902 in Herman, Washington County, NE. When he was 21 years of age, on March 14, 1924, he wed Oma Pearl Whiteley (Oct. 30, 1903-1992), a native of Imperial, NE and the daughter of Burr Harrison and Carrie Elizabeth (Coles) Whiteley. Their nuptials were held in Julesburg, CO. In 1929, they lived in Grant, NE and in 1947 in Bridgeport, NE. The couple's six children were Ina Pearl Bright, Inez Mae Fister, Cyrus Donald Fister, Lloyd Ronald Fister, Gerald Leroy Fister and Robert Dale Fister. Albert passed away at age 69, on June 2, 1972, in Bridgeport, Morrill County, NE. Oma Pearl lived for another two decades. She surrendered to death at age 88 on May 13, 1992 in Roseburg, Douglas County, OR. Their daughter Ina married Claude Myers Bright and contributed important research to Younkin researcher and publisher Donna (Younkin) Logan.
Granddaughter Dorothy Mae Elizabeth Fister (1915-1944) was born in 1915. When she was 16 years old, on April 6, 1931, she married Kenneth Ott ( ? - ? ), son of Henry Ott. The wedding was held in Holyoke, CO. Sadly, she died on Aug. 15, 1944.
Daughter Martha Anna Fister (1874-1925) was born in 1874 in Clearfield County, PA. At age 19, on Oct. 17, 1893, she was joined in the union of wedlock with Ernest Henry Lillie ( ? - ? ). Martha died at age 51 on Feb. 2, 1925.
Daughter Genette "Nettie" Fister (1876- ? ) was born in about 1876 in Takemah, NE. When she was the age of 17, on March 1, 1894, she was joined in marriage with 24-year-old Bert E. Wyckoff ( ? - ? ), a Takemah native and the daughter of Albert E. and Phoebe Wyckoff. She resided in 1929 in Helena, MT.
Daughter Effie Fister (1879-1938) was born in 1879. On March 25, 1896, at the age of 17, she wed 26-year-old George Hoffman ( ? - ? ), a native of Cook County, IL and the son of Peter and Jennie (Sellers) Hoffman. Officiating was Rev. O. Eggleston, pastor of the Tekamah Methodist Episcopal Church. Because Effie was underage, her father had to sign his consent to the union. Circa 1929, Effie was in Helena, MT. At the age of 59, on Oct. 13, 1938, Effie passed into eternity.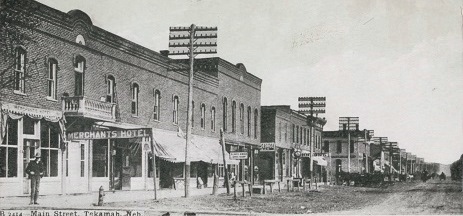 Unpaved Main Street in Tekamah, NE
~ Daughter Sarah A. (Youngkin) Warrick ~
Daughter Sarah A. Youngkin (1838-1905) was born on Aug. 1 or 5, 1838 in Ross Township, Monroe County, PA. The dates of her birth differ on the family Bible record and on her baptismal certificate.
When she was 19 years of age, on June 9, 1858, she married John Goss Warrick (Oct. 10, 1833-1903), a native of Barcaria Township, Clearfield County.
Their brood of children included Hannah Elizabeth Warrick, Liona Walden Warrick, Susan Narissa Warrick, Rachel May Warrick, Samuel Dean Warrick, Charles Augustus Warrick, Isaiah Warrick, Nehemiah Warrick, Nora Mabel Warrick and Esther Ann Warrick.
During the Civil War, John joined the Union Army. He was assigned to the 205th Pennsylvania Infantry, Company I.
The family eventually migrated to Nebraska in the years after the war.
In 1885, John was awarded a military pension as a wartime vetera. [Invalid App. #553.936 - Cert. #502.531]
Sadly, John passed away in Arlington, NE on Jan. 25, 1903.
As a widow, Sarah Ann successfully petitioned the federal government for a pension as compensation for her husband's wartime service. [Widow App. #780.286 - Cert. #553.418] She only outlived her husband by two years. At the age of 66, she surrendered to the spirit of death in Blair, NE, on Jan. 21, 1905.
Daughter Hannah Elizabeth "Lizzie" Warrick (1858-1954) was born on Nov. 10, 1858 in Clearfield County, PA. She was twice-married. Her first husband, with whom she tied the knot on March 15, 1882, was Wesley Wallace Dixon ( ? - ? ). She made a home in Lincoln, NE in 1931. Then at age 80, on Dec. 21, 1938, she wed Marian Albert Barry. She passed away two days after Christmas 1954, in Nicoma Park, OK, at the age of 96. Her remains were shipped to Blair, NE for interment.
Daughter Liona Walden "Lonnie" Warrick (1861-1882) was born on Feb. 28, 1861 in Clearfield County, PA. After migrating to Nebraska, she passed away at age 21 on Oct. 4, 1882, while in Washington County, NE. The remains were laid to rest in Cuming City, NE.
Daughter Susan Narissa Warrick (1863-1927) was born on Sept. 1, 1863 in Clearfield County, PA. In nuptials held in 1881, she entered into marriage with a cousin, John Andrew Youngkin (1857-1948), son of Joseph and Elizabeth Jane (Smith) Youngkin. See the Youngkin biography for more.
Daughter Rachel May Warrick (1867-1941) was born two days before Christmas 1867 in Clearfield Couny, PA. She emigrated to Nebraska in her youth. At the age of 18, in 1886, she entered into marriage with Simon Sylvester "S.S." Dixon ( ? - ? ). The Dixons lived in Arlington, NE in 1931. Rachel died on Jan. 20, 1941 at age 73. Burial was in Arlington.
Son Samuel Dean Warrick (1870-1884) was born on April 16, 1870 in Cuming City, Washington County, NE. Tragically, at the age of 14, he was killed in a wagon accident on Aug. 24, 1884. Interment of the remains was in Cuming City.
Son Charles Augustus "Gus" Warrick (1872-1931) was born on Feb. 11, 1872 in or near Blair, Washington County, NE. At age 21, in 1893, he joined the Baptist Church at Blair. His comings and goings of the mid-to-late 1890s were frequently chronicled on the pages of the Burt County (NE) News, Blair (NE) Republican and Blair Pilot. He is known to have spent several months in 1896 in New Castle, WY before returning home to Blair. Then in January 1897, in company with five other Blair men, he traveled by train to Shawnee, OK to look for work. The group seemed to be part of a larger exodus of Blair residents moving to Oklahoma, but Gus came back home in February. Said the Blair Courier, "They had been there about two weeks but had not found work at living wages so decided to return. The boys do not picture the country as a land of roses and predict many returns of Blair people 'ere long." Then with some sort of illness, he went to Casper, WY in mid-1897 but again returned to Blair. Reported the Blair Pilot-Tribune, "His health is very poor. The West does not seem to agree with him." In August 1897, he told friends that he was going to Texas but changed his mind and headed to northern Iowa where he was pursuing a job. He finally landed employment selling groceries in eastern Kansas in February 1898. After the Spanish American War broke out in April 1898, Gus waited a few months and then enlisted in the U.S. Army. He was assigned to the 3rd Nebraska Infantry, Company E, and left for basic training in Florida. From there he was deployed to Cuba. Gus suffered an injured knee, possibly rheumatism, during this period. He received his discharge on May 11, 1899 and returned home. On May 24, 1899, he married Addie Botterof ( ? - ? ). The couples' nuptials were held in Omaha. Together they produced a large family of offspring -- Roland V. Warrick, Wynotte G. Warrick, Wilma Husk, Adelaide Calland, Arlene Graham, Marjorie Warrick, Betty Rosella Warrick and John Warrick.
As time went on, the knee injury lingered. Reported the Fremont (NE) Semi-Weekly Herald in April 1902, "Gus Warrick expects to take his knee up to have Father Kroeger of South Dakota examine it, and it is to be hoped he can get some relief from some quarter, for he is totally unable to do manual labor and the pension bureau has turned down his application for a pension on the ground that his injury existed prior to his enlistment." He appealed to Congressman Mercer, who sponsored a bill allocating him $25 per month for his disability, reputedly incurred during the war. A pension was granted in the monthly amount of $17, with the Pilot-Tribune calling his leg "crippled." He then turned his interests to farming. He was reported by a newspaper March 1904 to have purchased a 40-acre farm from Chris Richter. But the family fortunes again turned in September 1905 when their house, five miles west of Blair, was leveled by fire. The Courier said that the fire broke out while "Gus was in town and Mrs. Warrick had gone down to the barn, taking the baby with her. When she looked up toward the house a few moments latere she saw flames issuing from the roof and knew nothing could be done to save anything. The other children were playing in the yard, so were not harmed." The story was reported all throughout the state. A friend passed the hat around town and collected donations of $106 for new clothing. A benefit concert was organized by the Lady Maccabees at the local Redmen Hall, with Prof. W.L. Johnson providing the entertainment.
The Warricks decided to continue farming near Blair. They faced other types of obstacles, such as steady winds and continuous dust. A September 1906 article in the Courier said that "It has been very dry and fall plowing has been almost a physical impossibility for some time. It rained a nice little shower here [in Blair] Sunday morning but Gus Warrick says it only barely sprinkled at his place, so they got neither rain there. It will take a whole lot more rain to do the pastures much good or to make plowing what it should be." The family's prospects seemed to be encouraging, however, as Gus is known to have purchased a Monitor gasoline engine at the Nebraska State Fair in Lincoln in 1906 as a feed grinder. In September 1909, one of his aged sows won sixth place in the state fair. Corn was one of the staples of their farm, and in the spring of 1910 he sent a batch of his corn for testing by the state experiment station. Of his 299 kernels, said the Pilot-Tribune, "representing fifty ears, 296 grew, and of course Gus is feeling pretty good. The samples sent were of his famous Funk's Yellow Dent and some of the same corn shown in Omaha, Blair and Lincoln last winter and on which Gus took a number of premiums. The corn was picked after the heavy frost in October, but before the wet weather set in. It's to be regretted that Mr. Warrick has only enough of this corn left for his own seed and therefore cannot offer any of it for sale." Gus and two of his friends sent a carload of Duroc Jersey hogs to the Iowa State Fair in Des Moines in September 1912. The Warricks also raised watermelon on their farm and held annual feasts. The September 1917 event attacted 120 neighbors and friends, who consumed 85 large melons. By 1917, there was a growing demand for farms in the county, pushing up real estate prices. Gus used the opportunity to sell his 160-acre farm, located northwest of Blair, to buyer William H. Barton. The family moved in May 1918 to Peetz/Proctor, CO, where he tried his hand at raising wheat. They remained in Peetz for good. He held memberships in the Spanish War Veteran's Camp of Denver and the lodges of the Odd Fellows and Rebekahs. Death cut away Gus at age 59, in Denver, on Sept. 24, 1931. Funeral services were held in Sterling, CO and then at Blair. Rev. A.J. Hargett, of the local Christian Church, led the services. An obituary in the Blair (NE) Enteprise called him "a kind and loving husband and father, and a loyal neighbor." A large American flag, presented by the government for the funeral, was donated by Addie in 1934 to the Washington County Post of the Veterans of Foreign Wars
Grandson John Warrick grew up i

n Peetz, CO.
Son Isaiah H. "Zade" Warrick (1874-1932) was born on March 11, 1874 in Washington County, NE. Circa 1898, he entered into marriage with Zena Mehrens ( - ? ). The couple made a home in Sidney, NE in 1927-1932. The family dwelled in 1931 in Lorenzo, NE. The family mourned with Isaiah passed away at the age of 58 on July 11, 1932. His remains are thought to have been returned to Blair for interment.
Son Nehemiah Neum "Perp" Warrick (1877-1934) was born on April 14, 1877 in Blair, Washington County, NE. When he was 20 years of age, on New Year's Day 1908, he was joined in matrimony with Blanche Daisy Peck ( ? - ? ). Their wedding was held in Blair. One known daughter born to the union was Edith Blanche Warrick. Grief cascaded over the family when Nehemiah died in Blair at age 57 on Oct. 29, 1934.
Daughter Norah Mabel Warrick (1879-1948) was born on Aug. 25, 1879 in Washington County, NE. At the age of 19, on Feb. 22, 1899, she wed John Madison Compton ( ? - ? ). They resided in Blair over the years. In July 1927, the couple traveled to Peetz, CO to visit her brother Gus and then to Sidney, NE to see her brother Isaish. Sadly, Norah died at age 68 on May 15, 1948, in Blair, Washington County.
Daughter Esther Ann Warrick (1883-1963) was born on Aug. 23, 1883 in Washington County, NE. She was married twice in her lifetime. At the age of 21, circa 1905, she was united in wedlock with James Farling ( ? - ? ). Together they bore a son, Keith Farling. Her second spouse was Ira Overmeyer ( ? - ? ). The Overmeyers made a residence in 1931 in Boise, ID. Esther succumbed to the spectre of death in Boise on Oct. 30, 1963, at the age of 80.
~ Son John Clinton Youngkin ~
Son John Clinton Youngkin (1840-1916) was born on Oct. 19, 1840 in Pennsylvania. He grew up as a farm laborer and in 1860, at age 19, lived at home.
On March 3, 1861, he married Rebecca Gray ( ? - ? ), daughter of William and Barbara Gray of White Township, Cambria County.
They moved to North Dakota in 1898 and cultivated a farm with the intent of ownership. The tract was located in Section 10, Township 154, Range 101. In addition to farming, he made a living as a carpenter.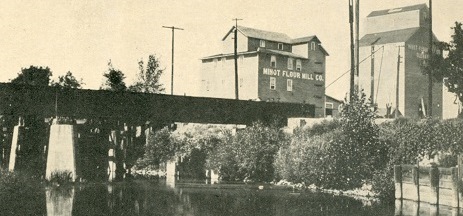 Flour mills along the Souris River, serving farmers in Minot, ND
Sadly, Rebecca died in Minot, ND on May 11, 1900.
John outlived her by 16 years and, in 1908 married again to Katherine "Kit" Stafford (Aug. 13, 1854-1912). She claimed to be a relative of England's Queen Victoria, a story met with some skepticism in the local community.
They were together for four years until her passing from stomach cancer on New Year's Eve 1912. Her funeral service was held at the home, by the hand of Rev. Olsen of the Methodist Episcopal Church.
The widowed John made news in March 1915 when, said the Jamestown (ND) Weekly Alert, he claimed that he had "speared a monster pickerel in the billowy Mouse river and had all he could do to pull it out onto the ice. It is further stated that the fish measured 36 inches in length, 20 inches around the body and weighed thirteen and one-half pounds. It took the strength of two men to pull the spear out of the denizen of the river, according to Youngkin's story. Spearing fish in the Mouse river is affording a great deal of sport to many Minot people in the last few weeks, and a number of persons are making their living in that manner."
On the fateful day of April 25, 1916, the 76-year-old John was struck and killed by a moving Soo Line No. 105 passenger railroad train. The Williston (ND) Graphic said that the accident occurred:
...near the crossing at Valley street and one the road leading to Valker's greenhouse east of the city. He was on his way up town and was walking near the track. The engineer of the train blew his whistle for the crossing, only a short distance away, and the victim evidently heart it and stepped from the track, but did not get far enough away and the cross beam in front of the engine hit him, throwing him about thirty feet and killing him instantly. The train was stopped in two car lengths after it had struck Mr. Youngkin, and the crew returned to help in caring for the man. But he was dead when help reached him... He was a well known and highly respected citizen, and his death will be a severe shock to hundreds of people in the city, who have known him for many years.
He had suffered a broken arm, crushed side and a deep cut in his scalp. Reported the Ward County (MT) Independent of Minot, the county coroner convened a jury which ruled that the train's crew was not at fault.
Son Charles William Youngkin (1862-1930).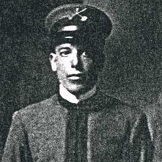 George Young-Kin, 1st to use the hyphenated spelling
Son Harry Elsworth "Elmer" Youngkin (1865-1929) was born on April 3, 1865 in Pennsylvania. He was a longtime house painter and wallpaper hanger. On Sept. 17, 1891, at the age of 26, he married his first wife, Sarah Ann "Sadie" Reese (May 11, 1872-1932), daughter of James and Arvilla (Barr) Reese. The wedding was held in Harwarden, IA. The couple settled in Muncie, IN. Together, they bore a brood of children including Laura Youngkin, Bessie Ann Youngkin, George Josiah Young-Kin, Evelyn Gertrude Youngkin, Walter Burdett Youngkin, Harry Elsworth Youngkin Jr., Dorothy Lucille Youngkin, Thelma Irene Youngkin and H.E. Youngkin. Evidence suggests that the couple divorced. In about 1927, Harry wed a second time to Rose E. ( ? - ? ). Ex-wife Sarah Ann died in Muncie on Dec. 9, 1932. Harry's final years were spent in San Diego. There, he passed away at age 64 on July5, 1929. The remains were shipped to Muncie to rest for all time in Elm Ridge Cemetery.
Daughter Alice A. Youngkin (1867- ? ).
Son Walter T. Youngkin (1870-1933).
Daughter Mary Adelia Youngkin (1873-1959).
Son Frank S. Youngkin (1875- ? ) was born in about 1875. He and George Sennett went into business together, but their partnership was dissolved in December 1901, with Frank assuming all debts, liabilities and receivables. In July 1901, he filed a notice of his intention to prove his claim to a farm in Section 10, Township 154, Range 101, where his brother John also had a nearby claim.
Son John Clayton Youngkin (1877-1913) was born in 1877. In young manhood he dwelled in Williston, SC. On June 14, 1899, in a ceremony held at Minot, ND, the 22-year-old was united in matrimony with 17-year-old Marie Ellifson ( ? -1901), a resident of Minot, ND. They settled about three miles north of the town of Williston. Sadly, their union only lasted for less than two years. Marie died at age 18 at home on April 9, 1901. An obituary in the Williston Graphic said that her funeral was led by Rev. Emerson at the Congregational Church, "and was attended by a large number of sympathizing friends." Circa April 1902, he filed paperwork to prove his claim to having settled a tract of land in Section 10, Township 154, Range 101, where hs brother Frank also had a nearby claim.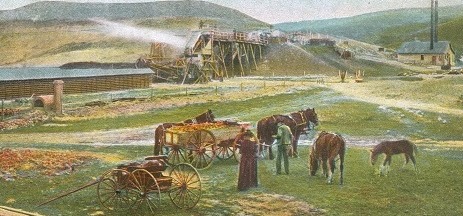 Lignite coal mining near Burlington and Minot, ND, where Thomas George Hunnewell was a well known mine operator
Daughter Clara Pearl Youngkins (1879-1958) was born in 1879. At the age of about 20, on Dec. 7, 1898, she wed Thomas George Hunnewell ( ? -1908), son of John Hunnewell, with the nuptials taking place in Ward County, ND. Thomas was a New York native who had migrated to Burlington in Ward County. The couple put down roots in Burlington, ND, where Thomas was considered "one of the well known Burlington mine operators," said the Ward County (ND) Independent of Minot. Five childred resulted from this union -- John James Hunnewell, Gladys Pearl Hunnewell, Thomas George Hunnewell, Earl Delos Hunnewell and Clara Pearl Hunnewell. But sadly, Thomas contracted tuberculosis, and over the span of months he lost hope for a recovery. For a "long time it was realized that his days were numbered," said the Independent. He died at the age of 34 on Nov. 22, 1908. Rev. E.P. Lawrence of Minot delivered the funeral sermon, and the "Old Settlers attended in a body," reported the Independent. The widowed Clara Pearl wed again to Prosper Robinson Hall (1880-1964). They bore a son of their own, Paul Robert Hall.
Daughter Evelyn May Youngkin (1882-1959).
Daughter Ollie S. Youngkin (1885-1907) was born in about 1885. In young womanhood she migrated to Bellingham, Whatcom County, WA. There, on April 2, 1905, she entered into marriage with Jesse McGraw ( ? - ? ), a resident of Vancouver, British Columbia. Her brother Frank witnessed the wedding. Rev. Edward William Erickson, of the Fairhaven Methodist Episcopal Church, officiated.
~ Daughter Mary (Youngkin) Dean ~
Daughter Mary Youngkin (1843- ? ) was born in about 1843.
On June 18, 1861, at about age 18, she was united in marriage with Samuel Dean (Aug. 24, 1824-1902), son of Elijah Dean and a native of Ithaca, NY.
The five offspring they bore together were Emma Averill, Clara Quigley, Hannah Kelly, C. Grace Dean and Charles T. Dean.
Samuel in his 30s migrated south to Williamsport, PA in early 1860 and was hired as a foreman by a lumber company from New York, an assignment lasting for a year. He then moved to Fallen Timber, Cambria County, reported the Altoona Tribune, where he:
...scaled logs for a number of years in the primitive forests that then covered the country from the head waters of Clearfield creek to Blair City, Clearfield county. Large towns have been built on the site in many places where then stood the giant oak and the magnificent pine. The town of Coalport was not even a small hamlet. No railroads had been built nearer than Altoona and coal mines were almost unheard of anywhere nearby. No physician of any note lived nearer than the city and the home where he lived and died was cleared by his hard working,untiring industry.
The couple established their longtime home in about 1864 in Van Ormer, PA. They remained there for good. Said the Tribune, Samuel was:
...a man of unimpeachable character, honest and upright in all his business transactions, never having a suit at law with any one in his life. He was a most honorable citizen, an earnest, sincere Christian, having been a member of the United Brethren church a number of years, joining under the pastorate of Rev. b.J. Hummel. He was possessed of a remarkably fine, strong constitution, never having needed the services of a physician, with but two slight exceptions, until a year ago He was in full possession of all his faculties until within a few hours of his decease. He was very deeply devoted to his family, a noble example of a husband and father, always planning for the comfort and pleasure of each. The door of his hospitable home was always open to the stranger as well as the welcome friend. He was perfectly resigned to his Master's will, repeatedly saying during his illness, "Not my will but Thine be done. For him there were "no clouds and no dark valley," as he told his friends.
Sadly, in the fall of 1900, Samuel developed several bad colds which led to a bronchial infection and reduced flow of blood to the heart ("angina pectoris"). The illness lasted through the winter and into the spring of 1901, with some fearing he might be dying. But he regained health during the summer. In May 1902, another bad cold struck, which caused kidney failure.
Ten days later, on May 23, 1902, he died. The funeral, in a church filled to overflowing, was co-officiated by his former pastor, Rev. C.C. Bingam, as well as Rev. Sible, Rev. Wagner and Rev. O.T. Stewart. The sermon was based on Revelations 14:13 [King James Version] -- "And I heard a voice from heaven saying unto me, Write, Blessed are the dead which die in the Lord from henceforth: Yea, saith the Spirit, that they may rest from their labours; and their works do follow them." In Rev. Wagner's eulogy, he said that he "never knew a man of stronger faith in God and one who enjoyed communion with him more than did Brother Dean," according to the Tribune. Burial the the remains was in Pleasant Hill Cemetery, Glasgow.
Daughter Emma Dean wed (?) Averill and lived in DuBois in 1902.
Daughter Clara Dean married (?) Quigley. Her home in 1902 was in DuBois.
Daughter Hannah Dean was joined in matrimony with (?) Kelly. They resided in Van Ormer.
Daughter C. Grace Dean dwelled in Van Ormer.
Son Charles T. Dean was in Van Ormer in 1902.
~ Son Henry Youngkin ~
Son Henry Youngkin (1844- ? ) was born in about 1844.
~ Daughter Susan Youngkin ~
Daughter Susan Youngkin (1849- ? ) was born in about 1849.
She was unmarried in 1870, at age 21, and dwelled with her parents in White Township, Cambria County.
~ Son Albert Youngkin ~
Son Albert Youngkin (1851- ? ) was born in about 1851. He grew up on the family farm, helping his father with farmwork.
~ Son Andrew Jackson Youngkin ~
Son Andrew Jackson Youngkin (1854-1919) was born on Sept. 9, 1854 (or 1850). He was a carpenter by trade and in 1880, at age 25, made his home in his parents' residence in Fallen Timber, Reade Township, Cambria County.
He eventually married Elizabeth C. ( ? - ? ).
In 1898, they resided in Ashtola, Somerset County, PA.
By the 1910s, he relocated to Philadelphia, where he earned income as a superintendent of bridge work. His address in 1919 was 5109 Funston Street.
Death spirited him away at the age of 69 on Feb. 22, 1919. An examining physician ruled the cause of death as acute alcoholism and kidney disease. The body was transported back to Fallen Timber to rest in Beaver Valley Cemetery, Cambria County.
~ Son Richard B. Youngkin ~
Son Richard B. Youngkin (1857-1928) was born on Jan. 4, 1857 in Fallen Timber, Cambria County, PA.
He lived in Fallen Timber in 1891-1898 and was united in wedlock with Sarah Anne Sneath ( ? -1923), a native of Fostoria, Blair County, PA and the daughter of Job and Nancy (Caskey) Sneath.
Evidence suggests that they were the parents of Ethel Youngkin and Del Youngkin.
In March 1891, he was awarded a contract for "clearing the right of way on the new grade of the Pennsylvania and Northwestern railroad from Lloydsville to Utahville," reported the Altoona Tribune. He turned to work as a butcher circa 1893, with his home stated as Van Ormer.
Grief cascaded over the family when, at age 68, Sarah Anne was felled by a cerebral hemorrhage and died on May 12, 1923.
During his five widowed years, Richard dwelled in Fallen Timber. He succumbed to the spectre of death, caused by hardening of the arteries, just three days before Christmas in 1928, at the age of 71. Burial was in Beaver Valley Cemetery. On his death certificate, his father's birthplace was listed as "Germany," attesting to the German language and customs that the family must have practiced after several generations in America.
Copyright © 2021 Mark A. Miner
Minerd.com extends its gratitude to the late Donna (Younkin) Logan, Ina (Fister) Bright and Isabelle Tilton for their research contributions to this biography.