Home

Sarah A. (Youngkin) Warrick
(1838-1905)
Sarah A. (Youngkin) Warrick was born on Aug. 1 or 5, 1838 in Ross Township, Monroe County, PA, the daughter of Charles and Hannah (Troxell) Youngkin. The dates of her birth differ on the family Bible record and on her baptismal certificate.
As a young woman she dwelled in Barcaria Township, Clearfield County. When she was 19 years of age, on June 9, 1859, she married John Goss Warrick (Oct. 10, 1833-1903), a native of Barcaria. The wedding ceremony was held in the home of Sarah's married sister Elizabeth (Youngkin) Fister in Clearfield, by the hand of justice of the peace John G. Cain. No official record of the marriage was kept other than a certificate which Cain provided.
Their brood of 10 children included Hannah Elizabeth Dixon Barry, Liona Walden Warrick, Susan Narissa (Warrick) Youngkin, Rachel May Dixon, Samuel "Dean" Warrick, Charles Augustus Warrick, Isaiah H. "Zade" Warrick, Nehemiah Neum "Perp" Warrick, Nora Mabel Compton and Esther Ann Farling Overmeyer.
John stood 5 feet, 4¾ inches tall. During the Civil War, John joined the Union Army. He was assigned to the 205th Pennsylvania Infantry, Company I, commanded by Capt. John A. McCahan. The regiment was deployed to the Union lines at the siege of Petersburg, VA.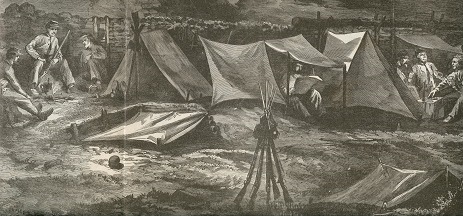 Union camp during the siege of Petersburg, VA
His fellow soldiers considered John a strong, robust man. At some point, in October and November 1864, he contracted severe diarrhea and intermittent fever. He wrote about the experience, saying "while on picket I stood out all night in the rain and took a violent cold." He was given quinine by the regimental surgeon, believed to have been Dr. Lang, who told John's messmate Robert McClellan to keep him off duty. John became sick again in late January 1865 from exposure to the cold weather and was laid up until March. John later claimed that the illness broke down his whole nervous system causing aching in his bones and joints for many years thereafter. His messmate, John R. Williams recalled later that "he complained of severe pains through his system and went on duty several times that I thought he ought to be in the hospital but there he wouldent go as long as he could help it." The mates bunked together until Williams was wounded on March 25, 1865 and sent away to a hospital.
John received his honorable discharge near Alexandria, VA on June 2, 1865. In the years immediately following the war, they farmed at Glen Hope, Clearfield County.

John's signature
National Archives

The family made the momentous decision to migrate to Nebraska, where John's brother and also his cousin Samuel Warrick had been residing for some time. Thus they made the cross-country voyage in 1869, to near Blair, Washington County, NE, where they devoted their lives to farming. Also making the migration at some point in time was Sarah J. Smith, who had known both Sarah and John since they were youths. Sarah and John and cousin Samuel were longtime neighbors on adjoining farms, with their houses about a half-mile apart.

John in time acquired a farm of 145 acres which was valued at $7,000 after his death decades later. They also bought a town lot and house in Arlington, Washington County.

The federal census enumeration of 1870 shows the Warricks in Cuming, Washington County, among a cluster of households including Samuel and Sarah Ann Warrick and Amarsa and Armanda Warrick. They remained in Cuming during the decade of the 1870s and into 1880. Among their neighbors was Legh R. Fletcher who dwelled two miles away and saw John about once a week.

In 1885, John was awarded a military pension as a wartime veteran. [Invalid App. #553.936 - Cert. #502.531] As proof of his wartime ailments, he tracked down his former messmates McClellan in Nebraska and Williams in Minnesota who wrote affidavits of support. Neighbors Jacob E. McCracken, John H. and Kate Maguire, Richard and Sarah J. Smith, and hotel-keeper Asa Dixon, who saw John frequently over the years, also signed documents attesting to his poor physical condition -- stiff joints and aching in the bones.

When examined by military surgeons in the 1890s, in Blair, John fluctuated in his weight between 112 lbs. and 122 lbs. One surgeon wrote in 1890 that "The skin in sallow; the teeth are poor; the gums are retracted; the mucus membranes are pale. The abdomen is pot-bellied... General nutrition is very poor." Another physician stated that John was in "a general atrophic condition of all muscles. No special pain but lameness & tender to touch."

Sadly, as John was dying of coronary heart disease ("angina pectoris"), his daughter and son-in-law Lizzie and Wesley Dixon were with him at his home in Arlington. They returned to their own residence some distance away only to receive a telephone call three days later that he had passed away, on Jan. 25, 1903. Undertaker E.C. Prince arranged for burial the next day in Blair Cemetery, met the funeral party at the train station, identified the body and assisted with the funeral.

As a widow, Sarah Ann moved into the Dixons' dwelling in Blair. She successfully petitioned the federal government for a pension as compensation for her husband's wartime service. [Widow App. #780.286 - Cert. #553.418] A number of relatives and friends stepped forward to provide support in writing, including 18-year-old Myrlie Bovee who had shared a home with the widow ever since the soldier's funeral.

She only outlived her husband by two years less four days. At the age of 66, she surrendered to the spirit of death in Blair, NE, on Jan. 21, 1905.

~ Daughter Hannah Elizabeth "Lizzie" (Warrick) Dixon ~

Daughter Hannah Elizabeth "Lizzie" Warrick (1859-1954) was born on Nov. 10, 1859 in Clearfield County, PA. She was twice-married. Her first husband, with whom she tied the knot on March 15, 1882, was Wesley Wallace Dixon ( ? - ? ). Their residence in 1903 was in Blair, Washington County, NE, and they shared their home with Lizzie's widowed mother. Lizzie is known to have moved by 1931 to Lincoln, NE. Then at age 80, on Dec. 21, 1938, she wed Marian Albert Barry ( ? - ? ). She passed away two days after Christmas 1954, in Nicoma Park, OK, at the age of 96. Her remains were shipped to Blair, NE for interment.

~ Daughter Liona Walden "Lonnie" Warrick ~

Daughter Liona Walden "Lonnie" Warrick (1861-1882) was born on Feb. 28, 1861 in Clearfield County, PA. After migrating to Nebraska, she passed away at age 21 on Oct. 4, 1882, while in Washington County, NE. The remains were laid to rest in Cuming City, NE.

~ Daughter Susan Narissa (Warrick) Youngkin ~

Daughter Susan Narissa Warrick (1863-1927) was born on Sept. 1, 1863 in Clearfield County, PA. In nuptials held in 1881, she entered into marriage with a cousin, John Andrew Youngkin (1857-1948), son of Joseph and Elizabeth Jane (Smith) Youngkin. See the Youngkin biography for more.

~ Daughter Rachel May (Warrick) Dixon ~

Daughter Rachel May Warrick (1867-1941) was born on Dec. 22 or 29, 1867 in Clearfield Couny, PA. She emigrated to Nebraska in her youth. At the age of 18, in 1886, she entered into marriage with Simon Sylvester "S.S." Dixon ( ? - ? ). The Dixons lived in Arlington, NE in 1931. Rachel died on Jan. 20, 1941 at age 73. Burial was in Arlington.

~ Son Samuel "Dean" Warrick ~

Son Samuel "Dean" Warrick (1870-1884) was born on April 16, 1870 in Cuming City, Washington County, NE. Tragically, at the age of 14, he was killed in a wagon accident on Aug. 24, 1884. Interment of the remains was in Cuming City.

~ Son Charles Augustus "Gus" Warrick ~

Son Charles Augustus "Gus" Warrick (1872-1931) was born on Feb. 11, 1872 in or near Blair, Washington County, NE. At age 21, in 1893, he joined the Baptist Church at Blair. His comings and goings of the mid-to-late 1890s were frequently chronicled on the pages of the Burt County (NE) News, Blair (NE) Republican and Blair Pilot. He is known to have spent several months in 1896 in New Castle, WY before returning home to Blair. Then in January 1897, in company with five other Blair men, he traveled by train to Shawnee, OK to look for work. The group seemed to be part of a larger exodus of Blair residents moving to Oklahoma, but Gus came back home in February. Said the Blair Courier, "They had been there about two weeks but had not found work at living wages so decided to return. The boys do not picture the country as a land of roses and predict many returns of Blair people 'ere long." Then with some sort of illness, he went to Casper, WY in mid-1897 but again returned to Blair. Reported the Blair Pilot-Tribune, "His health is very poor. The West does not seem to agree with him." In August 1897, he told friends that he was going to Texas but changed his mind and headed to northern Iowa where he was pursuing a job. He finally landed employment selling groceries in eastern Kansas in February 1898. After the Spanish American War broke out in April 1898, Gus waited a few months and then enlisted in the U.S. Army. He was assigned to the 3rd Nebraska Infantry, Company E, and left for basic training in Florida. From there he was deployed to Cuba. Gus suffered an injured knee, possibly rheumatism, during this period. He received his discharge on May 11, 1899 and returned home. On May 24, 1899, he married Addie Botterof ( ? - ? ). The couples' nuptials were held in Omaha. Together they produced a large family of offspring -- Roland V. Warrick, Wynotte G. Warrick, Wilma Husk, Adelaide Calland, Arlene Graham, Marjorie Warrick, Betty Rosella Warrick and John Warrick.

As time went on, the knee injury lingered. Reported the Fremont (NE) Semi-Weekly Herald in April 1902, "Gus Warrick expects to take his knee up to have Father Kroeger of South Dakota examine it, and it is to be hoped he can get some relief from some quarter, for he is totally unable to do manual labor and the pension bureau has turned down his application for a pension on the ground that his injury existed prior to his enlistment." He appealed to Congressman Mercer, who sponsored a bill allocating him $25 per month for his disability, reputedly incurred during the war. A pension was granted in the monthly amount of $17, with the Pilot-Tribune calling his leg "crippled." He then turned his interests to farming. He was reported by a newspaper March 1904 to have purchased a 40-acre farm from Chris Richter. But the family fortunes again turned in September 1905 when their house, five miles west of Blair, was leveled by fire. The Courier said that the fire broke out while "Gus was in town and Mrs. Warrick had gone down to the barn, taking the baby with her. When she looked up toward the house a few moments latere she saw flames issuing from the roof and knew nothing could be done to save anything. The other children were playing in the yard, so were not harmed." The story was reported all throughout the state. A friend passed the hat around town and collected donations of $106 for new clothing. A benefit concert was organized by the Lady Maccabees at the local Redmen Hall, with Prof. W.L. Johnson providing the entertainment.

The Warricks decided to continue farming near Blair. They faced other types of obstacles, such as steady winds and continuous dust. A September 1906 article in the Courier said that "It has been very dry and fall plowing has been almost a physical impossibility for some time. It rained a nice little shower here [in Blair] Sunday morning but Gus Warrick says it only barely sprinkled at his place, so they got neither rain there. It will take a whole lot more rain to do the pastures much good or to make plowing what it should be." The family's prospects seemed to be encouraging, however, as Gus is known to have purchased a Monitor gasoline engine at the Nebraska State Fair in Lincoln in 1906 as a feed grinder. In September 1909, one of his aged sows won sixth place in the state fair. Corn was one of the staples of their farm, and in the spring of 1910 he sent a batch of his corn for testing by the state experiment station. Of his 299 kernels, said the Pilot-Tribune, "representing fifty ears, 296 grew, and of course Gus is feeling pretty good. The samples sent were of his famous Funk's Yellow Dent and some of the same corn shown in Omaha, Blair and Lincoln last winter and on which Gus took a number of premiums. The corn was picked after the heavy frost in October, but before the wet weather set in. It's to be regretted that Mr. Warrick has only enough of this corn left for his own seed and therefore cannot offer any of it for sale." Gus and two of his friends sent a carload of Duroc Jersey hogs to the Iowa State Fair in Des Moines in September 1912. The Warricks also raised watermelon on their farm and held annual feasts. The September 1917 event attacted 120 neighbors and friends, who consumed 85 large melons. By 1917, there was a growing demand for farms in the county, pushing up real estate prices. Gus used the opportunity to sell his 160-acre farm, located northwest of Blair, to buyer William H. Barton. The family moved in May 1918 to Peetz/Proctor, CO, where he tried his hand at raising wheat. They remained in Peetz for good. He held memberships in the Spanish War Veteran's Camp of Denver and the lodges of the Odd Fellows and Rebekahs. Death cut away Gus at age 59, in Denver, on Sept. 24, 1931. Funeral services were held in Sterling, CO and then at Blair. Rev. A.J. Hargett, of the local Christian Church, led the services. An obituary in the Blair (NE) Enteprise called him "a kind and loving husband and father, and a loyal neighbor." A large American flag, presented by the government for the funeral, was donated by Addie in 1934 to the Washington County Post of the Veterans of Foreign Wars
Grandson John Warrick grew up i

n Peetz, CO.
~ Son Isaiah H. "Zade" Warrick ~
Son Isaiah H. "Zade" Warrick (1874-1932) was born on March 11, 1874 in Washington County, NE. Circa 1898, he entered into marriage with Zena Mehrens ( - ? ). The couple made a home in Sidney, NE in 1927-1932. The family dwelled in 1931 in Lorenzo, NE. The family mourned with Isaiah passed away at the age of 58 on July 11, 1932. His remains are thought to have been returned to Blair for interment.
~ Son Nehemiah Neum "Perp" Warrick ~
Son Nehemiah Neum "Perp" Warrick (1877-1934) was born on April 14, 1877 in Blair, Washington County, NE. When he was 20 years of age, on New Year's Day 1908, he was joined in matrimony with Blanche Daisy Peck ( ? - ? ). Their wedding was held in Blair. One known daughter born to the union was Edith Blanche Warrick. Grief cascaded over the family when Nehemiah died in Blair at age 57 on Oct. 29, 1934.
~ Daughter Norah Mabel (Warrick) Compton ~
Daughter Norah Mabel Warrick (1879-1948) was born on Aug. 25, 1879 in Washington County, NE. At the age of 19, on Feb. 22, 1899, she wed John Madison Compton ( ? - ? ). They resided in Blair over the years. In July 1927, the couple traveled to Peetz, CO to visit her brother Gus and then to Sidney, NE to see her brother Isaiah. Sadly, Norah died at age 68 on May 15, 1948, in Blair, Washington County.
~ Daughter Esther Ann (Warrick) Farling Overmeyer ~
Daughter Esther Ann Warrick (1883-1963) was born on Aug. 23, 1883 in Washington County, NE. She was married twice in her lifetime. At the age of 21, circa 1905, she was united in wedlock with James Farling ( ? - ? ). Together they bore a son, Keith Farling. Her second spouse was Ira Overmeyer ( ? - ? ). The Overmeyers made a residence in 1931 in Boise, ID. Esther succumbed to the spectre of death in Boise on Oct. 30, 1963, at the age of 80.
Copyright © 2021-2023 Mark A. Miner
Minerd.com extends its gratitude to the late Donna (Younkin) Logan, Ina (Fister) Bright and Isabelle Tilton for their research contributions to this biography.