Alice (Younkin) Gary
(1910-1995)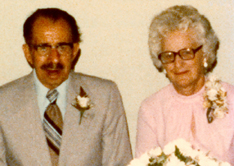 Jacob and Alice Gary
Alice B. (Younkin) Gary was born on April 19, 1910 in Rockwood, Somerset County, PA, the daughter of Daniel M. and Susan (Swick) Younkin.
Alice grew up in a family with half-sisters and a half-brother who were several decades older than she.
When she was age eight, during World War I, Alice and her parents received the heart-breaking news that her half brother William Alvin Mongold had been killed in military action in France as a member of the American Expeditionary Forces. Under the terms of his life insurance policy, Alice and half sister Grace (Mongold) Judy were to receive a benefit payment of $190.55 each. When the matter became complicated by the fact that the soldier's estate was being administered in his native Grant County, WV, Roscoe B. Shanks, cashier of the Farmers' & Merchants Bank of Rockwood, was named as Alice's guardian in the matter.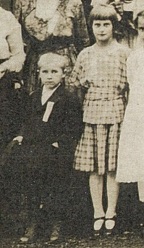 Alice with cousin Norman
Gary, 1920 Minerd Reunion
When Alice was age 10, in the late summer of 1920, her parents took her to the annual Minerd Reunion. It was held at the Ferncliff Hotel in Ohiopyle, Fayette County. Young Alice is seen here that day with Norman Clark Gary, the young son of Jacob and Minnie (Miner) Gary. The Garys also were kinsmen of Alice's future husband.
On July 26, 1928, when she was 18, Alice married 20-year-old laborer Silas J. Gary (1908-1979). He was a Rockwood native and the son of Jonas and Lucinda Ellen (Lyons) Gary and grandson of Silas and Mary M. (Pletcher) Lyons. Rev. Walter F. Berkebile performed the nuptials, the very first ones of his career. It is not known if Alice's mother attended the ceremony, as she was a resident of the Somerset County Home at the time.
The Garys produced two children – Robert D. Gary and Betty Jane Herchelroath.
The federal census of 1930 shows the Garys living with Alice's aged father on West Broadway in Rockwood. At that time, Silas was employed as a railroad laborer, most likely with the Baltimore and Ohio Railroad.
The father died in their shared residence in February 1935. Just a few months before Daniel's death, in October 1934, Otto Roosevelt Younkin came to their home to interview the elderly man about family history. With Alice sitting by, Daniel provided valuable information about his father, grandfather and cousins that otherwise would be lost to history. A copy of Otto's notes today are in the Minerd-Miner-Minor Archives.
Between 1935 and 1940, the family relocated to Kingview in Upper Tyrone Township, Fayette County, with Silas working as a truck driver for a local dairy.
Circa 1947, Alice and Silas resided in McKeesport, near Pittsburgh. Their home was located at 1432 Bouquet Street. Silas's occupation in McKeesport was as a dairy worker.
The Garys later moved to Erie, Erie County, PA. They were members of the Church of the Brethren in Erie. Silas was a security officer with Daub Associates in Erie, while Alice worked as a custodian in the Millcreek Township Schools.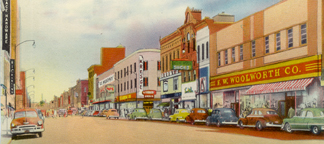 State Street in Erie in the 1940s, from an old postcard
In August 1966, they traveled to Somerset to attend a Gary reunion at the Kingwood Odd Fellows Grove in honor of his mother (now living in Donegal, PA) and sister and brother in law Ruth and Edward Bailey who were visiting from Denver, CO. Reported the Somerset Daily American: The Baileys of Denver, Colorado have been visiting in Pennsylvania for the past several weeks. They stopped with Mrs. Bailey's brother and sister-in-law, Mr. and Mrs. Silas Gary of Erie. They then went to Rhode Island where they visited with their son-in-law and daughter, Mr. and Mrs. Kenneth Heasley; they went to Donegal where they stopped at the home of Mrs. Bailery's [sic] mother, Mrs. Lucinda Gary and visited with a sister-in-law, Mrs. Nora Gary. The Baileys were accompanied to Rockwood by her mother to the home of another brother-in-law and sister, Mr. and Mrs. George Sanner." During their 1966 stay in Somerset County, Alice attended a covered dish dinner at her former church, the Rockwood Church of the Brethren. They also visited with Rockwood friends Mr. and Mrs. Austin Lyons, Mr. and Mrs. George M. Sanner, Mr. and Mrs. Frank Barclay, Evelyn Schrock and Mrs. W.P. Schrock. The Garys also spent time motoring to Atlantic City and Baltimore, visiting in the latter place with former Rockwood friends Mr. and Mrs. William Barclay Sr.
In July 1978, the Garys celebrated their 50th wedding anniversary.
The following summer, Silas passed away, on July 7, 1979.
Alice outlived her husband by 16 years, and died on Dec. 2, 1995. They are buried at Erie County Memorial Garden Park.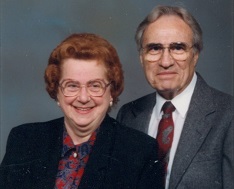 Betty and Howard Herchelroath
~ Daughter Betty Jane (Gary) Herchelroath ~
Daughter Betty Jane Gary (1930-2014) was born in about 1930 in Rockwood. She frequently relocated with her parents in and around Fayette County and McKeesport.
In McKeesport, at the age of 18, she met Howard B. Herchelroath ( ? - ? ), son of John and Hattie Herchelroath, residents of Dravosburg, Allegheny County, PA. Howard was a veteran of World War II, having served in the U.S. Navy.
They were wed in Washington County, PA in February 1947. At the time, Howard was age 21 and was employed as a clerk. The marriage lasted for 67 years.

Howard, June 1944
The couple went on to have three children -- Debra L. Helwig, Denise Chulak and David G. Herchelroath.
Betty was employed with PPG Industries and was a board director of its credit union. "Along with her husband, she taught Sunday School for many years and also led senior citizen bus trips, said the Greensburg (PA) Tribune-Review. "She loved books and reading, traveling and spending time with her family. Her generous heart, sweet smile and gentle, accepting nature will be greatly missed by all."
Betty and her daughter Debra attended one of our national family reunions at Kingwood in the mid-1990s.
Betty spent her final years in North Huntingdon, Westmoreland County, afflicted with Alzheimer's disease. She died there on Dec. 18, 2014 at the age of 84, with an obituary published in the Tribune-Review.
Daughter Debra L. Herchelroath married Daniel Helwig and live in Enola, PA.
Daughter Denise Herchelroath was wedded to (?) Chulak and resides in Erie, PA.
Son David G. Herchelroath was joined in marriage with Lori and make their home in Elizabethtown, PA.
~ Son Robert D. Gary ~
Son Robert D. Gary (1931- ? ) was born in about 1931.
Circa 2014, he resided in Winter Park, FL.
Copyright © 2002, 2005, 2008, 2012 Mark A. Miner