Daniel Martin Younkin
(1853-1935)


Daniel M. Younkin
and 2nd wife Susan
Daniel Martin Younkin was born in 1853 near Kingwood, Somerset County, PA, the son of John M. and Laura (Minerd) Younkin. A longtime railroader, he was interested in family ties, and helped organize the 1918 Minerd-Miner Reunion at Rockwood, Somerset County.
Daniel left school at age 14 to work for the Baltimore & Ohio Railroad. In about 1869, he relocated to Bridgeport, near Mount Pleasant, Westmoreland County, PA to labor in the construction of boats, perhaps at the suggestion of his uncle Eli Minerd, who also had migrated there from Kingwood.
Daniel's first wife was Elmira Miranda Zimmerman (1853-1908), the daughter of William and Mary (Yates) Zimmerman
Their seven children were Catherine L. Younkin, Sarah "Gertrude" Weaver, Mary Eliza Younkin, John William "Emery" Younkin, Mallzena Shaffer, Lulu Malinda Younkin and Georgia "Missouri" Shumaker.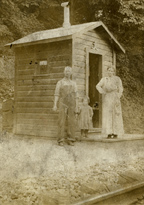 Daniel and Susan at his
B&O Railroad shed
Sadly, three of the Younkins' daughters died very young -- Catherine (in 1876, age two), Mary Eliza (1880, age nine months) and Lulu (1892, age five years).
In 1880, at the age of 27, Daniel and the family resided in Mount Pleasant just three doors away from his first cousin, Emma (Minerd) Thurston. Their son William was born in Bridgeport in 1881.
After 14 years in Mount Pleasant, Daniel returned to Rockwood in about 1883, and rejoined the B&O, working as a car knocker and track section foreman until retirement. In the photo seen here, he and his second wife and daughter stand at his place of work -- a small tool shed along the B&O tracks near Rockwood. Click to see an enlarged version of this image, our "Photo of the Month" for October 2005.
Daniel faced further heartache in 1908 when Elmira was afflicted with an incurable case of tuberculosis and acute bronchitis. She passed away, on Oct. 15, 1908, at the young age of 53 years, 10 months.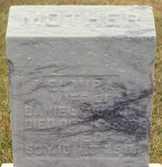 Rockwood IOOF Cemetery
She is buried at the International Order of Odd Fellows Cemetery in Rockwood. Her badly faded grave marker is seen here, as photographed in October 1991.
Daniel's second wife was 37-year-old Mary "Susan" (Swick) Mongold (Jan. 31, 1871-1957), the widow of Noah Mongold and the daughter of John and Jane Swick and a resident at the time of Petersburg, Mineral County, WV. They united themselves in wedlock on July 3, 1909 in the Somerset County Courthouse, with Orphans Court Clerk Frank Harrah presiding. Serving as witnesses were E.E. Ankeny and John Horner.
In reporting on the wedding, the Connellsville Daily Courier said that "Mr. and Mrs. Younkin will reside in the old home on West Broadway."
Susan brought several children to the marriage -- Elburn William Mongold, Hannah Mongold and Grace (Mongold) Judy.
Daniel and Susan had one child together, Alice Gary.
The 1889 book, History of Bedford, Somerset and Fulton Counties, by Waterman & Watkins, gives this description of the town of Rockwood in the late 1880s when the Younkins resided there:
Rockwood, situated at the junction of the Baltimore & Ohio and the Somerset & Cambria railroads, is one of the most enterprising, thrifty and fast growing villages in southern Pennsylvania. The place is still young, and its business interests are constantly increasing in extent and importance. Rockwood now contains four general stores, two groceries, four hotels, three blacksmithshops, one tannery, one gristmill, one planning-mill, one tinshop, one shoemakershop, two carpentershops, one tailor-shop, three churches and one graded school

Railroad yards in Rockwood
Daniel was "highly respected in the community" and in 1906 was profiled in a chapter in the book, History of Bedford and Somerset Counties, Pennsylvania, by E. Howard Blackburn and William H. Welfley, and edited by the Hon. William H. Koontz (Lewis Publishing Company). He also was mentioned in the 1957 booklet, Rockwood Centennial.
In 1913, Daniel and son Emery, daughter-in-law Mary and granddaughters Georgia and Gertrude attended the first annual Minerd-Miner Reunion at Ohiopyle. Daniel helped organize the 1918 reunion at Rockwood, and he and Susan and daughter Alice were at the 1920 reunion at Ohiopyle. In August 1923, Daniel attended the reunion held at Confluence, and was named in a Meyersdale Republican article as "the oldest of the clan present." He also was named to the "committee on reunion" with Joseph M. Luckey. In August 1924, he and daughter Alice went to the reunion, held at the Lincoln's Grove near the Western Maryland Railroad Station, although his name was misspelled as "David Younkin" in the newspaper. For the August 1925 reunion, he was named to the executive committee which also included Otis "Freed" Minerd, Ross Hyatt, Lloyd L. Mountain and Joseph M. Luckey.
Some of the combined Younkin/Mongold family, circa 1913-1914
. Back, L-R: Mallzena Shaffer, Hannah Mongold, Elburn Mongold, Grace Judy. Front, L-R: Daniel Younkin, Alice Gary, Susan Younkin and Daniel Shaffer.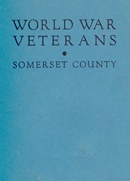 Book naming stepson
Elborn Mangold
Susan suffered from epilepsy, an illness which appears to have gotten increasingly worse over time. During that era, epilepsy was treated with a variety of medications such as bromides and phenobarbital as well as electric stimuli and dietary measures.
Grief blanketed the family in 1917 when Susan's unmarried daughter Hannah died in May 1917 at the age of 30.
During the summer of 1918, as World War I raged in Europe, the Younkins learned that Susan's son, William Alvin "Elborn" Mongold, of Grant County, WV, had been drafted into the American Expeditionary Forces. He received basic training and then was sent abroad. Tragically, in August 1918, the family received word that he had been killed in action in France. Under the terms of his life insurance policy, his married sister Grace (Mongold) Judy and half sister Alice Younkin were to receive a benefit payment of $190.55 each. The matter became complicated by the fact that the soldier's estate was administered in his native West Virginia, and so Roscoe B. Shanks, cashier of the Farmers' & Merchants Bank of Rockwood, was named as Alice's guardian in the matter. Daniel signed a sworn statement testifying to these facts in the Orphans' Court of Somerset County, signing his name with an "X." In 1933, a brief profile of Mongold was published in the book World War Veterans of Somerset County, a work authorized by the commissioners of Somerset County.
Daniel retired in 1918, after 32 years of service with the B&O, and began receiving a pension which continued for 11 years. Said the Somerset County Leader, "Shortly after he was pensioned he also received a gold medal, from the railroad company, in acknowledgement of their appreciation for his many years of successful service."
Susan's mental health and epilepsy appear to have grown progressively worse after the deaths of her daughter and son. A photograph of her at the 1920 Minerd Reunion shows a prominent streak of grey in her otherwise dark head of hair. She was admitted to the Someset State Hospital in about 1923 and became a permanent invalid, living there for the remaining 34 years of her life. She may have received financial benefits from the federal government as compensation for her son's wartime death.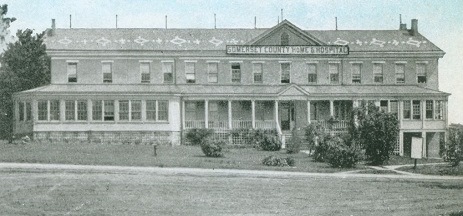 Somerset County Home and Hospital, where Susan began living circa 1923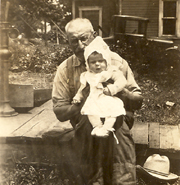 Daniel and granddaughter
Betty Jane Gary
Then in 1930, she lost another daughter, Grace Judy, in West Virginia, from acute kidney failure. A notice in the Somerset Daily American in April 1946 referred to her as "weak minded."
Daniel is seen here sharing a tender moment with his young granddaughter Betty (Gary) Herchelroath, in the back yard of his Broadway Street home in Rockwood, circa 1930.
Daniel and his daughter and son in law, Mallzena and Harry Shaffer, went to the Minerd Reunion in August 1932, held at Lake Forest Park near Scottdale, Westmoreland County. Writing in the Huntingdon (PA) Daily News, his cousin Laura Jane (Minerd) Williams reported: "Everyone seemed to enjoy the fine fellowship that existed among all the reunionists and the innumerable baskets that provided dinner and supper for the party were bottomless."
In October 1934, just several months before his death, Daniel was interviewed during a Sunday visit by distant cousins Otto Roosevelt Younkin and Charles Arthur Younkin, who were gathering family history notes in connection with the Younkin clan's new national home-coming reunion. The discussion provided Otto with valuable genealogy insights that otherwise would have been lost. Daughter Alice is thought to have been present and listened as her father told stories of his parents, grandparents and extended kin, and when asked, she said the old family Bible was in possession of her sister Missouri Shumaker.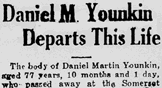 Obituary, 1935
During that visit, Daniel also asked his guests if they knew or were closely related "to the Younkins that used to butcher in the neighborhood of Scottdale [PA]," Charles later wrote. "I believe if I am not mistaken that he asked me if it was my father. If we are able to see this Daniel may may find out more about these folks." Daniel also told the researchers that one of his uncles was William Younkin, and that a first cousin, John X. Younkin, "married a sister of Charles Rose."
Otto Younkin took extensive handwritten notes of the interview, and later had them carefully retyped and organized, and a copy today is in the Minerd-Miner-Minor Archives. Click here to see these handwritten and typed notes from the visit. In February 1935, Charles wrote to Otto: "We should have a meeting point ... I believe by doing so we would be able to draw much out of these old heads by our regular conversation than any other way. As you remember we did this with Caldwell and Daniel on our visit with them." In March 1937, Charles again wrote to Otto: "Since you were here to see me have had more sad news, the death of ... Mr. Shaffer who was married to Gertrude, daughter of our old now dead friend Daniel Younkin of Rockwood, Pa." Click to see these letters dated Oct. 17, 1934; Feb. 10, 1935; and March 7, 1937.


Above: Daniel's profile in the 1906 Somerset County history book. Below: Rockwood's park, where Daniel hosted the 1918 Miner Reunion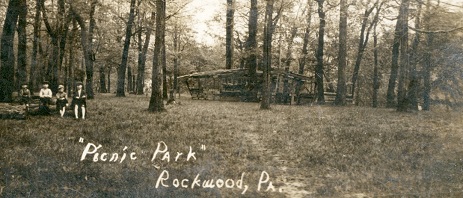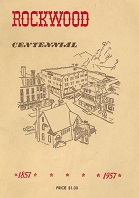 Booklet naming Daniel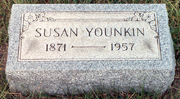 Rockwood IOOF Cemetery
At the age of 76, suffering from influenza, Daniel suffered a stroke at the home of married daughter Alice Gary in Somerset Borough. He lingered for nine days and succumbed on Feb. 10, 1935. The funeral was held in Rockwood at the home of son Emery, with the service performed by cousin Rev. William Mullen Minerd. He was buried at the International Order of Odd Fellows Cemetery in Rockwood beside his first wife, Elmira.
Susan outlived Daniel by 22 years. Remaining a patient at Somerset State Hospital, she continued to suffer from hypertension and what physicians described as "psychotic reactions." Sadly, she suffered bleeding of the brain and passed away on Sept. 17, 1957 at the age of 86. Her tired remains were laid to rest beside her husband, but under her own marker.
In 1957, when the Rockwood community celebrated its 100th birthday, Daniel and his son Emory, nephew Grant and niece Missouri "Sissy" Wingerd all were named in the commemorative booklet, Rockwood Centennial: 1857-1957.
This biography is adapted from one that originally appeared in the article, "Whispers of the Silence and the Slow Time," in the April, May, June 1996 edition of the Younkin Family News Bulletin.
~ Stepson Elburn William Mongold ~

William Mongold
Stepson Elburn William Mongold ( ? -1918) -- also named "Ellwyn" and "Alvin" which might have been derivations of "Elburn" -- was born in (?) near Petersburg, Grant County, WV.
As a young man, he resided in Grant County, WV.
Elburn joined the American Expeditionary Forces during World War I and was shipped overseas to France. Tragically, in August 1918, he was killed in action. The details have not yet come to light.
His remains were placed into rest in the Meuse-Argonne American Cemetery and Memorial in France. [Find-a-Grave]
Elburn was named in casualty reports published in the Indiana (PA) Gazette, Harrisburg Telegraph, Reading Times and Scranton Times-Tribune, among others, as well as out-of-state newspapers such as the Billings (MT) Gazette and Hutchinson (KS) News.
After his death, his step-father, on behalf of William's half-sister Alice Younkin, petitioned the Orphans Court of Somerset County to be allowed to collect $190.55 which was due her under a life insurance policy the soldier had purchased.
Today, Elburn's name is inscribed on a tablet located in front of the Grant County Courthouse on Virginia Avenue in Petersburg.
~ Stepdaughter Grace Victoria (Mongold) Judy ~

Grace Judy
Stepdaughter Grace Victoria (Mongold) Judy (1893- ? ) was born in Sept. 1893 near Petersburg, Grant County, WV.
After the death of her father, she was taken into the farm home of Michael Sites in Milroy, Grant County, just a few doors away from the Judy family.
She and her siblings posed circa 1913-1914 for a mixed-family group photograph with her mother, stepfather and Younkin step-siblings.
By 1918, she was united in marriage with Leon Hulver Judy (March 24, 1896- ? ), a native of Davis, Tucker County, WV and the son of carpenter Jessie and Lula Judy.
They produced five known children -- Leon M. Judy, Mildred Judy, Helen S. Judy, Daniel Judy and Earl Wilson Judy.
The Judys were farmers and made a home in 1920-1930 near the village of Laneville, Dry Fork District, Randolph County, WV.
Grace was burdened over the years with acute kidney disease. As her health failed, and she contracted pneumonia, her body gave way, and she died at the age of 35 on March 31, 1930. Burial was in Dry Fork, with Leon signing the official West Virginia certificate of death.
The census of 1930 shows the widowed Leon heading a household of their five children ranging in age from three to 12. He relocated to Dry Fork, Tucker County, and after five years as a widower, evidence suggests that the 39-year-old married again to Ocena Pennington ( ? - ? ). The nuptials were held in Tucker County in or about Dec. 1935. She was a native of Red Creek, Tucker County.
Son Leon M. Judy (1918- ? ) was born on Feb. 19, 1918 in Laneville, Dry Fork District, Randolph County, WV.
Daughter Mildred Judy (1920- ? ) was born in about 1920 in West Virginia.
Daughter Helen S. Judy (1923- ? ) was born in about 1923 in West Virginia.
Son Daniel Judy (1926- ? ) was born in about 1926 in West Virginia.
Son Earl Wilson Judy (1927- ? ) was born in about 1927 in West Virginia.

Hannah Mongold
~ Stepdaughter Hannah E. Mongold ~
Stepdaughter Hannah E. Mongold (1886-1917) was born on Aug. 30, 1886.
She never married.
Circa 1913-1914, she and her brother and sister posed for a mixed-family group photograph with her mother, stepfather and Younkin step-siblings.
Sadly, at the age of 30, Hannah passed away on May 31, 1917. The cause and location of her death are not yet known.
Burial was in Dorcas Cemetery in Grant County. Inscribed at the bottom of her grave marker are these words: "Her end was peace." [Find-a-Grave]
Copyright © 1996, 2000, 2002-2008, 2016, 2019 Mark A. Miner