George Osborne 'Os' Younkin
(1882-1964)

Os Younkin
George Osborne "Os" Younkin was born on July 1, 1882 at Clay Run, Fayette County, PA, the son of William "Dayton" and Lucinda (Harbaugh) Younkin. He once co-owned a wholesale produce company called "Younkin Brothers," and he is profiled in the 1912 volume, Genealogical and Personal History of Fayette and Greene Counties.
Os was raised as a farmer, and lived on the family farm with his parents until age 21. When he was 17, Os and his brother Charles became embroiled in a controversy with neighbors that was covered by the local newspaper. Said the November 17, 1899 issue of the Connellsville Courier:
A few days ago some people were quarrying limestone on the Hyatt farm in Springfield township. Two blasts were to be put off at once and all hands were notified. Osborne and Charles Younkin went down along the pike and when about 150 yards away they met Arabella, the daughter of J.D. Mountain, driving in the direction of the quarry. No warning was given the girl and when opposite the quarry both blasts were discharged. The horse was badly scared and a stone fell so near the animal that it was almost frantic. Miss Mountain had a narrow escape and her father thinks it was small business on the part of the Younkins not to give her warning.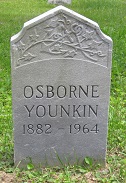 Imel Cemetery
In 1903, Os moved to Connellsville. According to the Genealogical and Personal History, he "entered mercantile life as clerk in the grocery store of F.L. Brendel, remaining two years; then for one year with J.R. Davidson & Co.; grocers; then until September, 1909, with F.T. Adams, wholesale produce; then with his brother, Ira D. Younkin, formed the firm of Younkin Brothers, and established a wholesale produce business at No. 136 West Peach street, Connellsville, where they are now in successful operation." In about 1928, Os purchased his brother's share of the business outright.
Os married his first wife, 22-year-old Verona Matiben (1889- ? ), on Aug. 7, 1911. She was the daughter of Augustus Matiben, and a native of Bullskin Township, Fayette County. He was age 29 at the time.
The fate of Os's marriage to Verona is not entirely known, but by 1926 he was unmarried and residing with his sister Lena in Connellsville. That year, in November, they escaped harm when their boarding house rooms, above an old opera house owned by Alex Chinn, "was totally destroyed by fire."
On Nov. 28, 1928, at the age of 46, Os married his second wife, 48-year-old Catherine (Miller) Williams (1880-1961). The daughter of James and Mary (Mason) Miller, she was said by the Courier to be "one of the best known women of Dunbar and community." The ceremony took place at the Methodist Protestant Church of Dunbar. Os's sister Lena served as maid of honor. After marriage, the couple resided in Dunbar.
Catherine's health declined in later years due to heart disease. She passed away in Pittsburgh's Shady Side Hospital at the age of 81 on Nov. 6, 1961. Her remains were laid to rest in Dunbar's Mt. Auburn Cemetery. James Williams of Dunbar, possibly a son or brother, was the informant for her death certificate.
Os died on July 19, 1964, at the age of 82. He was buried near his brothers, sisters, parents and Younkin and Harbaugh ancestors, in the Imel Cemetery near Clay Run.
Copyright © 2001, 2009, 2013-2014 Mark A. Miner