Home

Johannes 'John' Younkin
a.k.a. "John Michael" Younkin
(1756-1826)
Johannes "John" Younkin was born on Nov. 28, 1756 in Bedminster Township, Bucks County, PA, the son of German immigrants Johannes "Heinrich" and Catharina (Scherer) Junghen. To many Younkin researchers of the 1990s and early 2000s, Johannes "John" also has been known erroneously as "John Michael Younkin."
At his baptism as an infant, John is believed to have been christened in the Tohickon Lutheran Church, and his sponsor was John Junghenn, apparently an uncle. He is thought to have grown up attending or affiliated with the Tohickon Church, otherwise known as Keller's Lutheran Church and later as St. Matthew's Church, in Perkasie, Bucks County, where German language records naming him and his parents and siblings were kept.

Above: Record of John's birth, in German,
Keller's Church. . Below: Johannes'
exceedingly rare signature, 1810

John is named in 1779 on a list of single men paying taxes in Haycock Township, Bucks County. At the time he probably lived on the farm of his father, who also was assessed for land, horses, cattle and a "still." These lists later were published in The Pennsylvania Second State Tax of 1779.
At some point in time, by the late 1780s, after the American Revolutionary War had ended, John left Bucks County and migrated into Virginia's Shenandoah Valley. He was a farmer and resided in or around Lovettsville, Loudoun County.
John married Catharine Dorscheimer ( ? -1835), daughter of Jacob and Clara Tushtimer of Loudoun County. (The family name also has been spelled "Doshtimer.") The Tushtimers owned a farm of 103½ acres in Loudoun. After Catharine's mother died, her father remarried to Elizabeth Ullam (or "Ullom") in about 1796.
The couple produced seven known children -- Jacob "of John" Younkin (born 1781), Catherine Minerd (born 1787), Henry Younkin, Mary Hartzell (born 1786), "Yankee John" Younkin (born 1792), George Younken (born 1793) and Charles Younkin (born 1795).
One or more of the children were baptized at the local New Jerusalem Evangelical Lutheran Church, with Rev. John Andreas Krug most likely performing the ceremony. For example, a baptism notation in the church records, for their daughter Catherine, in the German language, reads thus: "158. Johannes Jungken vxor [Frau] Catharina nata [born] d. 18 Aug. b. [baptized] d. 19 Sept. [Jac]ob Jungken vxor [Frau] Hannah [witnesses]." The original baptismal records are on deposit at the Lutheran Theological Seminary Library in Gettysburg, PA, with the Younkin name spelled "Jungken" and "Junghenn."
When son George was born and baptized in late 1793, the ceremony was held in the German Reformed Church in or near Lovettsville, with Mr. and Mrs. Jacob Adams as his sponsors. This event is chronicled in the 1995 book, Early Church Records of Loudoun County, Virginia, 1745-1800, by Marty Hiatt, and also in St. James United Church of Christ Church Register, translated from German to English by Jerry and Tedi Jeen Mower. In the records, the name of George's father is spelled "Johann Juncken." The Reformed congregation -- today's St. James Church -- seems to have had an affiliation with the New Jerusalem church and may have shared a traveling pastor. Performing George's baptism ritual was Rev. Heinrich Giese, said to have been a former Hessian soldier who fought alongside the British during the American Revolution, and was captured and imprisoned in the "Hessian Barracks" in Frederick, MD, and once the war ended, chose to stay and settle with other Germans in Maryland, Virginia and later Pennsylvania.
Sometime after the birth of their son Charles in 1795, John and Catharine decided to push into the mountains southwestern Pennsylvania, where rich farmland was available and where his brothers Jacob and Johann Friedrich ("Frederick") had settled in the mid-1780s. The three brothers eventually all settled near each other on the north and south sides of what became the village of Kingwood in Turkeyfoot Township, Somerset County.

Johannes' rolling farm near Kingwood, PA, photographed 2008
After arriving in rural Turkeyfoot, John purchased a farm of 216 acres in what today is considered "Hexebarger." The family lived on this tract for the rest of John's life. Circa 1830, the farm adjoined the properties of Jacob Lichliter, Henry Bowlby, son-in-law Jacob Minerd Jr. and others. Of the total 216 acres, 80 were cleared, and contained a two-story log house and barn.
Catherine's father died in Virginia on Christmas Day 1807. The following year, the widowed step-mother had to decide what to do with her farm, which at the time was leased by John Ullom and Henry A. Bonnett. She made the decision to sell the tract to her sons and sons-in-law. Circa 1809, Catherine's adult brothers and sisters and their husbands lived in various places as the estate of her late father was being settled -- John Tushtimer in Rockingham County, VA; Jacob and Laura "Lorey" Adams of Southampton Township, Bedford County, PA; Daniel and Elizabeth May of Bedford County; Charles Tushtimer of Rockingham County; and Daniel and Mary Woolford of Southampton Township, Bedford County. The Adamses and Woolfords named their "trusty and loving friend" Michael Streem of Loudon County to represent their interests in the transaction, while the Younkins engaged Adam Shover as their representative. After buying the farm, in 1810, the brothers in law John Younkin, John Doshtimer, Charles Doshtimer and Daniel May sold their interest in the 103½ acres to John S. Marlow.
John died in October 1826, in Kingwood, when he would have been 70 years of age. His burial site is lost to history.
He did not leave a will, and thus it was up to the judges of the Orphans Court of Somerset County to divide the assets and pay outstanding debts. Because the inheritance rights to part of the farm were in question, having been sold by son Charles to pay a debt, an inquest was held at John's former home on Jan. 28, 1835 to determine its value. Attending the inquest were sheriff John Bell, who by oath swore in 12 honest and lawful men to render judgment -- John Leichliter, Jacob Leichliter, Samuel Leichliter, Robert Hare, Joseph Hare, Thomas King, Joseph Creamer, John King, Solomon Baldwin, Samuel King, Benjamin Davis and Joseph B. Davis. The group appraised the land at $2.65½ per acre, or $576.13½ in total.
Catherine is reputed to have died in 1835, after nine years as a widow.
The Younkins' son Yankee John Younkin is believed to have purchased or otherwise resided on the old farm up until his death in about 1862. Yankee John's daughter and son in law, Susan and Andrew Schrock then lived on the tract, and eventually sold it to Susan's nephew, Civil War veteran Ephraim Miner.
~ The Erroneous Moniker "John Michael" ~
How did John get to be known by Younkin genealogists as "John Michael?" The answer seems to narrow down to researcher Joseph Warren Thomas of Birmingham, MI and Pittsburgh, who did some pioneering work in the 1970s thinking that his wife was a descendant of Jacob "of John" Younkin. He carried on correspondence with a number of cousins, among them Carl Hoge, Loree (Morrison) Cross, Elaine (Lauter) Murphy, the founder of this website and others.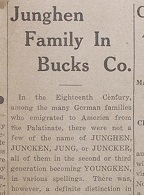 Anita Eyster's article, 1937 Younkin Family News Bulletin
In a letter to Mrs. Cross in October 1976, he wrote:
We have wondered about the Michael Younkin in the 1790 Census of Bedford (Somerset) County. I don't know if I ever expressed this idea to you, but I think that my ancestor John (brother of your Jacob) was actually John Michael. John named his son Jacob (who was known as Jacob of John) and he named his eldest son John M. -- this could very well be John Michael, named for his grandfather. John M.'s sister Catherine who married George Firestone, named her eldest son Michael A. This is conjecture but it very well could explain the 1790 Census. [Editor's note: Michael A. Firestone turned out to be illegitimate and thus was not of Younkin blood at all.]
In reply, Mrs. Cross wrote: "The name Michael has never come up before. The man could have had two names as many did."
Writing to Carl in July 1982, Mr. Thomas stated that part of his speculation was based on material written by Anita L. Eyster in the Christmas 1937 edition of the Younkin Family News Bulletin in which she named early immigrants to Bucks County using the name "John Younkin:"
I really haven't touched any Younkin information since 1977. I got so saturated and frustrated with it, that I set it aside and worked on other lines. I spent years trying to clarify the information in the 1937 article by Anita Eyster. This particularly bothered me (and you too) as my line came down through the eldest son John. I think that he was John Michael as there was a Michael Younkin in the 1790 census of Bedford County, and the John M. and Michael keep recurring in my line.
Circa 1986, when the founder of this website first made contact with Mr. Thomas, the idea seemed logical, and added it to his records which then were shared with others, including Donna (Younkin) Logan, founder of the Younkin Reunion East.
Copyright © 2015, 2017, 2019 Mark A. Miner
Research for this page graciously shared by the late Olive (Rowan) Duff, the late Donna (Younkin) Logan and Glen Swartz.