Home

Jacob Younkin
(1761-1811)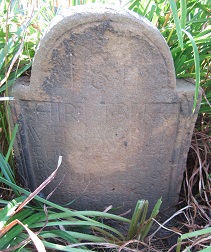 Jacob's original grave marker
Jacob Younkin was born on July (or January) 13, 1761 in Bedminster Township, Bucks County, PA, the son of German immigrants Johannes "Heinrich" and Catharina (Scherer) Junghen. He and his brothers John and Frederick were pioneer settlers of Somerset County, PA and their brother Rudolph was an early settler of Perry County, OH.
As a baby, Jacob was christened in the Tohickon Lutheran Church, and his sponsors were John Jacob Schock and Magdalene. He is thought to have grown up attending or affiliated with the Tohickon Church, otherwise known as Keller's Lutheran Church and later as St. Matthew's Church, in Perkasie, Bucks County, where German language records naming him and his parents and siblings were kept.
Jacob grew up on his parents' farm in or around which straddled Bedminster and Haycock Townships in Bucks County. His father owned 168 acres of land along with horses, cattle and a distillery for producing spirits.
During the American Revolution, Jacob served in Captain Manus Yost's Company of the 1st Regiment of foot in the service of the United States, commanded by Colonel John Keller of 1st Class Bucks County Militia of Pennsylvania. His name appears on a muster roll list of soldiers present as of Oct. 14, 1781. The lists have been published in the Pennsylvania Archives Series 5, Vol. 5, pages 426-431 and Pennsylvania Archives Series 3, Vol. 13, pages 558, 691.
When Jacob was age 25, in about 1785 or 1786, he married Johanna "Hannah" Nicola (1769- ? ), daughter of John and Christine (Hartzell) Nickla. (Other research identifies her parents as Valentine and Anna Elizabeth (Schenck) Nichola, natives of Weibelskirchen, Nassau, Germany, who had come to America as newlyweds in 1738, settling in Bucks County.) Family historians believe the nuptials ceremony probably took place in Bucks.
Johanna, born on Oct. 9, 1769, was baptized on July 23 [year?] in Keller's Church, where many Younkins also worshipped and underwent baptism.
They produced these known 10 children, beginning in 1787 -- John J. Younkin, Henry Younkin, Jacob Younkin Jr., Elizabeth Younkin, Samuel Younkin, Maria "Catherine" May, Abraham Younkin, Dr. Jonas Younkin, Isaac Younkin and Mary "Polly" Younkin.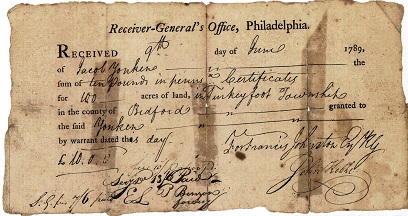 Jacob's Bedford (now Somerset) County land grant certificate, 1789
At some point in time, during the 1780s, after the war had ended, Jacob and Hannah left Bucks County and migrated with his brother John into Virginia's Shenandoah Valley. They were farmers and resided in or around Lovettsville, Loudoun County. They did not remain there long and in the mid-1780s pushed into the mountains southwestern Pennsylvania, where rich farmland was available and where his brother Johann Friedrich ("Frederick") also migrated around that time. Their brother John joined them in the 1790s and all three eventually settled near each other on the north and south sides of what became the village of Kingwood in Turkeyfoot Township, Somerset County.
The Younkins' farm was located near Paddytown in Lower Turkeyfoot Township, comprised of about 300 acres bordered by the farms of John Leichliter, Nicholas Hartzell, Edward Dunnam and John Younkin. They raised corn, oats, buckwheat, rye and hay and also bred heifers and pigs. At some point he lent money to his niece's husband Jacob Minerd Jr., a debt that remained unpaid at the time of Younkin's death.
Jacob died in Turkeyfoot Township at the age of 50 on July 26, 1811. Interment was in Crossroads Cemetery, also locally called "Hogback," located along the road leading from Ursina to Harnedsville, Somerset County. His estate was filed in Somerset County court and was assigned the number "8-1811." A grave marker inscribed in German was erected at the site, and remains there today, although badly faded with time. The stone reads:
| | |
| --- | --- |
| Hir Light Begrawen Jacob Yungen Febohren 1761 Den 3ten July Gestorben Den 2, Julius 1811 Ehr Hinter Last Sein Ehfrau henne Mit 10 Kinder. | Here lies buried Jacob Jungen born 1761 the 13th July died the 26 July 1811, he leaves behind his wife Hannah with 10 children |
After Jacob's passing, his farm needed to be assessed in value in order for taxes to be paid, and also to determine if it should remain intact or subdivided into two sections for the eldest two sons "without prejudice to spoiling the whole." An inquisition led by sheriff Jacob Ankeny and conducted by 12 "free, honest and lawful men" was held on the property to determine its value. The men included John B. Jones, John King, Thomas King, David King, David Ankeny, William Johnston, Nicholas Hartzell, Michael Ansell, Thomas Bayes, John Bayes, John King and Jacob Sanner.

Jacob's burial site in the Hogback or Crossroads Cemetery near Ursina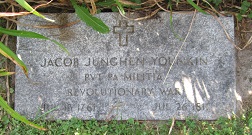 Jacob's new Revolutionary War marker
Extensive calculations were made and a value eventually reached, with one half appraised at $6.05 per acre, and the other part at $5.50 per acre. Widow Hannah disagreed with the assessment, saying that the ground had been covered with straw during the inquest so that "the Jury had not a chance of forming a correct Judgement as to its real value." She believed it all worth up to three dollars more per acre than had been established.
Jacob is mentioned in Waterman & Watkins' 1884 book History of Bedford, Somerset & Fulton Counties. It erroneously states that he was from Germany but noted that "After his death, his farm was equally divided between his two sons, John J. and Henry. John J. was born on the old homestead in 1787..."
Their other six children alive at the time were legally underage, and guardians had to be appointed to oversee their finances and welfare. In 1821, for example, their son Henry was named as guardian for his sister Polly, who was about the age of 14.

"X" signature by Hannah "Neff"
Hannah survived her husband by some years and married again -- sometime between November 1813 and February 1814 -- to a man named Neff. On Feb. 28, 1814, she filed a legal petition under the name of "Hannah Neff" in the estate of her first husband.
She died in Somerset County, but the details are not known.
In February 1985, Jacob's grave inscription in German was published in a list of Cross Roads burials in the Laurel Messenger newsletter of the Genealogical and Historical Society of Somerset County.
This family's story was outlined in a series of articles by the late Donna (Younkin) Logan in the Younkin Family News Bulletin (June 1992 and October 1992).
In July 1995, at the Younkin Reunion East, a new military grave marker for Jacob was installed at the Cross Roads Cemetery, with a colorful ceremony marking its rededication.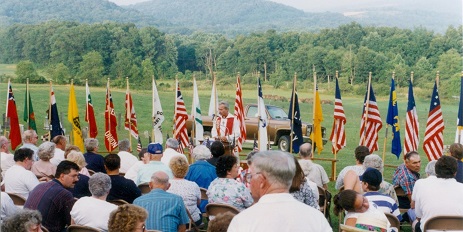 Dedication of new Revolutionary War grave marker, 1995 Younkin Reunion
~ Daughter Elizabeth "Betsy" (Younkin) Weimer ~
Daughter Elizabeth "Betsy" Younkin (1797- ? ) was born on June 15, 1787 in Milford Township, Somerset County.
She married John Weimer (1807-1857), who was a decade younger than his bride. Was he also a son of John "Frederick" and Barbara (Harbaugh) Weimer of Turkeyfoot Township? They apparently did not reproduce.
When the federal census enumeration was made in 1850, the couple dwelled in Upper Turkeyfoot Township, with John earning a living as a farm laborer.
John died in 1857 at the age of 50.
Elizabeth's fate is not yet known.
~ Son Samuel Younkin ~
Son Samuel Younkin (1797- ? ) was born in about 1707. In December 1813, his uncle Frederick was named as his and his sister Catherine's legal guardian.
~ Daughter Maria "Catherine" (Younkin) May ~
Daughter Maria "Catherine" Younkin (1798- 1892) was born on July 28, 1798. Her father died when she was 13 years old. In December 1813, her uncle Frederick was assigned as her and her brother Samuel's legal guardian.
Catherine was wedded to Leonard May ( ? -1898), son of Daniel and Elizabeth May. Their children were John L. May, Daniel May, Elizabeth Tipton, Mary Ann Kellerman, Samuel May, Louise Beltz, Marcus May, Hiram May and Silas May.
Leonard passed away in Juniata on Feb. 2, 1889.
Catherine died in Juniata Township, Bedford County, PA on Aug. 22, 1892. They rest for eternity in Dry Ridge Cemetery in Bedford County, PA.
Circa 1982, Homer and Ruth Robertson of Provo, Utah were researching this family. [See Thomas/Cross Papers, pp. 631-634.] They were in correspondence with Younkin researchers Elaine (Lauter) Murphy and Joseph Warren Thomas III, trying to make connections among the disparate family branches.
~ Son Abraham "Abram" Younkin ~
Son Abraham "Abram" Younkin (1801-1850) was born in May 1801 in Milford Township, Somerset County. In May 1815, when Abraham reached the age of 14, John Gebhart was named as his legal guardian.
He married Mary Ann "Polly" Haupt (1803-1870).
Their known children were Amanda M. Reger, Mrs. Joseph Kantner, Margaret Pisel, Cyrus Younkin and Christianna "Christa" Fleck.
The Younkins made their longtime residence in Somerset Borough and Township. While an early member of the Church of Christ, he appears to have suffered from a streak of alcoholism. Circa the mid-1820s, said Peter Vogel's book Tale of a Pioneer Church, "the demon Drink always works such wicked havoc that it is still clearly remembered that Wm. Philson, Abram Younkin and Dr. Bruce, had to be frequently disciplined for drunkenness, and that their copious tears of penitence were never wholly able to wash this stain out of their natures." [Full text]
In October 1828, Abraham was elected by a wide margin to the post of County Auditor, a term which was to have lasted for three years. The election results were published in the Somerset Herald.
Abraham passed away at the age of 48 years, 11 months and 14 days on April 11, 1850. His remains were placed into eternal repose in Union Cemetery in Somerset.
An inventory was made of the assets of his estate, which collectively were valued at $66.00. The items included a table, bureau, set of chairs, clock, lot of books, looking glass, carpet, bedstead, trundle bed, cupboard, kitchen and dining tables, crocks, desk, clothing, chest and kettle.
When the federal census was taken later that year, the widowed Polly and their three offsprign lived under one roof in Somerset Borough.
She lived for another 20 years after her husband's death. When the census again was taken in 1870, she dwelled with her married daughter and son in law Christa and Jacob Fleck in Somerset Borough.
Polly died on Oct. 6, 1870 at the age of 67 years, five months and 10 days.
Daughter Amanda M. Younkin (1824-1900) was born on April 13, 1824 in Somerset, Somerset County, PA. She married (?) Reger. They produced one known son, Thomas M. Reger. In about 1840, she joined the Disciples of Christ Church. Sadly, Mr. Reger died in 1858, leaving her a widow, a role which she maintained for the remaining 42 years of her life. She died in February 1900 at the home of her son Thomas in Altoona, Blair County, PA. Burial was in Altoona, with an obituary appearing in the Somerset Herald.
Daughter (?) Younkin ( ? - ? ) was born in (?). She was wedded to Joseph Kantner. In 1900, she made her home in Altoona, Blair County, PA.
Daughter Margaret Younkin (1835-1906) was born on July 14, 1835. She was wedded to James Pisel (1835- ? ), son of Joseph and Anna Pisel. Their known children were Ellen Pisel, Charles Pisel, Mary Pisel, Edward Pisel. When the federal census was taken in 1860, the family dwelled in Somerset Borough, with James earning a living as a shoemaker. They remained in the borough through the 1860s and were there in 1870, with James continuing his work manufacturing shoes. By 1880, the Pisels made the decision to relocate the shoemaking business to Akron, Summit County, OH, where they are shown on the census that year, with their 15-year-old son Edward still living in their home. They were still in Akron in May 1891 when receiving word of the death of James' widowed mother in Somerset. Margaret is reputed to have died on St. Patrick's Day 1906. The site of her burial is not yet known.
Granddaughter

Ellen Ralston "Ella" Pisel

(1857-1922) was born on Jan. 9, 1857 in Somerset, Somerset County, PA. She and her parents moved to Ohio when she was a young woman. There, she married William M. Johns ( ? - ? ). As a widow, Ella maintained a home at 2830 Sedgwick Road in Shaker Heights, Cuyahoga County. She suffered for a decade from heart problems and, on Dec. 2, 1922, died from acute gastritis at the age of 65. Interment was in East Cleveland Cemetery, with daughter Mrs. C.L. Anderson signing the official Ohio certificate of death. On the document, the maiden name of Ella's mother was written as "Duncan."
Grandson Charles L. Pisel

(1858-1924) was born on March 28, 1858 in Somerset, Somerset County, PA. When a young man, he relocated with his parents to Akron, Summit County, OH and obtained work in a match factory. He married Lovina Winkelman (1861- ? ), daughter of Mary Winkelman. Circa 1880, the newlyweds resided with Lovina's widowed mother in Akron. At some point he was named superintendent of the Peoples Savings & Loan Company building in Akron. Circa 1920, the Pisels moved to 33 North Forge Street in Akron. Charles was burdened with heart and kidney problems and died at the age of 66, on Dec. 1, 1924, from the effects of acute kidney infection. Burial was in Glendale Cemetery. In providing details for the Ohio death certificate, Lovina spelled her mother-in-law's maiden name as "Young."
Granddaughter Mary Pisel

(1860- ? ) was born in 1860 in Somerset, Somerset County.
Grandson Edward Pisel

(1865-1944) was born on March 28, 1865 or 1866 in Somerset, Somerset County. As a boy, he relocated with his parents to Akron, Summit County, OH, and in 1880, as a 15-year-old, worked there in a pottery. He married Hulda (?). Over the years, Edward made a living as a carpenter. In the 1930s, he moved to 3722 Meadowbrook Drive in University Heights, Cuyahoga County, OH. On the fateful night of April 20, 1944, while Edward was smoking, his clothes caught fire and he was burned to death. The coroner examined the body and noted extensive second and third degree burns. Burial was in Cleveland's Lakeview Cemetery, in Section 4, lot 669. Hulda signed the death certificate, giving her mother-in-law's maiden name as "Margaret Bevens."
Son Cyrus Younkin (1838- ? ) was born in 1838. Nothing more about him is known, and evidence suggests that he died young.
Daughter Christianna "Christa" Younkin (1844-1910) was born on Nov. 14, 1844. She was just six years old when her father died. In July 1869, when she was 25 years of age, she married 31-year-old carpenter Jacob Fleck Jr. (Sept. 16, 1837-1908), who was seven years older than she, and the son of Jacob and Nancy (Friedline) Fleck Sr. The couple produced these known children -- Frank R. Fleck, Mary G. Fleck and Margaret L. "Maggie" Fleck. In 1870, the couple made their home in Somerset Borough, and Christianna's 67-year-old widowed mother lived under their roof, and next door to her married sister Margaret Pisel. When the census enumeration was made in 1880, the Flecks dwelled in the borough, with Jacob working as a "laborer." By the early 1900s, Jacob had become an invalid, suffering from "catarrh" of the stomach and urinary tract infection. He succumbed at the age of 71 on Oct. 18, 1908. His remains were lowered into eternal repose in Husband Cemetery in Somerset. Son Frank, living in Pittsburgh, signed the certificate of death. Christa outlived her husband by two years. Burdened with kidney failure, she suffered a stroke of paralysis on March 20, 1910, and lingered for nearly a month. The Grim Reaper finally swept her away at the age of 65 on April 17, 1910. She joined her husband in burial in Husband Cemetery, with daughter Mary Kammerer providing details for the death certificate.
Grandson Frank R. Fleck (1872- ? ) was born in 1872 in Somerset, Somerset County, PA. His home was in Pittsburgh in 1908.
Granddaughter Mary Grace Fleck (1874-1924)

was born on Jan. 29, 1874 in Somerset, Somerset County, PA.

She married C.W. Kammerer ( ? - ? ) and dwelled in Somerset circa 1910-1924. At the age of 46, she was stricken with pulmonary tuberculosis and influenza and died on March 24, 1924. Interment was in Husband Cemetery.
Granddaughter Margaret L. "Maggie" Fleck (1879- ? )

was born in 1879 in Somerset, Somerset County, PA.
~ Son Isaac Younkin ~
Son Isaac Younkin (1805- before 1910) was born in about 1805. In November 1821, after he had turned age 16, the Somerset County court assigned George Gebhart as his legal guardian.
On Oct. 21, 1828, in Somerset County, the 23-year-old Isaac was united in marriage with Margaret Penrod ( ? - ? ), daughter of John Penrod. Rev. Kieffer performed the nuptials. Their children were Barbara A. Ankeny, Elizabet Butt, Catherine Margaret Butt, Henry W. Younkin, Mary Ellen Younkin and Eliza A. Younkin.
They relocated to Ohio and spent several years in Goshen Township, Tuscarawas County.
Isaac died sometime before 1910. Research by the late Donna (Younkin) Logan states that he likely passed near New Bellville, OH and is interred in Ridge Joint Cemetery near Bowling Green, Wood County, OH.
Daughter Barbara A. Younkin (1831- ? ) was born in 1831. At the age of 21, she married Henry Ankeny ( ? - ? ) in Tuscarawas County on Jan. 20, 1853.
Daughter Elizabeth Younkin (1933- ? ) was born in 1833. She was united in marital union with Jesse M. Butt ( ? - ? ) on Oct. 18, 1855 in Tuscarawas County.
Daughter Catherine Margaret Younkin (1836- ? ) was born in 1836. She was wedded to Elijah Butt in Tuscarawas County on March 11, 1858.
Son Henry W. Younkin (1838- ? ) was born on May 26, 1838 in New Philadelphia, Tuscarawas County. He married Mary Cordrey on June 19, 1867.
Daughter Mary Ellen Younkin (1840s- ? ) was born in the early 1840s in Goshen Township, Tuscarawas County.
Daughter Eliza A. Younkin (1846- ? ) was born in 1846 in Goshen Township, Tuscarawas County.
~ Daughter Mary "Polly" Younkin ~
Daughter Mary "Polly" Younkin (1807- ? ) was born in about 1807. She was but four years old when her father died. In 1821, when she was age 14, her brother Henry was named as her legal guardian.
Copyright © 2016 Mark A. Miner
Research for this page graciously shared by the late Olive (Rowan) Duff and the late Donna (Younkin) Logan.