Home

Josiah Younkin
(1848-1876?)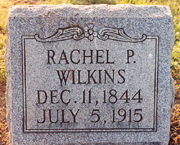 Mt. Union Church
Josiah Younkin was born in 1848 in Casselman, Somerset County, PA, the son of John M. and Laura (Minerd) Younkin. Unlike most of his brothers and sisters, Josiah's story is nearly silent in the historical record.
His wife Rachel's tale is much better known and colorful -- married at age 19; a Civil War widow and single mother at 21; ultimately to have six children by three husbands and one significant other. She was the daughter of John and Sarah (Weimer) Phillippi, whose farm, it's said, was subdivided to become the village of Casselman.
Her full name was Rachel (Phillippi) Gerhart Younkin Wilkins (1844-1915) -- the daughter of John and Sarah (Weimer) Phillippi. By today's standards, she would be called a survivor.
Rachel's first husband was Samuel Gerhart (1840-1864), the son of Jacob and Catherine Gearhart, the father an immigrant from Germany. Their name also was spelled "Gerhard" at times.
During their brief married lives together, the couple produced one daughter, Alice Reed, born in 1862.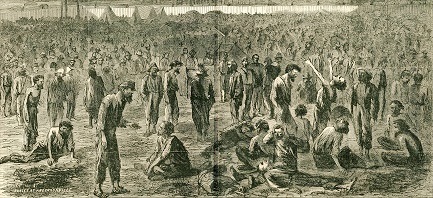 Andersonville Prison, where Rachel's 1st husband died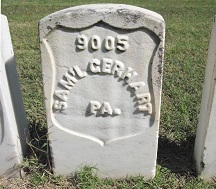 Samuel's grave, Andersonville
Courtesy Kevin Frye
When the Civil War broke out, Samuel enlisted and was assigned to the 142nd Pennsylvania Infantry. He rose to the rank of corporal. At the Battle of the Wilderness, he was captured and taken for incarceration to the notorious Andersonville Prison in South Carolina. He died of disease in the prison on Sept. 17, 1864, at the age of 24, and was buried in row 9005 in the prison cemetery. A marker was erected at the site of his burial place.
The government awarded Rachel a pension of $8 per month as compensation for her loss.
Rachel remained a widow for five years. Then circa 1869, she was united in holy matrimony with our Josiah Younkin. The newlyweds were four or five years apart in age, with Rachel the older party. The remarriage caused her to forfeit the pension, but it became solely payable to her daughter Alice.
Rachel and Josiah lived near Casselman, Somerset County, and bore two daughters of their own -- Mary "Agnes" Crabtree, born in 1870, and Minnie Elizabeth Rhoads, born in 1871.

Rachel's rare signature as a Younkin
When the federal census was enumerated in 1870, the family lived in Upper Turkeyfoot Township, with the town of Somerfield as their nearest post office. That year, Josiah earned a living as a laborer, and Rachel's 64-year-old mother Sarah Phillippi lived under their roof. Six dwellings away was the household of Josiah's brother and sister in law, William Shedrick and Caroline (Cupp) Younkin.
Virtually nothing more is known of the Younkins' lives together.

Rachel's home, 1876, corner of St. John Street & Raspberry Alley, Casselman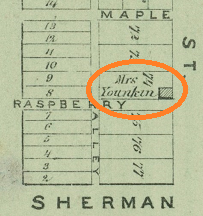 Rachel's dwelling, Casselman, 1876
Sometime between 1870 and July 3, 1876, Josiah died of causes not known. An online search of the Somerset Herald newspaper for the years 1870 to 1876, via a Library of Congress website, was unsuccessful in locating any sort of article, notice or obituary of his death.
His burial place also is lost to history. The untimely death left Rachel a two-time widow at age 33, with three young daughters to house and feed.
Josiah's passing also left her with a large unpaid bill for goods purchased from the firm of Weimer & Walter, and she was sued to recover the debt. She lost the case and had to pay $21.28 plus court costs. That same year, Rachel signed a note promising to pay daughter Alice the sum of $400, perhaps as accrued Civil War pension payments. The signature of "Rachel Younkin" on the note, filed at the Somerset County courthouse, and seen above and below, is a rare example of her handwriting and name as a Younkin.
When Beers' Atlas of Somerset County was published in 1876, Rachel's dwelling was shown on a detailed map of Casselman. At the time, she resided in a house at the corner of St. John Street and Raspberry Alley. Living three-and-a-half blocks west along St. John were her brother-in-law and his wife, Charles and Sarah (Artest) Younkin. A number of Rachel's Phillippi kinfolk made their homes nearby as well.
~ Enter John "Jack" Hobson ~
By 1879-1880, Rachel had become a companion of John "Jack" Hobson ( ? - ? ), a native of Virginia.
They bore one son, Charles Reed Hobson, born May 1, 1880.
The federal census of 1880 shows 36-year-old "Rachel Younkin" heading a household with four children from three different fathers, including a newborn son one month old.
By 1885, the relationship had ended.

Rachel's signature on an IOU dated 1876
~ Enter John Wilkins ~
Marrying again by 1885, Rachel's third husband was widower John Wilkins (1939-1916). He was the son of William and Louisa (Ream) Wilkins, of the family of Samuel W. and Mary (Rheims) Ream, and was a step-cousin of Josiah Younkin's on the Minerd side of the family.
John also was said to have been a veteran of the Civil War, but his specific regiment has not been identified. His first wife, Sarah Sabina (Weimer) Wilkins (1846-1883), was "a daughter of the late David Weimer of Rockwood," said the Somerset County Leader. He thus brought four adult children to his marriage with Rachel -- Elva Walter of Rockwood, Etta Lane of Pittsburgh, Walter Wilkins of Washington State and Anna Weisel of Scottdale. John's grandson Scott Wilkins became a dear friend of Rachel's grandson in law Alfred Younkin and together were pioneer fruit growers of Washington State.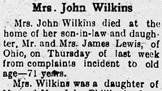 Rachel's obituary, 1915
John and Rachel went on to have at least one son of their own, William G. "Bill" Wilkins, born in 1885. Unfortunately, the Wilkinses separated at some point in time.
"For many years," said the Leader, "Mr. Wilkins lived alone in a small building on the outskirts of [Casselman]. His only duties consisted of carrying the mail between the B. & O. depot and the postoffice."
After their separation, Rachel moved into the home of her married daughter Minnie Rhoads in Deerfield, OH. She endured the deaths of daughters Alice Reed in 1909 and Mary Agnes Crabtree in 1910.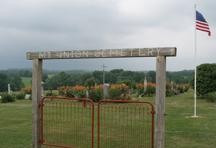 Mt. Union Cemetery near Casselman
Rachel died in the Rhoads' home in Deerfield on July 5, 1915 at age 72. Her remains were brought back to Casselman for burial at Mt. Union Cemetery. The entrance to the cemetery is seen here, in July 2007, photographed during the annual Younkin Reunion weekend.
Wilkins only outlived Rachel by a little more than a year, continuing his work as a postal carrier. Tragedy struck on Oct. 15, 1916, when he failed to report to work. Friends visited his home, only to find to their horror that the 77-year-old had died overnight in a house fire. A newspaper article reported that:
...smoke was seen issuing from the cracks in the door and windows of the building. Hurriedly breaking down the door the body of the man, burned to a crisp, was found lying on the bed which was also burned and still smoldering. It is the opinion of those more familiarly acquainted with the situation that Mr. Wilkins had arisen Wednesday morning, lighted his lantern with the intention of getting ready for his work, and probably not feeling well had set the lantern at the side of the bed and again laid down. Bedclothing falling near the lantern became ignored and in the small and stuffy compartment the smoke soon overcame the unfortunate victim.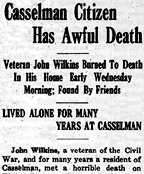 John's obituary, 1916
Wilkins' charred remains were laid to rest in the Laurel Church Cemetery. On his Pennsylvania death certificate, his name was misspelled "Wilkie."
In October 1934, long after the Younkins had died, Josiah and Rachel were named in extensive genealogy manuscript records compiled by distant cousins Otto Roosevelt Younkin and Charles Arthur Younkin. The researchers were gathering data in connection with the Younkin clan's new national home-coming reunion. Click here to see Otto's handwritten and typed notes about Josiah (whom he names as "Joseph" or "Joe"), based on an interview conducted with Josiah's elderly and last-surviving brother, Daniel Martin Younkin.
~ Rachel's Daughter Alice (Gerhard) Reed ~
Rachel and Samuel's daughter Alice Gerhard (1862-1909) was born on July 8, 1862. She was but two years of age when her father died in a Civil War prison, far away in South Carolina.
When she was age seven, her mother married our Josiah Younkin. As a direct result of the marriage, Alice began receiving her late father's Civil War pension payments and continued doing so until becoming a legal adult.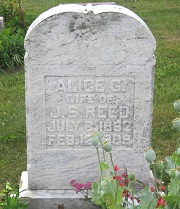 Alice's grave, Mt. Union
Alice wed Jesse Sylvanus Reed (June 9, 1858-1923), a native of West Virginia and the son of John and Susan (Fields) Reed. They were united in marriage in about 1883, when Alice was age 21 and John 25.
The couple went on to bear six children: Reuben Walter Reed, Susan "Belle" Ashby, Charles Reed, Minnie Burke and Jacob "Roy" Reed, and an unnamed child who died at birth in 1894.
When the 1900 U.S. census count was made, the Reeds lived in Upper Turkeyfoot Township, with John and their eldest son Reuben working as day laborers.
At the age of 47, Alice died on Feb. 12, 1909. The site and cause of her passing are not known. Burial was in Mount Union Cemetery near Casselman.
Jesse lived for another 14 years after his wife's untimely death and relocated to near Reedsville, Preston County, WV. He earned a living as a railroad track foreman. Suffering from pneumonia and influenza, the Angel of Death carried him away on June 1, 1923, just eight days before his 67th birthday. The remains were shipped to Elkins to rest in Maplewood Cemetery.
Son Reuben Walter Reed (1883-1956) who was born on Aug. 21, 1883 in Casselman. He married Ida Margaret Riley (1885-1952), daughter of William H. and Alice (Vansickle) Riley of Friendsville, Garrett County, MD. In about 1915 or '17, they relocated to Hagerstown, Washington County, MD, where Reuben was employed by the Western Maryland Railroad and later worked as a farmer until retirement. They were members of the Church of God. The Reeds had these known children -- Mildred E. Reed, Glendine M. Kershner, Harry Garth Reed, Wilda V. Merckle and Elva Jean Carper. Ida passed away on Sept. 26, 1952. Reuben died at the age of 72 at a Hagerstown hospital on March 11, 1956, with burial in Williamsport's Greenlawn Cemetery. Rev. Lester Teter and Rev. John W. Fisher officiated at the interment, and an obituary was printed in the Hagerstown Daily Mail.
Grandson Harry Garth Reed (1920-1974) was born in 1920. He resided in Hagerstown, MD. He married Helen Wellinger ( ? - ? ) and was employed by Horn Corporation. The couple did not reproduce. He died at home, at the age of 52, in July 1974. Burial was in Greenlawn Cemetery in Williamsport, with an obituary published in the Hagerstown Morning Herald.
Daughter Susan "Belle" Reed (1885-1976) was born on Nov. 11, 1885 in Somerset County. She married Roy Frederick Ashby (Sept. 26, 1882-1940) and lived in Garrett County, MD. They bore two children -- Irene Lucille Ashby and Melvin R. Ashby. Heartache blanketed the family when their four-month-old daughter Irene died on Nov. 2, 1906, with burial in St. Johns Lutheran Church Cemetery in Redhouse, Garrett County. Sadly, Roy died at the age of 57 on Sept. 18, 1940. Burial was in Ashby Cemetery in Crellin, Garrett County. Belle outlived her husband by more than a quarter of a century and relocated to Elkins, Randolph County, WV. There, she passed away at the age of 90 on Sept. 22, 1976. Her remains were interred in Maplewood Cemetery in Elkins.
Grandson Melvin R. Ashby (1911-1953) was born on Nov. 11, 1911. During World War II, and perhaps earlier, he served as a master sergeant with the 1605th Air Base Wing. After the war, he established a home in Texas. He married Jimmie Irene Lowery (Oct. 22, 1920-1994), a native of Limestone County, TX. They produced two known children, Roger Ervin Ashby and Paul Reed Ashby. Living in Kosse, Limestone County, the family belonged to the local Baptist Church. They came back to Somerset County in October 1950 to visit his uncle C.E. Ashby, as reported in the gossip columns of the

Meyersdale Republican

. In the fall of 1952, he and his wife signed their names to an advertisement published in the

Mexia (TX) Daily News

, supporting the presidential candidacy of General Dwight D. Eisenhower. He died at the age of 41 on Aug. 21, 1953. Burial was in Kosse Cemetery. Son Roger was a U.S. Navy veteran of the Vietnam War.
Son Charles S. Reed (1887- ? was born in April 1887. Circa 1956, his home was in Camby, OR.
Daughter Minnie Florence Reed (1889-1969) was born on Nov. 11, 1889. She married Charles William Burke (Nov. 19, 1891-1960), son of John William and Elizabeth (Evans) Burke of Clifton Mills, WV. The children born to this union were Hazel Leona Reed and Elwyn Reed Burke. For more than four decades, the Burkes made a home in Elkins, Randolph County, WV, where Charles was employed as a sales manager and mechanic in an automobile garage. Their address circa 1960 was 609 North Avenue. Sadly, as a patient in Davis Memorial Hospital in Elkins, Charles sufered an acute heart attack and died on Oct. 25, 1960. Minnie lived on for more than eight years. She passed into eternity at the age of 79 on March 9, 1969. She rests for all time in Maplewood Cemetery.
Granddaughter

Hazel Leona Reed

(1913-1990) was born on April 24, 1913 in Jenningston, Tucker County, WV. She married (?) Reed. They are believed to have dwelled in Elkins, Randolph County, WV. She died in Polk County, FL at the age of 77 on Ocgt. 7, 1990. Her remains were transported back to West Virginia for burial in Maplewood Cemetery in Elkins.
Grandson

Elwyn Reed Burke

(1924-2005) was born on Jan. 30, 1924. He married Ruth Ann Bailey (April 2, 1925-2002), daughter of John William and Hattie J. (Jones) Bailey. Elwyn was a tech sergeant in the U.S. Army. They were Methodists and in 1960 dwelled in Elkins. Sadly, Ruth Ann died on April 11, 2002. Elwyn outlived her by three years. He passed into eternity on New Year's Day 2005. Their cremains both are at rest in Arlington National Cemetery.
Son Jacob "Roy" Reed (1892-1957) was born on Feb. 23, 1892 in Casselman. He was married. Roy was a longtime coal miner and resided in Morgantown, Monongalia County, WV. Circa 1957, his home was at 466 Schley Street in the West Overton section of Morgantown. Suffering from congestive heart failure, he died at the age of 65 on Aug. 12, 1957, in Vincent Pallotti Hospital. Interment was in Beverly Hills Cemetery in Morgantown.
~ Rachel's Son Charles Reed Hobson ~
Rachel's son Charles Reed Hobson (1880-1954) was born on May 1, 1880 in Somerset County.
As a young man, he relocated in 1902 to Homestead, near Pittsburgh, where he found work as a bookkeeper. The town, along the Monongahela River, was home to the the famed, sprawling Homestead Works of Carnegie Steel Company.
On Nov. 1, 1905, at the age of 25, he married 24-year-old Winifred B. Liphart (1880-1945), daughter of John A. and Georgia (Crawer) Liphart of Casselman, Somerset County. The ceremony was held at Casselman, officiated by Rev. I.W. Bryan.
The couple did not reproduce.
Charles became a real estate broker and salesman. Reported the Pittsburgh Sun-Telegraph, "His real estate activity included much of the development of the Homestead Park section of Munhall into a residential community. He was president for two terms of the Homestead District Chamber of Commerce."
In 1942, their address was 704 Ann Street in Homestead -- in 1945 at 3200 West Run Road in Munhall. They were members of the First Methodist Church of Homestead.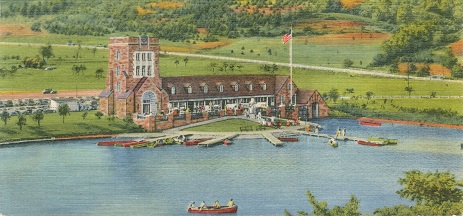 North Park Lake, for which Charles and the Allegheny County Sportsmen's League lobbied for fish stocking.
He is widely credited with envisioning and helping to found the Allegheny County Sportsmen's League -- "the dream of one man," said the Pittsburgh Sun Telegraph. "Although a business man in real estate and insurance, he devoted much of his time and effort to the formation of the league. Finally, leaders of sportsmen's groups wee assembled in Homestead by Mr. Hobson. On Feb. 19, 1925, the [league] became a reality. Dr. E.R. Raymaley of the Wilkinsburg Sportsmen's Club became the first president." Over the years, the league advocated "for the passage of the Sunday Fishing Law in 1937 which added another day of recreation for the angler. Until then, no fishing was permitted by law on Sunday. In the same year, it rose in support of the Pure Streams Act and again when the law was revised for greater strength in 1945." The league also was a driving force in the creation of Raccoon Park Lake in 1946 and in change to allow motorboats on Pymatuning Lake, fish stocking in North Park Lake and construction of Glade Run Dam in Butler County.
A testimonial banquet was held in his honor at the William Penn Hotel in Pittsburgh in February 1946, with 650 sporting enthusiasts and their spouses attending. Those speaking in tribute were Ross L. leffler, president of the Pennsylvania Game Commission; Pittsburgh Mayor David L. Lawrence; and Allegheny County Commissioner John J. Kane. Unfortunately, Charles was ill at home and could not be there, and dispatched his brother-in-law George Tipton to speak on his behalf.
Stricken with a pulmonary embolism, Winifred passed away in Homestead Hospital on Nov. 6, 1945, at the age of 65. Funeral services were held in the family church, led by Rev. Paul Holden. Her remains were brought back to Kingwood for interment in the Odd Fellows Cemetery.
Charles outlived his wife by nine years and toward the end, suffering from a brain tumor and paralysis, was admitted to the Oakland Convalescent Home in Pittsburgh. He died on Feb. 22, 1954, at the age of 73, and is buried in the Odd Fellows Cemetery in Kingwood. An obituary was printed in the Pittsburgh Sun Telegraph, stating that his remains were laid to rest in Kingwood in his native Somerset County.
The couple is named in the 1995 book Frederick Weimer (1742-1814) Family produced by the Weimer Genealogical Center.
~ Rachel's Son William Gilbert "Bill" Wilkins ~
Rachel and John's son William Gilbert "Bill" Wilkins (1885-1970) was born in about 1885 in or near Casselman.
At the age of 27, on June 26, 1912, Bill wed 22-year-old Nannie Florence Weimer (1890-1968), daughter of Levi and Adaline Weimer. Rev. I. Jay Duke performed the ceremony in Casselman.
They had two known sons -- Robert W. Wilkins and William P. Wilkins.

Carrie Furnace stacks at the U.S. Steel Homestead Works. From a painting by Howard Fogg for the Pittsburgh & Lake Erie Railroad Co., of the New York Central System.
At the time of marriage, Bill resided in Homestead near Pittsburgh, where he was employed as a stenographer and clerk, while Nannie called Casselman home. They made their permanent home for many years in Munhall near Pittsburgh, on Hazelwood Avenue.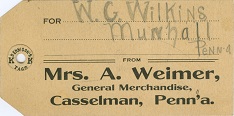 Weimer Store tag sent to Bill and Nannie
Nannie's mother owned a general merchandise store in Casselman for many years, and she often sent packages to their Munhall address.
When the federal census was enumerated in 1920, the Wilkinses lived on Hazelwood Avenue, with Bill still working as a steel mill office clerk. That year, Adaline's unmarried sisters Naomi Weimer (age 23, a nurse) and 16-year-old Idel C. Weimer boarded in their home. The censuses of 1930 and 1940 show them remaining on Hazelwood Avenue, with Bill employed as a clerk for a steel company over the span of those decades.
When Bill's brother died in February 1954, Bill was named in the obituary in the Pittsburgh Post-Gazette.
Nan passed away in 1968, at the age of 78. She was placed into eternal rest in Homewood Cemetery in Pittsburgh. [Section 20, Lot 21A E½].
William survived his wife by two years, dying in 1970 at the age of 85. He is buried with his wife.
Son Robert W. Wilkins (1913-1995?) was born on March 14 (or 24), 1913 in Homestead. His occupation in the late 1930s was as a railroad rate clerk. On May 6, 1939, in Pittsburgh, the 26-year-old William wed 29-year-old social worker Theodosia J. Clever (1910- ? ), a native of Tuscarawas County, OH, and the daughter of Harry S. and Achsah (Reichman) Clever of Valmont Street in Pittsburgh. They are believed to have produced three children -- Jane McIntosh, Susan Dexter and Robert C. Wilkins. He relocated to Malvern, PA and was there in 1989. He is believed to have passed away on Oct. 26, 1995.
Grandson Robert Clever "Bob" Wilkins ( ? -2011) was born in (?). He made his home for many years in West Chester, PA, where he graduated from Williamsport Community College. He then went on to be employed for 24 years as a machinist for Lenape Forge, followed by a six-year sting as a Kelsh Associates program worker for disabled adults. In 2002, Bob relocated to Williamsburg, VA, where he was employed as a recreation specialist at Fort Eustis. Retirement was in 2009. Said the Virginia Gazette, he "loved sports. He loved boating in the Maryland area and spent as much free time as possible skiing and at the New Jersey shore. He was always an avid Phillies and Eagles fan. After retirement, he enjoyed his model trains and 'tinkering' around his home." He passed away after a brief illness at Sentara Williamsburg on Nov. 27, 2011.
Son William D. Wilkins (1919-1989) was born on Feb. 18, 1919, in Homestead. He apparently never married. In 1941, he obtained a degree from the University of Pittsburgh. He was an accountant and was employed for many years by Love-Mason and Company. He was a member of St. Francis in the Fields Episcopal Church and the McCandless Lodge of the Masons. He also enjoyed volunteering at Somerset Hospital. He passed away in Somerset Hospital at the age of 70 on March 24, 1989. Burial was beside his parents in Homewood Cemetery, with Rev. Father Terry L. Johnson officiating at the funeral. An obituary was printed in the Somerset Daily American.
~ Rachel's Stepdaughter Elva (Wilkins) Walter ~
Rachel's stepdaughter Elva Wilkins (1861-1920) was born in 1869.
She married Foster Walter (Feb. 5, 1861-1920), son of Sheriff John A. and Elizabeth (Lichty) Walter. The couple had one known son, Frank Albert Walter.
A June 1902 edition of the Meyersdale Republican noted that the Walterses, along with the Penrod Wolfs and James C. McSpaddens, spent a Sunday in the Trent community hosted by the A.B. Brughs, enjoying a "sumptuous" mean at noon, including fresh trout.
Foster was a longtime railroader, serving as an engineer for the Baltimore and Ohio Railroad, based in Rockwood. He was badly hurt in a rail collison on June 22, 1910, near Kauffman Run on the Somerset & Cambria branch, with his "foot badly crushed," said the Republican. "Shortly before eight o'clock yesterday morning, five miles south of Johnstown the "hobnail" express and "pipe" train collided head-on, causing the death of two and injuring several." The dead men were Foster's colleagues John Lannon (brakeman) and W.C. Kennell (fireman) on the hobnail train. One of the others, Samuel C. Lint, of the pipe train, later died of his injuries. Foster spent a year recovering from his injuries and returned to work in June 1911, at which time the Republican said he was "one of the oldest throttle men in point of service, on the Connellsville Division."
By the winter of 1917, cataracts in Foster's left eye forced him to stop working as the throttle man in the B&O's yard switching service. He underwent optic treatment nder the care of "Specialist Saddler" of Connellsville. The Rockwood Leader said that he was "one of the best known railroad men on the division. His many friends are glad that his recovery will be rapid and sure."
The family worried as son Frank joined the U.S. Army during World War I and trained at Camp Lee, and then transferred to Washington, DC, where he worked as a mechanic in automotive truck transport. He was shipped to the front in France in January 1918.
Foster was diagnosed with cancer of the ribs in December 1919, and his health declined for six until death reliefed him of his suffering on June 18, 1920. Burial was in the Odd Fellows Cemetery in Rockwood.
Elva survived her husband by four decades. She succumbed in 1960 at the age of 91.
Son Frank Albert Walter (1890-1968) was born on March 3, 1890 in Rockwood. He served in the U.S. Army during World War I. After the war he returned to Somerset County and married Velma Grace Christner (Aug. 3, 1889-1984), a native of Garrett, Somerset County and the daughter of George Washington and Emma (Rector) Christner. They were the parents of Blaine Foster Walters, John R. Walters and Frances Roberta "Jane" Wagner. Frank was a member of the American Legion in Somerset, and they belonged to Trinity Lutheran Church. Their home in the 1960s was along Dott Avenue in Somerset. Frank died at age 77 in Somerset Community Hospital on Feb. 21, 1968. An obituary in the Somerset Daily American noted that funeral services were conducted by Rev. Roland Renkel, with interment in Somerset County Memorial Park. Velma outlived her spouse by 16 years. She died in Somerset on April 7, 1984.
Granddaughter

Frances Roberta "Jane" Walter (1925-2008)

married Joseph Warren Wagner (1925-2006).
~ Rachel's Stepdaughter Etta (Wilkins) Lane ~
Rachel's stepdaughter Etta Wilkins (1871-1959) was born in 1871.
She was united in wedlock with Charles B. Lane ( ? - ? ). Their two known children were Leora B. Colborn and Harry B. Lane.
They dwelled in Pittsburgh in 1916. Their address in the 1950s was with their son Harry at 68 Schley Avenue in Ingram.
Suffering from heart problems, Etta was admitted to the John Kane Hospital on the Fourth of July 1959. She remained there until suffering a heart attack and thence death on Oct. 4, 1959. Her remains were placed into eternal repose in Jefferson Memorial Park in Pleasant Hills, a suburb south of Pittsburgh.
Daughter Leora B. Lane (1890-1973) was born in 1890. She married David Lafayette Colborn (1889-1946). They had one daughter, E. Jane Colborn (1919-2010). David passed away in 1946. Leora died in 1973, with burial in Monongahela Cemetery in Monongahela, PA.
Son Harry B. Lane (1892- ? ) was born in 1892. He resided at 68 Schley Avenue in Ingram, near Pittsburgh, in the 1950s.
~ Rachel's Stepdaughter Anna (Wilkins) Weisel ~
Rachel's stepdaughter Anna Wilkins was born in (?) in Markleton, Somerset County.
She was joined in marriage with Charles A. Weisel ( ? - ? ) of Scottdale, Westmoreland County, PA.
Their known offspring were Walter Scott Weisel and Gilbert Foster Weisel. They may also have had a son, George A. Weisel (1914-1962).
Circa 1916, their home was in Scottdale.
Son Walter Scott Weisel (1909-1933) was born on Jan. 25, 1909 in Scottdale. He never married. In his early 20s, he earned a living as an automobile mechanic. On the fateful day of Dec. 9, 1933, while driving on Route 119 near Dunbar Road, he ran off the main line and wrecked the vehicle, rupturing his liver, and causing fatal bleeding and shock. His remains were placed at rest in Alverton Cemetery.
Son Gilbert Foster Weisel (1920-1963) was born on Aug. 12, 1920 in Scottdale. He married Vern Jean Lane ( ? - ? ). During the Korean War, Gilbert served in the U.S. Armed Forces. After the war, he was an automobile dealer in Scottdale, residing at 1107 West Pittsburgh Street. On the tragic day of March 1, 1963, Gilbert made the decision to end his life. While at home that day, at 5 p.m., he placed a .30 caliber rifle to his head and pulled the trigger. Burial was in Westmoreland Memorial Park.
~ Rachel's Stepson Walter M. Wilkins ~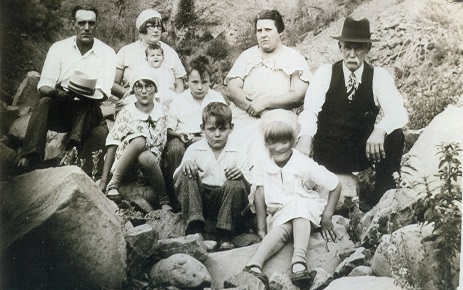 Walter (far right) and family in Washington in late 1920s or early '30s. L-R: adults Scott Wilkins, Martha Stewart (holding baby Anita), Lillian "May" Wilkins, Walter Wilkins. Children L-R: Mabel Stewart, Arthur & Blaine Wilkins; Clara Stewart.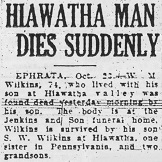 Obituary, 1939
Stepson Walter M. Wilkins (1866-1939) was born in 1866 in Somerset County, PA, the son of John and Sarah Sabina (Weimer) Wilkins. He was age 17 when his mother died in 1883.
He married Mary "Anne" Phillippi (1871-1920), daughter of David and Martha Elizabeth (Cupp) Phillippi. Their three children were Dora E. Mickey, Scott Wilkins and Martha Blanche Stewart.
In about 1910, after Walter's brother-in-law Leonidas S. "Leon" Phillippi migrated to Washington State to seek better fortune, Walter and Anne decided to do likewise. They and their married daughter and husband Dora and H.O. Mickey arrived in Wenatchee in March 1910, on the No. 1 train from Casselman. Reported the Wenatchee Daily World, they were "the guests of L.S. Phillippi. The new arrivals expect to locate here."
The move helped trigger a small migration, as son Scott's best friend and step-nephew Alfred Arthur Younkin and wife Lillian also made the journey at some point. Scott and Alf tried to found an apple orchard near Moses Lake, but the soil was too dry. Later, they found better success in Wenatchee, Chelan County.
Anne died in Wenatchee at the age of 49 on Nov. 12, 1920, at the home of her daughter Dora Mickey near the north end of the Wenatchee River Bridge. A newspaper said she was a native of Pennsylvania and "had been ill for several weeks." Rev. Robert Warner and Rev. H.A. Rasten officiated at the funeral service, followed by interment in the Wenatchee Cemetery.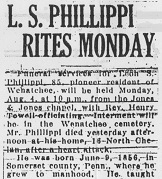 Obituary, 1941
Walter passed at the age of 73 at Hiawatha near Moses Lake, Grant County, WA on Oct. 22, 1939. His body was found in a small shack where he lived with his son. [Find-a-Grave]
Walter's brother-in-law Leonidas S. "Leon" Phillippi (1856-1941) was born on June 9, 1856 in Somerset County, the son of David and Hester (Cupp) Phillippi. As a young man, he migrated to Kansas, where he earned a meager living teaching school. In 1876, at the age of 20, he married Amanda Brougher ( ? -1928) at Hiawatha, KS. Their six children were Arthur Bruce Phillippi, Ross L. Phillippi, Ira L. Phillippi, Ida Mishler, Minnie Maud Sperline and Mrs. Ernest McMillan. They later relocated to Nebraska and in 1901 moved further west to the fertile lands of Burch Flats near Wenatchee, Chelan County, WA. They planted one of the first orchards near what became Euclid Avenue in Wenatchee. Leon also bought two lots along Chelan and Popular Streets in 1907 for the princely sum of $650. A Wenatchee Daily World article in June 1906 reported that "The first peaches of the season were brought to town by L.L. Phillippi last Saturday. They are a cling stone variety, and were grown on [his] ranch on Birch [sic] Flat." The ranch also was blessed with bountiful amounts of blackberries. He also had a skill in masonry, as the Daily World noted on June 14, 1906 that he was "able to be back at work on the Mecutel building after a week's lay-off." He also helped to build a cellar at the Jaunita ranch in 1906, with Mr. Staples hauling in the stone. In September 1907, said the Daily World, he left "for a visit to the home of his boyhood in Pennsylvania." After decades of fruit growing, Leon and Amanda moved in about 1921 to 16 North Chelan Street and were members of the Church of Christ. Sadly, Amanda passed away in 1928. Leon survived her by 13 years. He joined her in death after suffering a heart attack on Aug. 1, 1941. At the funeral, six of his grandsons were pallbearers -- George W. Sperline, Eldon Sperline, Donald Sperline, Calvin Sperline, Howard Phillippi and Arthur Phillippi Jr. A newspaper noted that he was survived by 23 grandchildren and 30 great-grandchildren.

Burch Flats near Wenatchee
Granddaughter Florence Phillippi ( ? - ? ) was born in (?). As a young woman living in Burch Flat, she was considered "one of the popular ladies of that section." In February 1907, in Spokane, WA, Florence married Ernest McMillan ( ? - ? ). Said the Wenatchee Daily World, "Mr. McMillen is a resident of Sunnyslope Farms, and is one of the well-known and popular young men among his acquaintances." The newlyweds immediately relocated to Montana where Ernest held a job in a small town. Later, they returned to Sunnyslope and were living there in the early 1940s.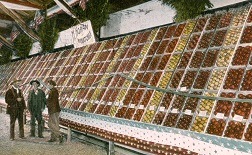 National Apple Show in Wenatchee
Grandson Ross L. Phillippi attended a major display in Seattle in June 1908. He described what he saw in a letter to the Daily World, which read: "The Great Northern Express office on Second Avenue has its windows decorated with Wenatchee literature, fruit and a number of gold medals awarded to Chelan county at different fairs. The apples are very fine, and the literature is some of that put out by the Wenatchee Commercial club. The windows are the prettiest in the street and are causing much comment." In September 1908, he began employment as a sales representative for the produce firm of Elrath & Radley Company, and a portion of his territory was in Seattle. He dwelled in Portland, OR in 1941.
Grandson Ira L. Phillippi (1896- ? ) was born in about 1896. At the age of 10, in September 1906, while hunting on the H.R. Scheldnecht farm, he was accidentally wounded from a .22 caliber rifle shot by the hand of 14-year-old friend Walter Fry. Reported the Wenatchee Daily World, "The bullet entered the lad's body about three inches below the heart and inflicted a serious but it is believed not fatal wound. Dr. King who was called immediately after the shooting dressed the wound. He states that if the boy gets along alright for the next twelve hours he will recover.... He did not attempt to remove the bullet which it is believed did not penetrate far.... The shooting was entirely accidental and no blame other than carelessness can be placed on Walter Fry." In 1941, Ira lived in Ardenvoir, WA.
Granddaughter Ida Phillippi married Hiram Mishler. She resided in Sabetha, KS in 1910-1941. They also owned 80 acres of land near Moses Lake and at one time considered relocating there. They are known to have visited with Ida's father at Burch Flat in September 1910.
Granddaughter Minnie Maud Phillippi married John C. Sperline. Their home in 1941 was in East Wenatchee. They had at least four sons -- George W. Sperline, Eldon Sperline, Donald Sperline and Calvin Sperline.
~ Samuel Gerhart's Andersonville Legacy ~
Samuel Gerhart's legacy might today be otherwise forgotten, but for the heroic private action of an Andersonville POW named Dorrence Atwater. It was Atwater's job at the camp to keep an official list of the 13,000 names of the dead and their precise burial sites which were in very shallow trenches. Despite the extreme conditions, he managed to maintain a secret duplicate copy which he stored in the lining of his coat. Wrote famed Civil War nurse and American Red Cross founder Clara Barton, "Day by day he watched the long trenches fill with the naked skeletons of the once sturdy Union Blue, -- the pride of the American Armies, -- and day by day, he traced no the great brown pages of his Confederate sheet record, the last, and all that was ever to be known of the brave dead sleepers in their crowded, coffinless beds, -- the name, company, regiment, disease, date of death, and number of grave."
At the war's end, he shared the list with Barton who in turn advised the Secretary of War. At his order, Atwater, Barton, Army Assistant Quartermaster James Moore and a team of painters and carpenters traveled to the prison site in the heat of the Georgia summer, exhuming the bodies, placing them in proper caskets, reburying them in deeper graves and conducting Christian funeral services. Each grave was marked with headboards, and she wrote dozens of letters to grieving families to let them know of their soldier's fate. With the project complete, a dedication ceremony was held on Aug. 17, 1865, where she was invited to raise the American flag. She wrote: "Then I saw the little graves marked, blessed them for the heartbroken mother in the old Northern home, raised over them the flag they loved, and died for, and left them to their rest. And there they lie to-night, apart from all they loved, but mighty in their silence, teaching the world a lesson of human cruely it had never learned...."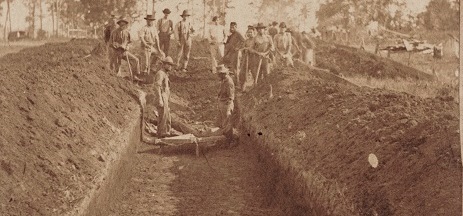 Above: proper reburials of the dead at Andersonville after the war's end. A.J. Riddle, Library of Congress. Below: Clara Barton at the dedication of the cemetery in August 1865. Harper's Weekly, Oct. 7, 1865.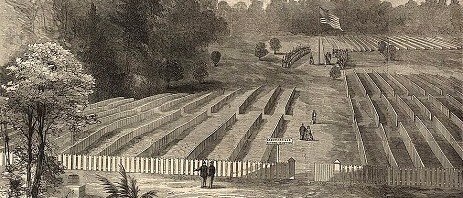 Copyright © 1996, 2000, 2006-2007, 2013, 2015-2017, 2019-2020 Mark A. Miner
This biography is adapted from the article, "Whispers of the Silence and the Slow Time," in the April, May, June 1996 edition of the Younkin Family News Bulletin, by Mark A. Miner, and published by Donna Younkin Logan. Walter Wilkins photo and obits courtesy Janet Barber