Mary 'Polly' (Younkin) Knable
(1821-1896)
Mary "Polly" (Younkin) Weimer was born on or about March 12, 1821 in Somerset County, PA, the daughter of Henry and Elizabeth "Betsy" (Weimer) Younkin.
On July 28, 1840, at the age of 19, she married 26-year-old Major John Knable (1814-1895), son of Leonard Knable and a native of Burnt Cabins/McConnellsburg, Fulton County. As a boy, John relocated to Somerset County where his father ran a hotel on the Mud Pike in New Centerville.
Polly and John produced five offspring -- Martha A. Knable, Walter W. Knable, Mary E. Colborn, John Parker Knable and Ida Belle Hoblitzel.
Two years into the marriage, John acquired a mercantile firm owned by Simon Gebhart in Gebhartsburg. He sold his share of the firm to a business partner in 1854 and moved into Somerset. There, he along with Michael A. Sanner bought out Cyrus Benford, co-owner of the Sanner & Benford store. John was politically active and in 1846 was appointed with John Bell and Simon Gebhart to meet with other political delegates in Fayette and Greene Counties "to put in nomination a suitable person for Congress, and that they have power to fill vacancies," reported the Somerset Herald.
With an eye toward even more growth, he sold his interest in the Sanner & Benford store and relocated to Pittsburgh in 1866, at a time of national promise following the end of the Civil War. He joined a partnership with Capt. John H. Boyts and William Ogden to sell queensware, a type of fine Wedgwood pottery that was cream in coloring.
Pittsburgh, as sketched in Gleason's Pictorial Drawing-Room Companion, 1853, about a decade before the Knables relocated there to sell Wedgwood pottery.
After three years, however, John sold his interest to William N. Ogden and they moved back to Somerset where John operated a railroad supply store in Ursina. In 1871, he bought out the assets of Michael A. Sanner of the Sanner & Patton business and operated it for a year until destroyed by the Great Fire of 1872.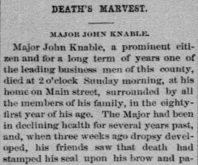 Somerset Herald, 1895
Library of Congress
Not to be laid low by the fire damage, John constructed a new residence "on the site of his old home, [which] is far handsomer and more beautiful than the old one," reported the Herald in October 1872. "In a few days it will be reading for plastering.... On all sides and on every hand can be heard the busy click of the stone dresser's chisel, the ringing sound of the bricklayer's trowel, and the busy rap-rap of the carpenter's hatchet. Our town, as if by magic, is on all sides becoming more elegant, more beautiful in appearance."
They were members of the Reformed Church. In November 1876, at the Fourth Annual Fair of the Somerset County Agricultural Society, Polly was honored for her knit stockings, grape jelly and tomato jelly, while daughter Martha was cited for her siberian crab jelly and pickles, and daughter Ida for her apple jelly.
John retired after the 1872 fire and became a partner in the Somerset Foundry Company, which went out of business when a fire again struck Somerset in 1876. After retiring for two years, John in 1878 went back into business as a partner in the mercantile firm of A.J. Casebeer & Co., and was in operation until Casebeer's death in 1883, at which time he retired for good.
John passed away in Somerset in August 1895, with the Herald saying that "In his long business career and residence in this place, Major Knable won and retained the confidence and respect of all of our people."
Polly joined him in death seven months later on March 2, 1876. [Find-a-Grave]

Skyline of Somerset, PA, circa 1884
~ Daughter Martha A. Knable ~
Daughter Martha A. Knable (1842-1917) was born on Feb. 17, 1842. Unmarried at age 27, in 1870, she lived at home with her parents in Somerset. She never married and spent her life as a housekeeper.
She also is believed to have assisted her brother Walter in his insurance business in Somerset in the 1890s.
Stricken with cancer of the bowels and stomach, she died at age 74 on Jan. 19, 1917. Her brother in law L.C. Colborn was the informant for the official Pennsylvania certificate of death. she was placed into eternal rest in the Union Cemetery.
~ Son Walter William Knable ~
Son Walter William Knable (1845-1916) was born on Tuesday, Dec. 7, 1846 in Gebharts, Somerset County. He never married.
In 1894, residing in Johnstown, Cambria County, he was employed as a mail agent on the Somerset and Cambria Railroad, part of the larger Baltimore and Ohio Railroad.
At the age of 50, in May 1895, Walter announced his resignation from the B&O so he could relocate back to Somerset and launch a fire insurance agency. In announcing this move, the Pittsburgh Daily Post said he was "one of the oldest mail agents" on the B&O. He then acquired the "pretty cottage home" of P.A. Schell on the corner of South and East Streets in Somerset, which was "fitted up with hot water heat and sanitary plumbing and is one of the most conveniently arranged residences in town," said the Somerset Herald.
Five days after his 70th birthday, on Dec. 12, 1916, he died of heart valve problems. Interment was in Union Cemetery in Somerset.
~ Daughter Mary (Knable) Colborn ~
Daughter Mary K. Knable (1849-1916) was born on Oct. 21, 1849 in Milford Township, Somerset County.
She was wedded to Lewis C. Colborn ( ? - ? ) and dwelled for decades in in Somerset. They are believed to have had at least three children, John A. Colborn, Louise Mason and Eleanor DeLong.
Sadly, at the age of 66, Mary contracted the "grippe" and angina pectoris and died on Jan. 14, 1916. She was laid to eternal repose in Union Cemetery.
Son John A. Colborn was employed circa 1916-1923 in the War Department in Washington, DC. In August 1923, he received a telegram that his cousin Walter K. Hoblitzell had died in Somerset, and he took a train there for the funeral. While in Somerset, he then went to Meyersdale "to see the Harding funeral train pass through," said the Meyersdale Republican.
Daughter Louise Colborn (1880-1963) was born in 1880. She married (?) Mason ( ? - ? ) but the couple eventually divorced. Louise was a longtime nurse in Somerset and retired from this work. In her later years she shared a home with her sister Eleanor DeLong at 166 East Patriot Street in Somerset. She was felled by a stroke or brain bleed of some sort and passed away at age 83 on Sept. 22, 1963. Her remains were placed into rest in Union Cemetery.
Daughter Eleanor Colborn ( ? - ? ) was wedded to Howard H. DeLong (1879-1958), son of Adam and Caroline (Hoch) DeLong of Berks County, PA. They lived in Somerset for decades at 166 East Patriot Street. Howard was principle of Somerset High School Circa 1935, she corresponded with Charles Arthur "Charleroi Charley" Younkin, organizer of the Younkin National Home-coming Reunion to share information about her branch of the family. Writing to a cousin in Johnstown, PA, Charley said: "Have you ever heard of Mary Younkin? Who was married to Maj. John Knable from near Somerset. Have just come in contact with a granddaughter Mrs. H.H. DeLong of Somerset, and who happens to be regent of D.A.R. Forbes Road Chapter. I am very sure she will be a valuable asset to our association but she is unable to give me any information as to which branch her grandmother is from." Suffering at age 79 from cancer of his digestive system, which spread throughout his body, Howard succumbed on June 19, 1958. Interment was in Union Cemetery in Somerset.
~ Son John Parker Knable ~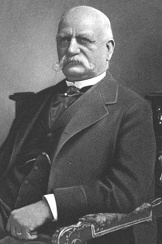 John P.'s father in law and
investor, Col. G.W. Elkins
Courtesy Google Books
Son John Parker Knable (1858-1931) was born on April 22, 1858 in Somerset, Somerset County. He would have been a boy of eight when he and his parents and siblings moved in 1866 into the "Iron City" of Pittsburgh, where his father established a prominent business selling creamware.
In about 1888, when John was age 28, he married 23-year-old Suzanne E. "Susan" Elkins (1865-1934), daughter of Col. George Washington and Elizabeth Victoreen (Hogerbets) Elkins and a native of Philadelphia.
Susan's parents resided on 44th Street in Pittsburgh, and then on North Highland Avenue, where her father was president of the Consolidated Traction Company of Pittsburgh and a director of Freehold Bank. Susan was a member of the Daughters of the American Revolution (No. 36480) based upon the service of her ancestor Silas Herkes of the Montgomery County (PA) Militia.
They had one son, George Elkins Knable, born in August 1889.
In the early 1890s, their home was in Pittsburgh, where, following in his father's footsteps, he was a partner with Frank B. Cooper in the dry goods store of Knable & Cooper at 35 Fifth Avenue. They formed the business when buying out the assets of Folwell Bros. & Co. Firm advertising in the Pittsburgh Daily Post shows that they sold imported clothing, including all sorts of fabric dresses and suits.
The entrepreneurs' timing was not good as in 1893 the nation entered one its worst economic depressions which caused many shoppers to severely cut back their buying. The firm foundered on hard times in 1894 and in February was shuttered with debt in the amount of $30,000, much of it lent by John's father in law.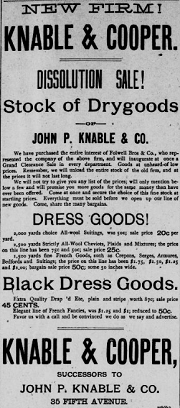 Pittsburg Dispatch, 1892
Library of Congress
Reported the Somerset Herald, "The failure, it was stated, was due to the business depression. Large rents were to pay and heavy expenses, with no customers coming in. The result was they could not meet their liabilities." They worked through the bankruptcy and remained in Pittsburgh, with John pursuing a career in advertising.
The 1900 and 1910 federal censuses show the family residing on Ellsworth Avenue in Shadyside, with John employed as an advertising agent. To escape the hot summer heat of August, the Knables enjoyed getting out of the city and relaxing at the Bedford Springs Hotel or the Thousand Lakes of Alexandria Bay, NY, where they enjoyed watching hydroplane races. They often attended performances of the Pittsburgh Opera, in the private box of Susan's father, and it would not have been unusual to see among the other attendees the likes of industrialists George Westinghouse, Henry W. Oliver and the Thaws.
When traveling to New York, he made it a point to stay at the Waldorf Astoria Hotel. In 1910, Susan received a bequest of $25,000 -- "for her kindness and attention to me" -- from the $2 million estate of her late aunt, Louisa B. Elkins, widow of William L. Elkins, magnate of the Philadelphia Traction Company.
Susan is known to have been against the movement to give women the right to vote and was a member of the Pittsburgh Association Opposed to Woman Suffrage. In fact, she attended a rally in Somerset in July 1916 and made a speech along with Mrs. John Brown Heron, Mrs. James Hay Reed and Mrs. Mary McCullough. Reported the Pittsburgh Gazette Times, "Both the suffragists and their opponents will canvass the country fairs throughout the state during this year."
Circa 1919, they and their son were named in the Summer Social Register of Pittsburgh. Over the years, the couple summered in Spring Lake, NJ and New London, CT, staying at the Griswold Hotel. In their final years, the couple spent the balance of their year in Pittsburgh in their home in the Schenley Apartments.
At his death at the age of 73, on Sept. 20, 1931, due to kidney and heart affliction, John was considered a "prominent Pittsburg business man." Burial was in Homewood Cemetery, with son Elkins serving as the informant for the death certificate.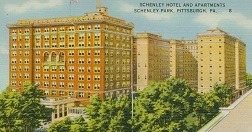 Schenley Apartments - Minerd.com Archives
Susan passed away three years later on Feb. 27, 1934, having suffered a fatal stroke while at home. She joined her husband in eternal repose in Homewood Cemetery.
The Knables are named in Josiah Granville Leach's rare 1898 book of only 200 copies, Genealogical and Biographical Memorials of the Reading, Howell, Yerkes, Watts, Latham, and Elkins Families, where the maiden name of John's mother was spelled "Yuncan." Susan also is named in a chapter about her father in George Thornton Fleming's History of Pittsburgh and Environs.
Son Col. George "Elkins" Knable (1889-1970) was born on Aug. 31, 1889 in Pittsburgh. He attended preparatory school at St. Paul's in Concord, NH and later received his undergraduate degree in 1912 from Yale University. Upon returning to Pittsburgh, he lived at 124 Prospect Street. He began employment in 1912 as a metallurgist with Carnegie Illinois Steel -- a division of United States Steel -- and eventually became a personal services coordinator with the company. During World War I, he served as a captain with the U.S. Army's American Expeditionary Force (AEF), attaining the rank of captain, remaining there until retirement in 1954. He was married at least twice. His first wife was Elizabeth Burdick ( ? - ? ), daughter of Joel Wakeman and Ella (Bartlett) Burdick of Pittsburgh. Their engagement was announced in the Pittsburgh Post-Gazette and in an October 1921 issue of Gossip, the international journal of society. On Oct. 21, 1922, they were wed in the chapel of Calvary Protestant Episcopal Church, where they were members. Bridesmaids included Margaret Ralston Crabbe, Frances B. Burdick and Ada Campbell Simpson, and groomsmen were Col. Charles M. Steese, Frederick G. Blackburn, Joseph Buffington Jr., James Sidney Hammond and Charles Edward Magrane. For their honeymoon, the couple traveled around the world, reported the Pittsburgh Post-Gazette. The couple produced three known children -- Elizabeth Winsor Knable, John Parker Knable II and George "Elkins" Knable Jr. The Knables were listed in the Pittsburgh Blue Book and occasionally named in newspaper articles about society doings. Elkins belonged to the Duquesne Club, Longue Vue Country Club Army and Navy Club, Yale Club of Pittsburgh and was a trustee of Homewood Cemetery. Also active in the community, Elizabeth belonged to the Twentieth Century Club and served as general chair of the annual fundraising bazaar of St. Anne's Guild of the Calvary Church and was active with the Women's Auxiliary Board of the Kingsley Association. Within a few weeks of the Pearl Harbor attack and the nation's entry into World War II, Elkins took a leave of absence from U.S. Steel to serve with the Pittsburgh Ordnance District Office. He then was called to Washington DC where he received the rank of colonel and worked with the Ordnance Department Ferrous Metallurgical Advisory Board. Sadly, Elizabeth passed away on July 21, 1965. Elkins only remained a widower for four months. On Nov. 17, 1965, in the Circuit Court in Harrisville, Ritchie County, WV, and at the age of 76, he married again, to 67-year-old Mary Ellen Egan (1896- ? ), daughter of Daniel F. and Kathryn (Callan) Egan of Whitingsville, MA. Judge Max DeBerry officiated the civil ceremony. At the time of marriage, Mary Ellen lived at 5700 Central Avenue in Pittsburgh. They were together for five years. He died at the age of 80 on June 5, 1970 with burial in Homewood Cemetery. Newspapers reported that he had left an estate valued at $2.2 million, mostly in stocks, including shares of Standard Oil Company.
Granddaughter Elizabeth Winsor Knable (1936-2006) was born on Oct. 17, 1936. She never married. Elizabeth resided in her parents' home at 614 Amberson. She passed away on Nov. 14, 2006, at the age of 70, with funeral services held in Trinity Episcopal Church, and a short death notice in the Pittsburgh Post-Gazette.
Grandson John Parker "Jack" Knable II ( ? -2015) was born in (?). He studied at Shady Side Academy in Pittsburgh before attending Yale. He resided in Detroit in 1965 and later in Potomac, MD and married Cynthia B. (?). The couple produced three children -- John Parker Knable III, Geoffrey L. Knable and Eliza K. Jamison. Sadly, John died suddenly on May 3, 2015 in Frederick, MD. His remains were returned to Pittsburgh for interment in Homewood Cemetery, and a death notice was printed in the Washington Post.
~ Daughter Ida Belle (Knable) Hoblitzell ~
Daughter Ida Belle Knable (1862-1931) was born on July 25, 1862 in Somerset County.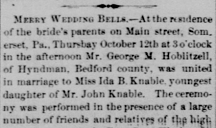 Somerset Herald, 1882
Library of Congress
On Oct. 12, 1882, at the age of 20, Ida Belle was united in marriage with 20-year-old George M. Hoblitzell (1862-1904) of Hyndman, Bedford County and the son of James Jacob and Julia K. (Hartzell) Hoblitzell.
The ceremony, held at the home of Ida's parents on Main Street in Somerset, was "performed in the presence of a large number of friends and relatives of the high contracting parties by Rev. C.A. Kleeberger of Johnstown," said the Herald. "After the ceremony the assembled guests sat down to a 'feast fit for Kings' and joined in the merry festivities of the occasion until five o'clock, when the happy young couple were escorted to the depot by a party of their most intimate friends where they took passage on the west bound train for an extended wedding tour. The bride is one of the fairest of Somerset's many fair daughters and is universally loved and esteemed. The groom is a thriving young business man and a most estimable gentleman."
They produced one son, Walter Knable Hoblitzell.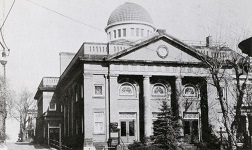 First Christian Church, Somerset
Ida was a member of the First Christian Church of Somerset and George of the Hyndman Methodist Episcopal Church, where he served as a trustee and steward. He owned and operated a general mercantile store in Hyndman. He and his father and brother also had investment interests in the Savage Fire-Brick Company of Johnstown, as did Senator J.S. Weller, comprised of three brick plants, a large network of clay mines and some 3,000 acres of land.
In March 1897, he and 26 other local business men and judges traveled by Pullman car to Washington DC to witness the inauguration of President William McKinley. In 1902, the Savage Fire Brick business was sold to investors from Pittsburgh and Johnstown for the reported price of $250,000.
Circa 1903-1904, he was part owner and general manager of stores at the Hyndman, Williams and Keystone Junction.
Heartache rocked the family when George died in Jan. 1904 at the age of 41. The Pittsburgh Press obituary ran an obituary.
As a widow, Ida and her son returned to Somerset, making their home on South Kimberly Avenue. She joined the board of the First Christian Church.
Ida suffered from diabetes in her final years and died at age 69 just two days after Christmas 1931. Reported the Meyersdale Republican, "Her health had been impaired for several years and her death was not unexpected." H.H. DeLong of Somerset signed her death certificate. Burial was in Union Cemetery following funeral services officiated by Rev. J.F. Messenger.
Son Walter Knable Hoblitzell (1885-1923) was born on Feb. 15, 1885. He was married to Marjorie (1895- ? ). Their two children were Ida Belle Hoblitzell and George Hoblitzell. After his father's death in 1904, he lived in Hyndman and purchased property on East Second Street in New York City. Evidence suggests that he resided in Baltimore in 1910 and in Cumberland, MD at other times. He was in poor health for the last few years of his life. He was admitted to a hospital in Baltimore, MD, where he died at the age of 38 on Aug. 2, 1923. His remains were brought back to Somerset County for funeral services in his mother's home and to be placed into rest in the family plot in Union Cemetery. Rev. J.C. Crowe officiated. His cousins John Colborn and Howard and Eleanor Colborn traveled to attend the funeral. An obituary was printed in the Cumberland Evening News and the Meyersdale Republican. The widowed Marjorie and the children were taken in by a loving, widowed aunt, Lydia Buzzard, who lived in Cumberland. The family is shown in the Buzzard household in Cumberland in the 1930 federal census enumeration. Marjorie's address in 1941-1974 was 421 Beall Street in Cumberland. She passed away at the age of 83 in October 1974. A funeral mass was sung at the SS Peter and Paul Catholic Church, with interment in the parish burying ground. A short obituary appeared in the Cumberland News.
Granddaughter Ida Belle Hoblitzell (1920- ? ) was born in about 1920 and was named for her maternal grandmother. She was only three years of age when her father died. She grew up in the home of her mother's aunt in Cumberland. In Sept. 1941, at the age of 21, she graduated from Providence School of Nursing in Washington, DC.
Grandson George D. Hoblitzell (1921- ? ) was born in about 1921. He grew to manhood in Cumberland and, in 1952, was employed as a fire truck driver and pipe man at the city's South End Station. Circa 1972, he shared a home with his mother's half-sister, Mary J. Routzahn.
Copyright © 2016, 2019 Mark A. Miner
Research for this page graciously shared by the late Donna (Younkin) Logan.