Home

Balaam Younkin (1836-1921)
and Amanda King (1839-1890)
and Barbara Ellen Dull (1852-1938)

Balaam Younkin
Balaam "Baley" Younkin was born on Valentine's Day 1836 near Ursina, Somerset County, PA, the son of Jacob J. "Dorcas Jake" and Dorcas (Hartzell) Younkin. A veteran of the Civil War, he was twice married, both times to cousins on the Younkin side of the family.
As a young man, Balaam labored as a farmer and resided in Harnedsville, Somerset County.
At the age of 22, Balaam married his first wife, 19-year-old cousin Amanda King (1839-1890), daughter of Thomas and Barbara (Younkin) King and granddaughter of Jacob and Sarah "Salome" (Weimer) Younkin Jr. They were wed at the Lower Turkeyfoot Township home of the bride's parents in August 1858, by justice of the peace Thomas Hanna.
Balaam stood five feet, eight inches tall, with a dark complexion, dark eyes and black hair.
Balaam's signature
The Younkins produced seven children -- Barbara Ellen Cunningham, Sarah Lavenia Younkin, Arvilla Younkin, Harvey G. Younkin, Ida Mae Younkin, Mary Ann "Mollie" Lenhart and Irena "Gertrude" Beynon Fisher. Sadly, daughter Arvilla Younkin (1866-1867) just two days before Christmas, on Dec. 23, 1867, at the age of one.
During the Civil War, Balaam was drafted into the army and enrolled on Oct. 24, 1862. He was placed with the rank of private into the 171st Pennsylvania Infantry, Company K. Among the other members of his regiment were Younkin cousins Henry A. Miner, Herman Phillippi and Charles Rose.
He is not believed to have seen any action and was honorably discharged from the army nine-plus months later in Harrisburg, PA on Aug. 6, 1863.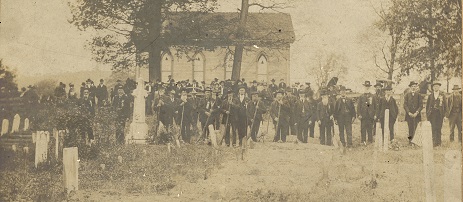 Balaam Younkin among these old Civil War veterans, photographed at the Jersey Baptist Church Cemetery near Ursina, PA. Below, he stands 8th from left.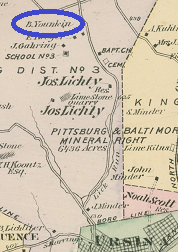 Balaam's farm, 1876, near the
Jersey Church and north of Ursina
After the war, Balaam and Amanda resided for six years in Upper Turkeyfoot, and then relocated to rural Lower Turkeyfoot Township, near Harnedsville. There, they remained for more than three decades, and owned six-acre and nine-acre parcels of ground in the Jersey Settlement near Ursina.

Balaam held an account at the John McMillan tannery in Listonville, and entries from the years 1844 to 1849 are recorded in the tannery's business ledger which is preserved today. The entries read as follow:

...a CS weight 3Ό lbs at $1.00, cost $3.12 ½, Aug. 9, 1865 – a side of up at 85 cents, cost $4.46, Nov. 13, 1865 – a Qr of SL weight 7½ at 45, cost $3.37, Dec. 21, 1867 – a Qr of up weight 4Ό at 65, cost $2.82, Feb. 22, 1868 – a C Sat, cost $4.75, Dec. 5, 1868 – a Qr of up weight 8½ at 85, $2.97½, Jan. 21, 1869 – sawing bill, cost $11.75.
In February 1883, she obtained a mortgage from the trustees of the Turkeyfoot Baptist Church, otherwise known as the Jersey Baptist Church, apparently for the purchase of a 30-acre tract. At some point, Balaam borrowed $2,022.68 from her and, in 1891, not having repaid the loan, was sued by Amanda to force the issue. After Amanda's death, still not satisfying his obligations, he agreed to convey the title of his homestead farm to his children and grandchildren. In doing so, he retained the right to "cut and remove any fall crop from the 36 acres & 86 perches in the summer of 1891." In turn, it was recommended to the orphan's court that the acreage be sold to the church trustees to satisfy the debt owed to them. At the time, in addition to Balaam, the trustees included A.J. Moore, Z.L. Tannehill, Samuel Minder, LeRoy Forquer (of the family of Christina [Younkin] Dull) and William R. Thomas.

Her death occurred on April 12, 1890, at the age of 50. Because her children Mary and Gertie were underage at the time, their older brother Harvey G. Younkin was named as their legal guardian.
Balaam later became the fourth husband of another distant cousin, Barbara Ellen Dull, daughter of Frederick and Margaret "Peggy" (Faidley) Dull, and granddaughter of George and Christina (Younkin) Dull. They were wed in the mid-1890s though apparently they repeated the ceremony when eloping to Cumberland, Allegany County, MD, on Feb. 25, 1901, where they were wed by the hand of Otto Rappalt. The marriage was a disaster, and they later divorced.
When Balaam's daughter Mollie gave birth to a son out of wedlock in 1898, Balaam made arrangements to help care for and raise the boy and was a significant influence on the lad. With Younkin genes from both of his grandparents, the lad grew up to become a noted school teacher and congressional candidate and became the first and only president of the Younkin National Home-coming Reunion.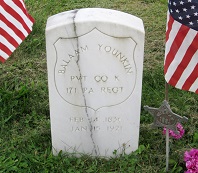 Balaam's grave, Jersey Church
In the 1890s, Balaam suffered from rheumatism, jaundice, failing vision of both eyes and heart disease, which he claimed were results of his military service. He applied for a military pension as compensation for his wartime service, writing: "Suffer pain so that I can't get up at times for 8 or 10 days." The application was approved, ,and he began receiving $12 in monthly payments. [App. #853.093 - Cert. #584.405]
Having spent 32 years as a farmer in Lower Turkeyfoot Township, Balaam moved into the borough of Ursina in 1901, at the age of 65. He received monthly federal pension payments of $150 up to the time of his death.
In May 1912, when the new First Baptist Church of Confluence -- nicknamed the "Mountain Chapel" -- was dedicated, Balaam made a donation so that a stained glass window could be named in memory of his first wife Amanda. It extended from floor to ceiling, with Mr. and Mrs. Hulda Mountain and Mrs. Alfred King also named in memoriam. Other memorial windows in the sanctuary honor Lucinda (Sweitzer) Younkin, Jehu and Mary Ann (Ream) McMillan of the family of Samuel W. Ream, Mary A. Brooks (Harned) Forquer (first wife of LeRoy Forquer of the family of Frederick Dull), Ruth Rush, Mr. and Mrs. N.B. Critchfield, Rev. and Mrs. J.R. Brown, Rev. and Mars. W.P. Fortney and daughter Ruth, Almira Lenhart, Mr. and Mrs. Noah Bird, Ella Bird and Mr. and Mrs. Eli Osler. In describing the dedication, the May 9, 1912 edition of the Meyersdale Republican reported: "The church is a neat building with cut-stone foundation, the latter being high enough over ground to give a commodious basement where the heating apparatus is located, and this basement can be finished for class rooms or other purposes, should the growth of the congregation require it. The style of architecture is Gothic, the walls being of opressed brick of a light neutral color; the gables are of concrete, with slated roof. The exterior of the building, while neither imposing nor massive, has an air of cozy comfort and refinement about it that cannot fail to please.... The pews, doors and finish are of quartered oak, frescoed walls and ceilings done in panel work, the latter being of light tint, with the light softened through windows of stained glass, make a pleasing effect that must be seen to be appreciated."
Balaam was afflicted with a strangulated hernia and passed away on Jan. 15, 1921 in Frantz Hospital, Ursina, at the age of 84. He was laid to rest in the Jersey Baptist Church Cemetery, following a funeral service preached by Rev. R.B. Dunmire of nearby Ohio Pyle, Fayette County. His brother Colwell served as executor of the estate. Some of his children received a token dollar of inheritance, while others were bequeathed more substantial sums. Grandson Otto Roosevelt "Pete" Younkin received $100, and he earned another $10 for digging the grave.
Balaam's grave was not marked for decades.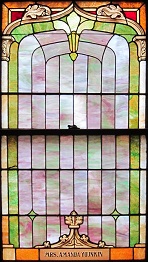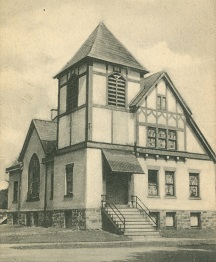 Stained glass memorial window in the Turkeyfoot Valley Baptist Church, Confluence, in memory of Amanda (King) Younkin

~ Daughter Barbara "Ellen" (Younkin) Cunningham ~
Daughter Barbara "Ellen" Younkin (1858-1894) was born on (?) 25, 1858.

She married widower and Irish immigrant Michael J. Cunningham (1844-1909), who had come from the Old Country at the age of 17, and was the son of John and Bridget Cunningham.
They had four children -- Agnes M. McDermott, Michael J. Cunningham, Joseph P. Cunningham and Cora Amanda Cunningham.
They lived in Connellsville, Fayette County, PA. Upon arriving in America in 1861, Michael secured a job in New York as a railroad construction foreman. His first wife was (?) Shay, who died young, but in their brief marriage are thought to have had these children -- John D. Cunningham, James Cunningham and Mary Ellen Extine.
In about 1874, he relocated to Connellsville, employed by the Baltimore and Ohio Railroad. The Connellsville Daily Courier once said that he was "one of the oldest road foremen on the Pittsburg Division" of the B&O and "was well known in railroad circles and was held in the highest esteem by his many friends." They were members of the Immaculate Conception Church, which may have rankled Ellen's Baptist family.
Sadly, Ellen died Dec. 17, 1894, at the age of 36. The children were appointed Michael Cunningham as their guardian, and at the death of their grandmother Amanda Younkin, were entitled to receive an inheritance.
Michael survived his wife by 15 years, living under the roofs of his adult children. After 18 months of suffering from chronic kidney disease and hardening of the arteries, he resigned his position with the B&O in September 1908 and died six months later, on April 1, 1909. Death occurred in the home of his married daughter Agnes McDermott. Interment was in St. Joseph Cemetery. At his death, he left a will providing bequeaths of money from IOUs owed by a married daughter and her husband. Funeral expenses were paid by the B&O Relief Department.

B&O yards at Connellsville where Michael Cunningham worked
Daughter Agnes M. Cunningham (1880-1913) was born on Sept. 27, 1880 in Connellsville. She wed James McDermott (1878-1955), son of railroader John McDermott of West Apple Street in Connellsville. The couple was wed on July 22, 1907 at the Immaculate Conception Church in Connellsville, officiated by Rev. Fr. J.T. Burns. In reporting on the marriage, the Connellsville Daily Courier noted that they were "a well known young couple of town." James worked at the McGrath machine shop in Connellsville. They had three children -- Regis McDermott, Catherine Malone and Dorothy Luckey. At some point the young couple borrowed $800 from Agnes' father, and when it remained un-repaid at the father's death in 1909, James was named executor of the estate and thus was in the awkward position of repaying a debt to himself. Said the Daily Courier, "That only friendly relations existed in the family is shown in the appointment...." Their home was at at 404 East Washington Avenue in Connellsville. Tragically, Agnes became afflicted with tuberculosis meningitis in the spring of 1913, when she was only 32 years of age. She died shortly after her diagnosis on May 2, 1913. Burial was in the St. Joseph Cemetery. James lived another four-plus decades after Agnes' passing. He migrated to Montana, making his home in Havre, Hill County. He died there at age 77 on March 19, 1955, and was laid to rest in Havre.
Son Michael J. Cunningham Jr. (1885-1918) was born on Jan. 26, 1885 in Connellsville. As a young adult in Connellsville, he worked for Fred Robbins at the Soisson Theatre. Later, he earned a living as a machinist for the Baltimore and Ohio Railroad. He apparently never married. Stricken with pneumonia and influenza in the fall of 1918, he died on Oct. 20, 1918 at the age of 33. His remains were laid to rest in the St. Joseph Cemetery in Connellsville, following funeral services at the home of his sister Agnes McDermott.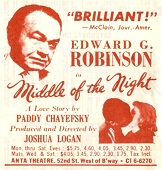 Broadway show where Joseph
Cunningham managed scenery
Son Joseph P. Cunningham (1889- ? ) was born in January 1889 in Connellsville. As a young man, attracted by the lure of show business, he moved to Pittsburgh. He did not pursue acting, but got a job in a South Side theatre "in the wings" as a stage carpenter. In Pittsburgh, in 1910, he boarded in the home of Henry and Mary Graddemage on Gist Street in the city's First Ward. While employed at the Colonial Theatre, he became fast friends with Frank Powers, and the two remained close for many years. Later in 1910, he relocated to New York City to work in Broadway productions. In 1918, he resided at 518 West 204th Street. He occasionally returned to Connellsville for visits and always looked up his friend and fellow Connellsville native Ray D. Wetherell. In 1951-1952, he oversaw scenery for the smash Broadway hit Guys and Dolls which eventually reached 726 performances, vaulting it into the "longest run show in the 26-year history of New York's 46th Street Theater," reported the Pittsburgh Press. In February 1953, for two weeks, he was back in Pittsburgh when Guys and Dolls performed at the Nixon Theatre. The Broadway cast starred Pamela Britton (Adelaide), Iva Withers, Julie Oshins (Nathan Detroit), Norwood Smith (Sky Masterson) and Pat Rooney, with other roles featuring Tom Aherne, Susan Hight, Del Markee, Netta Packe, Al Nesor, Jack Prince and B.S. Pully. Reported the Connellsville Daily Courier, "It is only one of several Broadway hit shows for which he has managed scenery." Circa 1956, his residence was 45 Wadsworth Avenue in New York. A 1956 issue of the Daily Courier said that "Over these many years he has developed a high state of efficiency in his chosen work and has been with most of the bigger shows making the big city circuits." While in Pittsburgh in 1956, he learned that his old hometown of Connellsville was celebrating its 150th birthday. He contacted his old friend Wetherell and arranged to buy a "sesquicentennial bond." He told Wetherell that "I have never forgotten Connellsville and my dear friends there. I have always placed Connellsville at the pinnacle of a wonderful place in my recollections as as I have traveled throughout the United States I have always put in a good plug for Connellsville."
Daughter Cora "Amanda" Cunningham (1886-1952) was born in April 1886 in Connellsville. She was bequeathed $1,000 under the terms of her father's will. After the death of her married sister Agnes McDermott in 1913, Amanda relocated with her widowed brother in law and his motherless children to Montana, where they put down roots in Havre. She was away for 10 years before returning to Connellsville for the first time. Some 34 years after moving to Montana, she died there on or about Nov. 29, 1952, at the age of 66. An obituary was printed in the Connellsville Daily Courier, mis-stating that among her survivors was an uncle, "Herman" Younkin of Confluence. (His name was "Harvey.")
~ Daughter Sarah Lavenia Younkin ~
Daughter Sarah Lavenia "Venie" Younkin (1863-1941) was born on April 2, 1863. She never married, and was afflicted with spinal sclerosis which caused paralysis. At her father's death, in 1921, she was named to inherit one dollar, perhaps because he had given her aid during her lifetime. In her later years, she made her home at 315 Olinger Street in Meyersdale. Afflicted with hardening of the arteries and nerve pain in her ribs, she died in Meyersdale at the age of 78 on Aug. 13, 1941. Burial was in Meyersdale.
~ Son Harvey G. Younkin ~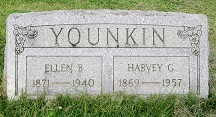 Jersey Baptist Church
Son Harvey G. Younkin (1869-1957) was born on Oct. 9, 1869 in Lower Turkeyfoot.
On Aug. 18, 1891, when he was age 22 and she 20, he married a cousin, Ellen B. Conn (1871-1940). She was the daughter of Eliah "Eli" and Nancy (King) Conn of Draketown, Somerset County.
He inherited a dollar upon his father's death in 1921.
The Younkins resided on Water Street in Confluence and produced these children -- Amanda Reed, Jacob Harman Younkin and Nancy Jane Younkin. Sadly, daughter Nancy Jane died at the age of two years, five months on Oct. 3, 1897.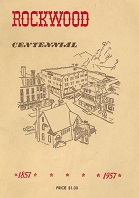 Booklet naming Harvey
Harvey was a carpenter and longtime railroad engineer based in Confluence, and was a member of the Brotherhood of Locomotive Engineers. He is mentioned by name in a list of "old time railroaders" in the booklet Rockwood Centennial 1857-1957. They were members of the Draketown Methodist Church.
Sadly, suffering from heart disease and hypertension for a decade, Ellen succumbed and died in Confluence on Sept. 30, 1940, at the age of 68. Her obituary was reprinted in Vol. #3, issue 3-4, the very last edition of the Younkin Family News Bulletin (June 30, 1941).
Harvey was afflicted with congestive heart failure and followed her to the grave 17 years later, at age 86, on April 9, 1957, at Price Hospital in Confluence. Rev. William Webb preached the funeral sermon, with an obituary carried in the Connellsville Daily Courier. They rest in the Jersey Church Cemetery.
Son Jacob Harman Younkin (1900-1964) was born on Nov. 17,, 1900. When he was 18 years old, on Jan. 31, 1919, Jacob was united in marriage with Daisy Fern Mickey (Oct. 13, 1901-1962), daughter of George and Cordie (Yowler) Mickey of Casselman, Somerset County. Their four known children were Harvey "Eugene" Younkin, George L. Younkin, Janet Crockett and Grace "Louise" "Tick" Stewart. They lived in these Greene County communities over the years -- Bobtown in 1937 and in House 616, Mather, Morgan Township in the 1950s and early 1960s. The family suffered heartache in 1937 when son Eugene was involved in an automobile accident and died of a ruptured liver and kidney. Furhter sadness enveloped the family when Daisy, suffering from bronchial cancer and heart problems, died on Sept. 7, 1962 at the age of 60. Her remains were brought back to Ursina to rest in the Jersey Baptist Church Cemetery.
Grandson Harvey "Eugene" Younkin (1920-1937) was born on July 8, 1920. When his parents moved to Greene County, PA in the 1930s, Eugene stayed behind and lived with his grandparents on Fairview Avenue in Confluence. Tragically, at the age of 16, he was riding with Harry D. Weyant and James Hyatt in a 1927 roadster on the outskirts of Confluence. Reported the Meyersdale (PA) Republican, "The young men were on their way down a steep grade just before coming to the bridge to the entrance to Confluence. A car coming up the hill passed the roadster and as it did so the young men and their car skidded and went over an embankment. Younkin was the most seriously injured..." He was rushed to Frantz Hospital with a ruptured right kidney and liver which were hemorrhaging badly. He died a day later on Feb. 22, 1937. His remains were placed into rest in the Jersey Baptist Church Cemetery following a funeral preached by Rev. Lester C. Barton of the Confluence Baptist Church.
Grandson George L. Younkin (1922-1973) was born on March 19, 1922. He passed into eternity on Nov. 15, 1973.
Granddaughter Janet

Younkin

(1925- ? ) was born on Aug. 13, 1925. On June 14, 1947, she wedded Harry Crockett ( ? - ? ). Their two offspring were Harry Eugene Crockett and Beverly Sue Crockett. At her father's death, Janet served as executrix of his estate. She resided at 105 Fulton Avenue in Niles, Trumbull County, OH in 1964.
Granddaughter Grace "Louise" "Tick"

Younkin

(1927-2004) was born on Sept. 6, 1927 in Confluence. At the age of 18, on April 25, 1946, she was joined in matrimony with Charles Stewart

( ? -1991). They made their home in Carmichaels, Greene County and in Springfield, VA. They were the parents of James William Stewart and Constance Fern "Connie" Conway. Reported the

Uniontown (PA) Herald-Standard

, Louise "resided in Carmichaels most of her life and was Baptized at the Mather Christian Church. She worked for 23 years for A & P in Springfield, Virginia, was an avid bingo player, and enjoyed sewing, crocheting, knitting and ceramics." Charles succumbed on the Fourth of July 1991. Louise outlived her husband by 13 years. She passed away at home at the age of 76 on April 9, 2004. Burial was in Laurel Point Cemetery in Carmichaels following funeral services led by Thomas E. Fowler Sr.
Daughter Amanda Younkin ( ? - ? ) wed (?) Reed ( ? - ? ). She resided in Confluence and signed her father's death certificate in 1957.
~ Daughter Ida Mae Younkin ~
Daughter Ida Mae Younkin (1874-1881?) was born on Sept. 25, 1874. She died on May 3, 1881, at the age of seven. Her obituary in the Somerset Herald read: "The funeral of Ida May, daughter of Balaam and Amanda Younkin, took place at the Jersey church, on the 4th inst. This little girl died of brain fever in her sixth year. Funeral discourse by Rev. J.R. Brown."
~ Daughter Mary Ann "Mollie" (Younkin) Lenhart ~


Mollie and Bill Lenhart
Daughter Mary Ann "Mollie" Younkin (1878-1945) was born on Sept. 4, 1878. She was but 12 years of age when her mother died.
In 1898, when she was 20 and unmarried, she and a man named "Bryte" produced a son, whom she named Otto Roosevelt Younkin. She did not marry Bryte, who was a native West Virginian.
After 21 years as a single mother, on Nov. 24, 1920, she married William B. Lenhart (1870-1946), son of Andrew Jackson and Flora (Rankin) Lenhart. At the time of marriage, she was age 42 and William 50. They were members of the Jersey Baptist Church. Mollie hosted many planning meetings of the Younkin National Home-Coming Reunion committee in the 1930s.
She died at the age of 67, at home near Kingwood, on Dec. 19, 1945. An obituary was published in the Connellsville Daily Courier.
Son Otto Roosevelt "Pete" Younkin ( ? - ? ) married Mildred Coldren ( ? - ? ). He was an active researcher of genealogy in the 1930s, and went on to become president of the Younkin National Home-Coming Reunion and Association. Read his account of the first Younkin reunion held in September 1934. In the 1990s, Otto's son Harry "Tom" Younkin made arrangements to have a Civil War veterans marker placed at Balaam's grave in Jersey Church Cemetery.
~ Daughter Irena "Gertrude" (Younkin) Beynon ~
Daughter Irena "Gertrude" Younkin (1881-1963) was born on Feb. 19, 1881 in Confluence/Ursina. She was only nine years old at the death of her mother.
As a young woman, she made her home in Meyersdale, Somerset County. On Jan. 2, 1902, when she was 20, she married her first husband, 25-year-old Charles William Beynon (1877- ? ), son of David and Susan Beynon of Meyersdale. Rev. B.B. Collins officiated. Charles was a laborer at the time of marriage.
They had two known sons -- Earl Beynon and Paul Beynon.
Sadly, Charles died on Nov. 22, 1905, after just four years of marriage.
She wed her second spouse, 34-year-old Frederick J. Fisher (1873- ? ), son of William and Henrietta Fisher. Frederick earned a living as an engine hostler for the Baltimore and Ohio Railroad. Rev. Collins again performed the nuptials, on Nov. 17, 1907.
Circa 1945, she made her home in Meyersdale.
She passed into eternity due to "acute brain syndrome" at Meyersdale Community Hospital at the age of 82 on July 17, 1963. Her funeral was conducted by Rev. Charles Staub in Meyersdale, followed by entombment in Union Cemetery. Her obituary was printed in the Connellsville Daily Courier.
Son Earl Beynon ( ? - ? ) made his home in Somerset in 1963.
Son Paul Beynon ( ? - ? ) dwelled in Meyersdale.
Copyright © 2013, 2016-2017, 2019 Mark A. Miner
Minerd.com extends its gratitude to these cousin-researchers who graciously shared their findings for publication: the late Donna (Younkin) Logan, the late Olive (Rowan) Duff, the late Harry "Tom" Younkin and Mark Terry Youngkin.