Home

Barbara (Younkin) King
(1820-1857)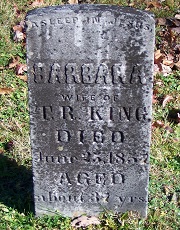 Barbara's grave


Courtesy Linda Marker
Barbara (Younkin) King was born on Jan. 5, 1820 in Turkeyfoot Township, Somerset County, PA, the daughter of Jacob and Sarah "Salome" (Weimer) Younkin Jr. Just a week before her seven-month birthday, she was christened in the Laurel Evangelical Lutheran Church in Somerset County.
She was united in the bonds of matrimony with Thomas R. King (Oct. 28, 1805-1861). The groom was 16 years older than the bride.
The couple produced a family of six children, all daughters but two -- Amanda Younkin, Sarah Cunningham, Belinda King, Ross King, Hiram King and Hulda Jane "Huldy/Hily" King.
Thomas is known to have held an account at the John McMillan tannery in Listonville. His entries from the years 1848 to 1853 are recorded in the tannery's business ledger which is preserved today. The entries read as follow:
...a side up[pers] at $2.00, cost $2.75, July 31, 1848 – uppers for a pare of shews, cost 62½ cents, Feb. 21, 1849 – a side of up, cost $3.00, and to Reuben making Blind Bridle + finding bits + buckles, July 2, 1849 – tanning a wooley SS [sheepskin] at 62½ cents, Jan. 8, 1851 – a side of up per Moses Ramsbiger, cost $1.87½, April 15, 1852 – a QR of SL [shoe leather] per Wife at 4¾ lbs., cost $1.33 – to sawing 358 feet walnut by J. Shultz in the spring of 1852, $1.75 and 187 feet poplar, 70 cents, Nov. 11, 1853.
When enumerated in the federal census of 1850, the Kings were farmers and resided in Lower Turkeyfoot Township, Somerset County.
Barbara died on June 25, 1857, at about age 37. The reason behind her untimely passing is unknown. Her mortal remains were placed into eternal rest in the Jersey Baptist Church Cemetery. Inscribed across the top of her upright grave marker are the words "Asleep in Jesus." [Find-a-Grave]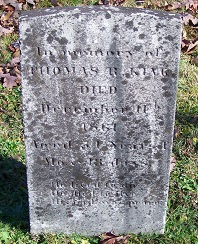 Thomas' grave.

Courtesy Linda Marker
Thomas lived on for just four more years and may have married again to Susanna (1818- ? ).
The federal census shows Thomas and Susanna together in Lower Turkeyfoot, with Thomas working as a farmer and Susanna as a spinster. The children in their home that year were Sarah (age 18), Ross (15), Melinda [Belinda] (8) and Hily (5). Also living under their roof was 18-year-old teacher Henry Leighliter and 15-year-old farmer Levi Leighliter.
Sadly, Thomas died at the age of 54 years, one month and 13 days on Dec. 11, 1861. The cause of his passing is lost to the ages. Burial also was in the Jersey graveyard. [Find-a-Grave] His epitaph, inscribed at the bottom of his gravemarker, reads:
He lived to die.
He died to live.
His end was peace.
At Thomas' death, their surviving orphaned children ranged in age from 22 to six.
Circa 1934 or '35, some 70 years after the Kings' deaths, the inscriptions from their grave markers were recorded by Otto Roosevelt "Pete" Younkin of Masontown, PA, a co-founder and president of the Younkin National Home-coming Reunion.

Jersey Baptist Church Cemetery near Ursina, PA.
~ Daughter Amanda (King) Younkin ~
Daughter Amanda King (1839-1890) was born on Dec. 7, 1839. She never learned to read or write. She married a cousin, Balaam Younkin (1836-1921), son of Jacob J. "Dorcas Jake" and Dorcas (Hartzell) Younkin. View their bio for more details.
~ Daughter Sarah (King) Cunningham ~
Daughter Sarah King (1842-1915) was born on May 23, 1842.
On Jan. 19, 1862, when she was 20 years of age, Sarah was united in holy matrimony with 24-year-old George F. Cunningham (1838-1914), son of Alexander and Susan (Foutz) Cunningham. The ceremony was held at the home of Sarah's sister and brother in law, Amanda and Balaam Younkin near Ursina, officiated by justice of the peace Alex Hanna. No public record was made of the union, nor a certificate given, but a notation was made in the family Bible.
Their known offspring were Bruce Cunningham, Thomas Cunningham, John Cunningham, James Cunningham, Minnie Cunningham, Robert Cunningham, Albert "Bert" Cunningham, Edward Cunningham, Harvey Cunningham and Edie Cunningham. Two others are believed to have died young.
George stood 5 feet, 10 inches tall, with a dark complexion, grey eyes and dark hair, and weighed 180 lbs. He was born on June 28, 1838 in Somerset County.
During the Civil War, on June 8, 1863, George left his young family and went to New Centerville to join the Union Army, recruited by Sarah's step-cousin, Capt. William Meyers Schrock. The Somerset Daily American said that "It was the only occasion during the course of the Civil War that any unit was mustered within the area of Somerset County." The new infantrymen were assembled in the flat field at what today are the grounds of the annual Farmers and Threshermens Jubilee. Four other Younkin cousins and spouses joined the company.
Initially known as Capt. Schrock's Independent Company of Volunteer Infantry, it later became part of Company H of Ramsey's Battalion, Pennsylvania Infantry. The soldiers remained in New Centerville until July 6, 1863, following the Battle of Gettysburg, when they received orders to march to the nearby town of Berlin to receive weapons. The men then were ordered to report to Huntingdon, PA, and served on provost duty during a military draft. In early September 1863, recounted the History of Bedford and Somerset Counties, Pennsylvania, the company marched to Harrisburg and thence to Gettysburg:
...where they guarded the field hospital on the battlefield until it was dispensed with in the latter part of October. This company was also in active service at Lewisburg, Sunbury and Selins Grove. From December 11, 1863 until January 8, 1864, the Somerset company was in charge of the Soldiers' Retreat at Harrisburg, where frequently rations were provided for from five hundred to one thousand soldiers who dropped off from trains at meal times. The company was mustered out January 8, 1864.

Orange and Alexandria Railroad shops in Alexandria, VA, Civil War
Courtesy Library of Congress.
He later joined another army unit, the 5th Pennsylvania Heavy Artillery, Company B, in which he enrolled in Pittsburgh on Sept. 10, 1864. In December 1864 he was detached from his unit to serve with infantry at Edstell's Station near Alexandria, VA, and in February 1865 again was detached for guard duty along the Orange and Alexandria Railroad, the only rail connection between Richmond and Washington, DC, and a site of frequent fighting during the war. In April 1865, he was stationed at Annandale, VA. On July 8, 1865, he received his final honorable discharge.
George returned home and lived in Draketown until 1867. He apparently was dissatisfied with his marital situation and left home. On Oct. 6, 1867 -- still married to Sarah -- he took part in a marriage ceremony in Pittsburgh with Mary (?). The event took place in St. Michael's Catholic Church on Pine Street in the city's South Side, officiated by Rev. Frederic, C.P., and witnesses were Joseph Good and Elizabeth Lippert. He lied to church officials for their record-keeping, stating that his name was "Fleming" Cunningham and that he was the son of John Cunningham.
George must have shuttled back and forth between his lawful family in Somerset County and his mistress wife Mary in Pittsburgh. Sarah must have moved to Kingwood after her separation, though George later claimed that he lived there. They left Kingwood in 1869 and relocated to "Turkeyfoot," possibly also known as "Brook Tunnel." Circa 1870, federal census records show George and Sarah and family living in Upper Turkeyfoot Township, with George earning a living as a blacksmith, and their post office as Somerfield. In 1873, they moved to Ursina, remaining for two years, and then went back to Kingwood in 1875.
Government records show that George may have lost certain property and "deserted" Mary for good in about 1875 and returned to the mountains. At around that time, he had her admitted to Dixmont Hospital as an "insane patient" and left her there for eight years. After receiving a discharge from Dixmont, Mary took on washing and ironing to help make ends meet.
George seems to have had a blacksmith shop or farm in Gibbon Glade, Fayette County for a few years and then moved it to Farmington, Wharton Township, Fayette County. The 1880 census shows George and Sarah in Farmington. One of their sons, born in 1880, claimed to have been born in West Virginia. After six years in Farmington, they again moved in 1882 to Markleysburg, Fayette County.
Enduring ailments from wartime plus the natural aging process, including rheumatism, heart, kidney, liver and stomach problems, George applied for a Civil War soldier's pension. Providing testimony of support on his behalf were friends Isaac Myers and S. Switzer of Markleysburg, Silvanus Thomas and Rebecca Hostetler and Jacob Kreger of Kingwood. Switzer wrote that George was "very stiff and disabled." George himself declared that he took "McClain's Liver Pills" and variuos other "liver invigorators." When he was attacked by spells, he said, he suffered from chilly sensations, lightness of the head, pain in the right shoulder and that his skin took on a sallow hue. The pension was approved in October 1890. [Invalid App. #932.306 - Cert. #944.359]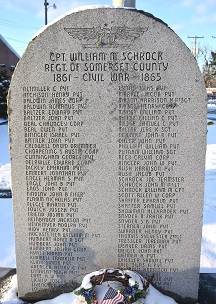 Monument to Capt. Schrock's company of Civil War soldiers, New Centerville, PA
.
Courtesy Linda Marker.
As for Mary, as an English playwright once wrote, ""Heav'n has no Rage, like Love to Hatred turn'd, Nor Hell a Fury, like a Woman scorn'd'." She then decided to seek financial revenge by asking for her share of his pension. Perhaps to keep her quiet, he paid Mary half of the pension during the years 1901 to 1906. In the year 1906, he moved back in with her in Pittsburgh, remaining for six weeks, but keeping separate sleeping arrangements. Her address in 1912 was 2421 Carson Street.
In the 1910s, he and Sarah otherwise made their home in Markleysburg, Fayette County.
This must have caused great embarrassment to the Cunninghams. George and his sons traveled to meet with her in Pittsburgh and, in the presence of an attorney, she admitted that she was not legally married to him.
The government launched an investigation. In written testimony in 1912, George's brother in law Balaam Younkin, who had known him since boyhood, said that "from the date he was married to the present time I have seen him quite frequently and have every reason to believe from my intimate acquaintance with him that He was never married prior to or after the [1862 marriage] date." Friend Norman K. Sullivan, who had known George and Sarah since childhood days, said that George's "occupation was always a blacksmith, thrifty always, owned his own property and his religion was protestant."
In her only known public comment on the matter, Sarah said "We were never divorced from Each other."
Suffering from heart and kidney failure, the latter known as "Bright's Disease," George passed away at the age of 76 on Aug. 5, 1914. His remains were placed into repose in the M.N. Thomas Cemetery in Markleysburg.
Needing the regular pension payments, Sarah began receiving the pension just a week after George's death. [Widow App. #1.032.445 - Cert. 781.569] She only outlived her husband by a little more than a year, remaining in their Markleysburg residence. Physician B.W. Briscoe was called in for a variety of ailments she was suffering, among them chronic kidney inflammation and heart disease, and hardening of the arteries, but it was too late.
Within a month and a half, she died at the age of 73 on Oct. 14, 1915. She was interred beside her husband. Find-a-Grave]
Many years later, on Oct. 2, 1966, the Somerset County Historical and Genealogical Society dedicated a monument to honor the company, bearing George's name and placed on the site of the mustering ground. Local attorney Robert Keim served as master of ceremonies and Rev. Gene Abel gave the invocation, Judge Thomas F. Lansberry the principal address and Rev. Henry B. Reiley Jr. the dedication prayer. Lansberry remarked in his comments that the local recruits "had ears to hear the call of Father Abraham," said the Daily American. "This was not hearing in the ordinary sense but it was that 'inner ear' through which they heard the call that challenged them to answer the call to colors. He said that they had real courage, not the false type which causes some beatnik to throw a molotov cocktail into a store window, or causes a riot in Watts or Cleveland, but that kind of courage which sends a man through the valley of the shadow of death for the sake of a cause which he considers to be bigger than himself." Also present at the event was George Hoburn, who designed and built the monument, and Bradley Cramer, grandson of Charles Cramer who first developed the monument idea.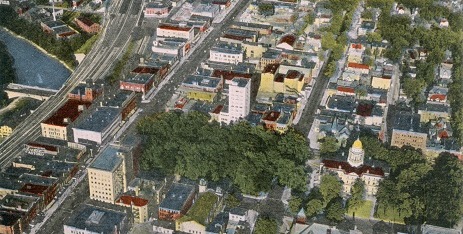 Elyria, Ohio, home to Bruce Harrison and Harriet Cunningham
Son Bruce Harrison Cunningham (1862-1921) was born in October 1862 in Somerset County. Bruce was united in wedlock with Harriet (?). The couple produced these three known sons -- Harry Cunningham, Charles Cunningham and Elmer Cunningham, all born in Pennsylvania. Sometime after 1897, they relocated to Elyria, Lorain County, OH where Bruce earned a living as an engineer with the Baltimore and Ohio Railroad. The U.S. Census of 1920 shows Bruce and Harriet and their three sons -- the youngest Elmer marked as divorced -- living under the same roof along Broad Street, with Bruce working as a laborer in a steel plant. In 1921, their address was 723 West Avenue in Elyria. Burdened with heart valve disease, Bruce died 17 days after his 58th birthday on Nov. 9, 1921. Interment was in Ridgelawn Cemetery in Elyria.
Son Thomas Cunningham (1865- ? ) was born on Feb. 11, 1865. Nothing more about him has been found, and it's likely that he died young.
Son John G. Cunningham (1869-1920) was born on March 24 or April 29, 1869. He was married, and his bride is believed to have been Mary Belle (?). The couple resided on Elm Street in Versailles Borough, Allegheny County, PA. He was employed as an engineer with the Baltimore and Ohio Railroad. Stricken with kidney/pelvis inflammation known as "pyelitis," and heart valve disease, he died at the age of 54 on May 1, 1920. Burial was in Mount Vernon Cemetery in Elizabeth, Allegheny County, PA.
Son James Cunningham (1871- ? ) was born on Oct. 18, 1871.
Daughter Minnie Cunningham (1875-1967) was born on Jan. 17, 1875. In about 1895, when she was age 19 or 20, she was married to 37-year-old Harrison Frantz (1858-1937), a native of Confluence and the son of William and Anna (Hannah) Frantz. The groom was 17 years older than the bride. The couple had two known sons, Herbert Frantz and Edward J. Frantz. The couple relocated in the late 1890s to McKeesport near Pittsburgh, where Harrison obtained employment as a mill laborer. Then circa 1908, he got a job with the National Tube Division of United States Steel and remained there for 29 (or 24) years. Federal census records for 1910 show the family living on Walnut Street in McKeesport, with Harrison employed as a pipe cutter in the mill. Their home in the 1930s remained at 401 Walnut Street. Sadly, suffering from valvular heart disease and pneumonia, Harrison died at the age of 78 on Jan. 29, 1937. His remains were placed into rest in Mount Vernon Cemetery in Elizabeth Township, Allegheny County. Minnie lived a widow for the remaining three decades of her life. She dwelled in 1958 in McKeesport. She is believed to have died on June 14, 1967 with burial beside her husband. No death notice has been found in the Pittsburgh Post-Gazette.
Grandson Herbert Frantz (1897- ? ) was born in September 1896.
Grandson Edward J. Frantz (1903- ? ) was born in about 1903.

National Tube Company in McKeesport, where Harrison Frantz was a pipe cutter
Son Robert "Bob" Cunningham Sr. (1877-1957) was born on Nov. 1 or Dec. 2, 1877 in Fayette County. He grew up learning the farming trade. He was twice married and produced 10 children. His first wife was Tabitha Morrison (1875-1938), daughter of Francis and Jane Morrison of Stewart Township, Fayette County. They were wed at the home of the bride's parents on Dec. 17, 1898, when he was age 21 and she 23. Justice of the peace George D. Livingston officiated. Their offspring were Clyde Cunningham, Ophelia Conrad, G. Edward Cunningham, Walter J. Cunningham, Mildred Cunningham, Mabel G. Bailey, James Cunningham, Robert J. Cunningham, Francis M. Cunningham and Ruth E. Hiltabidel. Robert supported the family over the years through his work as a caretaker. Sadly, Tabitha passed away in 1938. Robert married again to Sophie Lyons (1888-1977). They made their home near Ohiopyle, Fayette County. Robert suffered a heart attack and died in Uniontown, Fayette County on April 9, 1957, at the age of 79. His remains were brought back to Ohiopyle for interment in the Sugar Grove Cemetery. On his death certificate, his mother's maiden name erroneously was written as "Younkin" instead of "King."
Son Albert L. "Bert" Cunningham (1880-1958) was born on Jan. 16, 1880 in either Farmington, Fayette County (as he claimed on his marriage license) or in West Virginia (as per his newspaper obituary). By the age of 20, he had relocated to McKeesport, near Pittsburgh, where he was employed as a "mill man." On New Year's Day 1900, at the age of 20, he married 18-year-old Daisy M. Corwin (1882-1960), daughter of William and Isabella Corwin of California, Washington County, PA. Rev. Arthur Smith conducted the ceremony held in California. Their known children were Clifford Cunningham, Walter Cunningham, Ralph T. Cunningham, Margaret Steele, Maude Shoemaker, Edith Roebuck, Florence Potiseck, Sylvia Hughes and Ruth Cunningham. Bert was a longtime coal miner and a member of the United Mine Workers of America, local 106. They belonged to the Wyano Evangelical United Brethren Church. In about 1948, Bert and Daisy moved to the Mendon community near Ruffsdale, PA. Bert died at home on Aug. 2, 1958. Burial was in Millvale Cemetery, following funeral services conducted by Rev. Ralph W. Brownfield. The Connellsville Daily Courier reported in an obituary that he was survived by 19 grandchildren, 21 great-grandchildren and his sister Minnie Frantz of McKeesport, PA.
Grandson

Clifford Cunningham

( ? - ? ) was born in (?).

He lived in Whitsett, Fayette County.
Grandson Ralph T. Cunningham

( ? - ? ) was born in (?).
Granddaughter Margaret Cunningham

( ? - ? ) was born in (?).

She wedded (?) Steele and lived in Front Royal, VA.
Granddaughter Florence

Cunningham

( ? - ? ) was born in (?). She was united in wedlock with (?) Potiseck. In 1958, her home was in Darragh, PA.
Granddaughter Sylvia

Cunningham

( ? - ? ) was born in (?). She married (?) Hughes. Her residence in 1958 was in Ruffsdale, Fayette County.
Son Harvey Cunningham (1880- ? ) was born on Dec. 2, 1880.
Daughter Edie Cunningham (1889- ? ) was born on Dec. 11, 1889.
~ Son Ross King ~
Son Ross King (1845- ? ) was born in about 1845.
He never married. Family history notes compiled by grand nephew and double cousin Otto Roosevelt "Pete" Younkin state that Ross was a "wanderer from place to place."
Federal census data for 1870 show the 23-year-old Ross living in Lower Turkeyfoot with his married sister and brother in law, Amanda and Balaam Younkin, and earning his keep as a farm laborer.
We're looking in to whether he was the same "Ross King," allegedly age 38, who in 1880 dwelled in a boardhouse run by Emil and Eliza Domer in nearby Upper Tyrone Township, Fayette County.
Nothing more about Ross is known.
~ Daughter Belinda (King) Younkin ~
Daughter Belinda King (1849-1912) was born on July 5, 1849. She was joined in matrimony with a cousin, Freeman Younkin (1850-1896), son of Rev. Harmon and Susanna (Faidley) Younkin. View their bio for more details.
~ Son Hiram King ~
Son Hiram King (1849-1851) was born in about 1849 in Lower Turkeyfoot Township.
Sadly, he only lived about two years. He succumbed to death on Nov. 3, 1851. Interment of the remains was in Jersey Baptist Church Cemetery. [Find-a-Grave]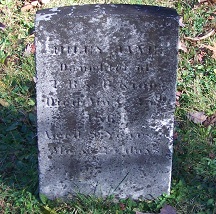 Hulda Jane's grave.

Courtesy Linda Marker
~ Daughter Hulda Jane "Huldy/Hily" King ~
Daughter Hulda Jane "Huldy" King (1854-1863) was born on Nov. 28, 1854.
She received the nicknames "Huldy" - "Hiley" - and "Hily" when young.
Hulda was only age three when her mother passed away, and then only age six when her father died, rendering her an orphan.
She did not survive childhood.
Hulda died on May 25, 1863 at the age of eight years, five months and 27 days. Her tender remains were interred in the Jersey Baptist Church Cemetery.
In the 1930s, the inscription from her grave marker was recorded by Otto Roosevelt "Pete" Younkin of Masontown, PA, a co-founder and president of the Younkin National Home-coming Reunion.
In more recent years, her and her parents' grave markers were photographed by Younkin cousin Linda Marker. [Find-a-Grave]
Copyright © 2016-2017, 2020, 2022 Mark A. Miner
Research for this page graciously shared by the late Olive (Rowan) Duff, the late Donna (Younkin) Logan and Linda Marker.